Notice
: class-oembed.php is
deprecated
since version 5.3.0! Use wp-includes/class-wp-oembed.php instead. in
/var/www/wp-includes/functions.php
on line
4802
Burke Williams Offers Peace This Holiday Season with Luxurious Gift Card Packages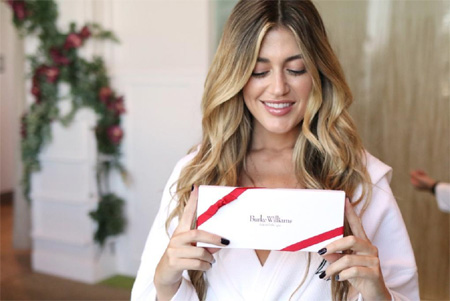 Burke Williams Day Spa is pleased to spread joy this holiday season with four generous gift card packages. California's ultimate self-care destination, Burke Williams offers world-class amenities and a full menu of services for guests to relax, renew, and wash away the stress of the holiday season.
Packages include a variety of signature Burke Williams treatments, including massage therapy, facials, manicures, and pedicures. All packages include a choice of a custom enhancement including Aromatherapy, Hot Stone or Detox for massage therapy and Professional Peel Exfoliation, Illuminating Spray, Stem Cell Spray, or Age Defy Spray for facials. Burke Williams is also giving a generous bonus 3-day spa pass with all packages to extend the transformative spa experience throughout the year. 

Receive "A Present of Peace" for $160 (valued at $215), to indulge in an 80-min Pure Relaxation Massage or a Spa Style Facial with an enhancement of choice. Enjoy a "Mind + Body Holiday" for $270 (valued at $375) with an 80-min Burke Williams Signature Massage and a 50-minute Spa Style Facial plus an enhancement of choice. Indulge in "Ultimate Comfort & Joy" for $500 (valued at $660), including an 80-minute Burke Williams Massage, 80-minute Radiance Facial, massage or facial enhancement of choice, 20-min Herbal Spa Bath, Luxe Spa Manicure and Pedicure with Dazzle Dry, and a pedicure enhancement of choice.

Appreciate ultimate tranquillity with "A Year at Burke Williams" for $1,100 (valued at $1520). This year-long gift package includes 16 individual services or 4 spa days throughout the year that combine multi-sensory Burke Williams treatments.

All holiday gift card packages may be customized to include specific Burke Williams signature services and enhancements, or gifted at a set amount so the recipient may select their preferred services to renew and refresh. Gift certificates are available for purchase at all Burke Williams locations and online to print at home or email directly to loved ones. Packages go on sale Thursday, November 21, and are redeemable at all locations.

Burke Williams will transform this holiday season with the gift of self-care. For information on Burke Williams and to find a spa near you, visit www.BurkeWilliamsSpa.com or call 1-866-239-6635.
North Florida Surgeon Creates Science-Based Skincare Line Using Nobel Prize-Winning Technology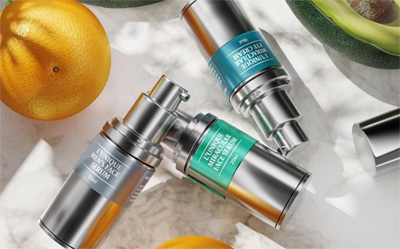 Nourishing Biologicals , a science-based skincare company, was created by North Florida surgeon, Dr. George Sadowski M.D., to treat the cause, not the symptom, of aging skin with advanced Miracular Cellular Communication™.
Dr. Sadowski's patients often asked him to recommend skincare products for post-surgery treatment, but he couldn't find a product-line that used ingredients that truly addressed the issue of damaged skin.
"As a biologist and surgeon with over 30 years of professional experience, I came to develop a skincare company because most of the products I had tested over the years were ineffective, didn't contain the active ingredients necessary to really work, and even contained toxins in some cases," said Dr. George Sadowski M.D., founder of Nourishing Biologicals.
Nourishing Biologicals is the result of painstaking research that uses Nobel prize-winning technology to create one of the most advanced skincare lines on the market. Dr. George's profound discovery of Miracular Cellular Communication™ allows ingredients within Nourishing Biologicals products to repair defects at the cellular level through the penetration of the skin.
Dr. Sadowski also found that for a product to work it must follow the 500 Dalton Rule. Simply put the 500 Dalton Rule stipulates that molecules applied to the skin that weighs more than 500 Daltons can't penetrate the skin to cause an effect. Because of this, formulas claiming to improve skin health must contain ingredients that conform to this rule or contain ingredients such as growth factors that work through cell receptors.
Skincare products must also be formulated with toxic-free ingredients that can combat free radical damage and inflammation to truly treat the underlying problem of aging. This can be done using naturally occurring compounds such as anti-oxidants, anti-inflammatories and growth factors. These types of ingredients work to prevent and reverse, rather than simply treat the inflammation.
The brand's L'Unique Miracular Rejuvenation collection contains the latest ingredients involved in cellular communication and active constituents proven to work by quantifiable, scientific studies. Ingredients include hyaluronic acid, peptides, and growth factors that promote the rebuilding of collagen, elastin, and new skin cells.
At first, Nourishing Biologicals was only offered to Dr. Sadowski's patients. Now, the four product anti-aging skincare line is availble to the public.
After the brand conducted twelve-week medical trials, each patient saw positive results, providing exciting data from the trial period is supportive of this promising new approach for treating individual's unique skincare needs.
To learn more about Nourishing Biologicals, please visit http://www.nourishingbiologicals.com.

Crepe Erase from Guthy-Renker is set of skin-care products that claim to get rid of "crepey" skin and will start working the moment you apply it. Crepe Erase is promoted by Jane Seymour and said to contain TruFirm, a set of plant extracts, that have helped 100% of users look and feel better with the very first use.
Treat your skin to Crépe Erase's most advanced formula featuring a powerhouse of exclusive TruFirm Complex and 9 Super Hydrators, this lightly whipped, fast-absorbing formula addresses signs of aging on the body tone, texture and elasticity as it replenishes, visibly plumps and forms a protective barrier against environmental aggressors. Used daily, it targets age-giveaway zones like arms, knees, legs and chest, restoring a smoother, more balanced texture as well as firmer, healthier-looking skin.
Ingredients are:
Water, Olea Europaea (Olive) Fruit Oil, Stearic Acid, Hydroxystearic/Linolenic/Oleic Polyglycerides, Dimethicone, Glycerin, Theobroma Cacao (Cocoa) Seed Butter, Bis-Diglyceryl Polyacyladipate-2, Cyclopentasiloxane, Glyceryl Stearate, PEG-100 Stearate, Vitis Vinifera (Grape) Seed Oil, Cocos Nucifera (Coconut) Oil, Squalane, Cetearyl Alcohol, Ceteareth-20, Peucedanum Graveolens (Dill) Extract, Malus Sylvestris Flower Extract, Tocopherol, Dipotassium Glycyrrhizate, Ursolic Acid, Butylene Glycol, Dimethiconol, Acrylates/C10-30 Alkyl Acrylate Crosspolymer, Ethylhexylglycerin, Hexylene Glycol, Caprylyl Glycol, Sodium Hydroxide, Xanthan Gum, Disodium EDTA, Phenoxyethanol.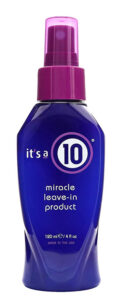 Miracle Leave-In Product
Is a reparative leave-in hair conditioner that delivers ten benefits: repairs, adds shine, tames frizz, protects color, detangles, prevents split ends, curbs breakage, softens, boosts body, and protects hair from heat. It's a fine mist with a sweet floral scent.
It's hard to believe this conditioner that can do all the things it claims to and keeps the color vibrant by patching the cuticle to stop dye molecules from escaping. It also leaves hair softer and defrizzed.
KEY INGREDIENTS: Silk amino acids (repair); panthenol (tames frizz, repairs hair, detangles, prevents split ends, and protects hair from heat); cyclomethicone (tames frizz, adds shine, and protects color), camellia sinensis leaf extract (curbs breakage and softens hair).
It's a 10 Miracle Daily Conditioner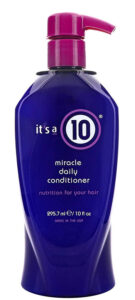 Instantly Detangles Nourishes De Frizzes Softens Smoothes Restores Moisture Balance Restores Elasticity Improves Color Vibrancy Restores Moisture Balance Enhances Natural Beauty formulated to penetrate the hair shaft, restore moisture, and repair damage, the Miracle Daily Conditioner is a lifeline for dry, damaged, or colored hair. When combined with It's a 10 Miracle Shampoo, the results are a one-two punch in favor of gorgeous locks and the perfect complement to your daily routine. And, because it rinses clean after every use, hair is never greasy, dull, or weighed down – just shiny, vibrant, and full of life!With notes of hibiscus, sunflower seed extract, and chamomile, you will feel like you're at the spa during every shower. Bring the salon experience home with our Daily Conditioner and other powerful products.
INGREDIENTS:
Hibiscus Extract: a tropical antioxidant that protects even the most delicate strands from everyday environmental damage
Sunflower Seed Extract: natural sunscreen that guards against color fading and/or brassiness
Keratin Amino Acids: a concentrated dose of hair's own natural strengthener
Silk Amino Acids: restores natural moisture balance while adding strength and shine
Aloe Vera: an excellent natural sunscreen and water-based moisture sealer
Chamomile Extract: a gentle, soothing conditioner for hair and scalp
Panthenol: a highly effective strengthener
Ginger: soothes distressed hair and scalp
Pomegranate: potent antioxidant containing vitamins A, C and E
Linseed Extract: soothes scalp and leaves hair silky, soft, and full-bodied.
It's a 10 Miracle Moisture Shampoo

Its a 10 Miracle Shampoo is a nourishing treatment and clean-rinsing shampoo all in one bottle. Protect and strengthen hair with each and every shampoo with the Its a 10 Miracle Moisture Shampoo. Effective and intensely moisturizing, with a cleansing formula that is mild enough to safely use on even the most delicate color-treated hair, the Miracle Moisture Shampoo takes the guesswork out of finding the right shampoo. From the very first wash, hair is smoother, less damaged and is visibly more bouncy and full of body. With repeated daily use, hair reflects the natural shine of healthy hair that everyone desires. It's A 10 Miracle Moisture Shampoo 10 Oz, Sulfate Free Nutrition For Your Hair.
It's a 10 Miracle Hair Mask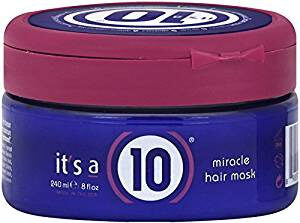 Developed to respond to the demands of today's color treated, heat styled, and otherwise processed hair, It's a 10 Miracle Hair Mask is a simple-to-use, conditioning treatment made to enhance softness and smoothness. Flexible enough to be used as a daily conditioner and also intensive enough to be used as a periodic deep-conditioning treatment, the Miracle Hair Mask delivers unparalleled results for dry, damaged, or over-processed hair.

Key Ingredients:
Oat Kernel Extract: Contains antioxidants, emulsifiers, moisturizers, strengtheners, and restructuring capabilities that make hair silky smooth and soft

Apricot Kernel Oil: Contains vitamin A, Vitamin E, prevents moisture loss, detangles, and repairs dry hair and scalp

Sweet Almond Oil: Promotes healthy growth and lustrous shine by infusing hair with natural oils, minerals, and vitamin A, vitamin E, and vitamin B

Linseed Extract: Soothes scalp and leaves hair silky, soft, and full-bodied.
It's a 10 Miracle Blowdry Volumizer

The It's a 10 Miracle Blow dry Volumizer is a one of a kind styling product that gives lift, volume, and weightless moisture balance to any type of hair or style while also improving hair's overall condition with weightless conditioning.
I've used many different mousses and gels over the years to give my thin hair a little extra oomph. This product is very different than the others and works really well for me. It's not sticky or heavy at all when it goes on but I immediately notice my hair seems to have more texture to it. I really like it!
Its A 10 Blow Dry Miracle Texture Spray

VP/VA Copolymer A high-strength conditioner and shaper that coats the hair shaft for smooth,
tangle-free texture and glossy, touchable shine
Silica Provides structure, strength, and lift while also absorbing oils that can weigh styles down
Vitamin E Acetate Smooths hair, locks in shine, and conditions to provide flexible, non-sticky texture
Zeolite A powerful oil-absorbing mineral that also has purification properties that eliminate build up or residue.
It's a 10 Haircare Miracle Finishing Spray

This workable hold, shine and control spray is a color safe, quick-drying, brushable formula that seals strands and supports all styles. Hair looks finished and polished without stickiness, hardness, or flakes.
Enhances the look and feel of hair without causing additional damage or stress
Now, great-looking hair is also hair that is nourished, strengthened, and protected from the most common causes of limp, lifeless, dry, or otherwise challenged hair
Contains natural extracts such as Noni Extract, Linalool, and Castor Oil.
Urban Hydration kicked off their "Good Life Tour" during anticipated Grammy's award weekend in Los Angeles.
The socially responsible beauty brand was joined by savvy business women and serial entrepreneur Vanessa Simmons, WE Network television star from Growing Up Hip Hop.
Vanessa Simmons and celebrity friends joined successful Psyche Terry, Chief Inspiration Officer and Founder of Urban Hydration for a Media & Mimosa reception on Saturday, February 9th in Los Angeles. Introducing the beauty brand of organic hair, body and skin collections featuring natural ingredients like coconut oil, avocado oil, argan oil, aloe vera, lemon, which is enriched in vitamins A & E.
Their brand will launch in major retail stores across the country this month.
For more information visit www.urbanhydration.com
Gamma+ Active Oxygen 2000 Hair Dryer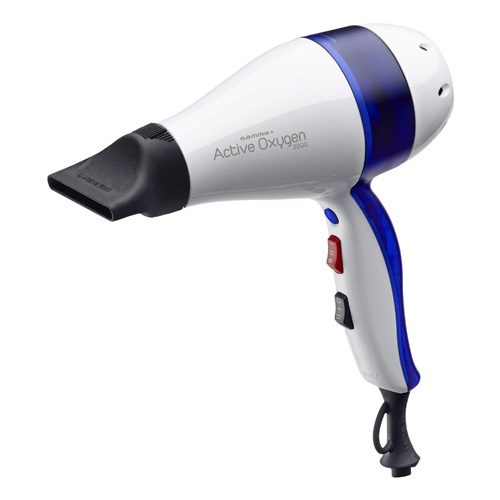 This is a great professional hair dryer it creates a great shine and smoothness in the hair. The hair looks and feels healthier. After using it for a couple of weeks I can see that my hair is healthier and has a better color retention.
The Gamma+ Active Oxygen is the only hair dryer in the world that incorporates Active Oxygen emission and Nano Silver technology in order to deliver a revolutionary treatment for healthier hair and longer lasting color.
Activated Oxygen, is utilized across many industries, to eliminate bacteria and reduce odor.
Engineered to improve the well-being and beauty of hair, Active Oxygen has extraordinary conditioning and restructuring effects, that dramatically improve the health and appearance of the hair and its cuticle, especially on colored, weak, and fragile hair by bringing a clear improvement to the hair stem exocuticle.
Activated Oxygen increases the efficiency of antioxidant enzymes to prevent damage and oxidation for healthier hair and scalp. Nano Silver helps dry hair faster, eliminates electrostatic charge and frizz to bring out hair that is shinier, softer and easier to detangle. Sleek Active Oxygen is equipped with 6 speed and heat settings and a cool-shot button to set styles.
I only can recommend this hairdryer.
Key Features are:
Active oxygen generator protects, enhances and extends hair color

Silver nano technology reduces frizz and improves shine

Scientifically tested

Removable filter

6 heat/speed settings

2 ultra-thin concentrator nozzles

Cool shot button

Multi-function USB charger

9 ft. cord & 2-year warranty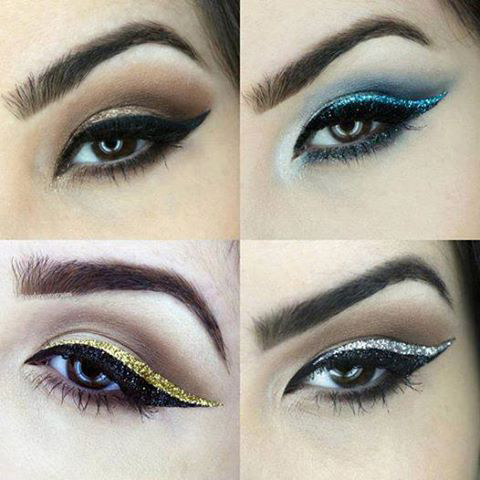 Since 2004 the originality of Bijoux de Pele brand has been recognized and loved byfamous personalities, the products have been used in a number of TV series and shows also sharing the market space with such major brands as Dior, Chanel and others, nowadays it became essential for creating styles and collections or using during events. Due to its diversity in relation to designs and colours, Bijoux de Pele has already conquered women of most diverse styles and tastes, it mainly suits those women who appreciate the details and understand the difference it makes when adding a beautiful accessory to their look.
Adhesive Eyeliner – Anatomical Design ( for different types of eyes ) – easy to use and reusable
The adhesive eyeliners have been designed respecting the eye's anatomy providing comfort, sensuality with great grip and durability. They are beautiful, modern and very practical. The type of designs is from the most basic line production named as "classic" to an even more daring collection which we named "Catwalk", and also the colourful eyeliners.
Charcoal Magnet Mask from Biovène available at Walmart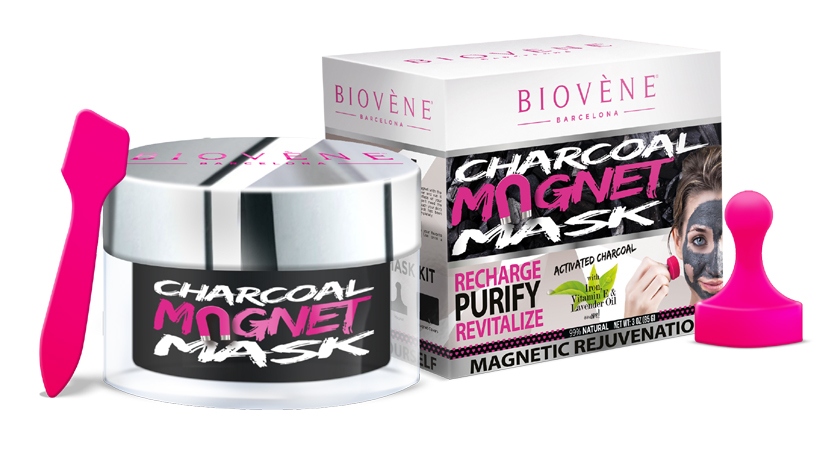 It is now a little over a year since Biovène Barcelona launched its business to the brick and mortar channel after success online, where the brand shipped over 500,000 e-commerce orders the previous year. Last year at Cosmoporf North America, Biovène brought the Black Peel-O Mask, a product they originally started to produce in 2014. "Thanks to the excellent events hosted by Cosmoprof in both Las Vegas and Bologna, Biovène products are now available in over 35 countries with retailers ranging from upscale perfumeries such as Marionnaud, drug store chain Rossmann, healthcare and beauty chain Watsons, supermarket Carrefour and members' clubs such as Sam's Club", stated Pedro da Cruz, Vice President of Sales for Biovène Cosmetics SL. This year Biovène Barcelona is back at Cosmoprof North America with the launch of the Charcoal Magnet Mask in the United States. "We have answered the retailers common question, we've seen the popular Charcoal Peel-O Mask perform well, tell us what's next?" Pedro da Cruz went on to explain. The product innovation team at Biovène are dedicated to make the most prestigious and luxurious products available to the mass market. Charcoal Magnet Mask is the latest natural innovation and it is now available at Walmart in the United States. This innovative, natural and magnetic rejuvenating face mask consisting of iron magnetic particles, activated charcoal and a blend of the most precious oils nature has to offer for a smooth, firm and radiant complexion.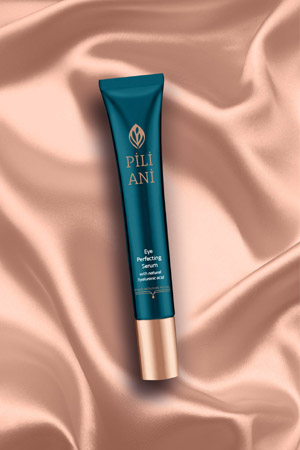 Eye Perfecting Serum
Targeted Hydration Powered By Exclusive Pili Oil
Key Ingredients: Pure Pili Oil, Pure Elemi Oil, Hyaluronic Acid and other extracts
What It Is: A new and innovative eye serum that uses the power of the pili oil, elemi oil and other natural active ingredients to brighten dark circles, lift sagging under eyes and minimize the appearance of fine lines around the eye area.
Key Ingredients:
Pili Oil is rich in essential fatty acids, amino acids and antioxidants that help protect the skin against damaging effects of environmental pollutants.
Elemi Oil derived from the Pili tree's bark, is naturally anti-bacterial and anti-aging. It contains natural active firming properties and helps to support stronger, tighter skin.
Sargassum Fusiforme – unique marine natural compound that fortifies the skin by activating stem cells and boosting collagen.
Laminaria Japonica extract – aids in reducing wrinkles, moisturizing skin and reducing inflammation.
Powerful Properties:
Clinical studies have shown that when pili oil and elemi oil are combined they offer maximum skin care benefits that include luxurious moisturization and firming of the skin.
Hyaluronic acid further boosts hydration of the skin and locks in moisture, keeping skin soft, smooth and healthy – looking.
Directions for use:
Gently press the tube and apply a small amount of serum under the eye area.
Smoothly glide in upward motion using the gold applicator.
Apply on clean and bare skin day or night.