Avengers: Endgame Releases on Blu-ray 8/13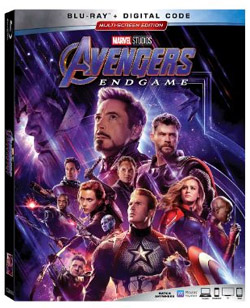 Marvel Studios' Avengers: Endgame recently became the highest grossing film of all time, bringing in almost $1 billion domestically and almost $3 billion worldwide. This is the must-own film of the year.
Ten years of Marvel Cinematic Universe films have led to this moment, resolving the cliffhanger ending of Avengers: Infinity War and allowing some of the franchises most beloved characters to take a bow. Whether you've been following the entire series or only a handful of characters, there's a little something for every fan in Avengers: Endgame, which is no doubt the secret to its Hulk-sized success.
The world is still coping with the sudden loss of half the population following Thanos' snap. When Ant-Man returns from the quantum realm, he reunites with the surviving Avengers with a plan that involves time travelling through past MCU events to capture the Infinity Stones before Thanos ever obtained them. But when Nebula's mechanized parts synch with the mind of the Nebula in the past, Thanos grows wise to their plan and has another trick up his sleeve to prevent them from undoing his life's work.
The cast of lead characters includes Iron Man (Robert Downey Jr.), Captain America (Chris Evans), Hulk (Mark Ruffalo), Thor (Chris Hemsworth), Black Widow (Scarlett Johansson), Hawkeye (Jeremy Renner), Ant-Man (Paul Rudd), Captain Marvel (Brie Larson), Nebula (Karen Gillan), Rocket Raccoon (Bradley Cooper), and Scarlet Witch (Elizabeth Olsen). And those are just the leads, with secondary characters that include Spider-Man (Tom Holland), Black Panther (Chadwick Boseman), Doctor Strange (Benedict Cumberbatch), Pepper Potts (Gwenyth Paltrow), Star Lord (Chris Pratt), and Gamora (Zoe Saldana) just to name a few. It's the biggest cast of big name character and actors that has ever been assembled, leading to a blockbuster the likes of which may never be repeated in this lifetime.
The film offers a fun time-travel experience through some of the most memorable moments in the MCU to date, making it feel like a celebratory retrospective with tongue-in-cheek jokes. It rewards attentive fans in spades and leads to the most touching moment in the franchise, bringing Phase Three almost to a close and wrapping up the main storylines in an epic finale worthy of a standing ovation.
The Blu-Ray release has two discs, one for the feature and another disc for bonus features which are:
Disc 1
Play Movie with Intro (2:33) – Anthony and Joe Russo introduce the film with spoilers, so don't choose this on your first viewing.

Audio Commentary (3:01:11) – The Russo Brothers are joined by Writers Christopher Markus and Stephen McFeely who reveal the inspiration behind many of their creative decisions in the film, including discussions about filming the two movies back-to-back.
Disc 2
Featurettes

Remembering Stan Lee (7:16) – Archival interviews with Stan Lee from his numerous cameos are edited together into a beautiful piece that captures the exuberance of the creator and co-creator of so many Marvel characters.

Setting the Tone: Casting Robert Downey Jr. (5:25) – RDJ's risky casting is explored through interviews with the cast and creative team with retrospective footage, including his screen test.

A Man Out of Time: Creating Captain America (12:19) –  Kevin Feige and the crew talk about the "Backbone of the universe" and the challenges faced when bringing him to the screen, including finding the right actor to portray him.

Black Widow: Whatever it Takes (7:25) – Natasha Romanoff's story is explored in this featurette with Scarlett Johansson and the creative team.

The Russo Brothers: Journey to Endgame (5:01) – The career of the Russo Brothers within the MCU is celebrated in this short retrospective.

The Women of the MCU (4:52) – The actresses of the MCU talk about the importance of having strong heroines in a male dominated genre and the moment during the final battle where the heroines unite.

Bro Thor (3:43) – Go behind the fat suit in this behind-the-scenes featurette about Endgame Thor, including the emotional arc of the character in this film.

Deleted Scenes

Goji Berries (0:37) – Tony and Pepper argue in the kitchen about how their alpaca is eating all her goji berries.

Bombs on Board (0:30) – Steve Rogers talks to Rhodie about how the tesseract is the reason he crashed in the arctic.

Suckiest Amy in the Galaxy (0:24) – Rocket questions why it took the Avengers so long to defeat the chitauri, who he calls the "Suckiest army in the galaxy."

You Used to Frickin' Live Here (1:10) – Rocket Raccoon and Thor argue on Asgard.

Tony and Howard (0:27) – An outtake from the scene where Tony Stark talks to his father in the past.

Avengers Take a Knee (1:42) – A touching moment where the Avengers pay their respects to their fallen friend in battle before the funeral.

Gag Reel (1:59) – This short blooper reel features the actors goofing off, including Chris Hemsworth rubbing the on-set Rocket Raccoon stand-in against his fat suit body and lots of Chris Evans dancing adorably.

Digital Exclusives (included with digital copy redemption)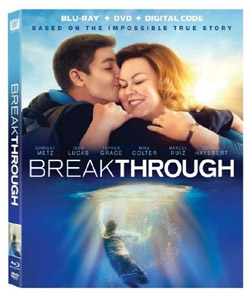 Based on a true story, this biographical drama directed by Roxann Dawson follows the incident of 14-year-old John Smith (Marcel Ruiz,) who falls into a frozen Missouri lake after playing on it with friends. Now unconscious in a hospital bed, John's adoptive parents fret about his chances of survival. But his mother Joyce Smith (Chrissy Metz) won't give up hope and pours all her efforts and prayers into bringing her son back, as she asks God for a miracle.
BREAKTHROUGH 4K Ultra HD™, Blu-ray™ and DVD Bonus Features Include:
A Tapestry of Miracles: Making Breakthrough

"Carry My Soul" Phil Wickham Deleted Scene, and Optional Audio Commentary by DeVon Franklin and Roxann Dawson

Trapped in Icy Waters

Audio Commentary by DeVon Franklin and Roxann Dawson

Gallery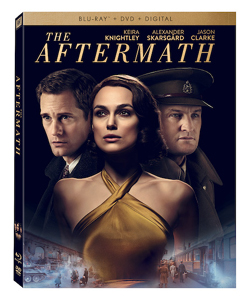 Based on the 2013 novel by Rhidian Brook (The Killing of Butterfly Joe),The Aftermath tells the story of Rachel (Keira Knightley) and Lewis (Jason Clarke) Morgan. Lewis is a Colonel in the British Army who is stationed in Hamburg. In the winter of 1496, his wife Rachel joins him in a requisitioned mansion previously owned by Stefan Lubert (Alexander Skarsgard). Since resources and housing are scarce, Lewis offers to let Lubert and his daughter Freda (Flora Li Thiemann) stay upstairs in the home, much to Rachel's chagrin.
Initially antagonistic towards the former homeowner and his offspring, Rachel eventually softens recognizing their mutual loss during the war her son, Michael, and his wife. As their relationship warms it eventually heats up to become a torrid affair. When Lewis confronts Rachel regarding his suspicions about the affair she comes clean and tells him she is leaving with Stefan and Freda and proclaiming that their marriage had been over for a while, since Michael's death. However, as they are getting on the train, Rachel realizes she can't leave Lewis and goes back to him before heading home to London.
The Aftermath Special Features
Deleted Scenes with optional commentary by Director, James Kent

VFX Progressions with optional commentary by Director, James Kent

First Look

Feature Audio Commentary by Director James Kent

Gallery
LOST IN SPACE Season One on Digital, Blu-ray & DVD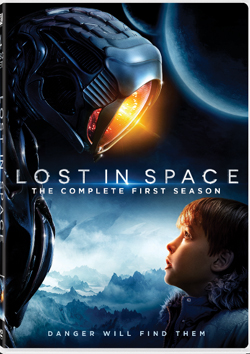 After crash-landing on an alien planet, the Robinson family fight against all odds to survive and escape, but they're surrounded by hidden dangers.
With Earth quickly becoming an uninhabitable planet, a very few select humans are chosen to colonize another far off planet, with the hope to give humanity a fresh start. Led by the Robinson family former military man John (Toby Stephens), scientist and engineer Maureen (Molly Parker), and their kids Will (Maxwell Jenkins), Judy (Taylor Russell), and Penny (Mina Sundwell)  the expedition goes wrong, forcing the entire crew to land on a (hopefully) inhabitable planet. Once there, young Will encounters an alien robot that for some reason pledges its allegiance to him. The robot has the capacity to help the community out a great deal, but it also reveals itself to contain an incredibly dangerous power that scares the colonists, causing division and unrest. As if that weren't enough to keep everyone busy, the planet is host to a whole bunch of huge, hungry creatures that poses a threat to the new inhabitants. When Maureen discovers that the planet is dying and will be uninhabitable in a very short time, the race is on again for everyone to regroup and figure out a way to get enough fuel to make it back to the space station. The biggest threat of all is not the creatures, the robot, or the situation everyone finds themselves in, but from one of their own: a devious and cunning doctor named Smith (Parker Posey), who will do anything it takes to survive, even if it means killing everyone else.
LOST IN SPACE Blu-ray™ and DVD Bonus Features Include:
Deleted Scenes

"No Place to Hide" – Colorized Unaired Pilot Episode from the Original (Blu-ray Exclusive)

Bill and Max: Lost and Found in Space

Bill Mumy Visits the Jupiter 2

Designing the Robot

Sizzle Reel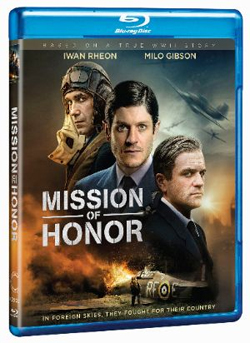 The film follows a squadron of Polish pilots fighting under the Royal Air Force after Poland was quickly felled between German and Russian forces. As Great Britain grows more desperate for pilots to hold back the Nazis, the Polish pilots are even more desperate to do all they can just for the idea of an independent Poland to stand on its own again. The British and Polish struggle to work together at first with all the racial tension, but equipped with the Hurricane airplane and a lot of courage they were fight together and save the future of their countries. Starring Iwan Rheon (Jan Zumbach 'Donald'), Milo Gibson (John Kent 'Kentowski'), and Stefanie Martini (Phyllis Lambert), the film is currently available in select theaters and streaming services.
Starring: Iwan Rheon and Milo Gibson
Special Features:
Q&A with Director David Blair

On Set with Iwan Rheon "Zumbach"

On Set with Milo Gibson "Kent"

On Set with Rosie Gray "Georgia"

On Set with Stefanie Martini "Phyllis"

On Set with Emily Wyatt "Kate"
The Kid Who Would Be King Arrives on 4K Ultra-HD, Blu-ray and DVD
The epic tale of the sword and stone meets the modern world in this family-friendly adventure, The Kid Who Would Be King, from 20th Century Fox Home Entertainment.
Alex thinks he's just another nobody, getting bullied at school and told what to do by his teachers, until he stumbles upon the mythical Sword in the Stone, Excalibur. Now, with the help of the legendary wizard Merlin, he must unite his friends and school yard enemies into an allied band of knights to defeat the wicked enchantress Morgana. With the future at stake, Alex must become the great leader he never dreamed he could be and save the world.
THE KID WHO WOULD BE KING Special Features
Deleted Scenes

Origins of a King

Young Knights

Hair, Makeup & Costume Tests

Merlin's Magic (x4)

*Knight School

*The Two Merlins

*Meet Morgana

*Movie Magic

*"Be the King", Lay Lay Music Video
FROM BARRY JENKINS THE ACADEMY AWARD® WINNING FILMMAKER OF MOONLIGHT NOMINATED FOR THREE ACADEMY AWARDS® INCLUDING BEST SUPPORTING ACTRESS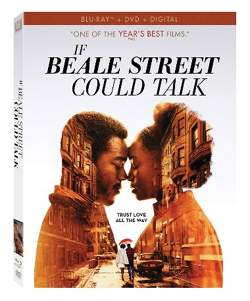 Set in early-1970s Harlem, If Beale Street Could Talk is a timeless and moving love story of both a couple's unbreakable bond and the African-American family's empowering embrace, as told through the eyes of 19-year-old Tish Rivers (KiKi Layne). A daughter and wife-to-be, Tish vividly recalls the passion, respect and trust that have connected her and her artist fiancé Alonzo Hunt, who goes by the nickname Fonny (Stephan James).
Friends since childhood, the devoted couple dream of a future together but their plans are derailed when Fonny is arrested for a crime he did not commit. Through the unique intimacy and power of cinema, If Beale Street Could Talk honors the author's prescient words and imagery, charting the emotional currents navigated in an unforgiving and racially biased world as the filmmaker poetically crosses time frames to show how love and humanity endure.
Special Features Include (Digital, Blu-ray™ & DVD):
Deleted scenes

Featurette:

If Beale Street Could Talk: Poetry in Motion

Audio Commentary by Barry Jenkins
Krypton: The Complete First Season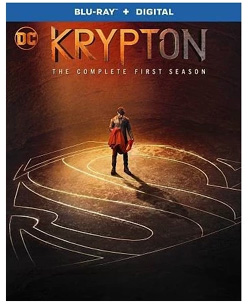 DC Entertainment presents a new look at the mythology of Superman and his lineage with Krypton. The show's complete first season is now available on Blu-ray. Already renewed for a second season, Krypton explores the lives of Superman's ancestors on a planet that seems to be doomed for destruction.
Premiering on the SyFy Network in March 2018, DC's Krypton was a new take on the Superman mythology exploring the mainstay hero's early ancestry but with a bit of a twist. Similar to Gotham for Batman, fans see the events on planet Krypton before the planet's destruction and the life of the House of El before the birth of the future Superman, aka Clark Kent, in Kal-El. However, things get a wrench thrown into the mix with time travel elements.
Set 200 years before Superman's birth, Krypton begins with the disgrace and embarrassment for House El. Krypton is an isolated planet in its galaxy, run by a tyrannical theocracy, headed up by a religious figure head, The Voice of Rao. The great grandfather of Superman, Val-El, was seen as a traitor and heretic for presenting his findings to the Kryptonian government and is sentenced to execution, making the rest of his family lose their rank, title and nobility.
14 years later, and Val-El's grandson, Seg-El, and his parents are scraping by a meager living among the destitute "Rankless" population of Krypton. However, with the scheming Gilded nobility, the dissident rebellion that is Black Zero, Krypton is a powder keg that is on the verge of blowing up. Also, there's the knowledge of a threat from the future in the malevolent super-computer Braniac and a space-faring time traveler who calls himself Adam Strange. Thanks to Adam Strange's help, Seg-El learns his grandfather was right about the oncoming threat about Braniac, who seeks to wipe out life on Krypton to prevent the birth of Superman, which could have grave consequences for the fate of Earth and the rest of the universe when you think about it.
The series definitely makes the most out of its premise. It definitely makes the most out of exploring the mythology and lore around Krypton. It's not a subject matter that really gets covered a lot in film and TV.
It definitely appears the writers throw in a few twists with the time travel aspect. Due to the time travel, it creates more doubt around what will take place or what is supposed to take place. Case in point, Adam Strange has traveled back in time with Superman's cape.
Also, another major DC and Superman rogue is present in the story from the future in the from of Dru-Zod, played by Colin Salmon. Salmon is an incredibly underrated talent, and he definitely brings something interest to the table as Zod. It definitely plays up the more pragmatic side of Zod, while an enemy of Superman, someone who is desperate to save its home world and prevent its destruction. It actually presents an interesting dilemma when this comes to light in the story. What would some benevolent Kryptonians do when confronted with the reality of Krypton's fate? Strange is there to save Superman. But what if saving Krypton means preventing the birth of Superman? What if the only way to make Superman born is to condemn Krypton and the lives of millions of innocents to its fate? Those are the more interesting conflicts and aspects for the first season of the show.
The romances for the show are a little on the melodramatic side. In the world of the show, Krypton is a very organized society, where it seems the government decides everything for you in terms of your rank, social status, and even who you marry and start a family with. People are not allowed to choose who they essentially wed. Having a child is also as simple as getting your DNA sampled out of your fingertip in a lab. But Seg-El has a forbidden romance with his longtime love, Lyta-Zod. So yeah, the show takes the conflict of the Zod and Superman relationship a few steps further by making their ancestors star-crossed lovers.
While I definitely have some doubts about how long Krypton can maintain its story through its run with all the time travel elements, the show has been compelling enough to keep me wanting to tune in for more and see what will ultimately befall Superman's ancestors.
The show does offer a lot of intrigue regarding the current state of Krypton. It appears the planet is already in bad shape at the start of the series. It's stopped rotating, making it quite chaotic. The humanoid population is forced to live in underground compounds or domed cities. It appears at the start of the show, Krypton is very much a world in decline, so its doomed fate seems inevitable.
BLU-RAY & DVD FEATURES
•Krypton : 2017 Comic – Con Panel
•Krypton : Bringing the Home World to Life
•A Lost Kingdom: Life on Krypton
•Gag reel
•Deleted Scenes
10 ONE – HOUR EPISODES
1.Pilot
2.House of El
3.The Rankless Initiative
4.The Word of Rao
5.House of Zod
6.Civil Wars
7.Transformation
8.Savage Night
9.Hope
10.The Phantom Zone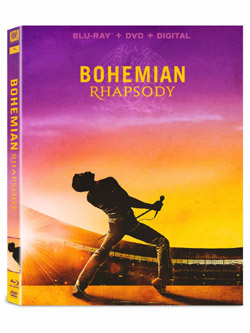 Bohemian Rhapsody is the story of Queen and their dynamic frontman, the late-great Freddie Mercury. Produced with a lot of input, and costume and prop contributions from Queen's Brian May & Roger Taylor, the film attempts a look at Queen from the beginning, to their performance at Live Aid in July 1985, called by many the best rock performance of all time.
A lot has been said about the quality of Bohemian Rhapsody as a film, and as the story of Mercury's life. The consensus by most critics seems to be that it lets Mercury down, and Taylor and May were given far too much input into the story, leading to an idealized version of themselves, and a shortfall in portraying the realities of Mercury's life. Meanwhile, the general public has embraced the film, leading to a worldwide gross of over $840 million. Something we usually only see for superheroes or other huge action films these days. Star Rami Malek has won Golden Globes, BAFTAs, Oscar and more for his phenomenal portrayal of Mercury, and the film itself won the Golden Globe for Best Picture.
Director: Bryan Singer
Writers: Anthony McCarten, Peter Morgan, Stephen J. Rivele, Christopher Wilkinson
Starring: Rami Malek, Ben Hardy, Gwilym Lee, Joseph Mazzello, Allen Leech, Lucy Boynton
Producers: Robert De Niro, Graham King, Brian May, Jane Rosenthal, Roger Taylor, Bryan Singer
Powerful Performance by Viola Davis in Widows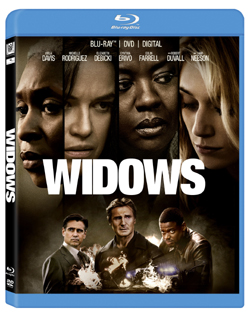 Adapted from the 1983 British TV mini-series, Widows is set against the backdrop of present-day Chicago. The film opens with a heist gone wrong. Harry Rawlings (Liam Neeson) and his crew are blown up in a van while trying to steal a few million dollars, which belonged to drug dealer-turned-politician Jamal Manning (Brian Tyree Henry).
Jamal Manning is running for local office and is going head-to-head with Jack Mulligan (Colin Farrell), a wealthy man whose racist father (Robert Duvall) doesn't approve of some of his son's choices. The political themes come through as Jamal and Jack use their own strategies to win votes.
When Jamal realizes he's lost $2 million due to the heist going bad, he sends his sadistic brother Jatemme (Daniel Kaluuya) to do the dirty work. Jamel pays a visit to Harry's widow, Veronica (Viola Davis), and tells her she only has one month to come up with $2 million. We are then taken into her world through flashbacks. The intimate moments between Harry and Veronica hint at a world of pain that they suffered, and we are only privy to some of their secrets at this point.
When Veronica finds Harry's book filled with details of his heists, including a new one that would bring in $5 million, she contacts the widows of Harry's former accomplices to plan the heist. We are introduced to Alice (Elizabeth Debicki), who was abused by her husband; Linda (Michelle Rodriguez), a mother of two whose husband was a gambler; and Amanda (Carrie Coon), who stays out of the scheme for her own reasons.
They also bring in Belle (Cynthia Erivo), a part-time babysitter who shows she has the street smarts to be a part of their plan. Using Harry's book, the widows plan a heist that no one sees coming.
Bonus Blu-ray features include:
60 minutes of additional content, including behind-the-scenes footage, interviews with the cast and crew, and filming on set.
Gallery
Widows Unmasked
A Chicago story
Assembling the Crew:Production
The Scene of the Crime Locations
Plotting the Heist
The Story
First Man - ON 4K ULTRA HD, BLU-RAY™ AND DVD JANUARY 22, 2019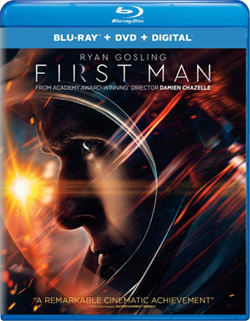 Intimate Portrayal of an American Icon
First Man is based on the book First Man: The Life of Neil A. Armstrong by James R. Hansen. First Man opens in 1961 with Neil Armstrong (Ryan Gosling) as a test pilot for NASA. A humble, quiet man, Armstrong was facing difficulty at work and heartbreak at home. He had several high profile crashes that worried his superiors. His beloved two-year-old daughter, Karen, had an inoperable brain tumor. Neil and his wife, Janet (Claire Foy), held their family together during her sickness. Karen's tragic death devastated the Armstrong family. In 1962, Neil was chosen to be an astronaut in Project Gemini. The mission was to successfully rendezvous a manned capsule with an orbiting spacecraft. The Armstrongs jumped at the chance to start anew. But the space race between the Soviet Union and the United States was distinctly in the Communists favor. NASA chartered a bold new mission, Project Apollo; with a goal to land an astronaut on the moon's surface by the decade's end. The astronomical effort was fraught with horrific tragedy and setbacks. During this time, Neil Armstrong had proven to be supremely capable under dire circumstances. He is chosen to command Apollo 11, the lunar mission. Janet is terrified of the risk, but Neil was resolutely driven by the memory of his daughter. First Man is ten years in the life of Neil Armstrong. It's a fascinating character study of a great man stricken by grief.
Directed by Damien Chazelle.
Starring:  Ryan Gosling, Claire Foy, Jason Clarke, Kyle Chandler, Christopher Abbott, Patrick Fugit, Ciaran Hinds, Ethan Embry, Olivia Hamilton, Lukas Haas, Shea Whigham, Corey Stoll, Brian d'Arcy James, Cory Michael Smith, J.D. Evermore, John David Whalen, Kris Swanberg, Skyler Bible, Ben Owen, William Gregory Lee, Steven Coulter, Shawn Eric Jones, Brady Smith, Gavin Warren, Luke Winters, and Pablo Schreiber.
4K UHD, BLU-RAYTM, DVD & DIGITAL BONUS FEATURES:
Deleted Scenes
Shooting for the Moon – Take an intimate look at the production of FIRST MANand the collaborative relationship between Director Damien Chazelle and Ryan Gosling.
Preparing to Launch – It's difficult to believe that FIRST MANis the first major feature film to tell the journey of Apollo 11. Hear from Director Damien Chazelle and his cast why now is the time to tell the story of this historic event.
Giant Leap in One Small Step – A heroic character study, FIRST MANsheds light on all the hard working individuals that got us to the moon and back.
Mission Gone Wrong – Watch as Ryan Gosling reenacts a test piloting sequence gone terribly wrong. Go behind the scenes to see how he trained to nail the landing, performing the majority of his own stunts.
Putting You In the Seat – Through the use of innovative technology, most of FIRST MANwas shot in-camera. Take an in-depth look behind the lens of this epic film.
Recreating the Moon Landing– Filmed in IMAX to show the vastness of the moon, find out all that it took to recreate the most famous moment in NASA history.
Shooting at NASA – Hear from Ryan Gosling and Director Damien Chazelle on how shooting at NASA brought unparalleled authenticity to FIRST MAN.
Astronaut Training – Go behind the scenes of the three day boot camp each of the actors underwent prior to filmingFIRST MAN.
Feature Commentary with Director Damien Chazelle, Screenwriter Josh Singer and Editor Tom Cross
Red vs. Blue: The Shisno Paradox Blu-Ray + DVD Combo Pack on January 1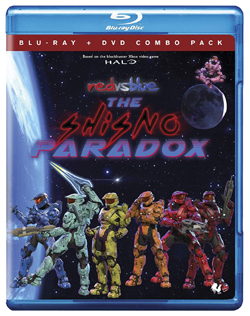 Red Vs. Blue follows two groups of soldiers in the distant future who are battling for control of the least desirable piece of real estate in the known universe: a box canyon in the middle of nowhere.
"The passionate fan base of Red vs. Blue is one of the main reasons why it is the longest running web-series on the internet," said Joe Nicolosi, Director of Red vs. Blue. "We're thrilled to offer up a new cosmically crazy adventure with these colorful characters for all of our fans – new and old."
In Red Vs. Blue: The Shisno Paradox, a simple trip out for pizza ends with the Reds and Blues scattered and lost in time. Their ridiculous adventures in history inadvertently make them pawns in a war between Gods and Titans, which has been raging since before the dawn of time.
The Red Vs. Blue franchise, which is based on the best-selling Xbox video game Halo, has had over one billion total views online with over one million DVDs sold. The Blu-ray + DVD Combo Pack and digital release are jam-packed with bonus features including behind-the-scenes, director/writer commentary and crew photos.
I really enjoyed The Shisno Paradox it left me looking forward to the next installment in this series. Fans of the series will love it and if you're a newcomer to the series you can jump right in.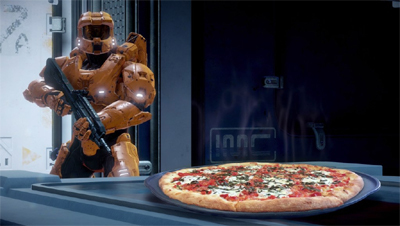 The Oath arrives on Digital 12/28 and DVD 1/8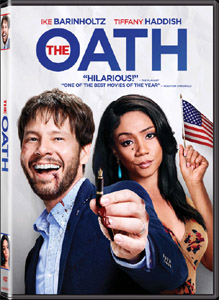 'The Oath' : Tiffany Haddish and Ike Barinholtz Face a Divided America at the Dinner Table on Thanksgiving.
The Oath is a satirical political comedy.
The United States government has put into place the "loyalty oath" for the population to sign. It becomes a major point of contention for the country. If you sign it, you get "perks" and if you don't… well, you could be taken away by the newly created Citizens Protection Unit (CPU) and never be heard from or seen again. The government claims you won't necessarily be penalized for not signing, but the implication is that you're not a patriot if you don't.
The movie centers around Chris (Ike Barinholtz), a seemingly well-off man living with his wife, Kai (Tiffany Haddish) and their daughter in the suburbs of somewhere. Chris is always irate about the news, but there's an addiction to it as well. He wants to constantly be in the know, even if it drives up his blood pressure and tests the patience of his family. His views don't exactly coincide with the ideas of his family, which includes his brother, Pat (Jon Barinholtz), mother and father (Nora Dunn and Chris Ellis), and Pat's girlfriend, Abbie (Meredith Hagner). The only person he gets along with in his family is his sister, Alice (Carrie Brownstein). But as the deadline to sign the loyalty oath approaches, which is right around Thanksgiving, and it becomes harder and harder to not discuss politics at the family dinner.
Then, on Thanksgiving Day, there's a knock at the door. Two agents from the "CPU," an upstart division within Homeland Security, want to question Chris based on a complaint that he attempted to persuade someone from signing the oath. John Cho and Billy Magnussen play the agents with a good cop-bad cop dynamic, Cho attempting to keep the peace while Magnussen constantly baits with partisan talking points. Chris refuses to be questioned and the agents refuse to leave, and so it begins and everything takes a turn for the worse.
Director: Ike Barinholtz
Writer: Ike Barinholtz
Starring: Ike Barinholtz, Tiffany Haddish, Jon Barinholtz, Nora Dunn, Carrie Brownstein, Chris Ellis, Meredith Hagner, Billy Magnussen, John Cho, Jay Duplass.
DVD/DIGITAL SPECIAL FEATURES
Deleted Scenes
"Fake News or Facts" Featurette
"Turkey Day Trauma" Featurette
Photo Gallery
Theatrical Trailer
Halloween is currently available on Digital HD, and it will be available on 4K Ultra HD, Blu-ray and DVD on January 15!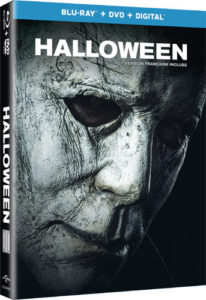 It's been nearly a decade since we last saw Michael Myers grace the silver screen in Halloween. But unfortunately it lacks all the suspense, frightening scares, terror from the 1978 original.
Halloween 2018, picks up forty years after the infamous events that took place in 1978 when Laurie Strode (Jamie Lee Curtis) narrowly escaped with her life after her encounter with the deranged masked serial killer Michael Myers. A team of investigative journalists decide to dig deep into the case and venture to Haddonfield on the eve of the 40th anniversary of these tragic events. Meanwhile, Laurie has spent the last four decades preparing for Michael's inevitable escape, at great cost to her personal life. Her reclusive nature and lingering trauma have strained her relationship with her daughter Karen (Judy Greer), who is trying to keep her own daughter Allyson (Andi Matichak) away from her grandmother. Unfortunately, Laurie's worst fears are realized and Michael once again manages to escape and he's got decades worth of blood lust to get out of his system. The Strode family will have to come together in order to survive the night, leading to a long-awaited rematch between Laurie and Michael.
Cast: Jamie Lee Curtis, Judy Greer, Will Patton, Nick Castle, Andi Matichak, Omar J. Dorsey.
Bonus features with deleted & extended scenes include:
Back in Haddonfield: Making Halloween

The Original Scream Queen

The Sound of Fear

Journey of the Mask

The Legacy of Halloween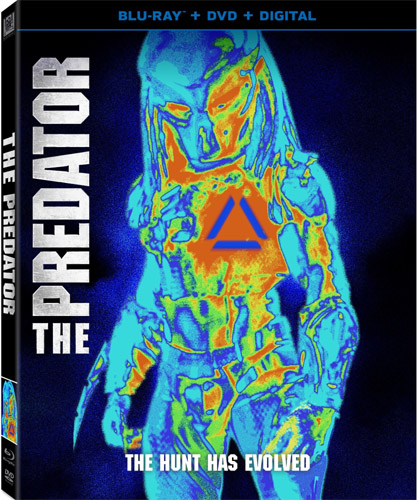 The movie kicks off with a Predator crash-landing on Earth. An unlucky soldier by the name of Quinn McKenna (Boyd Holbrook) who was just doing his job happens to witness the whole thing. He rightfully assumes nobody will believe him and decides to secure some proof. That turns out to be a decision that comes with consequences. His young son, who suffers from Asperger's, gets his hands on the alien gear and that leads the fight straight to the suburbs. All the while, a mysterious government body is very interested in what the Predators can teach us and what it is they want with our planet. It turns out that the already lethal hunters have been genetically upgrading themselves with DNA from other species. Now, it's up to McKenna and a group of battle-hardened and eccentric soldiers to save the day.
Starring: Boyd Holbrook, Trevante Rhodes, Jacob Tremblay, Keegan-Michael Key, Olivia Munn, Thomas Jane, Alfie Allen and Sterling K. Brown.
 
The Predator Digital, 4K Ultra HD™, Blu-ray™ & DVD SPECIAL FEATURES
Deleted Scenes

A Touch of Black

Predator Evolution

The Takedown Team

Predator Catch-Up

Gallery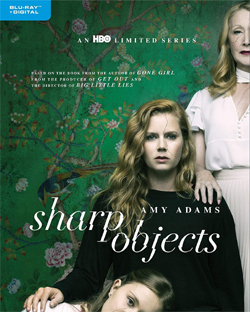 This psychological Drama is based on the book of the same name by Gillian Flynn and is created for HBO specifically by Marti Noxon and directed by Jean-Marc Vallée.
The series also has some parallels to Big Little Lies and True Detective in terms of its formula, where it shows key events from the past that links to the present plus a sprinkle of Twin Peaks thrown in for good measures. As a result, it makes for some great problem solving by the viewer and really adds to the overall atmosphere of this dark and at times disturbing drama.
The story is definitely worth watching, it revolves around newspaper reporter Camille Preaker (Amy Adams) who is an alcoholic and also spent time in a psychiatric hospital for self-harm which probably made things worse for her.
However when her home town of Wind Gap suffers the grisly murders of two teenage girls, her editor Frank (Miguel Sandoval) sends her back home in order to write a story about how this affecting the town much to her disdain. Frank also hopes this might set her on the right path again and without alcohol.
With that said, this catalyst was sparked by the death of her sister that has led Camille down a dark and lonely road, particularly that she has lost the love of her mother and socialite Adora (Patricia Clarkson). Clarkson plays this damaged and unlikable character very well and needless to say, just about everyone in this town has their own demons that all cross paths with the main characters.
Another key character is Detective Richard Willis (Chris Messina) who has been sent to the town of Wind Gap from Kansas City in order to help the local and perhaps incompetent authorities in solving the murders of these young girls. Like Camille, this character has his own secrets as does her family like her step-father Alan (Henry Czerny) and half-sister Emma (Eliza Scanlen) .
I only can recommended this 8-episode TV series.
Cast: Amy Adams, Patricia Clarkson, Chris Messina, Eliza Scanlen and Matt Craven.