First Man - ON 4K ULTRA HD, BLU-RAY™ AND DVD JANUARY 22, 2019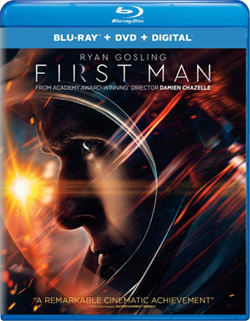 Intimate Portrayal of an American Icon
First Man is based on the book First Man: The Life of Neil A. Armstrong by James R. Hansen. First Man opens in 1961 with Neil Armstrong (Ryan Gosling) as a test pilot for NASA. A humble, quiet man, Armstrong was facing difficulty at work and heartbreak at home. He had several high profile crashes that worried his superiors. His beloved two-year-old daughter, Karen, had an inoperable brain tumor. Neil and his wife, Janet (Claire Foy), held their family together during her sickness. Karen's tragic death devastated the Armstrong family. In 1962, Neil was chosen to be an astronaut in Project Gemini. The mission was to successfully rendezvous a manned capsule with an orbiting spacecraft. The Armstrongs jumped at the chance to start anew. But the space race between the Soviet Union and the United States was distinctly in the Communists favor. NASA chartered a bold new mission, Project Apollo; with a goal to land an astronaut on the moon's surface by the decade's end. The astronomical effort was fraught with horrific tragedy and setbacks. During this time, Neil Armstrong had proven to be supremely capable under dire circumstances. He is chosen to command Apollo 11, the lunar mission. Janet is terrified of the risk, but Neil was resolutely driven by the memory of his daughter. First Man is ten years in the life of Neil Armstrong. It's a fascinating character study of a great man stricken by grief.
Directed by Damien Chazelle.
Starring:  Ryan Gosling, Claire Foy, Jason Clarke, Kyle Chandler, Christopher Abbott, Patrick Fugit, Ciaran Hinds, Ethan Embry, Olivia Hamilton, Lukas Haas, Shea Whigham, Corey Stoll, Brian d'Arcy James, Cory Michael Smith, J.D. Evermore, John David Whalen, Kris Swanberg, Skyler Bible, Ben Owen, William Gregory Lee, Steven Coulter, Shawn Eric Jones, Brady Smith, Gavin Warren, Luke Winters, and Pablo Schreiber.
4K UHD, BLU-RAYTM, DVD & DIGITAL BONUS FEATURES:
Deleted Scenes
Shooting for the Moon – Take an intimate look at the production of FIRST MANand the collaborative relationship between Director Damien Chazelle and Ryan Gosling.
Preparing to Launch – It's difficult to believe that FIRST MANis the first major feature film to tell the journey of Apollo 11. Hear from Director Damien Chazelle and his cast why now is the time to tell the story of this historic event.
Giant Leap in One Small Step – A heroic character study, FIRST MANsheds light on all the hard working individuals that got us to the moon and back.
Mission Gone Wrong – Watch as Ryan Gosling reenacts a test piloting sequence gone terribly wrong. Go behind the scenes to see how he trained to nail the landing, performing the majority of his own stunts.
Putting You In the Seat – Through the use of innovative technology, most of FIRST MANwas shot in-camera. Take an in-depth look behind the lens of this epic film.
Recreating the Moon Landing– Filmed in IMAX to show the vastness of the moon, find out all that it took to recreate the most famous moment in NASA history.
Shooting at NASA – Hear from Ryan Gosling and Director Damien Chazelle on how shooting at NASA brought unparalleled authenticity to FIRST MAN.
Astronaut Training – Go behind the scenes of the three day boot camp each of the actors underwent prior to filmingFIRST MAN.
Feature Commentary with Director Damien Chazelle, Screenwriter Josh Singer and Editor Tom Cross
Red vs. Blue: The Shisno Paradox Blu-Ray + DVD Combo Pack on January 1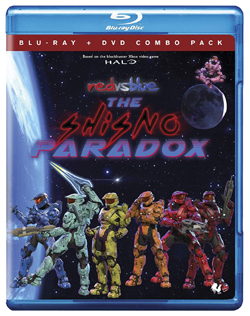 Red Vs. Blue follows two groups of soldiers in the distant future who are battling for control of the least desirable piece of real estate in the known universe: a box canyon in the middle of nowhere.
"The passionate fan base of Red vs. Blue is one of the main reasons why it is the longest running web-series on the internet," said Joe Nicolosi, Director of Red vs. Blue. "We're thrilled to offer up a new cosmically crazy adventure with these colorful characters for all of our fans – new and old."
In Red Vs. Blue: The Shisno Paradox, a simple trip out for pizza ends with the Reds and Blues scattered and lost in time. Their ridiculous adventures in history inadvertently make them pawns in a war between Gods and Titans, which has been raging since before the dawn of time.
The Red Vs. Blue franchise, which is based on the best-selling Xbox video game Halo, has had over one billion total views online with over one million DVDs sold. The Blu-ray + DVD Combo Pack and digital release are jam-packed with bonus features including behind-the-scenes, director/writer commentary and crew photos.
I really enjoyed The Shisno Paradox it left me looking forward to the next installment in this series. Fans of the series will love it and if you're a newcomer to the series you can jump right in.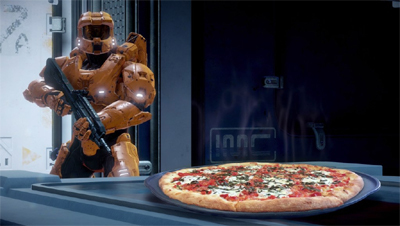 The Oath arrives on Digital 12/28 and DVD 1/8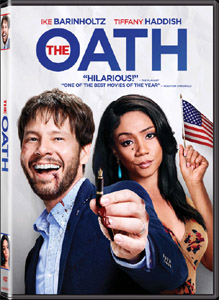 'The Oath' : Tiffany Haddish and Ike Barinholtz Face a Divided America at the Dinner Table on Thanksgiving.
The Oath is a satirical political comedy.
The United States government has put into place the "loyalty oath" for the population to sign. It becomes a major point of contention for the country. If you sign it, you get "perks" and if you don't… well, you could be taken away by the newly created Citizens Protection Unit (CPU) and never be heard from or seen again. The government claims you won't necessarily be penalized for not signing, but the implication is that you're not a patriot if you don't.
The movie centers around Chris (Ike Barinholtz), a seemingly well-off man living with his wife, Kai (Tiffany Haddish) and their daughter in the suburbs of somewhere. Chris is always irate about the news, but there's an addiction to it as well. He wants to constantly be in the know, even if it drives up his blood pressure and tests the patience of his family. His views don't exactly coincide with the ideas of his family, which includes his brother, Pat (Jon Barinholtz), mother and father (Nora Dunn and Chris Ellis), and Pat's girlfriend, Abbie (Meredith Hagner). The only person he gets along with in his family is his sister, Alice (Carrie Brownstein). But as the deadline to sign the loyalty oath approaches, which is right around Thanksgiving, and it becomes harder and harder to not discuss politics at the family dinner.
Then, on Thanksgiving Day, there's a knock at the door. Two agents from the "CPU," an upstart division within Homeland Security, want to question Chris based on a complaint that he attempted to persuade someone from signing the oath. John Cho and Billy Magnussen play the agents with a good cop-bad cop dynamic, Cho attempting to keep the peace while Magnussen constantly baits with partisan talking points. Chris refuses to be questioned and the agents refuse to leave, and so it begins and everything takes a turn for the worse.
Director: Ike Barinholtz
Writer: Ike Barinholtz
Starring: Ike Barinholtz, Tiffany Haddish, Jon Barinholtz, Nora Dunn, Carrie Brownstein, Chris Ellis, Meredith Hagner, Billy Magnussen, John Cho, Jay Duplass.
DVD/DIGITAL SPECIAL FEATURES
Deleted Scenes
"Fake News or Facts" Featurette
"Turkey Day Trauma" Featurette
Photo Gallery
Theatrical Trailer
Halloween is currently available on Digital HD, and it will be available on 4K Ultra HD, Blu-ray and DVD on January 15!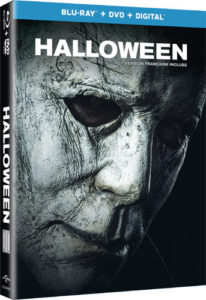 It's been nearly a decade since we last saw Michael Myers grace the silver screen in Halloween. But unfortunately it lacks all the suspense, frightening scares, terror from the 1978 original.
Halloween 2018, picks up forty years after the infamous events that took place in 1978 when Laurie Strode (Jamie Lee Curtis) narrowly escaped with her life after her encounter with the deranged masked serial killer Michael Myers. A team of investigative journalists decide to dig deep into the case and venture to Haddonfield on the eve of the 40th anniversary of these tragic events. Meanwhile, Laurie has spent the last four decades preparing for Michael's inevitable escape, at great cost to her personal life. Her reclusive nature and lingering trauma have strained her relationship with her daughter Karen (Judy Greer), who is trying to keep her own daughter Allyson (Andi Matichak) away from her grandmother. Unfortunately, Laurie's worst fears are realized and Michael once again manages to escape and he's got decades worth of blood lust to get out of his system. The Strode family will have to come together in order to survive the night, leading to a long-awaited rematch between Laurie and Michael.
Cast: Jamie Lee Curtis, Judy Greer, Will Patton, Nick Castle, Andi Matichak, Omar J. Dorsey.
Bonus features with deleted & extended scenes include:
Back in Haddonfield: Making Halloween

The Original Scream Queen

The Sound of Fear

Journey of the Mask

The Legacy of Halloween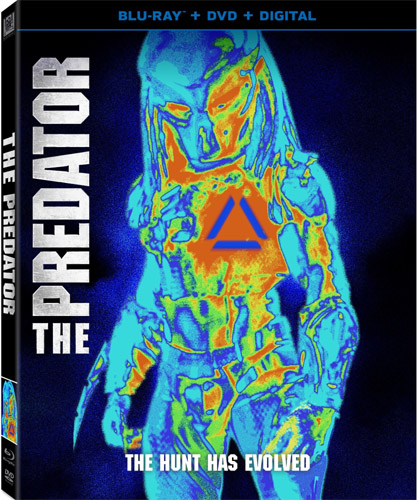 The movie kicks off with a Predator crash-landing on Earth. An unlucky soldier by the name of Quinn McKenna (Boyd Holbrook) who was just doing his job happens to witness the whole thing. He rightfully assumes nobody will believe him and decides to secure some proof. That turns out to be a decision that comes with consequences. His young son, who suffers from Asperger's, gets his hands on the alien gear and that leads the fight straight to the suburbs. All the while, a mysterious government body is very interested in what the Predators can teach us and what it is they want with our planet. It turns out that the already lethal hunters have been genetically upgrading themselves with DNA from other species. Now, it's up to McKenna and a group of battle-hardened and eccentric soldiers to save the day.
Starring: Boyd Holbrook, Trevante Rhodes, Jacob Tremblay, Keegan-Michael Key, Olivia Munn, Thomas Jane, Alfie Allen and Sterling K. Brown.
 
The Predator Digital, 4K Ultra HD™, Blu-ray™ & DVD SPECIAL FEATURES
Deleted Scenes

A Touch of Black

Predator Evolution

The Takedown Team

Predator Catch-Up

Gallery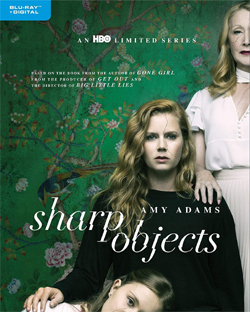 This psychological Drama is based on the book of the same name by Gillian Flynn and is created for HBO specifically by Marti Noxon and directed by Jean-Marc Vallée.
The series also has some parallels to Big Little Lies and True Detective in terms of its formula, where it shows key events from the past that links to the present plus a sprinkle of Twin Peaks thrown in for good measures. As a result, it makes for some great problem solving by the viewer and really adds to the overall atmosphere of this dark and at times disturbing drama.
The story is definitely worth watching, it revolves around newspaper reporter Camille Preaker (Amy Adams) who is an alcoholic and also spent time in a psychiatric hospital for self-harm which probably made things worse for her.
However when her home town of Wind Gap suffers the grisly murders of two teenage girls, her editor Frank (Miguel Sandoval) sends her back home in order to write a story about how this affecting the town much to her disdain. Frank also hopes this might set her on the right path again and without alcohol.
With that said, this catalyst was sparked by the death of her sister that has led Camille down a dark and lonely road, particularly that she has lost the love of her mother and socialite Adora (Patricia Clarkson). Clarkson plays this damaged and unlikable character very well and needless to say, just about everyone in this town has their own demons that all cross paths with the main characters.
Another key character is Detective Richard Willis (Chris Messina) who has been sent to the town of Wind Gap from Kansas City in order to help the local and perhaps incompetent authorities in solving the murders of these young girls. Like Camille, this character has his own secrets as does her family like her step-father Alan (Henry Czerny) and half-sister Emma (Eliza Scanlen) .
I only can recommended this 8-episode TV series.
Cast: Amy Adams, Patricia Clarkson, Chris Messina, Eliza Scanlen and Matt Craven.