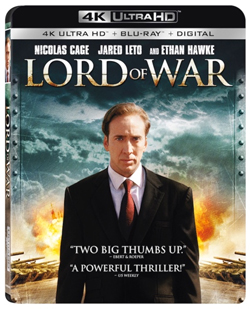 Lord of War comes to 4K Ultra HD™ Combo Pack (Plus Blu-ray™ and Digital) on March 19
Academy Award® winner Nicolas Cage thrills in this action-packed true story of a gunrunner who supplied dictators and outran the law for nearly 20 years.
4K ULTRA HD / BLU-RAY SPECIAL FEATURES
Audio Commentary with Writer-Director Andrew Niccol

"The Making of Lord of War" Featurette

"Making a Killing: Inside the International Arms Trade" Featurette

Deleted Scenes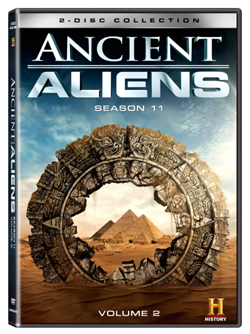 Ancient Aliens Season 11, Volume 2 coming to DVD on March 12
On this season of Ancient Aliens®, we explore incredible new developments in the search for evidence of extraterrestrial contact in our distant past — and even today. In Egypt, new technology has detected a previously unknown void in the Great Pyramid; on the island of Sardinia, ancient statues of giants with robotic faces are being shown to the public for the first time; and, in the north of England, scientists claim to have discovered what could be biological evidence of alien life! Join Giorgio Tsoukalos and his fellow ancient astronaut theorists as they examine these and other mysteries.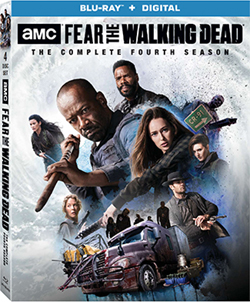 Fear the Walking Dead The Complete Fourth Season arrives on Blu-ray™ (plus Digital) and DVD March 5 from Lionsgate
In Season 4 of "Fear the Walking Dead," we will see the world of Madison Clark (Dickens) and her family through new eyes — the eyes of Morgan Jones (James), who is joining the story from the world of "The Walking Dead." The characters' immediate pasts mix with an uncertain present of struggle and discovery as they meet new friends, foes, and threats. They fight for each other, against each other, and against a legion of the dead, and work to build an existence strong enough to resist the crushing pressure of lives coming apart. There will be darkness and light; terror and grace; and the heroic, mercenary, and craven, all crashing together toward a new reality for "Fear the Walking Dead."
BLU-RAY / DVD SPECIAL FEATURES
Episode 401 Audio Commentary with Executive Producer Scott Gimple, Showrunners Andrew Chambliss and Ian Goldberg

Episode 405 Audio Commentary with Director Michael Satrazemis, Actors Jenna Elfman and Garret Dillahunt

Episode 410 Audio Commentary with Director Michael Satrazemis and Actress Alycia Debnam-Carey

Episode 416 Audio Commentary with Showrunners Andrew Chambliss and Ian Goldberg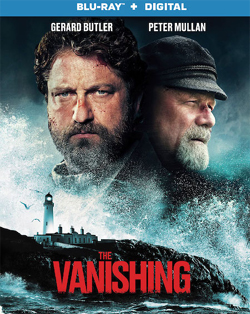 The Vanishing arrives on Blu-ray (plus Digital) and DVD March 5
Gerard Butler (Hunter Killer) and Peter Mullan (TV's "Ozark") star in this tense, action-packed thriller based on true events. After three lighthouse keepers arrive for work on a remote Scottish isle, they make a fateful discovery: a wrecked rowboat—with a chest full of gold. As a mysterious boat heads toward the island, the three men make a choice that will change their lives forever, ensnaring them in a web of greed, paranoia, and murder. BLU-RAY / DVD / DIGITAL SPECIAL FEATURES: "Emerging from the Darkness: The Vanishing" Featurette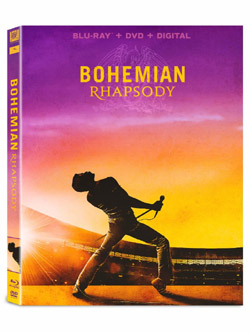 Bohemian Rhapsody on Digital and Movies Anywhere January 22 and 4K Ultra HD™, Blu-ray™ and DVD February 12
In addition to the foot-stomping celebration that won the hearts of audiences around the world, comes a first look at excerpts of the "Crazy Little Thing Called Love" performance not previously seen in theaters. The video includes side-by-side, scene-for-scene recreations next to a portion of Queen's original Live Aid 1985 performance as well as an interview with Rami Malek (Freddie Mercury) and Joe Mazzello (John Deacon). The clip showcases how the original Live Aid performance influenced both the filmmakers and cast when recreating what many consider the greatest live performance of all time. Fans can experience the full version of "Crazy Little Thing Called Love" and additional never-before-seen performance, "We Will Rock You", on Digital January 22 and 4K Ultra HD, Blu-ray and DVD February 12. Nominated for two Golden Globe® Awards including Best Motion Picture- Drama and Best Actor in a Motion Picture - Drama (Rami Malek), and two SAG Awards for Outstanding Performance by a Cast Motion Picture and Outstanding Performance by a Male Actor in a Leading Role (Malek), Bohemian Rhapsody has captured the hearts of fans globally. Bohemian Rhapsody is an enthralling celebration of Queen, their music, and their extraordinary lead singer Freddie Mercury (Malek), who defied stereotypes and convention to become one of history's most beloved entertainers. Following Queen's meteoric rise, their revolutionary sound and Freddie's solo career, the film also chronicles the band's reunion, and one of the greatest performances in rock history. For the first time, fans can experience a truly one-of-a-kind music movie event with the complete "Live Aid" Movie Performance featuring two never-before-seen songs ("Crazy Little Thing Called Love" and "We Will Rock You") packed into a 22-minute collective experience recreating the original event. In addition, on Blu-ray & Digital, fans will get a look behind the making of the film including interviews with Queen, the cast and creative team.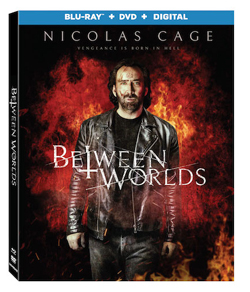 Between Worlds arrives on Blu-ray™ (plus DVD and Digital), DVD, and Digital February 26
Nicolas Cage stars in this twist-filled supernatural thriller that follows Joe (Cage), a struggling truck driver haunted by the memory of his deceased wife and daughter. Joe's life takes a dramatic turn when he meets Julie (Potente), a woman with mysterious spiritual powers, whose daughter, Billie, lies in a coma. Julie enlists Joe's help to stop Billie from crossing over to the spirit world, but when Billie awakes, her body is possessed — by the vengeful spirit of Joe's dead wife.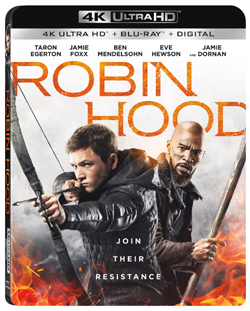 Robin Hood Comes to Digital 2/5 and 4K, Blu-ray & DVD 2/19
Returning home from the Crusades, Robin of Loxley (Egerton) finds his country oppressed by the evil Sheriff of Nottingham (Mendelsohn). With the help of Moorish warrior Little John (Foxx), Robin transforms into the heroic outlaw Robin Hood, taking up arms to fight the sheriff and win the heart of his love, Maid Marian (Hewson).
4K UHD / BLU-RAY / DVD / DIGITAL SPECIAL FEATURES
"Outlaws and Auteurs: Reshaping Robin Hood" (7-Part Documentary)
Outtakes
Deleted Scenes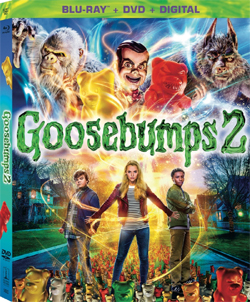 R.L. Stine's Goosebumps 2 Comes to Digital 12/25 and Blu-ray & DVD 1/15
Be careful what you wish for. With their after school junk business, best friends Sonny and Sam hope to find treasure in other people's trash. But when cleaning out the old Stine house, they open a locked book that frees a supernatural nightmare- Slappy! Now, with the help of Sonny's sister Sarah, they're in a race against time to get the sinister dummy and all the creatures he's brought to life back into the pages before he unleashes total pandemonium! Based on the beloved Scholastic book series by R.L Stine, GOOSEBUMPS 2 was directed by Academy Award®-winner Ari Sandel (2005, Best Short Film-Live Action, West Bank Story) from a story by Rob Lieber and Darren Lemke and screenplay by Lieber. The film is produced by Deborah Forte and Neal H. Moritz and is executive produced by Timothy M. Bourne and Tania Landau. GOOSEBUMPS 2 is a Columbia Pictures, Scholastic Entertainment Inc./Silvertongue Films, Inc and Original Film production.
Blu-ray, DVD and Digital Bonus Materials Include:
Gag Reel
Three Deleted Scenes:
Five Featurettes
"Thrills & Chills – The Making of Goosebumps 2"
"Meet The Monsters"
"Science With Slappy"
"Junk Brothers – Call Now"
"Slappy's Audition"
Three Slappy-Oke Sing Alongs
GOOSEBUMPS 2 has a run time of approximately 120 minutes and is rated PG for scary creature action and images, some thematic elements, rude humor and language.
Hunter Killer
The Action Goes Underwater on
Digital January 15 and on 4K Ultra HD™ Combo Pack, Blu-ray™ Combo Pack, and DVD on January 29 from Summit PremiereTM, A Lionsgate® Company.
Deep under the Arctic Ocean, American submarine Captain Joe Glass (Butler) is on the hunt for a U.S. sub in distress when he uncovers a secret Russian coup threatening to dismantle the world order. With crew and country on the line, Captain Glass must now assemble an elite group of Navy SEALs to rescue the kidnapped Russian president and sneak through enemy waters to stop WWIII.
Take home Hunter Killer and take a deep dive into the making of the film with the "Surface Tension: Declassifying Hunter Killer" two-part featurette, as well as an audio commentary with director Donovan Marsh. Experience four times the resolution of full HD with the 4K Ultra HD Combo Pack, which includes Dolby Vision® HDR, bringing entertainment to life through ultra-vivid picture quality. When compared to a standard picture, Dolby Vision can deliver spectacular colors never before seen on-screen, highlights that are up to 40 times brighter, and blacks that are 10 times darker. The 4K Ultra HD Combo Pack and Blu-ray also feature Dolby Atmos® audio mixed specifically for the home, to place and move audio anywhere in the room, including overhead. The Hunter Killer 4K Ultra HD Combo Pack, Blu-ray Combo Pack, and DVD will be available for the suggested retail price of $42.99, $39.99, and $29.95, respectively.
4K UHD / BLU-RAY / DVD / DIGITAL SPECIAL FEATURES
Audio Commentary with Director Donovan Marsh

"Surface Tension: Declassifying Hunter Killer"  (Two-Part Featurette)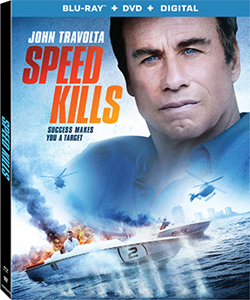 SPEED KILLS on Blu-ray & DVD 1/15/19
John Travolta commands the screen as Ben Aronoff, a speedboat racing champion and multimillionaire living the American Dream. But Ben hides a dangerous secret life: His boats are being used to move cocaine through Miami. Suddenly caught in a crossfire between DEA agents and the mob, Ben makes a desperate stand to save his family and his empire in this action-filled thriller based on an incredible true story. CAST :John Travolta, Katheryn Winnick, Jennifer Esposito, Michael Weston, Jordi Molla, Amaury Nolasco, Matthew Modine with James Remar and Kellan Lutz.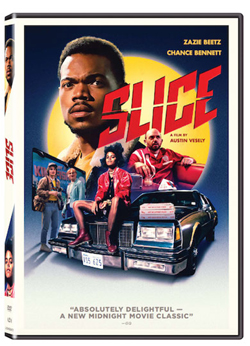 Slice arrives on DVD January 29
When a slew of pizza delivery boys are slain on the job in a spooky small town, two daring survivors (Zazie Beetz of TV's "Atlanta," and Chance the Rapper in a wild film debut) set out to catch the culprits behind the cryptic crime spree. DVD SPECIAL FEATURES: ·Deleted Scenes ·Audio Commentary with Director Austin Vesely, Producer Elijah Alvarado, and Actor Paul Scheer. CAST: Zazie Beetz, Chance the Rapper, Rae Gray, Chris Parnell, Paul Scheer, Joe Keery
Blood Brother arrives on Blu-ray™(plus_Digital), DVD, and Digital 1/29
When an ex-con takes murderous revenge against childhood friends whom he believes let him take the fall for a crime they collectively committed, one of the friends, now a cop, risks his life to stop him in this gritty crime-drama starring music artist Trey Songz (Baggage Claim, Texas Chainsaw 3D), Jack Kesy ("The Strain," Baywatch), China Anne McClain (Grown Ups, How to Build a Better Boy), Hassan Johnson ("The Wire," Brooklyn's Finest), Tanee McCall (Burlesque), and introducing top-selling music artist Fetty Wap (iHeartRadio's Best New Artist 2016).
BLU-RAY/DVD/DIGITAL SPECIAL FEATURES
Audio Commentary with Director John Pogue and Actor Trey Songz

"Blood Brother: Behind the Scenes" Featurette
CAST
Trey Songz                             Texas Chainsaw 3D, American Honey, Baggage Claim
Jack Kesy                              Deadpool 2, 12 Strong, Baywatch
China Anne McClain             TV's "Black Lightning", TV's "A.N.T. Farm," Daddy's Little Girls
Tanee McCall                         Burlesque, The Losers, Coach Carter
Hassan Johnson                     Brooklyn's Finest, The Devil's Own, Ovum
Ron "R-Truth" Killings             The Wrestler
J.D. Williams                           TV's "Saints & Sinners," TV's "Oz", TV's "The Wire"
and Fetty Wap                        Fetty Wap: Trap Queen
Power Rangers Super Ninja
Steel: The Complete Seaso
n arrives on DVD, Digital and On Demand 2/5
Madame Odius is still alive and more determined than ever to steal the Ninja Nexus Prism for her nefarious purposes! Now it's up to the Rangers, with some unexpected help from new friends, to use the power of teamwork to defeat Odius and save the world!
CAST
William Shewfelt                    as Brody Romero, Red Ninja Steel Ranger
Nico Greetham                      as Calvin Maxwell, Yellow Ninja Steel Ranger
Zoë Robins                            as Hayley Foster, White Ninja Steel Ranger
Peter Sudarso                        as Preston Tien, Blue Ninja Steel Ranger
Chrysti Ane                            as Sarah Thompson, Pink Ninja Steel Ranger
Jordi Webber                         as Aiden Romero/Levi Weston, Gold Ninja Steel Ranger