The CW's Longest-Running DC Series
Arrow: The Complete Eighth & Final Season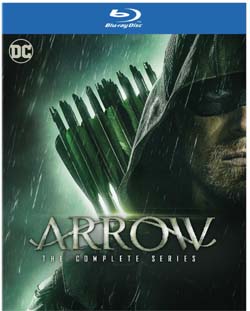 Contains All 10 Exhilarating Episodes from
the Eighth and Final Season,
Plus Special Features and Deleted Scenes!
Available on Blu-ray™ & DVD April 28, 2020
After eight remarkable seasons, Warner Bros. Home Entertainment and DC mark the end of an epic era with its final installment of the suspenseful and action-packed series with the release of Arrow: The Eighth and Final Seasonon Blu-ray & DVD April 28, 2020. Get ready for nonstop action from start to finish with all 10 action-packed episodes from the eighth and final season, plus the show's 2019 Comic-Con Panel, the broadcast special Arrow: Hitting the Bullseye and deleted scenes! A limited edition bonus disc featuring all five DC Crossover Event: Crisis on Infinite Earths episodes will be available exclusively for fans who purchase the Blu-ray. Arrow:The Eighth and Final Season is priced to own at $24.98 SRP ($29.98 in Canada) and $29.98 SRP for the Blu-ray which includes a Digital Code (U.S. only), ($39.99 in Canada). Arrow: The Eighth and Final Season is also available to own on Digital via purchase from digital retailers.
Arrow: The Complete Series will also be available for fans to own on Blu-ray and DVD for $189.99 / $169.99 SRP ($249.99 / $229.99 in Canada). The bonus disc is included in the Blu-ray Complete Series set. 
Following the arrival of The Monitor, Oliver Queen left his home, his family, & his team behind to take on his most challenging battle yet, knowing the cost may be his life. But this time it's not just his city he's seeking to protect – it's the entire multiverse! Oliver's quest will send him on a journey where he is forced to confront the ultimate question: what is the true cost of being a hero?
"It's been an unbelievable eight-season run for Arrow," said Rosemary Markson, WBHE Senior Vice President, Television Marketing. "The devoted fan base for this phenomenal franchise is going to love the limited edition bonus disc included within the Season 8 and Complete Series Blu-ray releases, featuring the entire 2019 Crossover event plus all-new Crossover bonus content! "
With Blu-ray's unsurpassed picture and sound, Arrow: The Eighth and Final Season Blu-ray release will include 1080p Full HD Video with DTS-HD Master Audio for English 5.1. Featuring all 10 episodes from the eighth season in high definition, as well as a digital code of the season (available in the U.S. only).
Arrow stars Stephen Amell (Private Practice, Heartland), David Ramsey (Dexter), Rick Gonzalez (Reaper), Juliana Harkavy (Dolphin Tale, The Walking Dead), Katherine McNamara (Shadowhunters, Happyland), Ben Lewis (Chasing Life, Suits) and Joseph David-Jones (Nashville, Allegiant) with Katie Cassidy (A Nightmare on Elm Street).Based on the characters from DC, Arrow is produced by Bonanza Productions Inc. in association with Berlanti Productions and Warner Bros. Television, with executive producers Greg Berlanti (The Flash, Supergirl, Riverdale, DC's Legends of Tomorrow), Beth Schwartz (DC's Legends of Tomorrow), Jill Blankenship (The Last Ship) and Sarah Schechter (The Flash, Supergirl, Blindspot, Black Lightning). Marc Guggenheim (DC's Legends of Tomorrow, Eli Stone, Percy Jackson: Sea of Monsters) serves as consulting producer.
The Best of DC TV's Comic-Con Panels San Diego 2019     

Arrow: Hitting the Bullseye (Special)

Deleted Scenes
All Five Epic Episodes of the DC Crossover Event: Crisis on Infinite Earths from Supergirl, Batwoman, The Flash, Arrow and DC's Legends of Tomorrow
Crisis Past and Present: Kevin Conroy Bat Legend                    

Crisis on Infinite Earths: The Architects Return                                 

Crisis Past and Present – Superman vs. Superman                           

Characters in Crisis: Pariah

Crisis Management

Character in Crisis: The Anti-Monitor
2.   Welcome to Hong Kong
8.   Crisis on Infinite Earths: Hour Four
9.   Green Arrow & The Canaries
Uncut Gems arrives on Digital 2/25 and on Blu-ray™ and DVD 3/10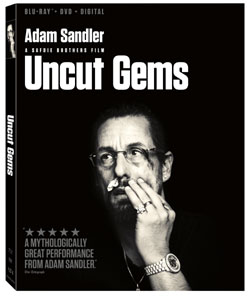 A charismatic jeweler (Adam Sandler) makes a high-stakes bet that could lead to the windfall of a lifetime. In a precarious high-wire act, he must balance business and family, fending off adversaries on all sides in pursuit of the ultimate win.
 
BLU-RAY / DVD SPECIAL FEATURES
"Money on the Street: The Making of Uncut Gems" Featurette
CAST: Adam Sandler, LaKeith Stanfield, Kevin Garnett, Idina Menzel, Eric Bogosian, Judd Hirsch
Inherit the Viper arrives on Blu-ray (plus DVD & Digital) and DVD 3/10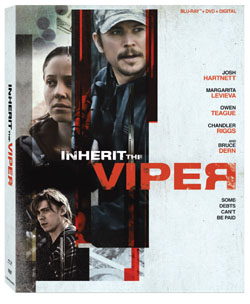 For siblings Kip (Josh Hartnett) and Josie (Margarita Levieva), dealing opioids isn't just their family business—it's their only means of survival. When a deal goes fatally wrong, Kip decides he wants out. But Kip's attempt to escape his family's legacy ignites a powder keg of violence and betrayal, imperiling Kip, Josie, and their younger brother, Boots (Owen Teague), in this searing crime-thriller that builds to a shattering conclusion.
 
CAST
Josh Hartnett, Margarita Levieva, Owen Teague, Valorie Curry, Chandler Riggs,
Brad William, Henke, Tara Buck with Dash Mihok and Bruce Dern.
Midway arrives on Digital 2/4 and on 4K, Blu-ray, DVD, and On Demand 2/18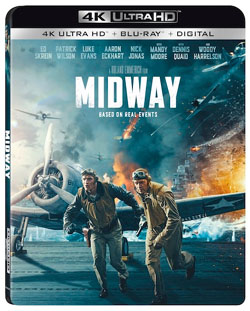 Midway centers on the Battle of Midway, a clash between the American fleet and the Imperial Japanese Navy which marked a pivotal turning point in the Pacific Theater during WWII. The film, based on the real-life events of this heroic feat, tells the story of the leaders and soldiers who used their instincts, fortitude, and bravery to overcome the odds. Directed by Roland Emmerich.
Knives Out arrives on Digital 2/7 and on 4K, Blu-ray, DVD, and On Demand 2/25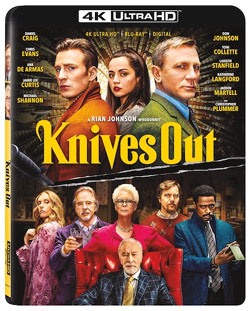 The circumstances surrounding the death of crime novelist Harlan Thrombey are mysterious, but there's one thing that renowned Detective Benoit Blanc knows for sure—everyone in the wildly dysfunctional Thrombey family is a suspect. Now, Blanc must sift through a web of lies and red herrings to uncover the truth. From acclaimed writer-director Rian Johnson comes this suspenseful, twist-filled whodunnit with an all-star ensemble cast including Daniel Craig, Chris Evans, Ana de Armas, Jamie Lee Curtis, Michael Shannon, Don Johnson, Toni Collette, LaKeith Stanfield, Katherine Langford, Jaeden Martell, Christopher Plummer, and more.
 
Take home Knives Out and immerse yourself in the mystery with special features including audio commentary and in-theatre commentary by filmmaker Rian Johnson, two never-before-seen deleted scenes, the eight-part "Making a Murder" documentary, the "Rian Johnson: Planning the Perfect Murder" featurette, a Q&A with the director and cast, and so much more. Experience four times the resolution of full HD with the 4K Ultra HD Combo Pack, which includes Dolby Vision, bringing entertainment to life through ultra-vivid picture quality. When compared to a standard picture, Dolby Vision can deliver spectacular colors never before seen on a screen, highlights that are up to 40 times brighter, and blacks that are 10 times darker. Additionally, the 4K Ultra HD Combo Pack features Dolby Atmos, which will transport viewers from an ordinary moment into an extraordinary experience with moving audio that flows all around them. Fans will feel like they're inside the action as the sounds of people, places, things, and music come alive with breathtaking realism and move throughout the space.
 
4K UHD / BLU-RAY / DVD / DIGITAL SPECIAL FEATURES
Audio Commentary by Writer-Director Rian Johnson, Director of Photography Steve Yedlin, and Actor Noah Segan

In-Theatre Commentary by Rian Johnson

Deleted Scene: "Bicycling Accident" (with Optional Audio Commentary by Rian Johnson)

Deleted Scene: "Don't Do Anything Rash" (with Optional Audio Commentary by Rian Johnson)

"Making a Murder" Eight-Part Documentary

"Rian Johnson: Planning the Perfect Murder" Featurette

Writer-Director and Cast Q&A

Marketing Gallery

"Meet the Thrombeys" Viral Ads
21 BRIDGES arrives on Digital February 4, 2020 and Blu-ray™, DVD and On Demand on February 18, 2020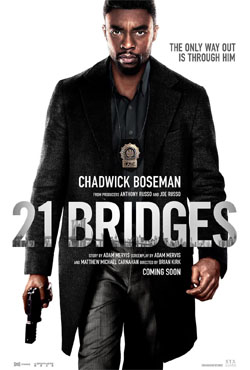 21 BRIDGES follows an embattled NYPD detective (Boseman), who is thrust into a citywide manhunt for a pair of cop killers after uncovering a massive and unexpected conspiracy. As the night unfolds, lines become blurred on who he is pursuing, and who is in pursuit of him. When the search intensifies, extreme measures are taken to prevent the killers from escaping Manhattan as the authorities close all 21 BRIDGES to prevent any entry or exit from the iconic island.
BLU-RAYTM, DVD & DIGITAL BONUS FEATURES:
Deleted Scenes
Feature Commentary with Director Brian Kirk  
21 BRIDGES will be available on Blu-rayTM, DVD and Digital.
Blu-rayTM unleashes the power of your HDTV and is the best way to watch movies at home, featuring 6X the picture resolution of DVD, exclusive extras and theater-quality surround sound.
Digital lets fans watch movies anywhere on their favorite devices. Users can instantly stream or download.
SNATCHERS Available on Digital January 7, On Blu-rayTM Combo Pack, and DVD February 18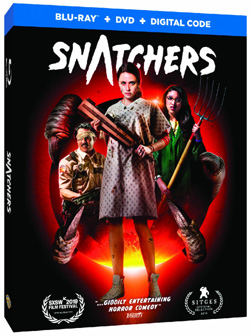 Chosen as one of Variety's "11 Best Movies of the 2019 SXSW Film Festival,"Warner Bros. Home Entertainment brings you Snatchers – an original horror comedy feature film on Digital January 7, and Blu-ray Combo Pack, and DVD on February 18, 2020. Described as a cross between ALIENS meets MEAN GIRLS – the full-length film was initially released in new media as a successful short-form series that follows a status-obsessed high school teenager who loses her virginity and finds herself pregnant the next day…with an alien! The movie is priced to own at $19.99 SRP for Digital, $24.98 SRP for Blu-ray Combo Pack ($34.97 in Canada), $19.98 SRP for the DVD ($24.99 in Canada). Both disc sets have an order due date of January 14, 2020.
Senior year is going to rule! Thanks to her relationship with clueless hunk Skyler, Sara is totally in with the cool girls. But Skyler contracted an extraterrestrial bug during his summer vacation. After just one night together, Sara discovers she's Nine. Months. Pregnant. Desperate to keep her condition on the DL, she turns to the only person she can trust: her nerdy ex-bestie, Hayley. The girls soon realize this alien problem is only just the beginning. Aliens had best beware in this hilarious comedy filled with action and tongue-in-cheek teen spirit.
"Snatchers is a tale of friendship, self-worth and…aliens,"said Mary Ellen Thomas, WBHE Senior Vice President, Originals, Animation and Family. "The film brings the spirit of horror combined with gut-busting comedy with its edgy humor and bloody alien creatures. Snatchers is sure to keep you glued to your screen until the very end."
Snatchers stars Mary Nepi (Not Cool) as Sara, Gabrielle Elyse (Nickelodeon's "Nicky, Ricky, Dicky & Dawn," "The Thundermans") as Hayley, J.J Nolan ("The Mindy Project," "Silicon Valley") as Kate, Austin Fryberger ("Huge In France") as Skyler, Nick Gomez ("Longmire," "Dexter") as Oscar, and Rich Fulcher ("Those Who Can't") as Dave. Written by Stephen Cedars, Benji Kleiman, & Scott Yacyshyn, and directed by Cedars & Kleiman, the film is a Stage 13 presentation with award-winning producer Paul Young for Make Good Content production in association with The Olde Money Boyz. The Snatchersnew media series was an official selection at Sundance 2017, and won the 2018 Cynopsis Short Form Video Festival, as well as a Bronze Telly Award. The Snatchers moviewas an official selection at the 2019 SXSW Film Festival and the 2019 Sitges Film Festival.
The Birth of Snatchers: A Behind-the-Scenes Look

Unexpected: The Snatchers Blooper Reel

Commentary featuring Directors and Writers Stephen Cedars, Benji Kleiman and Writer Scott Yacyshyn.
Avatar: The Last Airbender The Complete Series 15th Anniversary Steelbook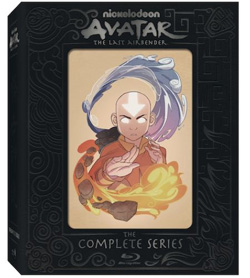 Nickelodeon's critically-acclaimed, Emmy® award-winning series receives the SteelBook® treatment as Avatar: The Last Airbender – The Complete Series Blu-ray 15th Anniversary Limited Edition Steelbook Collection arrives on February 18, 2020. The 3-book collection features stunning new artwork by artist Caleb Thomas, with each book featuring a different element (Water, Earth, and Fire) and the covers combining to form a beautiful triptych. Thomas was handpicked to design the collection's covers after series co-creator Bryan Konietzko became a fan of Thomas' art style on social media. The collection's production run will be limited to 20,000 units.
Water, Earth, Fire, Air. Four nations. One war-torn world. Celebrate the 15th anniversary of the epic saga, Avatar: The Last Airbender, with this 3 SteelBook® collection, featuring all-new art for each book! Go back to the beginning to experience the animated series that quickly became a phenomenon with a huge fan base that spans the globe! This complete collector's edition includes all three powerful books: Water, Earth, and Fire.
 
Seasons:
Book One: Water

Season 1 – 20 episodes – Aired 2/21/05 – 12/2/05

Book Two: Earth

Season 2 – 18 episodes – Aired 3/17/06 – 12/1/06                      

Book Three: Fire

Season 3 – 16 episodes – Aired 9/21/07 – 7/19/08
Bonus Content:
Book One: Water

Behind the Scenes Kung Fu Featurette

The Making of Avatar – From Real Life to Animation

Behind the Scenes: The Voices of Avatar

Ask the Creators Featurette

Original Uncut Animatic – Episode # 15: Bato of the Water Tribe

4 Audio Commentaries with Creator, Cast & Crew

Features Dee Bradley Baker (voices of Momo and Appa), Ben Wynn (sound effects), Aaron Ehasz (Head Writer) and Co-Creators: Bryan Konietzko and Michael Dante DiMartino

Behind the Scenes with the Avatar Cast & Crew

Avatar Pilot Episode with Audio Commentary

The Making of Avatar – Inside the Sound Studios

The Making of Avatar – Inside the Korean Animation Studios

Book Two: Earth

Original Uncut Animatic – Episode # 21: The Avatar State

7 Audio Commentaries by Creators, Cast & Crew

Interview with Creators and M. Night Shyamalan

The Essence of Bending with Bryan Konietzko and Sifu Kisu

Avatar Super Deformed Shorts

Bending Battle

Swamp Skiin' Throwdown

School Time Shipping

Escape From the Spirit World: Animated Graphic Novel                           

Book Three: Fire

11 Audio Commentaries by Creators, Cast & Crew

The Women of Avatar: The Last Airbender

Book 3 Finale Pencil Test Animation

Into the Fire Nation at San Diego Comic-Con
The Great War arrives on Blu-ray™ (plus Digital) and DVD February 11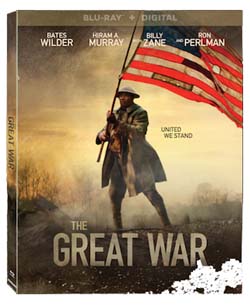 During the final days of World War I, a regiment of daring African-American "Buffalo Soldiers" is trapped deep behind enemy lines. After one of these soldiers manages to escape, he's ordered to join a select team of white troops, led by a battle-scarred officer, to find and rescue the survivors. Casting aside their racial differences, the determined men join forces to find their lost comrades in this gripping, action-filled tale of bravery and unity.
Cast: Bates Wilder, Hiram A. Murray, Aaron Courteau with Billy Zane and Ron Perlman
Boyz N The Hood Debuts on 4K Ultra HD Feb. 4th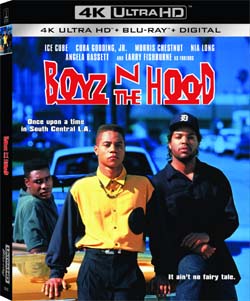 BOYZ N THE HOOD is the critically acclaimed coming-of-age story of growing up in a South Central Los Angeles neighborhood. It is a place where harmony co-exists with adversity, especially for three young men growing up there: Doughboy (Ice Cube), an unambitious drug dealer; his brother Ricky (Morris Chestnut), a college-bound teenage father; and Ricky's best friend Tre (Cuba Gooding, Jr.), who aspires to a brighter future beyond "The Hood." In a world where a trip to the store can end in death, the friends have diverse reactions to their bleak surroundings. Tre's resolve is strengthened by a strong father (Larry Fishburne) who keeps him on the right track. But the lessons Tre learns are put to the ultimate test when tragedy strikes close to home, and retaliation seems the only recourse.
BONUS FEATURES
4K ULTRA HD INCLUDES:
John Singleton Tribute

Theatrical Press Conference

Behind-the-Scenes Featurette

Theatrical Trailer 
BLU-RAY INCLUDES:
Commentary with Writer/Director John Singleton

The Enduring Significance of Boyz N the Hood

Friendly Fire: Making of an Urban Legend

Deleted Scenes

Audition Videos Featuring Ice Cube, Angela Bassett, Morris Chestnut and Tyra Ferrell

Compton's Most Wanted Music Video "GROWIN' UP IN THE HOOD"

Tevin Campbell Music Video "JUST ASK ME TO"
The Hurt Locker arrives on Digital 4K Ultra HD™ and On Demand February 4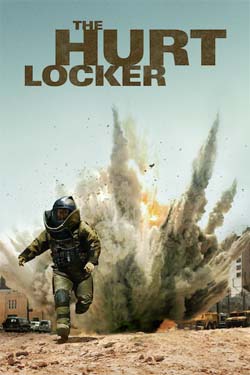 War is a drug. Nobody knows that better than Staff Sergeant William James, head of an elite squad of soldiers tasked with disarming bombs in the heat of combat. To do this nerve-shredding job, it's not enough to be the best: you have to thrive in a zone where the margin of error is zero, think as diabolically as a bomb-maker, and somehow survive with your body and soul intact.
CAST: Jeremy Renner, Anthony Mackie, Brian Geraghty, Evangeline Lilly with Ralph Fiennes
David Morse and Guy Pearce.
Adult Swim's Hit Anime Series Is Coming To Blu-ray Combo Pack - FLCL: PROGRESSIVE & ALTERNATIVE - Hits Shelves 2/4/20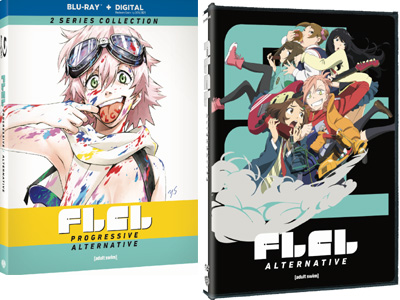 The wait is over! Adult Swim's popular anime series FLCL: Progressive and FLCL: Alternative, both release for the first time ever as a Blu-ray combo pack from Warner Bros. Home Entertainment on February 4th. Based on the original anime series written by Yōji Enokido and from director Kazuya Tsurumaki, the collection propels Haruko and her yellow Vespa back into action with 12 episodes from FLCL: Progressive and FLCL: Alternative. The Blu-ray Combo Pack is priced to own at $44.98 SRP ($52.99 in Canada). FLCL: Alternative will also be available on DVD on February 4th for the low price of $19.99 SRP ($24.99 in Canada).
From the legendary anime studio Production I.G and Adult Swim, FLCL: Progressive & Alternative Combo Pack will include a 15-minute never-before-seen documentary that dives into the making of both seasons featuring interviews with voice talent and crew. Additional special features include a "Meet the Creators" piece focused on the new era of show creators, a segment about "The Pillows" relationship with the series, a glimpse at the English voice actors behind FLCL together, and a look into the production of FLCL: Alternative.
The highly anticipated sequel to the 2001 original FLCL, FLCL: Progressive tells the story of 14-year-old Hidomi and her classmate, Ide, as the war between Medical Mechanica and Fraternity continues. Now in the form of their teacher, Haruko Haruhara returns alongside another otherworldly being, Jinyu, a gorgeous Chrysler Bel Aire and her yellow Vespa to unleash their hidden potential.
FLCL: Alternative, the third and final season centers on the misadventures of 17-year-old Kana and her friends, Mossan, Hijiri and Pets. Living a seemingly normal life, the group's lives are flipped upside down when Mecha falls from the sky and arrives with the guitar-wielding Haruko Haruhara. Once again determined to take out Medical Mechanica, Haruko works to awaken Kana's N.O. channel before the relentless iron takes over the world.
"During its twelve-week run on Adult Swim's Toonami, FLCL was #1 in its timeslot, and garnered a huge fan following," said Mary Ellen Thomas, WBHE, Senior Vice President, Originals, Animation and Family. "We think both the fans and newcomers are going to love the Combo Pack with it exciting behind the scenes extra content, in addition to the final 12 highly anticipated episodes from the fanatical series."