FXX's Archer: Danger Island Arrives on DVD April 2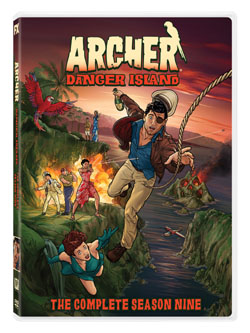 Get ready for a change of scenery with the semi-functioning alcoholic seaplane pilot, Sterling Archer, a lush on the lush South Pacific island of Mitimotu in 1939. While the rest of the world is concerned about the impending Second World War, Archer is only concerned with who's buying his next drink. Along with his trusty co-pilot Pam, Archer must navigate quicksand, cannibals, super-intelligent monkeys, poison darts, pirates, and did we mention quicksand? Enter the mysterious and deadly world of Archer: Danger Island when all 8 episodes from Season 9 arrive on DVD April 2 along with exotic special features.
The series features the voices of H. Jon Benjamin as the hard-drinking pilot, "Sterling Archer;" Jessica Walter as Archer's acid-tongued mother and hotel owner, "Malory Archer;" Aisha Tyler as island royalty and local revolutionary, "Princess Lanaluakalani;" Judy Greer as the abandoned heiress, "Charlotte Vandertunt;" Chris Parnell as the obvious German spy posing as a businessman, "Siegbert Fuchs;" Amber Nash as Archer's co-pilot and loyal sidekick, "Pam Poovey;" Adam Reed as impeccably uniformed French Capitaine, "Reynaud;" and Lucky Yates as the audacious scarlet macaw, "Crackers."
Archer: Danger Island Season 9 DVD Special Features:
Inside look: Making Archer

Crackers' Costumed Playings
Grand-Daddy Day Care (2019)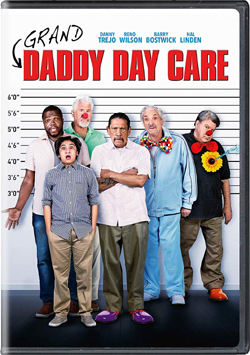 Good Old Family Fun Comedy
Grand-Daddy Daycare is a light-hearted drama and comedy starring Danny Trejo, Reno Wilson, Margaret Avery, Anthony Gonzalez, Barry Bostwick, James Hong, Julia Duffy, George Wendt, and Linda Gray.
Reno Wilson stars as Frank Collins, a struggling writer with writer's block. He is restless and uncomfortable not being able to write his next novel. When his father-in-law Eduardo (Danny Trejo) moves in with the family, his tension rises. They are about to lose their house, they have unpaid bills, and the family is on the brink of bankruptcy.
After Eduardo and his friends spend a fun day together, Frank has a brilliant idea. He learns that people will spend money to have their elders cared for during the day so he starts his own day care center for seniors. With the money from this center his family will be financially in the black.
This is an eclectic group of characters who all find their lives are enriched by spending their days at Frank's house. But without a proper license, Frank is about to be shut down.
The film is a mix of slapstick, sentimentality, and, of course, seniors and their antics. It's nice to see Frank go from a man struggling with his life to a man who finds a reason to keep going and to make a difference in the lives of others. There are some adorable scenes and several laugh-out-loud moments.