Manifest: The Complete First Season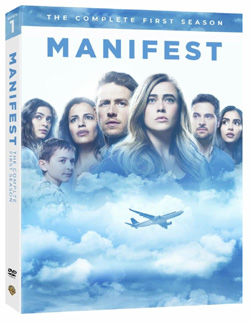 Great mystery, can't how it will all end!
On April 7, 2013, Montego Air flight 828 left Jamaica bound for New York City. While en route, it experienced some rough turbulence, but nothing that felt too out of the ordinary to the passengers on board. However, when the plane landed, the passengers discovered that it was now November 4, 2018. For them, it was instantaneous, and they haven't aged a day, but their families and loved did and ones on the ground had given them up for missing and dead for over 5 years! Some have moved on, some have still kept the candle burning, and on the flip side, some passengers unknowingly lost family members during the time gap.
NYPD cop Michaela Stone (Melissa Roxburgh) had just been proposed to by her boyfriend/partner Jared (J.R. Ramirez) before she left for the family trip to Jamaica. She had been in a dark place, and was using this vacation to clear her head. However, she was still madly in love with Jared, and planned to accept his proposal upon her return. However, during the five year gap, Jared had moved on, marrying her best friend.
Meanwhile, Michaela's brother Ben (Josh Dallas) was also on board and is unaware he's in a similar situation with his wife of 15 years. Grace (Athena Karkanis) had already dealt with her mourning and had started to move on, but is now ready to forget that and make things work with her husband. Their terminally ill son Cal (Jack Messina) was also on flight 828. However, new advances in science over the those missing 5 years may now be able to save him, thanks to a treatment that passenger Saanvi Bahl (Parveen Kaur) had helped to develop just before the flight, and that has been in clinical trials for the past five years.
During the first season NBC ordered a couple of additional episodes and the ratings were soft for the season. Luckily for the fans NBC renewed the show for a second season. There have been a lot of shows like this over the last few years that have not lasted. With at least a second season, it gives the fans and the people that make the show more time to expand and explore more of the story. It's a great premise as long as they're able to keep the story going with a great payoff for the fans in the end.
16 ONE-HOUR EPISODES
Pilot

Reentry

Turbulence

Unclaimed Baggage

Connecting Flights

Off Radar

S.N.A.F.U.

Point of No Return

Dead Reckoning

Crosswinds

Contrails

Vanishing Point

Cleared for Approach

Upgrade

Hard Landing

Estimated Time of Departure
Velvet: The Complete Series Box Set (Season 1 to 4)

It's time to get your binge – watch on!
Velvet Season 1
The owner of Velvet Galleries presents his son Alberto, newly returned from London after years of training away from the family and away from his illicit love affair with a humble seamstress, Ana Rivera. Alberto's return and his reunion with Ana will reawaken family tensions, but this time Alberto is willing to fight for Ana as he did not fight in the past. The two lovers are ready to break with family expectations and the norms of the time.
Velvet Season 2
In season two, stolen kisses, and jealous outbursts abound. While Spain's wealthiest and most beautiful women continue to be attracted by the sensuality of Velvet Galleries' garments, it's seduction that seems to drive the store's highly competitive management. Alberto, heir to the Velvet fortune, has married a socialite rather than Ana, the love of his life. She, too, is aware that her lowly rank as a seamstress represents a hurdle that she cannot leap over.
Velvet Season 3
After learning that Cristina is pregnant, Alberto and Ana have much to think about. Both had proposed fight all odds for their relationship, but this news can change everything, but surprisingly Alberto is very clear. Anna will not give up. Meanwhile, Cristina is willing to do anything to recover Alberto and with the help of Barbara plots a plan to take her to be closer to her husband. Meanwhile, Rita and Pedro enjoyed as ever. They finally have their wedding night and happiness fills them, at least until they discover next to Jonás a terrible event can lead to the ruin of the galleries. Alberto is forced to take action on the matter and seeks help from his uncle Esteban. But he is the right person to defend the interests of Velvet?
Velvet Season 4
Mateo is in NYC scanning for Alberto and keeping Clara updated; he encourages Clara to stop Ana/Carlos' wedding if it turns out Alberto is alive. Clara, not ready to keep such a tremendous riddle, tells Rita that Alberto may be alive, the two sisters plot to back off Ana's wedding to
Carlos. Raul gets inside information about the diagram school Jonas needs to go to, and Jonas must course of action a recommendation that is stunning and risky. The police guess Patricia/Enrique of executing Valentin; Patricia settles on a decision and perseveres through the outcomes.
In Spanish with English Subtitles
Directors: Carlos Sedes,David Pinillos, Jorge Sánchez-Cabezudo, Sánchez-Cabezudo, Sílivia Quer, Gema R. Neira
Cast: Paula Echevarría, Miguel Ángel Silvestre, Aitana Sánchez-Gijón, Manuela Velasco, Manuela Vellés, Marta Hazas,Maxi Iglesias, Javier Rey, Cecilia Freire, Adriàn Lastra,
Natalia Millán, José Sacristán, Amaia Salamanca, Miriam Giovanelli, Diego Martín, Asier Etxeandia, Llorenç González.
Captain Marleau, Vol. 1 and 2
Captain Marleau has a hunter's instinct, disguised under a deliberately offbeat veneer. As she says herself, she doesn't skim over cases; she plunges into them. Always on the prowl, she lies in wait for clues and her prey and takes them by surprise.
During Gilles Garin's youngest son's death anniversary, Elsa, the eldest son's nanny is shot. Unusual French policewoman – Captain Marleau investigates. The trails're numerous: Garin's wife? Elsa's boyfriend, Julien? A crazy, jealous woman in love with Gilles? Gilles himself – famous detective novel – throwing red-herrings in Marleau's path. Is Garin protecting someone? Captain Marleau – like a sniffer dog – will at the end find her innocent prey.
Cast: Corinne Masiero, Gérard Depardieu, Victoria Abril, Bruno Todeschini, Pierre Arditi, Sandrine Bonnaire
In French with English Subtitles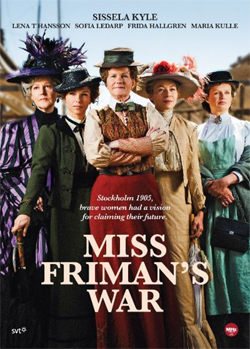 It's 1905 in Stockholm, and Swedish lives are changing rapidly because of the introduction of new food safety technologies. Miss Friman believes firmly in equal rights for women. She and her friends set out to open Swedish Homes, a grocery cooperative with unspoiled food at affordable prices. It's a store for women, run by women, and a revolutionary idea for its time. When the all-male board of the Stockholm Wholesale Association learns about the womens business plan, they start fighting back.
Cast: Sissela Kyle, Frida Hallgren, Maria Kulle, Lena T Hansson, Sofia Ledarp, Gustaf Hammarsten, Ulla Skoog
In Swedish with English Subtitles
FXX's Archer: Danger Island Arrives on DVD April 2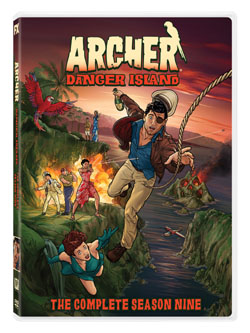 Get ready for a change of scenery with the semi-functioning alcoholic seaplane pilot, Sterling Archer, a lush on the lush South Pacific island of Mitimotu in 1939. While the rest of the world is concerned about the impending Second World War, Archer is only concerned with who's buying his next drink. Along with his trusty co-pilot Pam, Archer must navigate quicksand, cannibals, super-intelligent monkeys, poison darts, pirates, and did we mention quicksand? Enter the mysterious and deadly world of Archer: Danger Island when all 8 episodes from Season 9 arrive on DVD April 2 along with exotic special features.
The series features the voices of H. Jon Benjamin as the hard-drinking pilot, "Sterling Archer;" Jessica Walter as Archer's acid-tongued mother and hotel owner, "Malory Archer;" Aisha Tyler as island royalty and local revolutionary, "Princess Lanaluakalani;" Judy Greer as the abandoned heiress, "Charlotte Vandertunt;" Chris Parnell as the obvious German spy posing as a businessman, "Siegbert Fuchs;" Amber Nash as Archer's co-pilot and loyal sidekick, "Pam Poovey;" Adam Reed as impeccably uniformed French Capitaine, "Reynaud;" and Lucky Yates as the audacious scarlet macaw, "Crackers."
Archer: Danger Island Season 9 DVD Special Features:
Inside look: Making Archer

Crackers' Costumed Playings
ACQUITTED Season One & Two
Season One:
Norwegian Aksel Borgen (Nicolai Cleve Broch) has returned home to his native small town after twenty years of self-imposed exile after being acquitted of murdering his then-sweetheart, when the entire township — now facing ruin after the bankruptcy of the sole manufacturing company — turned against him. But Aksel has bought into the business along with a larger, sleazy corporation, which might now abandon the beautiful fjord-facing town, killing its tourist-laden future.
Acquitted he might have been after a year in prison when a young woman came forth with evidence that he wasn't near the site when the sweetheart was murdered, but still the remaining folk aren't happy to have him back. Aksel has left his a wife, a native Malaysian (Elaine Tan), for now, but has his teen-aged son (Mathias Romano) with him while he works to get the business on its feet. The complications start when Aksel falls in love with the female friend who vouched for him those years before, and has to deal with his addled mother (Anne Marit Jacobsen) and resentful brother (Tobias Santelmann), in addition to a town still suspicious that Aksel had indeed committed the slaying, now egged on by the dead girl's bitter mother (Lena Endre).
Season Two:
The ten episodes build well, introducing us to many of the townsfolk angry with him showing up at all. The meanness of the new owners and their cynical abuse of the townsfolk are absorbing and fruitful. And the love-making certainly keeps the cold weather away.As the dust settles from the explosive finale of the first series, Aksel has the answer he so desperately sought. Finally, his search for justice appears to be over and his reconciliation within the local community can begin. But Aksels hopes are short-lived. As Eva and William close ranks and deny the truth, a new struggle begins for Aksel. Convinced that Eva is covering for William, he asks himself a question: what secret could be so big that a mother is willing to shield the murderer of her own daughter? As the impenetrable fog of lies and deceit that has enveloped a decades-old murder begins to clear, Aksel finds himself heading toward an inevitable showdown with his nemesis, Eva. Only then he may finally know the truth, and his own fate. 
Cast: Nicolai Cleve Broch;  Lena Endre; Henrik Rafaelsen; Ingar Helge Gimle; Amrita Acharia
In Norwegian with English Subtitles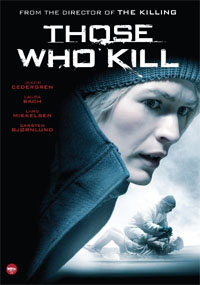 'Those Who Kill is a compelling dark crime series, based on the novels by bestselling author Elsebeth Egholm. It follows the investigations of a special unit of Copenhagen's police force, consisting of detective inspector Katrina Ries Jenson (Laura Bach) and forensic psychiatrist Thomas Schaeffer (Jakob Cedergren). The pair specialise in identifying serial killers that do not fit within traditional behavioural patterns and aim to uncover the psychology of a violent killer in their attempt to solve a case surrounded by fear and mystery'.
Cast: Laura Bach; Jakob Cedergren; Lars Mikkelsen; Lærke Winther; Frederik Meldal Nørgaard
In Danish with English Subtitles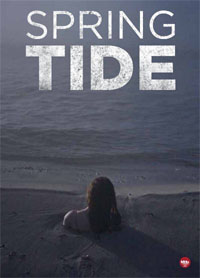 A young pregnant woman is buried in the sand, slowly being submerged by the tide. 25 years later, the sadistic murder remains unsolved. Olivia Rönning at the Police Academy studies the case as a cold case exercise. Olivia becomes almost obsessed with the murder when she discovers that her father worked on the investigation. She quickly realises that she needs to find the lead investigator, detective Tom Stilton, but he has gone to ground.
Olivia is completely absorbed by the case and goes to Nordkoster to visit the murder scene. When she comes to the beach at Hasslevikarna bay, a man appears with a rolling suitcase. Stilton finds out through Situation Stockholm that Olivia is looking for him but is not interested in making contact. He has other concerns, like his homeless friends being beaten up.
Stilton finds his friend Vera severely beaten and decides to try to find the perpetrators. Olivia has received information that a former escort girl, Jackie Berglund, figured in the inquiry on the beach case and decides to examine her a little closer. She contacts a journalist who interviewed Jackie a few years ago, Eva Carlsén, for advice on how to approach her. Linn Magnuson, CEO of the mining company, receives a malicious call and realises that the call could crush both her and the company.
Olivia continues to look for information about Jackie Berglund, but goes a little too far when she visits Jackie's store "Odd & Right." Jackie has already heard that a young woman has been digging around in her past, and she quickly realises that it is Olivia. Olivia's mother tries to tell Olivia to stop digging around in the beach case. She does not want to see Olivia become as obsessed as her father. Tom Stilton slowly starts to get in shape so that he can pursue those who murdered Vera. He makes contact with his former snitch, Mink, for help in finding them.
Children find a car in the water where they are swimming. Inside the car is a dead man. Stilton's old colleague and ally, Mette Olsäter, takes the case and quickly starts a murder investigation. The dead man, Nils Wendt, has been missing since 1987. Where has he been all these years, and why has he turned up now? Olivia tries to take it easy after the attack. She is certain that Jackie Berglund is behind it. But she is more worried about her cat, Elvis, who she hasn't seen since.
Olivia contacts Ove Gardman, the man who witnessed the beach murder as a child. He tells her that he met Nils Wendt in Costa Rica. Olivia gives this information to Mette Olsäter, who decides to send Abbas – a friend to both she and Stilton. She wants to see if he can find anything that can explain Nils Wendt's murder, and if there is any connection to the murder in Nordkoster. The police manage to get Nils Wendt's mobile phone working and find that his last call was to Linn Magnusson, who now realises that she must find the original recording of the conversation that could destroy her life.
Abbas finds Nils Wendt's house in Costa Rica, as well as his friend, Bosques. Bosques tells him that the woman who was murdered on the beach in Nordkoster was Adelita Rivera and that she was in a relationship with Nils Wendt. Abbas also gets a bag of material that Wendt left behind, in case he didn't return. Mette realises that the investigation of the murder in Nordkoster and Nils Wendt's murder are now one and the same. Linn Magnusson has sent people to look for the evidence Wendt left in Costa Rica.
Stilton is visited by his ex-wife in the caravan. She wants to see how he is and tell him that she has got a match on the DNA from the hair slide – it is Jackie Berglund's. Mette immediately calls Jackie in for questioning and wants Stilton to participate. After the interrogation, Jackie sees Olivia waiting outside. This worries Stilton, because he knows that Jackie will stop at nothing to protect herself. Abbas is on his way home from Costa Rica, heading directly to a meeting with Mette, Stilton and Olivia.
Abbas manages to deliver all of the material to Mette and her group. When they listen the recorded phone call between Linn Magnusson and Nils Wendt on the cassette tape, they go straight to Linn Magnusson's house. But they get there too late. Olivia is frustrated with the beach case, and decides to take revenge on the man who killed her cat. Stilton realises that the police are not going to spend any time on the investigation related to the murder of Vera Larsson and the beating of the homeless. He must take control of it himself.
Mette gathers everyone at the police station, including Stilton and Olivia. The pieces begin to fall into place, now they have identified the person who had the earring and are just waiting for a crucial DNA analysis. They have also identified a new witness who was in Nordkoster. Mette calls in a new suspect for questioning. But how does the murder at Nordkoster fit together with the murder of Nils Wendt? And what is the motive?
Cast: Kjell Bergqvist; Julia Ragnarsson; Helena Bergström; Johan Widerberg; Cecilia Nilsson; Dag Malmberg; Niklas Hjulström
In Swedish with English Subtitles