To All The Boys: P.S. I Still Love You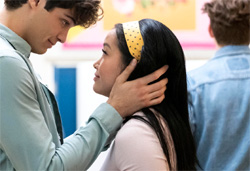 It's a new year and Lara Jean (Lana Condor) and Peter (Noah Centineo) are no longer pretending to be a couple. They ARE a couple. And, as Lara Jean navigates a trove of official firsts with Peter — her first real kiss, her first real date, her first Valentine's Day — she finds herself leaning more on Kitty and Margot (Anna Cathcart and Janel Parrish), Chris (Madeleine Arthur), and an unexpected new confidant, Stormy (Holland Taylor), to help her manage the complex emotions that come with this new chapter of balancing a relationship and figuring out her authentic self. But when John Ambrose (Jordan Fisher), another recipient of one of Lara Jean's old love letters, enters her life again she must rely on herself more than ever as she's confronted with her first real dilemma: Can a girl be in love with two boys at once?
Based on the #1 New York Times best-selling YA romance novel, P.S. I STILL LOVE YOU by Jenny Han
Cast: Lana Condor, Noah Centineo, Jordan Fisher, Anna Cathcart, Janel Parrish, John Corbett, Sarayu Blue, Ross Butler, Madeleine Arthur, Emilija Baranc, Trezzo Mahoro and Holland Taylor
THE KING'S MAN arrives in theaters  in February 14, 2020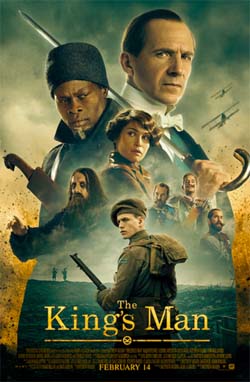 As a collection of history's worst tyrants and criminal masterminds gather to plot a war to wipe out millions, one man must race against time to stop them. Discover the origins of the very first independent intelligence agency in The King's Man, directed by Matthew Vaughn, coming to theaters February 2020.
Cast: Ralph Fiennes, Gemma Arterton, Rhys Ifans, Matthew Goode, Tom Hollander, Harris Dickinson, Daniel Brühl, with Djimon Hounsou, and Charles Dance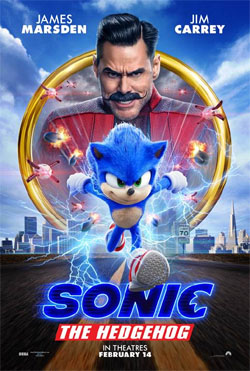 Based on the global blockbuster videogame franchise from Sega, SONIC THE HEDGEHOG tells the story of the world's speediest hedgehog as he embraces his new home on Earth. In this live-action adventure comedy, Sonic and his new best friend Tom (James Marsden) team up to defend the planet from the evil genius Dr. Robotnik (Jim Carrey) and his plans for world domination. The family-friendly film also stars Tika Sumpter and Ben Schwartz as the voice of Sonic.
Starring: James Marsden, Ben Schwartz, Tika Sumpter and Jim Carrey
In Theaters February 14, 2020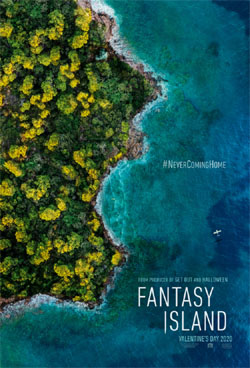 In Blumhouse's new spin on Fantasy Island, the enigmatic Mr. Roarke makes the secret dreams of his lucky guests come true at a luxurious but remote tropical resort. But when the fantasies turn into nightmares, the guests have to solve the island's mystery in order to escape with their lives. 
Directed by Jeff Wadlow, Fantasy Island is written by Jeff Wadlow & Chris Roach & 
Jillian Jacobs and is produced by Jason Blum and Marc Toberoff.
In Theaters February 14, 2020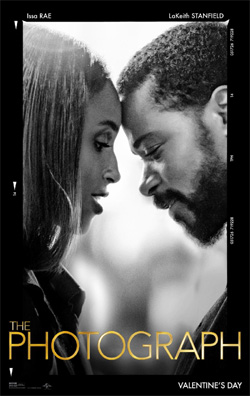 On Valentine's Day, Issa Rae (HBO's Insecure, Little) and LaKeith Stanfield (FX's Atlanta, Sorry to Bother You) connect in a romance where a woman must learn from the secrets in her mother's past if she is to move forward and allow herself to love and be loved.
When famed photographer Christina Eames unexpectedly dies, she leaves her estranged daughter Mae Morton (Rae) hurt, angry and full of questions. When a photograph tucked away in a safe-deposit box is found, Mae finds herself on a journey delving into her mother's early life and ignites a powerful, unexpected romance with a rising-star journalist, Michael Block (Stanfield).
From writer-director Stella Meghie (The Weekend, Jean of the Joneses) from her original screenplay comes a sweeping love story about forgiveness and finding the courage to seek the truth, no matter where it may lead you.
The Photograph is produced by Will Packer, blockbuster producer of Girls Trip, the Ride Along franchise, and ten movies that have opened No. 1 at the U.S. box office, including Night School, No Good Deed and Think Like a Man, and by James Lopez, president of Will Packer Productions. The film is executive produced by Meghie, Erika Hampson (co-producer Late Night, Life Itself) and Rae.
In Theatres February 14, 2020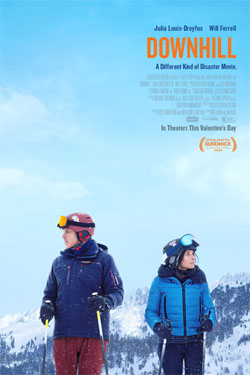 Barely escaping an avalanche during a ski vacation in the Alps throws a seemingly picture-perfect family into disarray as they are forced to re­evaluate life, and how they truly feel about each other. Julia Louis-Dreyfus and Will Ferrell star in this biting comedy, which is an adaptation of the 2014 Golden Globe nominated Swedish film FORCE MAJEURE.
Starring: Julia Louis-Dreyfuss, Will Ferrell, Zach Woods, Zoe Chao, Miranda Otto, and directed by Nat Faxon & Jim Rash (THE WAY WAY BACK).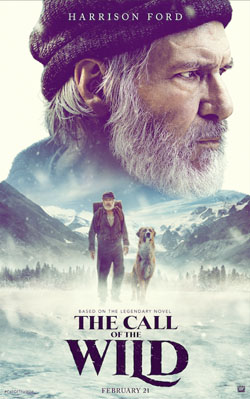 Adapted from the beloved literary classic, 20th Century Fox's THE CALL OF THE WILD vividly brings to the screen the story of Buck, a big-hearted dog whose blissful domestic life is turned upside down when he is suddenly uprooted from his California home and transplanted to the exotic wilds of the Alaskan Yukon during the Gold Rush of the 1890s. As the newest rookie on a mail delivery dog sled team–and later its leader–Buck experiences the adventure of a lifetime, ultimately finding his true place in the world and becoming his own master. 
As a live-action/animation hybrid, THE CALL OF THE WILD employs cutting edge visual effects and animation technology in order to render the animals in the film as fully photorealistic–and emotionally authentic–characters. Directed by Chris Sanders from a screenplay by Michael Green, based on the novel by Jack London, the film was produced by Erwin Stoff, with Diana Pokorny serving as executive producer and Ryan Stafford as co-producer and visual effects producer. THE CALL OF THE WILD stars Harrison Ford, Dan Stevens, Omar Sy, Karen Gillan, Bradley Whitford and Colin Woodell.
In Theaters February 28, 2020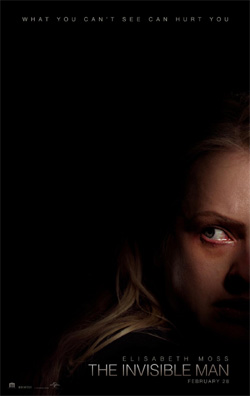 What you can't see can hurt you. Emmy winner Elisabeth Moss (Us, Hulu's The Handmaid's Tale) stars in a terrifying modern tale of obsession inspired by Universal's classic monster character.
Trapped in a violent, controlling relationship with a wealthy and brilliant scientist, Cecilia Kass (Moss) escapes in the dead of night and disappears into hiding, aided by her sister (Harriet Dyer, NBC's The InBetween), their childhood friend (Aldis Hodge, Straight Outta Compton) and his teenage daughter (Storm Reid, HBO's Euphoria).
But when Cecilia's abusive ex (Oliver Jackson-Cohen, Netflix's The Haunting of Hill House) commits suicide and leaves her a generous portion of his vast fortune, Cecilia suspects his death was a hoax. As a series of eerie coincidences turns lethal, threatening the lives of those she loves, Cecilia's sanity begins to unravel as she desperately tries to prove that she is being hunted by someone nobody can see.
Jason Blum, our current-day master of the horror genre, produces The Invisible Man for his Blumhouse Productions. The Invisible Man is written, directed and executive produced by Leigh Whannell, one of the original conceivers of the Saw franchise who most recently directed Upgrade and Insidious: Chapter 3.
The film is also produced by Kylie du Fresne (Upgrade, The Sapphires) for Goalpost Pictures. The executive producers are Whannell, Beatriz Sequeira, Charles Layton, Rosemary Blight, Ben Grant, Couper Samuelson and Jeanette Volturno. The Invisible Man is a co-production of Goalpost Pictures Australia and Blumhouse Productions, in association with Nervous Tick, for Universal Pictures.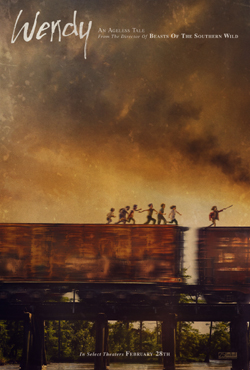 The classic story of Peter Pan is wildly reimagined in this ragtag epic from Benh Zeitlin, director of BEASTS OF THE SOUTHERN WILD. Lost on a mysterious island where aging and time have come unglued, Wendy must fight to save her family, her freedom, and the joyous spirit of youth from the deadly peril of growing up.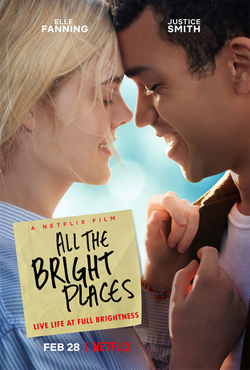 Based on the internationally bestselling novel by Jennifer Niven, All The Bright Places tells the story of Violet Markey (Elle Fanning) and Theodore Finch (Justice Smith), who meet and change each other's lives forever. As they struggle with the emotional and physical scars of their past, they come together, discovering that even the smallest places and moments can mean something. This compelling drama provides a refreshing and human take on the experience of mental illness, its impact on relationships, as well as the beauty and lasting impact of young love.
Starring Elle Fanning, Justice Smith, Alexandra Shipp, Kelli O'Hara, Lamar Johnson, Virginia Gardner, Felix Mallard, Sofia Hasmik, with Keegan-Michael Key, and Luke Wilson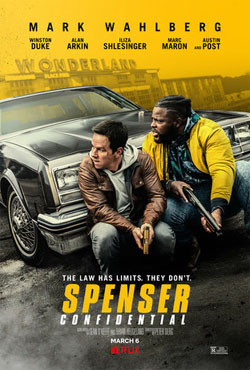 Spenser (Mark Wahlberg) — an ex-cop better known for making trouble than solving it — just got out of prison and is leaving Boston for good. But first he gets roped into helping his old boxing coach and mentor, Henry (Alan Arkin), with a promising amateur. That's Hawk (Winston Duke), a brash, no-nonsense MMA fighter convinced he'll be a tougher opponent than Spenser ever was. When two of Spenser's former colleagues turn up murdered, he recruits Hawk and his foul-mouthed ex-girlfriend, Cissy (Iliza Shlesinger), to help him investigate and bring the culprits to justice. From director Peter Berg, SPENSER CONFIDENTIAL is an action-comedy co-starring Bokeem Woodbine, Marc Maron and Austin Post. Inspired by Robert B. Parker's Wonderland, a best-selling novel by Ace Atkins.
Cast: Mark Wahlberg, Winston Duke, Alan Arkin, Iliza Shlesinger, Austin Post, Marc Maron, Bokeem Woodbine
IN SELECT THEATERS AND ON DEMAND MARCH 6, 2020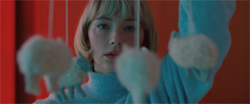 On the surface, Hunter (Haley Bennett) appears to have it all. A newly pregnant housewife, she seems content to spend her time tending to an immaculate home and doting on her Ken-doll husband, Richie (Austin Stowell). However, as the pressure to meet her controlling in-laws and husband's rigid expectations mounts, cracks begin to appear in her carefully created facade. Hunter develops a dangerous habit, and a dark secret from her past seeps out in the form of a disorder called pica – a condition that has her compulsively swallowing inedible, and oftentimes life-threatening, objects. A provocative and squirm-inducing psychological thriller, SWALLOW follows one woman's unraveling as she struggles to reclaim independence in the face of an oppressive system by whatever means possible.
STARRING; HALEY BENNETT, AUSTIN STOWELL , ELIZABETH MARVEL , DAVID RASCHE, DENIS O'HARE
Opens limited March 27, 2020
In Theaters April 10, 2020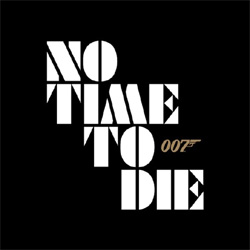 In No Time To Die, Bond has left active service and is enjoying a tranquil life in Jamaica. His peace is short-lived when his old friend Felix Leiter from the CIA turns up asking for help. The mission to rescue a kidnapped scientist turns out to be far more treacherous than expected, leading Bond onto the trail of a mysterious villain armed with dangerous new technology.
Cast: Daniel Craig, Rami Malek, Léa Seydoux, Lashana Lynch, Ben Whishaw,
Naomie Harris, with Jeffrey Wright, with Christoph Waltz and Ralph Fiennes as "M"
Also starring Rory Kinnear, Ana de Armas, Dali Benssalah, David Dencik, and Billy Magnussen.
In Theaters April 17, 2020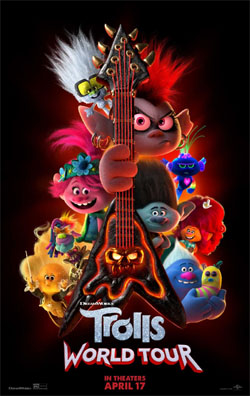 Anna Kendrick and Justin Timberlake return in an all-star sequel to DreamWorks Animation's 2016 musical hit: Trolls World Tour. In an adventure that will take them well beyond what they've known before, Poppy (Kendrick) and Branch (Timberlake) discover that they are but one of six different Troll tribes scattered over six different lands and devoted to six different kinds of music: Funk, Country, Techno, Classical, Pop and Rock. Their world is about to get a lot bigger and a whole lot louder.
A member of hard-rock royalty, Queen Barb (Rachel Bloom), aided by her father King Thrash (Ozzy Osbourne), wants to destroy all other kinds of music to let rock reign supreme. With the fate of the world at stake, Poppy and Branch, along with their friends – Biggie (James Corden), Chenille (Caroline Hjelt), Satin (Aino Jawo), Cooper (Ron Funches) and Guy Diamond (Kunal Nayyar) – set out to visit all the other lands to unify the Trolls in harmony against Barb, who's looking to upstage them all.
Cast as members of the different musical tribes is one the largest, and most acclaimed, groups of musical talent ever assembled for an animated film. From the land of Funk are Mary J. Blige, George Clinton and Anderson .Paak. Representing Country is Kelly Clarkson as Delta Dawn, with Sam Rockwell as Hickory and Flula Borg as Dickory. J Balvin brings Reggaeton, while Ester Dean adds to the Pop tribe. Anthony Ramos brings the beat in Techno and Jamie Dornan covers smooth jazz. World-renowned conductor and violinist Gustavo Dudamel appears as Trollzart and Charlyne Yi as Pennywhistle from the land of Classical. And Kenan Thompson raps as a hip-hop newborn Troll named Tiny Diamond.
Trolls World Tour is directed by Walt Dohrn, who served as co-director on Trolls, and is produced by returning producer Gina Shay. The film is co-directed by David P. Smith and co-produced by Kelly Cooney Cilella, both of whom worked on the first Trolls. 
Trolls World Tour will also feature original music by Justin Timberlake, who earned an Oscar® nomination for his song for 2016's Trolls, "Can't Stop the Feeling!," and a score by Theodore Shapiro (2016's Ghostbusters, The Devil Wears Prada).
In Theaters April 17, 2020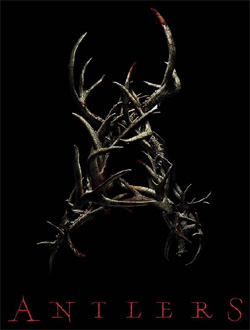 A small-town Oregon teacher (Keri Russel) and her brother (Jesse Plemons), the local Sheriff, discover that a young student (Jeremy T. Thomas) is harboring a dangerous secret with frightening consequences.
Starring: Keri Russel, Jesse Plemons, Jeremy T. Thomas, Graham Green, Scott Haze, Rory Cochrane, and Amy Madigan.
THE PERSONAL HISTORY OF DAVID COPPERFIELD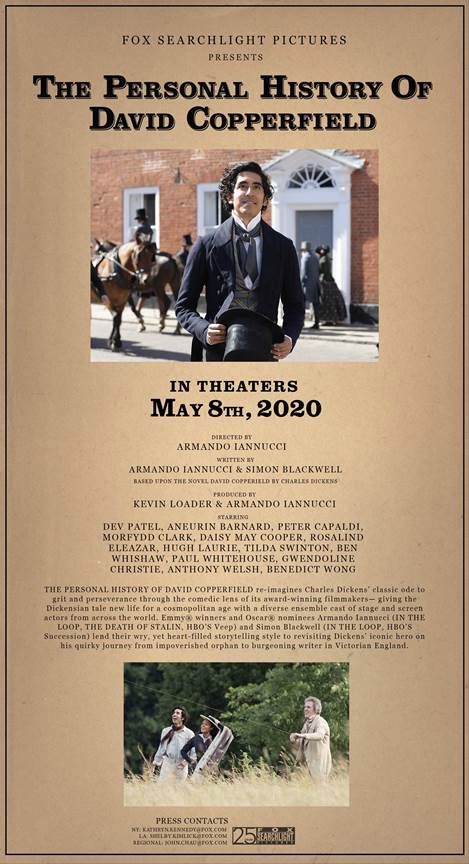 In U.S. Theaters May 15, 2020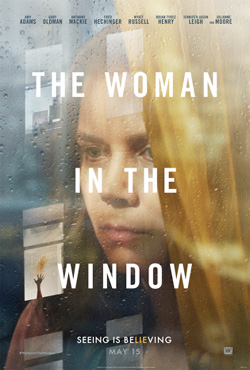 In "The Woman in the Window," an agoraphobic child psychologist befriends a neighbor across the street from her New York City brownstone, only to see her own life turned upside down when the woman disappears and she suspects foul play. A stellar ensemble cast brings Tracy Letts' screenplay based on the gripping, best-selling novel to life, where shocking secrets are revealed, and no one—and nothing—is what it seems. 
Starring Amy Adams, Gary Oldman, Anthony Mackie, Wyatt Russell, Brian Tyree Henry, Jennifer Jason Leigh and Julianne Moore, "The Woman in the Window" is produced by Scott Rudin, Eli Bush and Anthony Katagas.
IN THEATRES, DOLBY CINEMA AND IMAX ON MARCH 20, 2020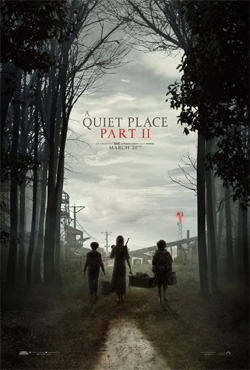 Following the deadly events at home, the Abbott family (Emily Blunt, Millicent Simmonds, Noah Jupe) must now face the terrors of the outside world as they continue their fight survival in silence. Forced to venture into the unknown, they quickly realize that the creatures that hunt by sound are not the only threats that lurk beyond the sand path.
BASED ON CHARACTERS CREATED BY
Bryan Woods & Scott Beck
STARRING
Emily Blunt, Cillian Murphy, Millicent Simmonds, Noah Jupe, Djimon Hounsou
THE SPONGEBOB MOVIE: SPONGE ON THE RUN
OPENS IN THEATRES MAY 22, 2020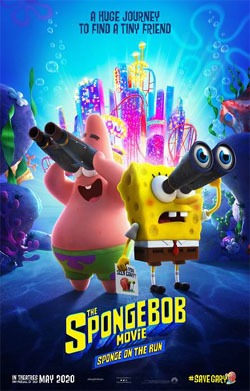 This Memorial Day weekend, SpongeBob SquarePants, his best friend Patrick Star and the rest of the gang from Bikini Bottom hit the big screen in the first-ever all CGI SpongeBob motion picture event. After SpongeBob's beloved pet snail Gary is snail-napped, he and Patrick embark on an epic adventure to The Lost City of Atlantic City to bring Gary home. As they navigate the delights and dangers on this perilous and hilarious rescue mission, SpongeBob and his pals prove there's nothing stronger than the power of friendship.
VOICE CAST:  Tom Kenny, Awkwafina, Clancy Brown, Rodger Bumpass, Bill Fagerbakke, Carolyn Lawrence, Douglas Lawrence, Reggie Watts    
In Theatres: Jun 26, 2020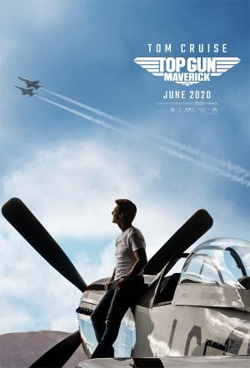 Paramount Pictures and Skydance and Jerry Bruckheimer Films Present
In Association with Tencent Pictures
A Don Simpson / Jerry Bruckheimer Production
A Joseph Kosinski Film
Tom Cruise
"Top Gun: Maverick"
DIRECTED BY
Joseph Kosinski 
EXECUTIVE PRODUCED BY
Tommy Harper, Chad Oman, Mike Stenson, Dana Goldberg, Don Granger  
PRODUCED BY
Jerry Bruckheimer, Tom Cruise, Christopher McQuarrie, David Ellison 
BASED ON CHARACTERS CREATED BY
Jim Cash & Jack Epps, Jr.
WRITTEN BY
Ehren Kruger and Eric Warren Singer and Christopher McQuarrie
STARRING
Tom Cruise, Miles Teller, Jennifer Connelly, Jon Hamm, Glen Powell, Lewis Pullman, Charles Parnell, Bashir Salahuddin, Monica Barbaro, Jay Ellis, Danny Ramirez,
Greg Tarzan Davis with Ed Harris
In theaters only on June 26th
The creator of "Hamilton" and the director of "Crazy Rich Asians" invite you to the event of the summer, where the streets are made of music and little dreams become big… "In the Heights." Lights up on Washington Heights…The scent of a cafecito caliente hangs in the air just outside of the 181st Street subway stop, where a kaleidoscope of dreams rallies this vibrant and tight-knit community. At the intersection of it all is the likeable, magnetic bodega owner Usnavi (Anthony Ramos), who saves every penny from his daily grind as he hopes, imagines and sings about a better life.
"In the Heights" fuses Lin-Manuel Miranda's kinetic music and lyrics with director Jon M. Chu's lively and authentic eye for storytelling to capture a world very much of its place, but universal in its experience. "In the Heights" stars Anthony Ramos ("A Star is Born," Broadway's "Hamilton"), Corey Hawkins ("Straight Outta Compton," "BlacKkKlansman"), singer/songwriter Leslie Grace, Melissa Barrera (TV's "Vida"), Olga Merediz (Broadway's "In the Heights"), Daphne Rubin-Vega (Broadway's "Rent"), Gregory Diaz IV (Broadway's "Matilda the Musical"), Stephanie Beatriz (TV's "Brooklyn Nine-Nine"), Dascha Polanco (TV's "Orange is the New Black") and Jimmy Smits (the "Star Wars" films).
Chu is directing the film from a screenplay by Quiara Alegría Hudes; it is based on the musical stage play, with music and lyrics by Lin-Manuel Miranda, book by Quiara Alegría Hudes and concept by Miranda. "In the Heights" is produced by Miranda and Hudes, together with Scott Sanders, Anthony Bregman and Mara Jacobs. David Nicksay and Kevin McCormick served as executive producers.
Behind the camera, Chu is reuniting with his "Crazy Rich Asians" production designer, Nelson Coates, and editor, Myron Kerstein. He is also collaborating with director of photography Alice Brooks (TV's "The Walking Dead") and costume designer Mitchell Travers ("Eighth Grade"). The choreography is by Christopher Scott, who previously teamed with Chu on the award-winning "The Legion of Extraordinary Dancers." "In the Heights" was filmed in New York, primarily on location in the dynamic community of Washington Heights. Slated for release on June 26, 2020, it will be distributed worldwide by Warner Bros. Pictures.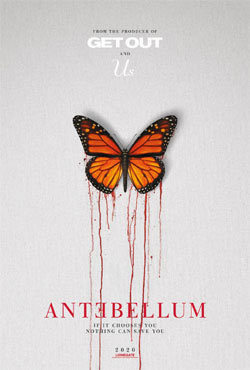 Successful author Veronica Henley (Janelle Monáe) finds herself trapped in a horrifying reality and must uncover the mind-bending mystery before it's too late.
ANTEBELLUM is a terrifying new thriller from the producer of the acclaimed films GET OUT and US, and groundbreaking directors Gerard Bush and Christoper Renz (Bush+Renz) – an exciting new voice in filmmaking.
In "Free Guy," a bank teller who discovers he is actually a background player in an open-world video game, decides to become the hero of his own story…one he rewrites himself. Now in a world where there are no limits, he is determined to be the guy who saves his world his way…before it is too late. Starring Ryan Reynolds, Jodie Comer, Joe Keery, Lil Rel Howery, Utkarsh Ambudkar and Taika Waititi, "Free Guy" is directed by Shawn Levy from a story by Matt Lieberman and a screenplay by Lieberman and Zak Penn. The film is produced by Ryan Reynolds, Shawn Levy, Greg Berlanti, Sarah Schechter and Adam Kolbrenner with Mary McLaglen, Josh McLaglen, George Dewey, Dan Levine and Michael Riley McGrath serving as executive producers.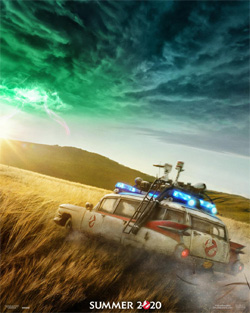 From director Jason Reitman and producer Ivan Reitman, comes the next chapter in the original Ghostbusters universe. In Ghostbusters: Afterlife, when a single mom and her two kids arrive in a small town, they begin to discover their connection to the original ghostbusters and the secret legacy their grandfather left behind. The film is written by Jason Reitman & Gil Kenan.
Cast: Carrie Coon,
Finn Wolfhard,
Mckenna Grace
and Paul Rudd.
In Theaters October 9, 2020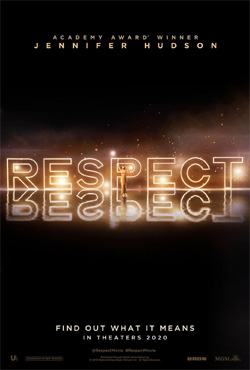 Following the rise of Aretha Franklin's career from a child singing in her father's church's choir to her international superstardom, RESPECT is the remarkable true story of the music icon's journey to find her voice.
WRITTEN BY: Tracey Scott Wilson
PRODUCERS: Scott Bernstein, Harvey Mason Jr.
EXECUTIVE PRODUCERS: Stacy Sher, Sue Baden-Powell, Aaron L. Gilbert and Jason Cloth
CAST: Jennifer Hudson, Forest Whitaker, Marlon Wayans, Audra McDonald, Marc Maron, Tituss Burgess, Saycon Sengbloh, Hailey Kilgore, Tate Donovan, Heather Headley, Skye Dakota Turner, and Mary J. Blige