ALL RELEASE DATES ARE SUBJECT TO CHANGE
THE HITMAN'S WIFE'S BODYGUARD
In Theaters June 16, 2021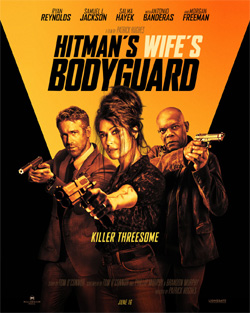 The world's most lethal odd couple – bodyguard Michael Bryce (Ryan Reynolds) and hitman Darius Kincaid (Samuel L. Jackson) – are back on another life-threatening mission. Still unlicensed and under scrutiny, Bryce is forced into action by Darius's even more volatile wife, the infamous international con artist Sonia Kincaid (Salma Hayek). As Bryce is driven over the edge by his two most dangerous protectees, the trio get in over their heads in a global plot and soon find that they are all that stand between Europe and a vengeful and powerful madman (Antonio Banderas). Joining in the fun and deadly mayhem is Morgan Freeman as…well, you'll have to see.
Ryan Reynolds, Samuel L. Jackson, SalmaHayek, with Antonio Banderas,and Morgan Freeman, Frank Grillo, Caroline Goodall,Rebecca Front,Gabriella Wright, Alice McMillan, Kristofer Kamiyasu,Tom Hopper, BlakeRitson, with Richard E. Grant.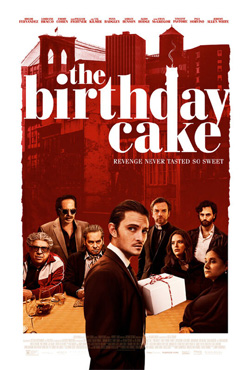 The Birthday Cake begins with the 10th anniversary of Giovanni's father's death, Giovanni reluctantly accepts the task of carrying on the family tradition of bringing a cake to the home of his Uncle Angelo, Brooklyn's last Mafia boss, for a celebration. Just two hours into the night, Giovanni's life is forever changed and he's forced to grow up after witnessing murder, violence, chaos and the truth about what happened to his father.
Starring: John Magaro, Aldis Hodge, Ewan McGregor, Paul Sorvino, Luis Guzman, Shiloh Fernandez, David Mazouz, Val Kilmer, Emory Cohen, Jeremy Allen White, Ashley Benson, Penn Badgley, Franky G, Lorraine Bracco, William Fichtner, Vincent Pastore, Tyler Dean Flores, Jimmy Giannopoulos, Jake Weary, Clara McGregor, eremy Allen White, Ewan McGregor Paul Sorvino
ADRENALINE-FUELED ACTION THRILLER
PREMIERES ON DEMAND, DIGITAL, AND IN SELECT THEATERS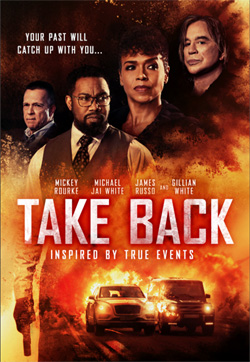 Get ready to jump into action this summer! New action thriller TAKE BACK, starring Oscar® nominee and Golden Globe winner Mickey Rourke (The Wrestler, Sin City), Michael Jai White (Black Dynamite, The Dark Knight), James Russo (Django Unchained, Badland), and Gillian White (How To Be A Player, Never Back Down: No Surrender), premieres on VOD, digital and in select cinemas on June 18, 2021, from Shout! Studios. Directed by Christian Sesma (Paydirt, Vigilante Diaries) and written by Zach Zerries, TAKE BACK is a gripping, high octane thriller that uniquely blends a captivating storyline, epic hand-to-hand fight sequences, and all the bells and whistles in a kinetic action film in equal measures. Buckle up!
Zara (Gillian White) and Brian (Michael Jai White) are living the perfect small-town life when Zara heroically foils a robbery and becomes headline news. This unwanted notoriety draws elements of Zara's mysterious past back into her life, putting the lives of her family in danger. When Zara and Brian's daughter is kidnapped by a sadistic gang of people traffickers led by the vicious Patrick (Mickey Rourke), the pair face a race against time to save her life. With Det. Chalmers (James Russo) also on Patrick's trail, Zara and Patrick's paths collide in a final stand-off in the desert.
Mickey Rourke, Michael Jai White, James Russo, and Gillian White "TAKE BACK"
Jessica Uberuaga, Paul Sloan with Nick Vallelonga and introducing Priscilla Walker.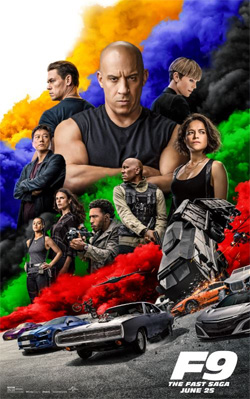 No matter how fast you are, no one outruns their past.
F9 is the ninth chapter in the Fast & Furious Saga, which has endured for two decades and has earned more than $5 billion around the world. 
Vin Diesel's Dom Toretto is leading a quiet life off the grid with Letty and his son, little Brian, but they know that danger always lurks just over their peaceful horizon. This time, that threat will force Dom to confront the sins of his past if he's going to save those he loves most. His crew joins together to stop a world-shattering plot led by the most skilled assassin and high-performance driver they've ever encountered: a man who also happens to be Dom's forsaken brother, Jakob (John Cena, the upcoming The Suicide Squad).
F9 sees the return of Justin Lin as director, who helmed the third, fourth, fifth and sixth chapters of the series when it transformed into a global blockbuster. The action hurtles around the globe—from London to Tokyo, from Central America to Edinburgh, and from a secret bunker in Azerbaijan to the teeming streets of Tbilisi. Along the way, old friends will be resurrected, old foes will return, history will be rewritten, and the true meaning of family will be tested like never before. 
The film stars returning cast members Michelle Rodriguez, Tyrese Gibson, Chris "Ludacris" Bridges, Jordana Brewster, Nathalie Emmanuel and Sung Kang, with Oscar® winner Helen Mirren and Oscar® winner Charlize Theron. F9 also features Grammy-winning superstar Cardi B as new franchise character Leysa, a woman with a connection to Dom's past, and a cameo by Reggaeton sensation Ozuna. 
F9 is produced by Neal H. Moritz, Vin Diesel, Jeff Kirschenbaum, Joe Roth, Justin Lin, Clayton Townsend and Samantha Vincent. www.thefastsaga.com
Cast: Vin Diesel, Michelle Rodriguez, Tyrese Gibson, Chris "Ludacris" Bridges, John Cena, Jordana Brewster, Nathalie Emmanuel, Sung Kang, with Helen Mirren and Charlize Theron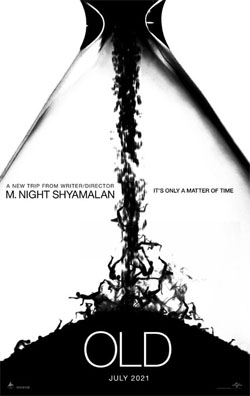 This summer, visionary filmmaker M. Night Shyamalan unveils a chilling, mysterious new thriller about a family on a tropical holiday who discover that the secluded beach where they are relaxing for a few hours is somehow causing them to age rapidly … reducing their entire lives into a single day. 
The film stars an impressive international cast including Golden Globe winner Gael García Bernal (Amazon's Mozart in the Jungle), Vicky Krieps (Phantom Thread), Rufus Sewell (Amazon's The Man in the High Castle), Ken Leung (Star Wars: Episode VII—The Force Awakens), Nikki Amuka-Bird (Jupiter Ascending), Abbey Lee (HBO's Lovecraft Country), Aaron Pierre (Syfy's Krypton), Alex Wolff (Hereditary), Embeth Davidtz (The Girl with the Dragon Tattoo), Eliza Scanlen (Little Women), Emun Elliott (Star Wars: Episode VII—The Force Awakens), Kathleen Chalfant (Showtime's The Affair) and Thomasin McKenzie (Jojo Rabbit). 
Old is a Blinding Edge Pictures production, directed and produced by M. Night Shyamalan, from his screenplay based on the graphic novel Sandcastle by Pierre Oscar Lévy and Frederik Peeters. The film is also produced by Ashwin Rajan (Glass, AppleTV+'s Servant) and Marc Bienstock (Glass, Split). The film's executive producer is Steven Schneider.
Cast: Gael García Bernal, Vicky Krieps, Rufus Sewell, Ken Leung, Nikki Amuka-Bird, Abbey Lee, Aaron Pierre, Kathleen Chalfant, Alexa Swinton, Nolan River, Kylie Begley, Embeth Davidtz, Eliza Scanlen, Alex Wolff, Emun Elliott, Thomasin McKenzie
Director: M. Night Shyamalan
FOCUS FEATURES ANNOUNCES DOWNTON ABBEY 2 IN THEATERS THIS CHRISTMAS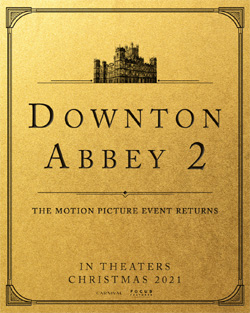 Focus Features chairman Peter Kujawski announced today that Focus has set production with Gareth Neame's Carnival Films on Downton Abbey 2.  The original principal cast will all once again return for the second film which began production last week and is set to release Christmas 2021 on December 22, 2021.  In addition to the original cast, Hugh Dancy, Laura Haddock, Nathalie Baye and Dominic West will join the cast. Downton creator Academy-Award® winner Julian Fellowes will once again write the film's screenplay, with Emmy and BAFTA Award-winning Gareth Neame and Emmy Award-winning Liz Trubridge back to produce with Fellowes.  BAFTA and Emmy nominated director Simon Curtis (My Week with Marilyn) will join the filmmaking team to direct the sequel. 
The initial film followed a Royal Visit to the Crawley family and Downton staff from the King and Queen of England and ended with a ball fitting for the Royal Family. 
Gareth Neame, the film's producer and executive chairman of Carnival Films said, "After a very challenging year with so many of us separated from family and friends, it is a huge comfort to think that better times are ahead and that next Christmas we will be re-united with the much beloved characters of Downton Abbey."                             

Focus Features chairman Peter Kujawski said, "There's no place like home for the holidays, and we can't imagine a better gift than getting to reunite with Julian, Gareth, and the entire Downton family in 2021 to bring the Crawley's back home for their fans."
Downton Abbey 2 is a Carnival Films production, with Focus Features and Universal Pictures International distributing. Carnival Films is part of NBCUniversal International Studios, a division of Universal Studio Group.