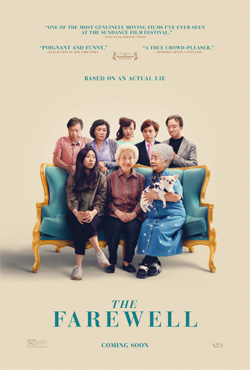 In this funny, uplifting tale based on an actual lie, Chinese-born, U.S.-raised Billi (Awkwafina) reluctantly returns to Changchun to find that, although the whole family knows their beloved matriarch, Nai-Nai, has been given mere weeks to live, everyone has decided not to tell Nai Nai herself. To assure her happiness, they gather under the joyful guise of an expedited wedding, uniting family members scattered among new homes abroad. As Billi navigates a minefield of family expectations and proprieties, she finds there's a lot to celebrate: a chance to rediscover the country she left as a child, her grandmother's wondrous spirit, and the ties that keep on binding even when so much goes unspoken. With The Farewell, writer/director Lulu Wang has created a heartfelt celebration of both the way we perform family and the way we live it, masterfully interweaving a gently humorous depiction of the good lie in action with a richly moving story of how family can unite and strengthen us, often in spite of ourselves. 
STARRING
Awkwafina, Tzi Ma, Diana Lin, Zhao Shuzhen, Lu Hong, Jiang 
Yongbo

DIRECTED BY
Lulu Wang
In Theaters July 12, 2019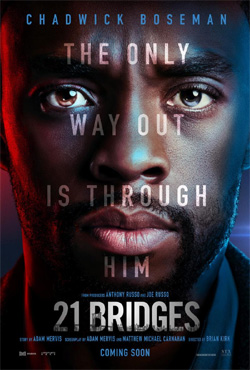 21 BRIDGES follows an embattled NYPD detective (Chadwick Boseman), who is thrust into a citywide manhunt for a pair of cop killers after uncovering a massive and unexpected conspiracy. As the night unfolds, lines become blurred on who he is pursuing, and who is in pursuit of him. When the search intensifies, extreme measures are taken to prevent the killers from escaping Manhattan as the authorities close all 21 BRIDGES to prevent any entry or exit from the iconic island.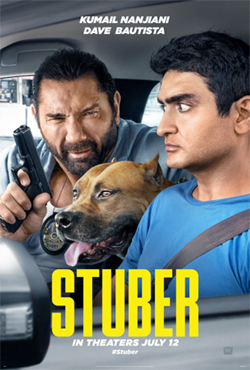 When a mild-mannered Uber driver named Stu (Kumail Nanjiani) picks up a passenger (Dave Bautista) who turns out to be a cop hot on the trail of a brutal killer, he's thrust into a harrowing ordeal where he desperately tries to hold onto his wits, his life and his five-star rating.  Directed by Michael Dowse, this action-comedy from 20th Century Fox also stars Iko Uwais, Natalie Morales, Betty Gilpin, Jimmy Tatro, Mira Sorvino and Karen Gillan. 
Cast: Kumail Nanjiani, Dave Bautista, Iko Uwais, Natalie Morales, Betty Gilpin, Jimmy Tatro, Mira Sorvino, Karen Gillan
Fast & Furious Presents: Hobbs & Shaw
In Theaters August 2, 2019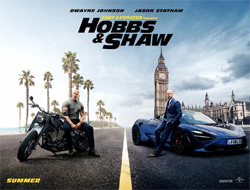 After eight films that have amassed almost $5 billion worldwide, the Fast & Furious franchise now features its first stand-alone vehicle as Dwayne Johnson and Jason Statham reprise their roles as Luke Hobbs and Deckard Shaw in Fast & Furious Presents: Hobbs & Shaw.
Ever since hulking lawman Hobbs (Johnson), a loyal agent of America's Diplomatic Security Service, and lawless outcast Shaw (Statham), a former British military elite operative, first faced off in 2015's Furious 7, the duo have swapped smack talk and body blows as they've tried to take each other down.
But when cyber-genetically enhanced anarchist Brixton (Idris Elba) gains control of an insidious bio-threat that could alter humanity forever – and bests a brilliant and fearless rogue MI6 agent (The Crown's Vanessa Kirby), who just happens to be Shaw's sister – these two sworn enemies will have to partner up to bring down the only guy who might be badder than themselves.
Hobbs & Shaw blasts open a new door in the Fast universe as it hurtles action across the globe, from Los Angeles to London and from the toxic wasteland of Chernobyl to the lush beauty of Samoa.
Directed by David Leitch (Deadpool 2) from a script by longtime Fast & Furious narrative architect Chris Morgan, the film is produced by Morgan, Johnson, Statham and Hiram Garcia. The executive producers are Kelly McCormick, Dany Garcia, Steven Chasman, Ethan Smith and Ainsley Davies.
Cast: Dwayne Johnson, Jason Statham, Idris Elba,Vanessa Kirby and Helen Mirren
DORA AND THE LOST CITY OF GOLD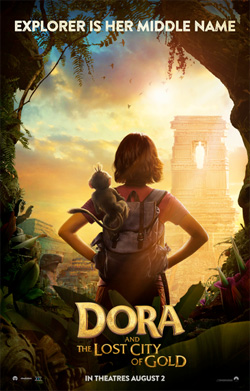 IN THEATRES AUGUST 2
Having spent most of her life exploring the jungle with her parents, nothing could prepare Dora (Isabela Moner) for her most dangerous adventure ever – High School. Always the explorer, Dora quickly finds herself leading Boots (her best friend, a monkey), Diego (Jeffrey Wahlberg), a mysterious jungle inhabitant (Eugenio Derbez), and a rag tag group of teens on a live-action adventure to save her parents (Eva Longoria, Michael Peña) and solve the impossible mystery behind a lost city of gold.
STARRING
Isabela Moner, Eugenio Derbez, Michael Peña, Eva Longoria, Adriana Barraza, Temuera Morrison, Jeff Wahlberg, Nicholas Coombe, Madeleine Madden, and Danny Trejo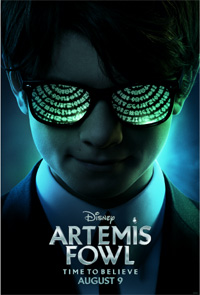 In Theaters August 9, 2019
Directed by Kenneth Branagh and based on the beloved book by Eoin Colfer, ARTEMIS FOWL follows 12-year-old genius Artemis Fowl, a descendant of a long line of criminal masterminds, as he finds himself in a battle of strength and cunning against a powerful, hidden race of fairies who may be behind his father's disappearance. The film stars Ferdia Shaw, Lara McDonnell, Tamara Smart, Nonzo Anozie, with Josh Gad, and Judi Dench. Judy Hofflund and Kenneth Branagh are producing with Angus More Gordon and Matthew Jenkins serving as executive producers. The screenplay is by Conor McPherson.
SCARY STORIES TO TELL IN THE DARK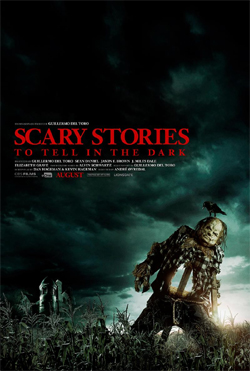 AUGUST 9, 2019
Inspired by one of the most terrifying children's book series of all time, SCARY STORIES TO TELL IN THE DARK follows a group of young teens who must solve the mystery surrounding sudden and macabre deaths in their small town.
Starring: Zoe Colletti, Michael Garza, Gabriel Rush,  Austin Abrams, Dean Norris, Gil Bellows,  Lorraine Toussaint, Austin Zajur,  Natalie Ganzhorn
ONCE UPON A TIME IN HOLLYWOOD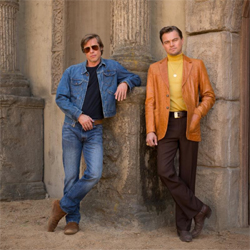 August 9, 2019
Quentin Tarantino's ninth feature film is a story that takes place in Los Angeles in 1969, at the height of hippy Hollywood. The two lead characters are Rick Dalton (Leonardo DiCaprio), former star of a western TV series, and his longtime stunt double Cliff Booth (Brad Pitt). Both are struggling to make it in a Hollywood they don't recognize anymore. But Rick has a very famous next-door neighbor...Sharon Tate.
47 METERS DOWN: THE NEXT CHAPTER will open in theaters August 16.
The film follows the story of four teen girls diving in a ruined underwater city, who quickly find themselves in a watery hell as their fun outing turns into heart-stopping fear when they learn they are not alone in the submerged caves. As they swim deeper into the claustrophobic labyrinth of caves they enter the territory of the deadliest shark species in the ocean.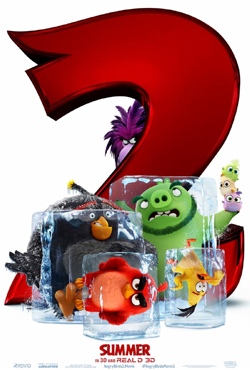 August 16, 2019
A hilarious all-star cast of new and returning talent are brought together as the flightless birds and scheming green pigs take their beef to the next level.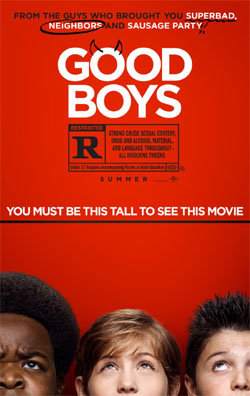 August 16, 2019
Just how bad can one day get? The creative minds behind Superbad, Pineapple Express and Sausage Party take on sixth grade hard in the outrageous comedy, Good Boys. After being invited to his first kissing party, 12-year-old Max (Room's Jacob Tremblay) is panicking because he doesn't know how to kiss. Eager for some pointers, Max and his best friends Thor (Brady Noon, HBO's Boardwalk Empire) and Lucas (Keith L. Williams, Fox's The Last Man On Earth) decide to use Max's dad's drone - which Max is forbidden to touch - to spy (they think) on a teenage couple making out next door. But when things go ridiculously wrong, the drone is destroyed. Desperate to replace it before Max's dad (Will Forte, The Last Man on Earth) gets home, the boys skip school and set off on an odyssey of epically bad decisions involving some accidentally stolen drugs, frat-house paintball, and running from both the cops and terrifying teenage girls (Life of the Party's Molly Gordon and Ocean's Eight's Midori Francis). From Point Grey producers Seth Rogen and Evan Goldberg, the writers of Superbad, Pineapple Express and Sausage Party, and James Weaver (Neighbors), Good Boys, from Universal Pictures and Good Universe, is written by the team of Lee Eisenberg and Gene Stupnitsky (NBC's The Office, Bad Teacher). Eisenberg also produces and Stupnitsky directs.
Keith L. Williams, Brady Noon, Molly Gordon, Lil Rel Howery, Will Forte.
WHERE'D YOU GO, BERNADETTE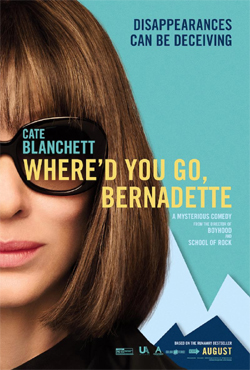 Based on the runaway bestseller, Where'd You Go, Bernadette is an inspiring comedy about Bernadette Fox (Academy Award winner Cate Blanchett), a loving mom who becomes compelled to reconnect with her creative passions after years of sacrificing herself for her family. Bernadette's leap of faith takes her on an epic adventure that jump-starts her life and leads to her triumphant rediscovery. 
Cast: Cate Blanchett, Billy Crudup, Kristen Wiig, Emma Nelson, James Urbaniak, Judy Greer, Troian Bellisario, Zoe Chao and Laurence Fishburne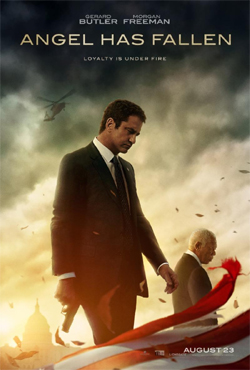 When there is an assassination attempt on U.S. President Allan Trumbull (Morgan Freeman), his trusted confidant, Secret Service Agent Mike Banning (Gerard Butler), is wrongfully accused and taken into custody. After escaping from capture, he becomes a man on the run and must evade his own agency and outsmart the FBI in order to find the real threat to the President. Desperate to uncover the truth, Banning turns to unlikely allies to help clear his name, keep his family from harm and save the country from imminent danger.
ANGEL HAS FALLEN is directed by Ric Roman Waugh from a screenplay by Robert Mark Kamen and Matt Cook & Ric Roman Waugh, story by Creighton Rothenberger & Katrin Benedikt, and based on characters created by Creighton Rothenberger & Katrin Benedikt. Lionsgate and Millennium Media present, a Millennium Films/G-Base production.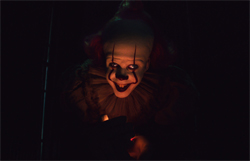 BILL SKARSGÅRD as Pennywise in New Line Cinema's horror thriller "IT CHAPTER TWO," a Warner Bros. Pictures release.
Photo Courtesy of Warner Bros. Pictures
Photo by Brooke Palmer
JEREMY RAY TAYLOR as young Ben Hascomb, JACK DYLAN GRAZER as young Eddie Kaspbrak, SOPHIA LILLIS as young Beverly Marsh, WYATT OLEFF as young Stanley Uris, JAEDEN MARTELL as young Bill Denbrough, FINN WOLFHARD as young Richie Tozier and CHOSEN JACOBS as young Mike Hanlon in New Line Cinema's horror thriller "IT CHAPTER TWO," a Warner Bros. Pictures release.
Photo Courtesy of Warner Bros. Pictures
BILL HADER as Richie Tozier, JESSICA CHASTAIN as Beverly Marsh, JAMES MCAVOY as Bill Denbrough, JAMES RANSONE as Eddie Kaspbrak, ISAIAH MUSTAFA as Mike Hanlon, and JAY RYAN as Ben Hascomb in New Line Cinema's horror thriller "IT CHAPTER TWO," a Warner Bros. Pictures release.
Photo by Brooke Palmer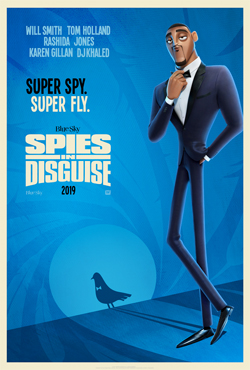 September 13, 2019
Super spy Lance Sterling (Will Smith) and scientist Walter Beckett (Tom Holland) are almost exact opposites. Lance is smooth, suave and debonair. Walter is... not. But what Walter lacks in social skills he makes up for in smarts and invention, creating the awesome gadgets Lance uses on his epic missions. But when events take an unexpected turn, Walter and Lance suddenly have to rely on each other in a whole new way. And if this odd couple can't learn to work as a team, the whole world is in peril. SPIES IN DISGUISE is an animated comedy set in the high-octane globe-trotting world of international espionage. Cast: Will Smith, Tom Holland, Ben Mendelsohn, Karen Gillan, Rashida Jones, DJ Khaled, Masi Oka
Winter 1968 and showbiz legend Judy Garland arrives in Swinging London to perform a five-week sold-out run at The Talk of the Town. It is 30 years since she shot to global stardom in The Wizard of Oz, but if her voice has weakened, its dramatic intensity has only grown. As she prepares for the show, battles with management, charms musicians and reminisces with friends and adoring fans, her wit and warmth shine through. Even her dreams of love seem undimmed as she embarks on a whirlwind romance with Mickey Deans, her soon-to-be fifth husband. Featuring some of her best-known songs, the film celebrates the voice, the capacity for love, and the sheer pizzazz of "the world's greatest entertainer.
Starring Renée Zellweger, Jessie Buckley, Finn Wittrock, Rufus Sewell, and Michael Gambon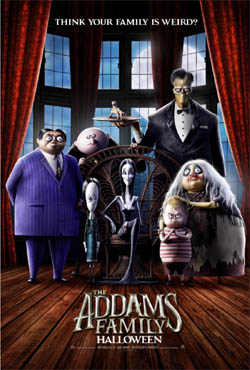 In Theaters Everywhere October 11th
In Theaters Everywhere October 11thGet ready to snap your fingers! The Addams Family is back on the big screen in the first animated comedy about the kookiest family on the block. Funny, outlandish, and completely iconic, the Addams Family redefines what it means to be a good neighbor.
Producers: Gail Berman, Conrad Vernon, Alex Schwartz, Alison O'Brien
Executive Producers: Kevin Miserocchi, Andrew Mittman, Joe Earley
Cast: Oscar Isaac, Charlize Theron, Chloë Grace Moretz, Finn
Wolfhard, Nick Kroll with Bette Midler and Allison Janney.
IN THEATRES OCTOBER 11, 2019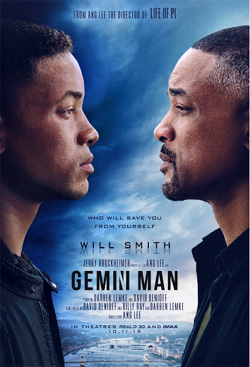 Gemini Man is an innovative action-thriller starring Will Smith as Henry Brogan, an elite assassin, who is suddenly targeted and pursued by a mysterious young operative that seemingly can predict his every move.  The film is directed by Academy Award®-winning filmmaker Ang Lee and produced by renown producers Jerry Bruckheimer, David Ellison, Dana Goldberg and Don Granger.  Also starring are Mary Elizabeth Winstead, Clive Owen and Benedict Wong. 
SONIC THE HEDGEHOG is a live-action adventure comedy based on the global blockbuster videogame franchise from Sega that centers on the infamously brash bright blue hedgehog. The film follows the (mis)adventures of Sonic as he navigates the complexities of life on Earth with his newfound – human – best friend Tom Wachowski (James Marsden). Sonic and Tom join forces to try and stop the villainous Dr. Robotnik (Jim Carrey) from capturing Sonic and using his immense powers for world domination. The film also stars Tika Sumpter and Ben Schwartz as the voice of Sonic.
STARRING: James Marsden, Ben Schwartz, Tika Sumpter, Natasha Rothwell, Neal McDonough, Adam Pally and Jim Carrey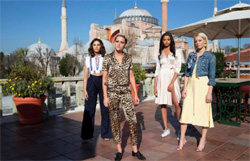 November 15, 2019
Elizabeth Banks directs the next generation of Angels - Kristen Stewart, Naomi Scott, and Ella Balinska - working for the mysterious Charles Townsend. Charlie's Angels have always provided security and investigative skills to private clients, and now the Townsend Agency has expanded internationally, with the smartest, most fearless, most highly trained women all over the globe - multiple teams of Angels guided by multiple Bosleys taking on the toughest jobs across the world. When a young systems engineer blows the whistle on a dangerous technology, these Angels are called into action, putting their lives on the line to protect us all. The screenplay is by Elizabeth Banks from a story by Evan Spiliotopoulos and David Auburn.
MOWGLI: LEGEND OF THE JUNGLE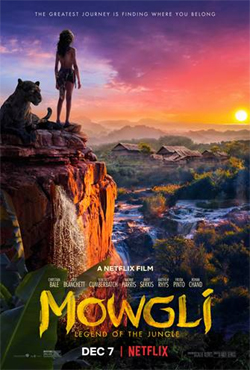 December 7
Acclaimed actor and director Andy Serkis reinvents Rudyard Kipling's beloved masterpiece, in which a boy torn between two worlds accepts his destiny and becomes a legend. Mowgli (Rohan Chand) has never truly belonged in either the wilds of the jungle or the civilized world of man. Now he must navigate the inherent dangers of each on a journey to discover where he truly belongs. Christian Bale, Cate Blanchett, Benedict Cumberbatch, Andy Serkis, Freida Pinto, Matthew Rhys and Naomie Harris lead an all-star cast along with newcomer Rohan Chand in this visually spectacular and emotionally moving adventure. MOWGLI: LEGEND OF THE JUNGLE will have exclusive limited theatrical engagements starting November 29 in Los Angeles, New York, San Francisco, and London. The film will be released globally on Netflix on December 7 and will have an expanded theatrical release in additional theaters in the U.S. and UK.