ALL RELEASE DATES ARE SUBJECT TO CHANGE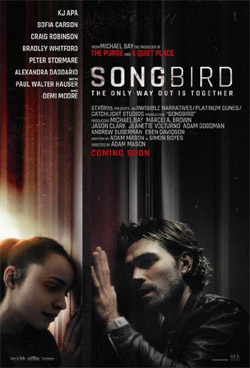 Four years into quarantine the virus has changed and so have we…
In the terrifying thriller SONGBIRD, the COVID-23 virus has mutated and the world is in its fourth year of lockdown. Infected Americans are ripped from their homes and forced into quarantine camps known as Q-Zones, from which there is no escape, as a few brave souls fight back against the forces of oppression. Amid this dystopian landscape, a fearless courier, Nico (KJ Apa), who's immune to the deadly pathogen, finds hope and love with Sara (Sofia Carson), though her lockdown prohibits them from physical contact. When Sara is believed to have become infected, Nico races desperately across the barren streets of Los Angeles in search of the only thing that can save her from imprisonment … or worse. 
The first feature film to be made during COVID-19 in Los Angeles, and about the pandemic itself, SONGBIRD also stars Bradley Whitford and Demi Moore as a wealthy couple who may hold the key to Nico's mission; Alexandra Daddario as a singer enmeshed in a messy and forbidden affair; Paul Walter Hauser as a disabled veteran whose best friend – a drone named Max – is his eyes and ears to a world that has left him behind; Craig Robinson as Nico's boss; and Peter Stormare as the corrupt head of the city's "sanitation" department, which seizes those infected and transports them to the Q-Zone.
Cast: KJ Apa, Sofia Carson, Craig Robinson, Bradley Whitford, Peter Stormare, Alexandra Daddario, with Paul Walter Hauser and Demi Moore 
Producers: Michael Bay, Marcei A. Brown, Jason Clark, Jeanette Volturno, Adam Goodman, Andrew Sugerman, Eben Davidson
Director: Adam Mason
Writers: Adam Mason & Simon Boyes
Dr. Bird's Advice for Sad Poets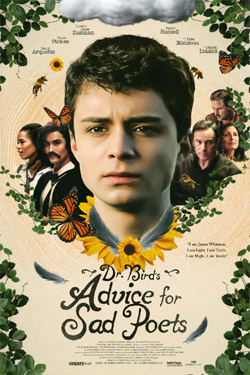 Sixteen-year-old James Whitman played by Lucas Jade Zumann (20th Century Women, Anne With An 'E'), struggles to overcome anxiety and depression by seeking advice from Dr. Bird voiced by Tom Wilkinson (The Grand Budapest Hotel). In his magical realism inspired world, James goes on a whimsical, but emotionally charged search to solve the mystery of the disappearance of his sister, after an altercation with their parents depicted by Lisa Edelstein (Girlfriends' Guide to Divorce, The Kominsky Method), and Jason Isaacs (Harry Potter, Star Trek: Discovery). While James (Zumann) struggles to connect with hs parents, he deals with the intense social anxiety of high school life while navigating first love with Sophie, portrayed by Taylor Russell (Lost in Space, Waves) – a precocious girl from school who has her own agenda and a boyfriend Martin that hasn't quite learned to let go of her, brought to life by Chase Stokes (Outer Banks). Our two lovestruck teens set out on a quest to find Jorie, finding themselves in what appears to be a cult of sorts, led by David Arquette (Scream series) as Xavier, and into the under belly of NYC nightlife that makes James question every relationship in his life.
Cast: Lucas Jade Zumann, Taylor Russell, Jason Isaacs, Lisa Edelstein, David Arquette, Tom Wilkinson, Chase Stokes
COMING TO THEATRES ON JANUARY 15, 2021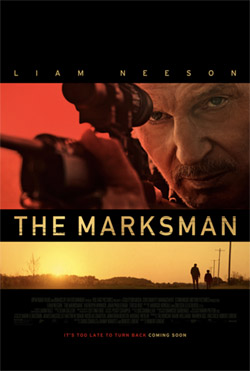 Hardened Arizona rancher Jim Hanson (Liam Neeson) simply wants to be left alone as he fends off eviction notices and tries to make a living on an isolated stretch of borderland. But everything changes when Hanson, an ex-Marine, witnesses 11-year-old migrant Miguel (Jacob Perez) fleeing with his mother Rosa (Teresa Ruiz) from drug cartel assassins led by the ruthless Mauricio (Juan Pablo Raba).  After being caught in a shoot-out, an injured Rosa begs Jim to take her son to safety to her family in Chicago. Defying his step-daughter Sarah (Katheryn Winnick), Jim sneaks Miguel out of the local U.S. Customs and Border Patrol station and together, they hit the road with the group of killers in pursuit. Jim and Miguel slowly begin to overcome their differences and begin to forge an unlikely friendship, while Mauricio and his fellow assassins blaze a cold-blooded trail, hot on their heels.
Directed By: Robert Lorenz
Written By: Chris Charles & Danny Kravitz and Robert Lorenz
Starring: Liam Neeson, Katheryn Winnick, Teresa Ruiz, Juan Pablo Raba
Produced By: Tai Duncan, Mark Williams, Warren Goz, Eric Gold, Robert Lorenz
Universal Pictures NEWS OF THE WORLD comes to PVOD next Friday, January 15, 2021.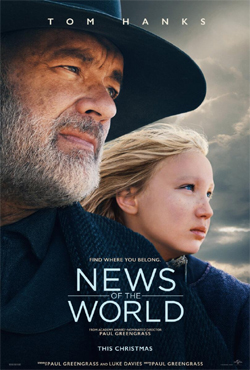 This Christmas, Universal Pictures is proud to present Tom Hanks starring in News of the World, a moving story written and directed by Paul Greengrass, reuniting for the first time with his star from their 2013 Best Picture nominee Captain Phillips.
Five years after the end of the Civil War, Captain Jefferson Kyle Kidd (Hanks), a veteran of three wars, now moves from town to town as a non-fiction storyteller, sharing the news of presidents and queens, glorious feuds, devastating catastrophes, and gripping adventures from the far reaches of the globe.
In the plains of Texas, he crosses paths with Johanna (Helena Zengel, System Crasher), a 10-year-old taken in by the Kiowa people six years earlier and raised as one of their own. Johanna, hostile to a world she's never experienced, is being returned to her biological aunt and uncle against her will.
Kidd agrees to deliver the child where the law says she belongs. As they travel hundreds of miles into the unforgiving wilderness, the two will face tremendous challenges of both human and natural forces as they search for a place that either can call home.
News of the World is directed by Greengrass (the Bourne films, United 93) from his screenplay with Luke Davies (Lion), based on the National Book Award finalist and best-selling novel by Paulette Jiles. The film is produced by Gary Goetzman (Mamma Mia! franchise, Greyhound), Gail Mutrux (The Danish Girl, Donnie Brasco) and Gregory Goodman (22 July, 8 Mile). The executive producers are Steven Shareshian and Tore Schmidt. The film's music is by eight-time Academy Award® nominee James Newton Howard.
Cast: Tom Hanks, Helena Zengel 
The Amazon Original Movie will open in Select Theaters on December 25, 2020 and 
Launch Worldwide Exclusively on Amazon Prime Video on January 15, 2021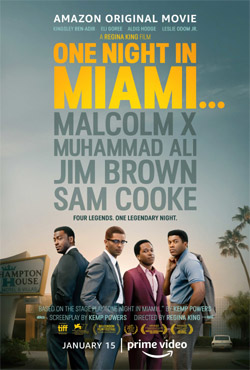 Amazon Studios has set a release date for Oscar and Emmy-winner Regina King's feature directorial debut, One Night in Miami…, written by Olivier-nominated Kemp Powers, based off his 2013 stage play. The critically-acclaimed film will open in select theaters on December 25, 2020, followed by a global launch on January 15, 2021 exclusively on Prime Video. Producers are Jess Wu Calder and Keith Calder of Snoot Entertainment and Jody Klein of ABKCO, King and Powers are executive producers. Chris Harding and Paul O. Davis also executive produce. 

Following its world premiere at the Venice Film Festival and Toronto International Film Festival, this strong contender achieved critical raves across the board, quickly garnering awards buzz in this year's Oscar race. Starring Kingsley Ben-Adir, Eli Goree, Aldis Hodge and Leslie Odom Jr., One Night in Miami… has been praised for its timely and effective performances, with a knock-out feature directorial debut from King based off Powers' bold story. 

King said, "To complete and release a film within the same year is a difficult task. We welcomed the challenge because we knew now was the time for this film to be released. Amazon fully supported our intention and I could not be more excited this prescient story will be seen across the globe."

Set on the night of February 25, 1964, the story follows a young Cassius Clay (before he became Muhammad Ali) as he emerges from the Miami Beach Convention Center the new World Heavyweight Boxing Champion. Against all odds, he defeated Sonny Liston and shocked the sports world. While crowds of people swarm Miami Beach to celebrate the match, Clay – unable to stay on the island because of Jim Crow-era segregation laws – instead spends the night at the Hampton House Motel in one of Miami's historically black neighborhoods celebrating with three of his closest friends: activist Malcolm X, singer Sam Cooke and football star Jim Brown. The next morning, the four men emerge determined to define a new world for themselves and their people.

In One Night in Miami…, Powers explores what happened during these pivotal hours through the dynamic relationship between the four men and the way their friendship, paired with their shared struggles, fueled their path to becoming the civil rights icons they are today.

The film also features original song "Speak Now" written by Leslie Odom Jr. and Sam Ashford, and performed by Leslie Odom Jr., ABKCO will release the official One Night in Miami original soundtrack album in conjunction with the film.
Available On Demand Friday, January 15th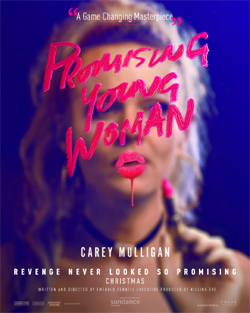 From visionary director Emerald Fennell (Killing Eve) comes a delicious new take on revenge. Everyone said Cassie (Carey Mulligan) was a promising young woman… until a mysterious event abruptly derailed her future.  But nothing in Cassie's life is what it appears to be: she's wickedly smart, tantalizingly cunning, and she's living a secret double life by night.  Now, an unexpected encounter is about to give Cassie a chance to right the wrongs of the past in this thrilling and wildly entertaining story.  
Starring Carey Mulligan, Bo Burnham, Alison Brie, Connie Britton, Adam Brody, Jennifer Coolidge, Laverne Cox, Max Greenfield, Christopher Mintz-Plasse, Chris Lowell, Sam Richardson, Molly Shannon, Clancy Brown
In Theaters January 15, 2021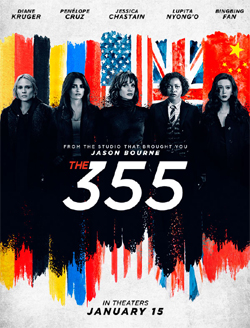 A dream team of formidable female stars come together in a hard-driving original approach to the globe-trotting espionage genre in The 355. 
When a top-secret weapon falls into mercenary hands, wild card CIA agent Mason "Mace" Brown (Oscar®-nominated actress Jessica Chastain) will need to join forces with rival badass German agent Marie (Diane Kruger, In the Fade), former MI6 ally and cutting-edge computer specialist Khadijah (Oscar® winner Lupita Nyong'o), and skilled Colombian psychologist Graciela (Oscar® winner Penélope Cruz) on a lethal, breakneck mission to retrieve it, while also staying one-step ahead of a mysterious woman, Lin Mi Sheng (Bingbing Fan, X-Men: Days of Future Past), who is tracking their every move.
As the action rockets around the globe from the cafes of Paris to the markets of Morocco to the wealth and glamour of Shanghai, the quartet of women will forge a tenuous loyalty that could protect the world—or get them killed.
The film also stars Sebastian Stan (Avengers: Endgame) and Edgar Ramírez (The Girl on the Train).
The 355 is directed by genre-defying filmmaker Simon Kinberg (writer-director-producer of Dark Phoenix, producer of Deadpool and The Martian and writer-producer of the X-Men films), from a script by Theresa Rebeck (NBC's Smash, Trouble) and Kinberg, and is produced by Chastain and Kelly Carmichael for Chastain's Freckle Films and by Kinberg for his Genre Films. The film is executive produced by Richard Hewitt (Bohemian Rhapsody).
Cast: Jessica Chastain, Penélope Cruz, Bingbing Fan, Diane Kruger, Lupita Nyong'o, Sebastian Stan, Edgar Ramírez
Opens in Virtual Cinema January 15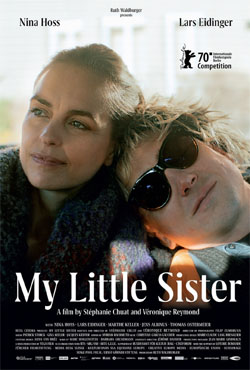 A once successful playwright sacrifices her life and career for her dying brother in MY LITTLE SISTER, a poignant, affecting drama from writer-directors Stéphanie Chuat and Véronique Reymond, nominated for the Golden Bear and Teddy Awards at the 2020 Berlinale. Lisa (Nina Hoss, Phoenix, The Most Wanted Man), once a brilliant playwright, no longer writes. She lives with her family in Switzerland, but her heart remains in Berlin, beating in time with that of her twin brother Sven (Lars Eidinger, Proxima, Never Look Away), the famous theatre actor. Since Sven has been suffering from an aggressive type of leukemia, the relationship between them has become even closer. Lisa does not want to accept this blow of fate, and she does everything in her power to bring Sven back on stage. Her relationship with her husband starts to fall apart, but Lisa only has eyes for her brother, her mirror, who connects her back with her deepest aspirations and rekindles her desire to create, to feel alive again.
Cast: Nina Hoss, Lars Eidinger, Marthe Keller, Jens Albinus, Thomas Ostermeier, 
Linne-Lu Lungerhausen, Noah Tscharland
Release Date: January 22, 2021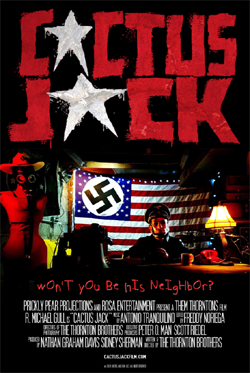 When an amateur documentarian sets out to make a film about a man who hasn't left his mother's basement in six months, he discovers the recluse is in fact a vile doomsday hatemonger. The tables are turned when the maniac snaps, imprisons him, and takes control of the cameras to start a vitriolic, venomous podcast—making enemies far and wide and promising violent retribution.
This challenging, polarizing, partially crowdfunded $20,000 micro-budget feature film written & directed by The Thornton Brothers is their debut feature (shot almost exclusively on iPhones in their own basement with a cast of two and crew of zero). CACTUS JACK may be a found footage horror film treatise on viral hate and the complicity of social media, but it is also a labor love that took almost four years to make—and in doing so has just grown more and more relevant and terrifying given the current state of the country and world in terms of racial injustice, tribalism, xenophobia, misogyny, political partisanship, and the violence associated with "othering" and domestic terrorist hate movements.
Genre                                              Horror
Starring                                           R. Michael Gull
Written & Directed by                   The Thornton Brothers
Produced by                                   Nathan Graham Davis, Sidney Sherman
Executive Producers :                   Peter O. Man, Scott Riedel
FREESTYLE DIGITAL MEDIA ACQUIRES 'HEALING FROM HATE: BATTLE FOR THE SOUL OF A NATION' FOR A JANUARY 22 RELEASE ON DEMAND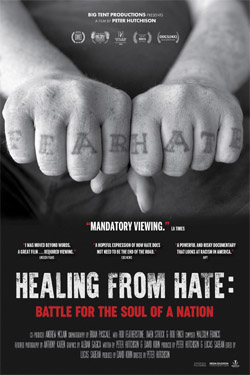 With violent extremism on the rise, Healing from Hate examines the root causes of hate group activity through the bold work of those battling intolerance on the front lines. Documenting a stunning year of hatred in America, the film follows ex-neo-Nazis and Skinheads in their work to de-radicalize White Nationalists, and heal communities torn apart by racism – a deep dive into what is needed to return meaning, identity and tolerance to a generation of disenfranchised white men.
"Making Healing from Hate was a powerful experience for our entire team," stated filmmaker Peter Hutchison. "It's been an honor to work with and learn from such an inspiring and courageous group of people. In the midst of dark and unsettling times they've provided a hopeful way forward.  I believe this film captures their crucial message around compassion and tolerance. We are grateful to Freestyle for helping us spread its message." 
"In a year filled with tumultuous race relations and a world in need of some true healing we are proud to be a part of bringing this documentary to audiences," stated Freestyle Digital Media's Director of Acquisitions, Caleb Ward. The distribution deal was negotiated by Ward with the team at Submarine Entertainment on behalf of the filmmakers. 
Peter Hutchison (Requiem for the American Dream) directed Healing from Hate, inspired by the best-selling book by Michael Kimmel. Hutchison produced the film alongside Big Tent Production partners David Kuhn and Lucas Sabean (Devil Put the Coal in the Ground). Lucas Sabean is the Editor. The film was written by Peter Hutchison with David Kuhn. 
RUMBLE OPENS IN THEATRES JANUARY 29, 2021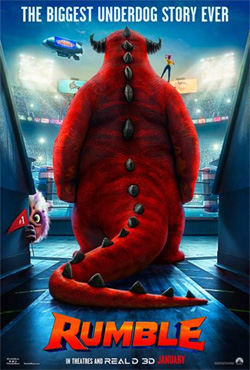 In a world where monster wrestling is a global sport and monsters are superstar athletes, teenage Winnie seeks to follow in her father's footsteps by coaching a loveable underdog monster into a champion.
CAST:  Will Arnett, Terry Crews, Geraldine Viswanathan, Joe "Roman Reigns" Anoa'i, Tony Danza, Becky Lynch, Susan Kelechi Watson, Stephen A. Smith, Jimmy Tatro, Ben Schwartz and Michael Buffer.
PETER RABBIT 2: THE RUNAWAY
In Theaters January 15th, 2021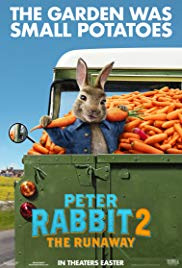 In PETER RABBIT™ 2: THE RUNAWAY, the lovable rogue is back. Bea, Thomas, and the rabbits have created a makeshift family, but despite his best efforts, Peter can't seem to shake his mischievous reputation. Adventuring out of the garden, Peter finds himself in a world where his mischief is appreciated, but when his family risks everything to come looking for him, Peter must figure out what kind of bunny he wants to be.
Based on the Characters and Tales of "Peter Rabbit" by:  Beatrix Potter
Cast:  Rose Byrne Domhnall Gleeson David Oyelowo, Elizabeth Debicki with Margot Robbie and James Corden as "Peter Rabbit"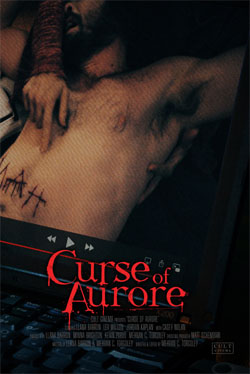 A "Dark Web" thumb drive discovered by viral YouTuber, Casey Nolan, reveals disturbing footage following Lena, Aaron, and Kevin, three American filmmakers visiting rural Quebec to research the true child murder case of Aurore Gagnon, a girl who died as a result of brutal child abuse inflicted by her parents in 1920. As the filmmakers search for inspiration in the quiet farm town of Fortierville, the place where Aurore died and is buried, they witness a number of bone chilling paranormal occurrences ultimately leading them to an attempt to communicate with the deceased child. Armed with a stolen book called "Languages of the Dead," and a rosary from Aurore's childhood home, the filmmakers take part in a make-shift seance, foolishly releasing a demonic force that can only be contained through a brutal and archaic ritual.
STARRING: Llana Barron, Alex Wilson, Jordan Kaplan, Casey Nolan
HBO DOCUMENTARY FILMS' THE LADY AND THE DALE DEBUTS JANUARY 31
The Genre-Bending Documentary Series Details The Rise And Fall Of 1970's Transgender Entrepreneur
Elizabeth Carmichael And Her Radical Car The Dale
From Executive Producers The Duplass Brothers (ROOM 104)
Directed by Nick Cammilleri and Trans Artist and Activist Zackary Drucker
HBO Documentary Films' THE LADY AND THE DALE, a four-part documentary series from Emmy®-winning producers Mark and Jay Duplass (HBO's "Room 104") and directed by Nick Cammilleri and Zackary Drucker, traces the audacious story of Elizabeth Carmichael, a larger-than-life entrepreneur who rose to prominence during the 1970s oil crisis with her promotion of a fuel-efficient, three-wheeled car known as The Dale. At a time when three big American automobile manufacturers ruled the road, Liz launched a futurist vehicle that promised to get 70 miles to the gallon.

Her promotional zeal thrust her into fierce public and media scrutiny which uncovered a web of mystery and suspicion about the car's technology and her own checkered past. THE LADY AND THE DALE is a probing exploration of family and identity seen through the lens of the rise and fall of a fearless and wily innovator, an extraordinarily resilient woman and a dedicated parent. The series debuts with two back-to-back episodes SUNDAY, JANUARY 31 (9:00-11:00 p.m. ET/PT), with new episodes airing subsequent Sundays at 9:00 p.m. ET/PT.

THE LADY AND THE DALE will premiere on HBO and be available to stream on HBO Max.
In 1974 in the midst of the Middle East oil crisis, a new, innovative automobile promised America high mileage and a low-price tag; its three-wheeled, slick design is a hopeful harbinger of things to come. Behind the development and promotion of The Dale, was Elizabeth Carmichael, who had previously lived a life of crime, on the run from authorities, and always cooked up preposterous mayhem. She claimed to have smuggled arms to Cuba during the revolution and was wanted by the FBI. With several ex-wives and children in her wake,  she eventually wedded soulmate Vivian Barrett. They and their five children lived on the run from the law for many years with Liz starting her transition in 1966. As a woman in the 1970s, with her past kept hidden and a new identity as a widow with a business degree, Liz Carmichael founded the 20th Century Motor Car Company and made a name for herself in the male-dominated business world. A savvy marketer, Carmichael claimed that The Dale would be the biggest thing since the Model T and would challenge Detroit's iron grip on the auto industry.

Interest in the Dale intensified, accelerated by Carmichael's boasts of its efficiency and safety but also fueled by the company's dubious business practices. With that spotlight came increased focus on Liz's identity and gender. As media attention was heating up and frustrated investors clamoring at her door, Carmichael was arrested for fraud and business code violations before The Dale could even hit the streets.

The trial that followed was one of the longest in Los Angeles criminal court's history and became as much about Carmichael's transgender identity as it was about The Dale. Representing herself in the high-profile case, Carmichael challenged the prejudices of the time, but the surrounding media circus obfuscated the issues; Liz as a person was under interrogation  as much as her business practices. The scrutiny into her life would continue for decades, even as she continually found surprising ways to outwit her pursuers, persist in her own survival and keep her family together.
THE LADY AND THE DALE uses an arresting and inventive technique of marrying archival material with photo collages and animation to illustrate Carmichael's experiences, combining audio recordings with interviews while framing Carmichael's story within a broader history of trans experiences. Shedding light on Liz Carmichael's life and on the dogged investigations into her past and gender identity are Candi Michael, Liz's daughter; Michael Michael, Liz's son; Jeri Burchard, Liz's granddaughter; Dick Carlson, local TV reporter; Pete Noyes, KABC news producer; Charles Richard Barrett, Liz's brother-in-law; and lawyers, prosecutors and employees of 20th Century Motor Car Company. Historian Susan Stryker, Gender and Media Theorist Sandy Stone and criminal defender Mia Yamamoto add historical and legal context to the story.

THE LADY AND THE DALE is a riveting, human portrait of an imperfect trans trailblazer, an industrious businesswoman and a beloved mother whose ambition and unwavering optimism ran headlong into widespread transphobia and media bias. Her life leaves a complicated legacy. Ahead of her time, forced to operate in an unaccommodating world, Liz Carmichael stands as a heroic reminder of the prejudices facing the trans community and as a symbol of untrammeled enterprise and survival.

THE LADY AND THE DALE is directed by Nick Cammilleri and Zackary Drucker; executive producers, Mark Duplass, Jay Duplass, Mel Eslyn, Allen Bain, Andre Gaines, Nick Cammilleri, Alana Carithers, Zackary Drucker; producer, Madison Passarelli. For HBO: senior producer, Tina Nguyen; executive producers, Nancy Abraham and Lisa Heller.
In Theaters January, 2021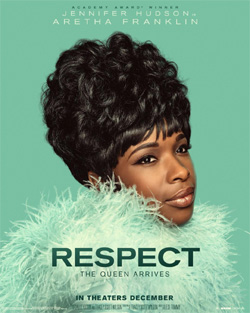 Following the rise of Aretha Franklin's career from a child singing in her father's church's choir to her international superstardom, RESPECT is the remarkable true story of the music icon's journey to find her voice.
WRITTEN BY: Tracey Scott Wilson
PRODUCERS: Scott Bernstein, Harvey Mason Jr.
EXECUTIVE PRODUCERS: Stacy Sher, Sue Baden-Powell, Aaron L. Gilbert and Jason Cloth
CAST: Jennifer Hudson, Forest Whitaker, Marlon Wayans, Audra McDonald, Marc Maron, Tituss Burgess, Saycon Sengbloh, Hailey Kilgore, Tate Donovan, Heather Headley, Skye Dakota Turner, and Mary J. Blige
IN THEATERS AND ON DEMAND FEBRUARY 5
What if we are living in a simulation, and the world as we know it is not real? To tackle this mind-bending idea, acclaimed filmmaker Rodney Ascher (ROOM 237, THE NIGHTMARE) uses a noted speech from Philip K. Dick to dive down the rabbit hole of science, philosophy, and conspiracy theory. Leaving no stone unturned in exploring the unprovable, the film uses contemporary cultural touchstones like THE MATRIX, interviews with real people shrouded in digital avatars, and a wide array of voices, expert and amateur alike. If simulation theory is not science fiction but fact, and life is a video game being played by some unknowable entity, then who are we, really? A GLITCH IN THE MATRIX attempts to find out.
In theaters February 12, 2021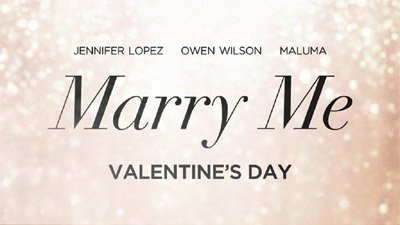 Packed with original songs by Jennifer Lopez and Latin music sensation Maluma, Marry Me arrives this Valentine's Day weekend with Lopez starring as musical superstar Kat Valdez and Owen Wilson as Charlie Gilbert, a math teacher—total strangers who agree to marry and then get to know each other. An unlikely romance about two different people searching for something real in a world where value is based on likes and followers, Marry Me is a modern love story about celebrity, marriage and social media.
Kat Valdez (Lopez) is half of the sexiest celebrity power couple on Earth with hot new music supernova Bastian (Maluma, making his feature-film debut). As Kat and Bastian's inescapable hit single, "Marry Me," climbs the charts, they are about to be wed before an audience of their fans in a ceremony that will streamed across multiple platforms. 
Divorced high-school math teacher Charlie Gilbert (Owen Wilson) has been dragged to the concert by his daughter Lou (Chloe Coleman, HBO's Big Little Lies) and his best friend (Sarah Silverman). When Kat learns, seconds before the ceremony, that Bastian has cheated on her with her assistant, her life turns left as she has a meltdown on stage, questioning love, truth and loyalty. As her gossamer world falls away, she locks eyes with a stranger—a face in the crowd.
If what you know lets you down, then perhaps what you don't know is the answer, and so, in a moment of inspired insanity, Kat chooses to marry Charlie. What begins as an impulsive reaction evolves into an unexpected romance. But as forces conspire to separate them, the universal question arises: Can two people from such different worlds bridge the gulf between them and build a place where they both belong?
Marry Me is directed by Kat Coiro (FX's It's Always Sunny in Philadelphia, Netflix's Dead to Me) from a screenplay by John Rogers (TNT's The Librarians) and Tami Sagher (NBC's 30 Rock) and Harper Dill (Fox's The Mick) based on the graphic novel by Bobby Crosby. The film is produced by Elaine Goldsmith-Thomas (Hustlers, Maid in Manhattan), Jennifer Lopez, Benny Medina (Hustlers, NBC's The Fresh Prince of Bel-Air) and John Rogers. The film's executive producers are Alex Brown, Willie Mercer, Pamela Thur and J.B. Roberts.
Genre: Romantic Comedy
Cast: Jennifer Lopez, Owen Wilson, Maluma, John Bradley and Sarah Silverman
Director: Kat Coiro
Screenplay by: John Rogers & Tami Sagher, Harper Dill
Based on the graphic novel by Bobby Crosby
Producers: Elaine Goldsmith-Thomas, Jennifer Lopez, Benny Medina, John Rogers
Executive Producers: Alex Brown, Willie Mercer, Pamela Thur, J.B. Roberts
Focus Features will release LAND in theaters on February 12, 2021, after its World Premiere at the Sundance Film Festival.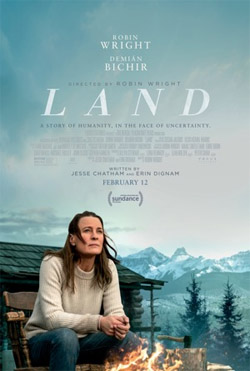 From acclaimed actress Robin Wright comes her directorial debut LAND, the poignant story of one woman's search for meaning in the vast and harsh American wilderness. Edee (Wright), in the aftermath of an unfathomable event, finds herself unable to stay connected to the world she once knew and in the face of that uncertainty, retreats to the magnificent, but unforgiving, wilds of the Rockies. After a local hunter (Demián Bichir) brings her back from the brink of death, she must find a way to live again.
Director:                              Robin Wright
Writer:                                 Jesse Chatham and Erin Dignam
Producers:                          Allyn Stewart, Lora Kennedy, Leah Holzer, Peter Saraf
Cast:                                      Robin Wright, Demián Bichir, Kim Dickens
U.S. Release Date: Digital, On Demand, & Limited Theatrical Release on February 12, 2021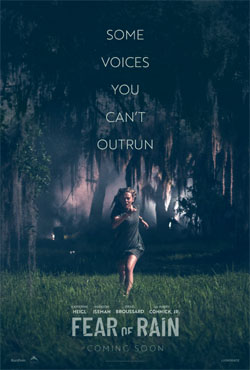 For teenager Rain Burroughs (Madison Iseman), a diagnosis with schizophrenia means that
every day is a struggle as she tries to figure out which of the disturbing images, harrowing voices, and traumatic feelings she experiences are real and which are all in her mind. But when Rain insists against her parents' (Katherine Heigl and Harry Connick, Jr.) advice that the shadows and cries from her neighbor's attic are hiding a dark secret, she enlists help from Caleb (Israel Broussard), the charmingly awkward new boy at school – who himself may not be real.
Written and directed by Castille Landon (After We Fell, After Ever Happy), Fear of Rain is a terrifying thriller that takes you inside Rain's mind as she confronts the frightening hallucinations of her imagination to determine whether there is real horror hiding right next door.
Cast: Katherine Heigl, Madison Iseman, Israel Broussard, Eugenie Bondurant, and Harry Connick Jr.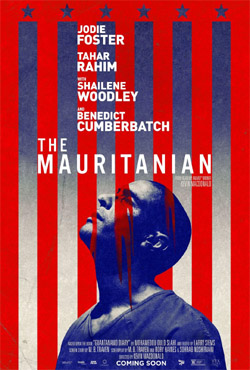 Captured by the U.S. Government, Mohamedou Ould Slahi (Tahar Rahim) languishes in prison for years without charge or trial. Losing all hope, Slahi finds allies in defense attorney Nancy Hollander (Jodie Foster) and her associate Teri Duncan (Shailene Woodley). Together they face countless obstacles in a desperate pursuit for justice. Their controversial advocacy, along with evidence uncovered by formidable military prosecutor, Lt. Colonel Stuart Couch (Benedict Cumberbatch), eventually reveals a shocking and far reaching conspiracy. Based on the New York Times best-selling memoir, this is the explosive true story of a fight for survival against all odds. 
Cast: Jodie Foster, Tahar Rahim, Zachary Levi, Saamer Usmani with Shailene Woodley and Benedict Cumberbatch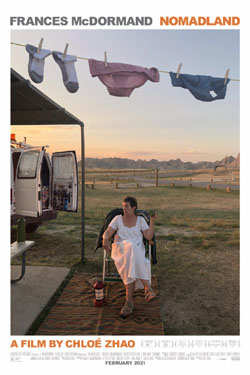 Following the economic collapse of a company town in rural Nevada, Fern (Frances McDormand) packs her van and sets off on the road exploring a life outside of conventional society as a modern-day nomad. The third feature film from director Chloé Zhao, NOMADLAND features real nomads Linda May, Swankie and Bob Wells as Fern's mentors and comrades in her exploration through the vast landscape of the American West.
In theaters only, February 26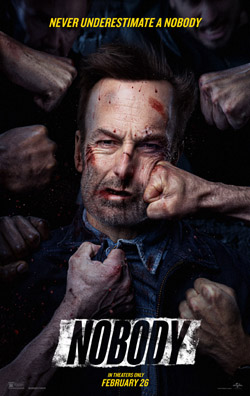 Sometimes the man you don't notice is the most dangerous of all.
Emmy winner Bob Odenkirk (Better Call Saul, The Post, Nebraska) stars as Hutch Mansell, an underestimated and overlooked dad and husband, taking life's indignities on the chin and never pushing back. A nobody.
When two thieves break into his suburban home one night, Hutch declines to defend himself or his family, hoping to prevent serious violence. His teenage son, Blake (Gage Munroe, The Shack), is disappointed in him and his wife, Becca (Connie Nielsen, Wonder Woman), seems to pull only further away.
The aftermath of the incident strikes a match to Hutch's long-simmering rage, triggering dormant instincts and propelling him on a brutal path that will surface dark secrets and lethal skills. In a barrage of fists, gunfire and squealing tires, Hutch must save his family from a dangerous adversary (famed Russian actor Aleksey Serebryakov, Amazon's McMafia)—and ensure that he will never be underestimated as a nobody again.
Nobody is directed by acclaimed filmmaker Ilya Naishuller (Hardcore Henry), from a script by Derek Kolstad, the narrative architect of the John Wick franchise, and co-stars legendary Emmy winner Christopher Lloyd as Hutch's father and multi-hyphenate musician-actor RZA as Hutch's brother, whose own hidden talents aid Hutch in his quest for vengeance.
The film is produced by Kelly McCormick, p.g.a, and David Leitch, p.g.a., the filmmakers of Fast & Furious Presents: Hobbs & Shaw, Deadpool 2 and Atomic Blonde, for their company 87North, by Braden Aftergood, p.g.a. (Hell or High Water, Wind River), for his Eighty Two Films, and by Bob Odenkirk and Marc Provissiero (Hulu's PEN15) for Odenkirk Provissiero Entertainment. The film is executive produced by Derek Kolstad, Marc S. Fischer, Annie Marter and Tobey Maguire.
Cast: Bob Odenkirk, Connie Nielsen, RZA, Aleksey Serebryakov and Christopher Lloyd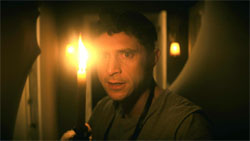 Steeped in ancient Jewish lore and demonology, THE VIGIL is supernatural horror film set over the course of a single evening in Brooklyn's Hasidic Borough Park neighborhood. Low on funds and having recently left his insular religious community, Yakov (Dave Davis) reluctantly accepts an offer from his former rabbi and confidante (Menashe Lustig) to take on the responsibility of an overnight "shomer," fulfilling the Jewish practice of watching over the body of a deceased community member. Shortly after arriving at the recently departed's dilapidated house to sit the vigil, Yakov begins to realize that something is very, very wrong.
Starring: Dave Davis, Malky Goldman, Menashe Lustig and Lynn Cohen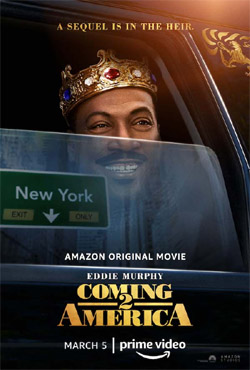 Set in the lush and royal country of Zamunda, newly-crowned King Akeem (Eddie Murphy) and his trusted confidante Semmi(Arsenio Hall) embark on an all-new hilarious adventure that has them traversing the globe from their great African nation to the borough of Queens, New York – where it all began.
Executive Produced by Brian Oliver, Bradley Fischer, Valerii An, Kenya Barris, Charisse Hewitt-Webster, Michele Imperato Stabile and Andy Berman
Starring Eddie Murphy, Arsenio Hall, Jermaine Fowler, Leslie Jones, Tracy Morgan, KiKi Layne, Shari Headley, with Wesley Snipes and James Earl Jones. Also starring John Amos, Teyana Taylor, Vanessa Bell Calloway, Paul Bates, Nomzamo Mbatha, Bella Murphy.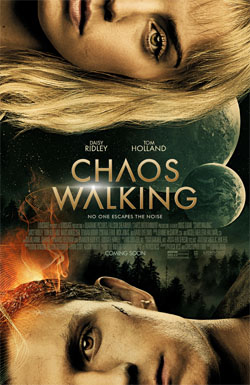 In the not too distant future, Todd Hewitt (Tom Holland) discovers Viola (Daisy Ridley), a mysterious girl who crash lands on his planet, where all the women have disappeared and the men are afflicted by "the Noise" –a force that puts all their thoughts on display. In this dangerous landscape, Viola's life is threatened –and as Todd vows to protect her, he will have to discover his own inner power and unlock the planet's dark secrets.
From the director of The Bourne Identityand Edge of Tomorrowand based on the best-selling novel The Knife of Never Letting Go, Daisy Ridley and Tom Holland star with Mads Mikkelsen, Demián Bichir, Cynthia Erivo, Nick Jonas, Kurt Sutter, and David Oyelowo in Chaos Walking
The Boss Baby: Family Business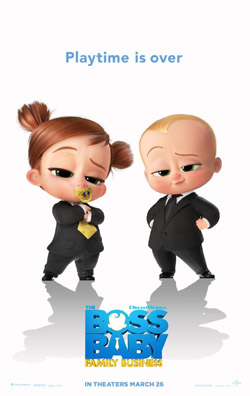 In the sequel to DreamWorks Animation's Oscar®-nominated blockbuster comedy, the Templeton brothers—Tim (James Marsden, X-Men franchise) and his Boss Baby little bro Ted (Alec Baldwin)—have become adults and drifted away from each other. Tim is now a married stay-at-home dad. Ted is a hedge fund CEO. But a new boss baby with a cutting-edge approach and a can-do attitude is about to bring them together again … and inspire a new family business.
Tim and his wife, Carol (Eva Longoria), the breadwinner of the family, live in the suburbs with their super-smart 7-year-old daughter Tabitha (Ariana Greenblatt, Avengers: Infinity War), and adorable new infant Tina (Amy Sedaris, Netflix's BoJack Horseman). Tabitha, who's at the top her class at the prestigious Acorn Center for Advanced Childhood, idolizes her Uncle Ted and wants to become like him, but Tim, still in touch with his overactive youthful imagination, worries that she's working too hard and is missing out on a normal childhood.
When baby Tina reveals that she's—ta-da!—a top secret agent for BabyCorp on a mission to uncover the dark secrets behind Tabitha's school and its mysterious founder, Dr. Edwin Armstrong (Jeff Goldblum), it will reunite the Templeton brothers in unexpected ways, lead them to re-evaluate the meaning of family and discover what truly matters.
Lisa Kudrow and Jimmy Kimmel also reprise their roles as Ted and Tim's parents.
Building on the success of the first film, which earned more than $500 million worldwide, The Boss Baby: Family Business is directed by returning filmmaker Tom McGrath and is produced by Jeff Hermann (Kung Fu Panda 3).
Cast:
Alec Baldwin, Jeff Goldblum, Ariana Greenblatt, Jimmy Kimmel, Lisa Kudrow, Eva Longoria, James Marsden, Amy Sedaris