ALL RELEASE DATES ARE SUBJECT TO CHANGE
FREESTYLE DIGITAL MEDIA ACQUIRES "WOODLAND" FOR JULY RELEASE.
Psychological Horror/ThrillerDebuts on DVD and North American VOD Platforms on July 28th.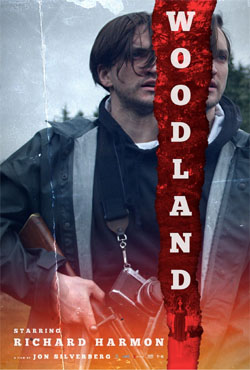 Freestyle Digital Media, the digital film distribution division of Byron Allen's Entertainment Studios, has acquired North American rights to the psychological thriller, WOODLAND.
WOODLAND will be available to rent and own on DVD and North American digital HD internet, cable, and satellite platforms through Freestyle Digital Media on July 28, 2020.
WOODLAND stars Richard Harmon (CW's THE100), a photojournalist whose future is revealed to him through the images he shoots. Set in 1989, photojournalist Jake is out-of-work and struggling with addiction when he takes a job as watchman of a wilderness lodge on a remote island in the Pacific Northwest, alongside veteran handyman, Sparky. Jake sets up a darkroom to develop his photographs, which begin to expose disturbing premonitions of their future. Written and directed by Jon Silverberg, WOODLAND features an ensemble cast including Richard Harmon ('Jake'), Amanda Tapping ('Donna'), Frank C. Turner ('Kohler'), Philip Granger ('Sparky'), and Catherine Jack ('Anna'). "I'm incredibly proud to share my horror/thriller fever dream and labor of love that is WOODLAND –brought to life with explosive and achingly beautiful performances from both leads, Richard Harmon and Philip Granger," said filmmaker Jon Silverberg. "RichardHarmon, as both star and Executive Producer on the film, was such a dedicated and supportive collaborator. On behalf of the entire cast and crew, I'm thrilled to be working with MPX and the team at Freestyle to bring the film to audiences on so many platforms."WOODLAND was produced by filmmaker Jon Silverberg, Andy Hodgson, and Dale Wolfe.
OPENING IN DRIVE-IN THEATERS JUNE 30TH 
AVAILABLE ON DEMAND JULY 7TH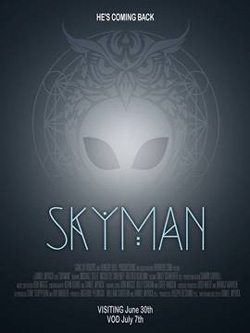 In 1987, just days after his 10th birthday, Carl Merryweather rocked the local news community when he claimed he was visited by an extraterrestrial life form. Despite other alleged sightings reported that same evening, skeptical authorities shrugged off the claims. Now, almost three obsessive decades later, Carl is set on a mission to reunite with the being he calls 'the Skyman' to not only prove the skeptics wrong but to ultimately find his own true sense of purpose. Through first-hand home videos interwoven with news footage and interviews, Skyman is a bold and compelling study of the fascinating and unquestioning world of UFO subculture.
Starring: Michael Selle, Nicolette Sweeney, Faleolo Alailima
America's movie theaters will show their first new film on July 31st, Unhinged, a thriller starring Academy Award-winner Russell Crowe.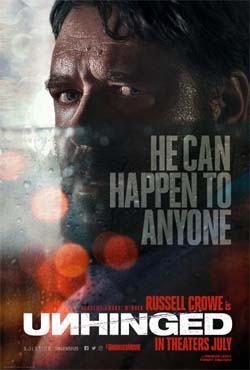 Academy Award® winner Russell Crowe and Caren Pistorius take the wheel in the new trailer from Solstice Studios' UNHINGED. The psychological thriller will be the first new film to open in America's movie theaters in accordance with state public health department safety guidelines on July 1st 
Award winner Russell Crowe stars in Unhinged, a timely psychological thriller that explores the fragile balance of a society pushed to the edge, taking something we've all experienced- road rage – to an unpredictable and terrifying conclusion. Rachel (Caren Pistorius) is running late to work when she has an altercation at a traffic light with a stranger (Crowe) whose life has left him feeling powerless and invisible. Soon, Rachel finds herself and everyone she loves the target of a man who decides to make one last mark upon the world by teaching her a series of deadly lessons. What follows is a dangerous game of cat and mouse that proves you never know just how close you are to someone who is about to become unhinged. 
Solstice Studios and Ingenious Media present a film by Derrick Borte, starring Russell Crowe, Caren Pistorius, Gabriel Bateman, Jimmi Simpson and Austin P. McKenzie. Casting is by Mary Vernieu, CSA & Raylin Sabo, CSA, with Music by David Buckley and Costume Design by Denise Wingate. The film was edited by Mike McCusker ACE, Steven Mirkovichm ACE and Tim Mirkovich ACE, with Production Design by Fredrick Waff and Cinematography by Brendan Galvin. Guy Botham, Crystal Bourbeau, Mary C. Russell, Christopher Milburn, Gareth West, Peter Touche and Anders Erden serve as Executive Producers.  Unhinged is produced by Lisa Ellzey, Mark Gill and Andrew Gunn and written by Carl Ellsworth.
Netflix's IMMIGRATION NATION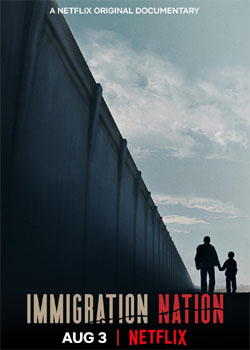 In the groundbreaking six-part documentary series Immigration Nation, acclaimed filmmaking team Shaul Schwarz and Christina Clusiau (2017's Trophy) offer an unprecedented look at the processes, pitfalls and pain of immigration in America. Shot over the course of three years, Schwarz and Clusiau capture the daily workings of Immigration and Customs Enforcement (ICE) agents, activists, lawmakers, attorneys and a wide swath of undocumented immigrants, from desperate recent arrivals to longtime residents to deported U.S. military combat veterans.
With an unrelenting flow of migrant workers continuing across the U.S. border, the pressure on ICE to enforce the administration's zero-tolerance policies puts immigrants in the crosshairs. But how do we fix a system that seems beyond repair? How do we apply common sense to something that's evolved from one of humanitarian concern to an us-versus-them political flashpoint? Has the story of America – the one that inspired our own immigrant relatives to risk death for a better life – been rewritten so broadly that the "land of the free" is a luxury afforded now only to a few?
As ineffective deterrence and militarized tactics continue, Immigration Nation provides an urgent, unbiased portrait of a country in crisis; one that demands unflinching attention and action.
A Netflix Original Documentary Series
Directors & Executive Producers:
Shaul Schwarz and Christina Clusiau
Dan Cogan, Jenny Raskin, Brandon Hill, Christian Thompson
UNCLE PECKERHEAD will be screening in select theaters on Friday, August 7, 2020 and will be available on VOD/Digital on Tuesday, August 11, 2020.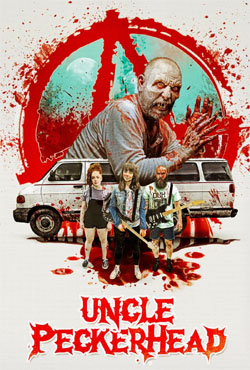 Judy, the bassist of punk-rock band 'DUH', dreams of traveling the world and becoming a full-time musician with her two friends, guitarist Max and drummer Mel. But when DUH's van is repossessed hours before they're set to embark on their first tour, desperation sets in, and Judy strikes an uneasy alliance with a redneck old-timer by the name of Peckerhead, or 'Peck', who offers to drive them in his van in exchange for food and gas. 
One night after their first show, Peck mysteriously goes missing. Desperate to get back on the road to make their next show, Judy volunteers to look for him. Regrettably, she finds Peck devouring the brains of the promoter who ripped them off earlier. The band quickly comes to realize their new roadie is a cursed, man-eating hillbilly and the "gig life" they've always dreamed of is paved with nightmares and half-eaten bodies.
A humorous, yet gruesome take on the roadie/band narrative, UNCLE PECKERHEAD is nothing less than a Faustian gorefest, a madcap music and monster movie, and a horror-comedy with heart.
Written & Directed by: Matthew John Lawrence
Starring: Chet Siegel, Ruby McCollister, Jeff Riddle, and
David H. Littleton
THE SPONGEBOB MOVIE: SPONGE ON THE RUN
OPENS IN THEATRES August 7, 2020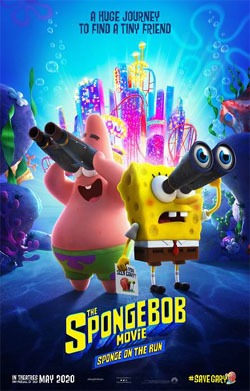 This Memorial Day weekend, SpongeBob SquarePants, his best friend Patrick Star and the rest of the gang from Bikini Bottom hit the big screen in the first-ever all CGI SpongeBob motion picture event. After SpongeBob's beloved pet snail Gary is snail-napped, he and Patrick embark on an epic adventure to The Lost City of Atlantic City to bring Gary home. As they navigate the delights and dangers on this perilous and hilarious rescue mission, SpongeBob and his pals prove there's nothing stronger than the power of friendship.
VOICE CAST:  Tom Kenny, Awkwafina, Clancy Brown, Rodger Bumpass, Bill Fagerbakke, Carolyn Lawrence, Douglas Lawrence, Reggie Watts    
THE PERSONAL HISTORY OF DAVID COPPERFIELD
In Theatres August 14, 2020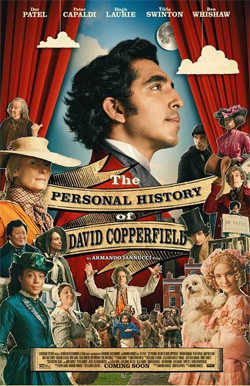 THE PERSONAL HISTORY OF DAVID COPPERFIELD re-imagines Charles Dickens' classic ode to grit and perseverance through the comedic lens of its award-winning filmmakers— giving the Dickensian tale new life for a cosmopolitan age with a diverse ensemble cast of stage and screen actors from across the world. Emmy® winners and Oscar® nominees Armando Iannucci (IN THE LOOP, THE DEATH OF STALIN, HBO'S "Veep" and "Avenue 5") and Simon Blackwell (IN THE LOOP, HBO'S "Succession") lend their wry, yet heart-filled storytelling style to revisiting Dickens' iconic hero on his quirky journey from impoverished orphan to burgeoning writer in Victorian England.
BILL & TED FACE THE MUSIC
In Theaters August 21, 2020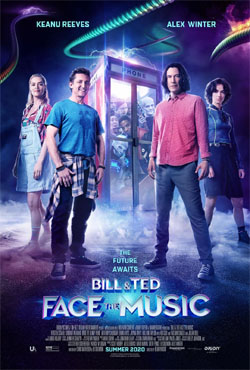 The stakes are higher than ever for the time-traveling exploits of William "Bill" S. Preston Esq. and Theodore "Ted" Logan. Yet to fulfill their rock and roll destiny, the now middle aged best friends set out on a new adventure when a visitor from the future warns them that only their song can save life as we know it. Along the way, they will be helped by their daughters, a new batch of historical figures, and a few music legends – to seek the song that will set their world right and bring harmony in the universe.
Cast: Keanu Reeves, Alex Winter, Samara Weaving, Brigette Lundy-Paine, Kid Cudi, Kristen Schaal, Anthony Carrigan, Erinn Hayes, Jayma Mays, Jillian Bell, Holland Taylor, Beck Bennett, William Sadler, Hal Landon Jr. and Amy Stoch.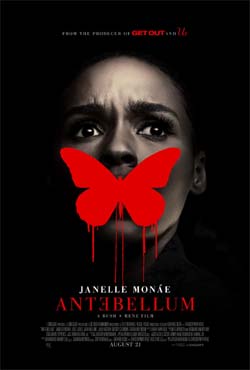 Successful author Veronica Henley (Janelle Monáe) finds herself trapped in a horrifying reality and must uncover the mind-bending mystery before it's too late.
ANTEBELLUM is a terrifying new thriller from the producer of the acclaimed films GET OUT and US, and groundbreaking directors Gerard Bush and Christoper Renz (Bush+Renz) – an exciting new voice in filmmaking.
PETER RABBIT 2: THE RUNAWAY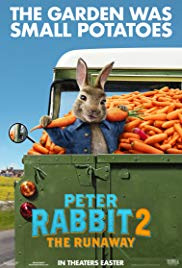 In PETER RABBIT™ 2: THE RUNAWAY, the lovable rogue is back. Bea, Thomas, and the rabbits have created a makeshift family, but despite his best efforts, Peter can't seem to shake his mischievous reputation. Adventuring out of the garden, Peter finds himself in a world where his mischief is appreciated, but when his family risks everything to come looking for him, Peter must figure out what kind of bunny he wants to be.
Based on the Characters and Tales of "Peter Rabbit" by:  Beatrix Potter
Cast:  Rose Byrne Domhnall Gleeson David Oyelowo, Elizabeth Debicki with Margot Robbie and James Corden as "Peter Rabbit"
IN THEATRES SEPTEMBER 4, 2020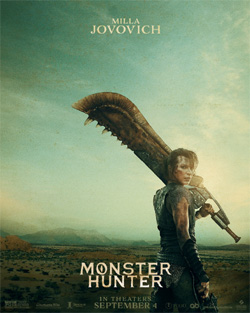 Behind our world, there is another: a world of dangerous and powerful monsters that rule their domain with deadly ferocity. When Lt. Artemis (Milla Jovovich) and her elite unit are transported through a portal from our world to a new world, they are in for the shock of their lives. In her desperate attempt to get home, the brave lieutenant encounters a mysterious hunter (Tony Jaa), whose unique skills have allowed him to survive in this hostile land. Faced with relentless and terrifying attacks from the monsters, the warriors team up to fight back and find a way home.
Based on the global video game series phenomenon MONSTER HUNTER.
Cast: Milla Jovovich,Tony Jaa, Tip 'T.I.' Harris, Meagan Good, Diego Boneta, Josh Helman, Jin Au-Yeung and Ron Perlman.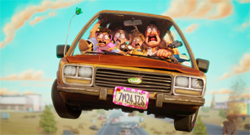 Sony Pictures Animation's Connected is an original animated comedy from director Mike Rianda (Gravity Falls) and producers Phil Lord and Christopher Miller (Spider-Man: Into the Spider-Verse, The Lego Movie), about an everyday family's struggle to relate while technology rises up around the world!
When Katie Mitchell (voiced by Abbi Jacobson), a creative outsider, is accepted into the film school of her dreams, her plans to meet "her people" at college are upended when her nature-loving dad Rick (voiced by Danny McBride) determines the whole family should drive Katie to school together and bond as a family one last time. Katie and Rick are joined by the rest of the family, including Katie's wildly positive mom Linda (voiced by Maya Rudolph), her quirky little brother Aaron (voiced by Mike Rianda), and the family's delightfully chubby pug Monchi for the ultimate family road trip. Suddenly, the Mitchells' plans are interrupted by a tech uprising: all around the world, the electronic devices people love – from phones, to appliances, to an innovative new line of personal robots – decide it's time to take over. With the help of two friendly malfunctioning robots, the Mitchells will have to get past their problems and work together to save each other and the world!
Cast: Abbi Jacobson, Danny McBride, Maya Rudolph, Mike Rianda, Eric Andre, Olivia Colman
In Theaters October 9, 2020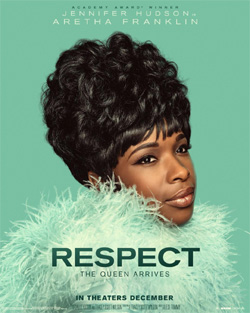 Following the rise of Aretha Franklin's career from a child singing in her father's church's choir to her international superstardom, RESPECT is the remarkable true story of the music icon's journey to find her voice.
WRITTEN BY: Tracey Scott Wilson
PRODUCERS: Scott Bernstein, Harvey Mason Jr.
EXECUTIVE PRODUCERS: Stacy Sher, Sue Baden-Powell, Aaron L. Gilbert and Jason Cloth
CAST: Jennifer Hudson, Forest Whitaker, Marlon Wayans, Audra McDonald, Marc Maron, Tituss Burgess, Saycon Sengbloh, Hailey Kilgore, Tate Donovan, Heather Headley, Skye Dakota Turner, and Mary J. Blige
RUMBLE OPENS IN THEATRES JANUARY 29, 2021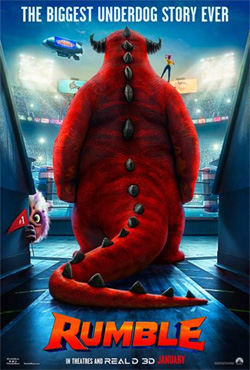 In a world where monster wrestling is a global sport and monsters are superstar athletes, teenage Winnie seeks to follow in her father's footsteps by coaching a loveable underdog monster into a champion.
CAST:  Will Arnett, Terry Crews, Geraldine Viswanathan, Joe "Roman Reigns" Anoa'i, Tony Danza, Becky Lynch, Susan Kelechi Watson, Stephen A. Smith, Jimmy Tatro, Ben Schwartz and Michael Buffer.