ALL RELEASE DATES ARE SUBJECT TO CHANGE
Friday, March 13th Nationwide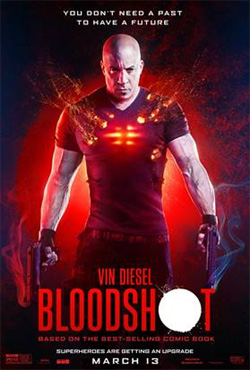 Based on the bestselling comic book, Vin Diesel stars as Ray Garrison, a soldier recently killed in action and brought back to life as the superhero Bloodshot by the RST corporation. With an army of nanotechnology in his veins, he's an unstoppable force –stronger than ever and able to heal instantly. But in controlling his body, the company has sway over his mind and memories, too. Now, Ray doesn't know what's real and what's not – but he's on a mission to find out.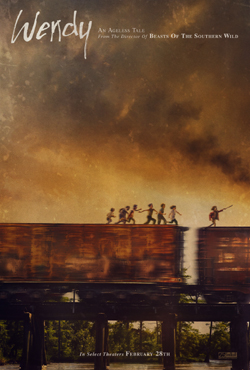 The classic story of Peter Pan is wildly reimagined in this ragtag epic from Benh Zeitlin, director of BEASTS OF THE SOUTHERN WILD.  Lost on a mysterious island where aging and time have come unglued, Wendy must fight to save her family, her freedom, and the joyous spirit of youth from the deadly peril of growing up.
Starring Devin France, Yashua Mack, Gage Naquin, Ahmad Cage, and directed by Benh Zeitlin (BEASTS OF THE SOUTHERN WILD).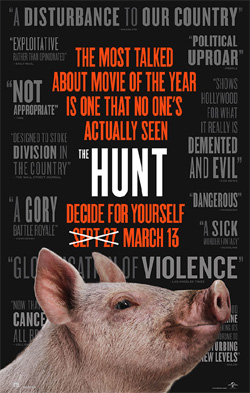 n the shadow of a dark internet conspiracy theory, a group of globalist elites gathers for the very first time at a remote Manor House to hunt humans for sport. But the elites' master plan is about to be derailed because one of the hunted, Crystal (Betty Gilpin, GLOW), knows The Hunters' game better than they do. She turns the tables on the killers, picking them off, one by one, as she makes her way toward the mysterious woman (two-time Oscar® winner Hilary Swank) at the center of it all.
Cast: Hilary Swank,Ike Barinholtz, Wayne Duvall, Ethan Suplee, Emma Roberts, Christopher Berry
RIVERDANCE 25th ANNIVERSARY SHOW IN US CINEMAS MARCH 15 ONLY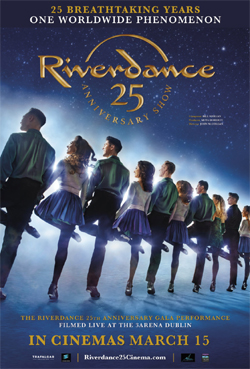 25 years ago, 7 minutes changed the face of Irish dancing forever. The Eurovision interval act performance of Riverdance gave millions of people a new and exciting glimpse of the future of Irish dance. Now 25 years later, composer Bill Whelan has rerecorded his mesmerizing soundtrack while producer Moya Doherty and director John McColgan have completely reimagined the ground-breaking show with innovative and spectacular lighting, projection, stage and costume designs.
Staged at the 3Arena Dublin, the exact spot that the Riverdance story began, the Riverdance 25th Anniversary Show celebrates the enduring legacy of the Grammy Award winning Irish dance extravaganza and marks the first time the internationally acclaimed family favorite has been shown on the big screen – allowing audiences to get up close and personal to the phenomenal live performance. 
AFTER TRUTH: DISINFORMATION AND THE COST OF FAKE NEWS
Premiering on HBO March 19, 2020.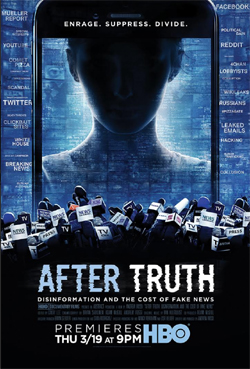 AFTER TRUTH: DISINFORMATION AND THE COST OF FAKE NEWS, debuting THURSDAY, MARCH 19 (9:00-10:35 p.m. ET/PT), investigates the ongoing threat caused by the phenomenon of "fake news" in the U.S., focusing on the real-life consequences that disinformation, conspiracy theories and false news stories have on the average citizen. This documentary humanizes a phenomena that Americans will confront in the coming election cycle and for years to come.
The film will also be available on HBO On Demand, HBO NOW, HBO GO and partners' streaming platforms.
Directed by Andrew Rossi ("Page One: Inside the New York Times," HBO's "Le Cirque: A Table in Heaven") and executive produced by CNN's Brian Stelter, AFTER TRUTH features exclusive access to the victims and perpetrators of false news stories as well as a variety of experts and journalists who contextualize its impact and reinforce the importance of quality journalism.
The concern over disinformation and false news in our global information environment became ubiquitous after President Trump's victory in 2016, but the film shows that signs of the crisis were emerging well before the election.
Postponed until further notice!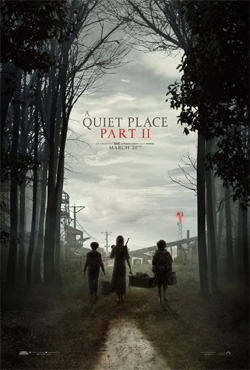 Following the deadly events at home, the Abbott family (Emily Blunt, Millicent Simmonds, Noah Jupe) must now face the terrors of the outside world as they continue their fight survival in silence. Forced to venture into the unknown, they quickly realize that the creatures that hunt by sound are not the only threats that lurk beyond the sand path.
BASED ON CHARACTERS CREATED BY
Bryan Woods & Scott Beck
STARRING
Emily Blunt, Cillian Murphy, Millicent Simmonds, Noah Jupe, Djimon Hounsou
April 3rd – Postponed until further notice.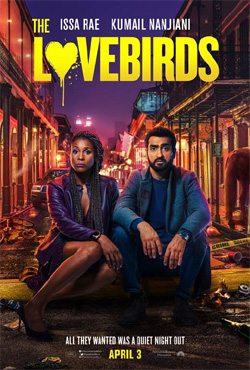 A couple (Issa Rae & Kumail Nanjiani) experiences a defining moment in their relationship when they are unintentionally embroiled in a murder mystery. As their journey to clear their names takes them from one extreme – and hilarious – circumstance to the next, they must figure out how they, and their relationship, can survive the night.
Starring: Kumail Nanjiani, Issa Rae, Paul Sparks, Anna Camp, Kyle Bornheimer
BUTT BOY will be available on VOD/Digital on Tuesday, April 14, 2020:
BUTT BOY will screen in limited theaters Friday, April 3, 2020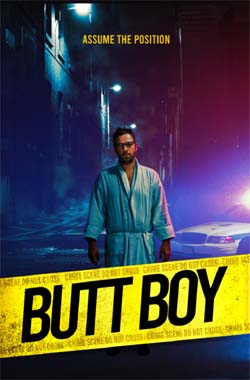 Chip Gutchel, a bored IT Engineer, has an awakening after a routine prostate exam. What begins as a harmless rectal kink, soon grows into a dangerous addiction as he becomes responsible for a missing child. Eventually, Chip buries his desires in Alcoholics Anonymous and tries to move on with his life.

Five years later, he becomes the AA sponsor of Russell Fox, a newly sober detective. And after Chip relapses, Russell is brought in to investigate another missing child… this time at Chip's office. Russell begins to suspect that Chip's addiction may not be to alcohol, but something much more sinister. It's now up to Russell to prove that Chip uses his butt to make people disappear. But the question is, who's going to believe his wild theory?

Hilarious, yet mischievous, BUTT BOY is a masterpiece that one will truly never forget. Viewers should not make any assumptions about the film, as one will get to the bottom of it. Writer/director Tyler Cornack has created an exceptionally entertaining and new aged take on a perfect game of cat and mouse. 

BUTT BOY will be screening in select theaters on Friday, April 3, 2020 and will be available on VOD/Digital on Tuesday, April 14, 2020 and available on Blu-ray on Tuesday, April 28, 2020. 
Starring: Tyler Cornack, Tyler Rice, Shelby Dash, Austin Lewis, and Kristina Clifford
Available on VOD/Digital Tuesday, April 14, 2020
THE SECRET: DARE TO DREAM
In theaters on April 17th, 2020.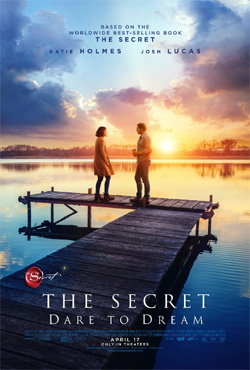 Based on the 2006 best-selling book The Secret, a global phenomenon which empowered millions to lead happier and more fulfilled lives, The Secret: Dare to Dream centers around Miranda Wells (Katie Holmes), a hard-working young widow struggling to raise three children on her own. A powerful storm brings a devastating challenge and a mysterious man, Bray Johnson (Josh Lucas), into her life. In just a few short days, Bray's presence re-ignites the family's spirit, but he carries a secret—and that secret could change everything. The groundbreaking book by Rhonda Byrne has sold over 34 million copies worldwide, has been translated into 50 languages and appeared on the New York Times best-seller list for 190 consecutive weeks.
Starring Katie Holmes, Josh Lucas, with Celia Weston and Jerry O'Connell.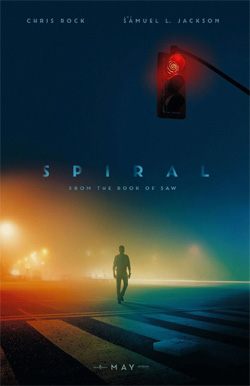 A sadistic mastermind unleashes a twisted form of justice in SPIRAL, the terrifying new chapter from the book of SAW. Working in the shadow of an esteemed police veteran (Samuel L. Jackson), brash Detective Ezekiel "Zeke" Banks (Chris Rock) and his rookie partner (Max Minghella) take charge of a grisly investigation into murders that are eerily reminiscent of the city's gruesome past. Unwittingly entrapped in a deepening mystery, Zeke finds himself at the center of the killer's morbid game.
SPIRAL stars Chris Rock, Max Minghella, Marisol Nichols, and Samuel L. Jackson, and is produced by the original SAW team of Mark Burg and Oren Koules. The film is directed by Darren Lynn Bousman and written by Josh Stolberg & Pete Goldfinger.
In Theaters March 20, 2020.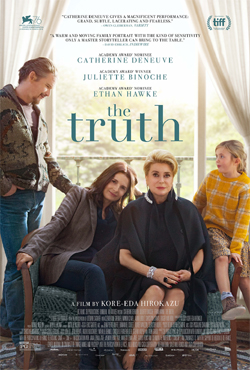 Fabienne (Academy-Award® nominee Catherine Deneuve) is an iconic star of French cinema. She reigns amongst men who love and admire her. When Fabienne publishes her memoirs, her daughter Lumir (Academy-Award® winner Juliette Binoche) returns from New York to Paris with her husband (Academy-Award® nominee Ethan Hawke) and young daughter in tow. The reunion between mother and daughter quickly turns to confrontation as long-brewing familial tensions come to a head and long-denied truths are told. 
 
In master filmmaker Hirokazu Kore-eda's (Palme d'Or Winner, Academy-Award® nominee SHOPLIFTERS) first-ever French-language film THE TRUTH, two of France's greatest screen legends come together to explore the often mercurial but always deep love that bonds families together throughout time.
 
The film is produced by Muriel Merlin, coproducers Miyuki Fukuma, Matilde Incerti. A coproduction by 3B productions Bunbuku & M.i Movies, France 3 cinéma, with participation of France Télévisions, Canal+, Ciné+, Le Pacte, Wild Bunch, Gaga Corporation. 

The film is opening March 20th theatrically in NY at IFC CENTER, FILM AT LINCON CENTER, and in LA at THE LANDMARK and ARCLIGHT HOLLYWOOD. National expansion to follow.
IN SELECT THEATRES MARCH 20, 2020.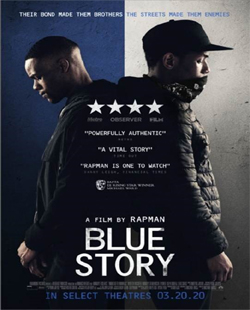 Best friends Timmy (Stephen Odubola) and Marco (Micheal Ward) go to the same high school in Peckham, but live in neighboring London boroughs. When Marco's beaten up by one of Timmy's primary school friends the two boys wind up on rival sides of a never-ending cycle of gang war in which there are no winners …only victims.
STARRING: Stephen Odubola, Micheal Ward, Rohan Nedd, Kadeem Ramsay, Khali Best, Junior Afolabi Salokun.
Opens limited March 27, 2020
Postponed until further notice!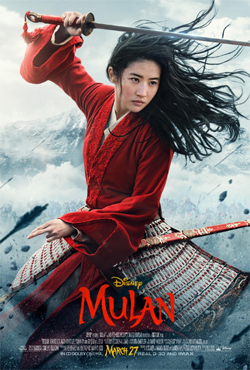 Acclaimed filmmaker Niki Caro brings the epic tale of China's legendary warrior to life in Disney's "Mulan," in which a fearless young woman risks everything out of love for her family and her country to become one of the greatest warriors China has ever known. When the Emperor of China issues a decree that one man per family must serve in the Imperial Army to defend the country from Northern invaders, Hua Mulan, the eldest daughter of an honored warrior, steps in to take the place of her ailing father. Masquerading as a man, Hua Jun, she is tested every step of the way and must harness her inner-strength and embrace her true potential. It is an epic journey that will transform her into an honored warrior and earn her the respect of a grateful nation…and a proud father.
Cast: Yifei Liu, Donnie Yen, Tzi Ma, Jason Scott Lee, Yoson An, Ron Yuan, with Gong Li and Jet Li.
Postponed until further notice!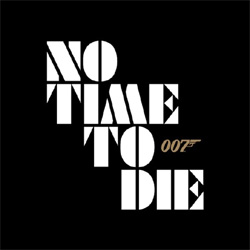 In No Time To Die, Bond has left active service and is enjoying a tranquil life in Jamaica. His peace is short-lived when his old friend Felix Leiter from the CIA turns up asking for help. The mission to rescue a kidnapped scientist turns out to be far more treacherous than expected, leading Bond onto the trail of a mysterious villain armed with dangerous new technology.
Cast: Daniel Craig, Rami Malek, Léa Seydoux, Lashana Lynch, Ben Whishaw,
Naomie Harris, with Jeffrey Wright, with Christoph Waltz and Ralph Fiennes as "M"
Also starring Rory Kinnear, Ana de Armas, Dali Benssalah, David Dencik, and Billy Magnussen.
In Theaters on April 17, 2020.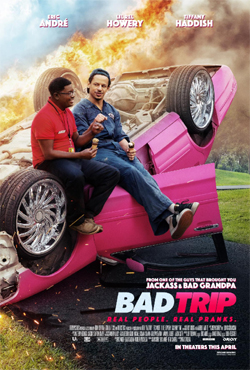 From a producer of JACKASS and BAD GRANDPA, this hidden camera comedy follows two best friends as they go on a cross-country road trip full of hilarious, inventive pranks, pulling its real-life audience into the mayhem.
Bad Trip stars Eric André, Lil Rel Howery, Tiffany Haddish and Michaela Conlin. The film is directed by Kitao Sakurai from the minds of Dan Curry, Kitao Sakurai, and André – and produced by André, Jeff Tremaine, David Bernad, and Ruben Fleischer.
Starring: Eric André, Lil Rel Howery, Tiffany Haddish, Michaela Conlin 
In Theaters April 17, 2020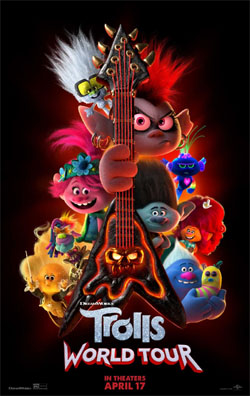 Anna Kendrick and Justin Timberlake return in an all-star sequel to DreamWorks Animation's 2016 musical hit: Trolls World Tour. In an adventure that will take them well beyond what they've known before, Poppy (Kendrick) and Branch (Timberlake) discover that they are but one of six different Troll tribes scattered over six different lands and devoted to six different kinds of music: Funk, Country, Techno, Classical, Pop and Rock. Their world is about to get a lot bigger and a whole lot louder.
A member of hard-rock royalty, Queen Barb (Rachel Bloom), aided by her father King Thrash (Ozzy Osbourne), wants to destroy all other kinds of music to let rock reign supreme. With the fate of the world at stake, Poppy and Branch, along with their friends – Biggie (James Corden), Chenille (Caroline Hjelt), Satin (Aino Jawo), Cooper (Ron Funches) and Guy Diamond (Kunal Nayyar) – set out to visit all the other lands to unify the Trolls in harmony against Barb, who's looking to upstage them all.
Cast as members of the different musical tribes is one the largest, and most acclaimed, groups of musical talent ever assembled for an animated film. From the land of Funk are Mary J. Blige, George Clinton and Anderson .Paak. Representing Country is Kelly Clarkson as Delta Dawn, with Sam Rockwell as Hickory and Flula Borg as Dickory. J Balvin brings Reggaeton, while Ester Dean adds to the Pop tribe. Anthony Ramos brings the beat in Techno and Jamie Dornan covers smooth jazz. World-renowned conductor and violinist Gustavo Dudamel appears as Trollzart and Charlyne Yi as Pennywhistle from the land of Classical. And Kenan Thompson raps as a hip-hop newborn Troll named Tiny Diamond.
Trolls World Tour is directed by Walt Dohrn, who served as co-director on Trolls, and is produced by returning producer Gina Shay. The film is co-directed by David P. Smith and co-produced by Kelly Cooney Cilella, both of whom worked on the first Trolls. 
Trolls World Tour will also feature original music by Justin Timberlake, who earned an Oscar® nomination for his song for 2016's Trolls, "Can't Stop the Feeling!," and a score by Theodore Shapiro (2016's Ghostbusters, The Devil Wears Prada).
IN THEATERS APRIL 17, 2020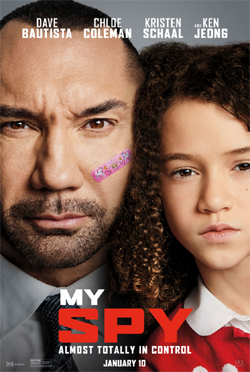 MY SPY follows JJ a hardened CIA operative (Dave Bautista) who has been demoted and finds himself at the mercy of a precocious 9-year-old girl, named Sophie (Chloe Coleman) where he has been sent undercover begrudgingly to surveil her family.  When Sophie discovers hidden cameras in her apartment she uses her tech savviness to locate where the surveillance operation is set. In exchange for not blowing JJ's cover Sophie convinces him to spend time with her and teach her to be a spy. Despite his reluctance JJ finds he is no match for Sophie's disarming charm and wit.
The film is being directed by Peter Segal ("Get Smart") from a script penned by Jon and Erich Hoeber ("Red").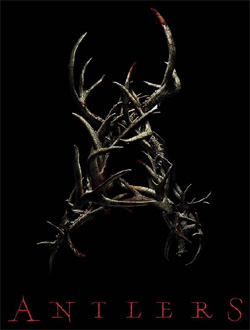 A small-town Oregon teacher (Keri Russel) and her brother (Jesse Plemons), the local Sheriff, discover that a young student (Jeremy T. Thomas) is harboring a dangerous secret with frightening consequences.
Starring: Keri Russel, Jesse Plemons, Jeremy T. Thomas, Graham Green, Scott Haze, Rory Cochrane, and Amy Madigan.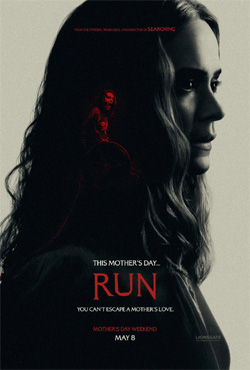 They say you can never escape a mother's love… but for Chloe, that's not a comfort — it's a threat. There's something unnatural, even sinister about the relationship between Chloe (newcomer Kiera Allen) and her mom, Diane (Sarah Paulson). Diane has raised her daughter in total isolation, controlling every move she's made since birth, and there are secrets that Chloe's only beginning to grasp. From the visionary writers, producers and director of the breakout film Searching, comes a suspense thriller that shows that when mom gets a little too close, you need to RUN.
THE PERSONAL HISTORY OF DAVID COPPERFIELD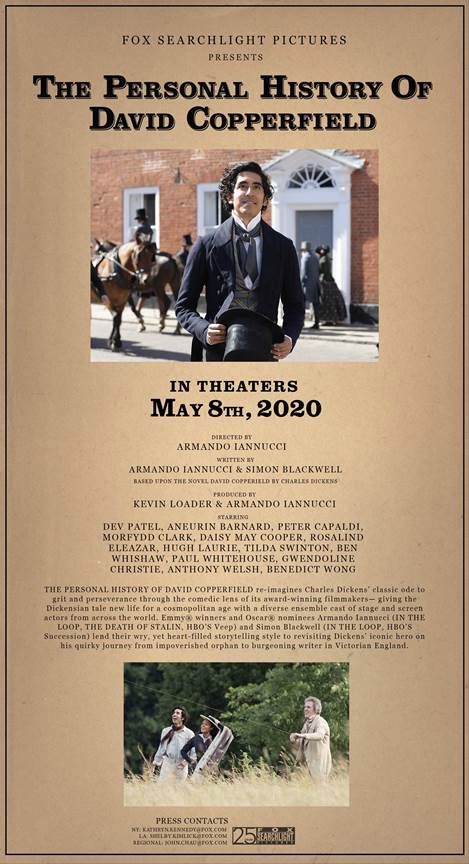 In U.S. Theaters May 15, 2020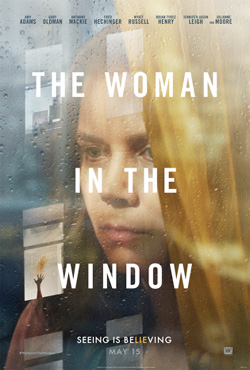 In "The Woman in the Window," an agoraphobic child psychologist befriends a neighbor across the street from her New York City brownstone, only to see her own life turned upside down when the woman disappears and she suspects foul play. A stellar ensemble cast brings Tracy Letts' screenplay based on the gripping, best-selling novel to life, where shocking secrets are revealed, and no one—and nothing—is what it seems. 
Starring Amy Adams, Gary Oldman, Anthony Mackie, Wyatt Russell, Brian Tyree Henry, Jennifer Jason Leigh and Julianne Moore, "The Woman in the Window" is produced by Scott Rudin, Eli Bush and Anthony Katagas.
May 22nd – Postponed until further notice!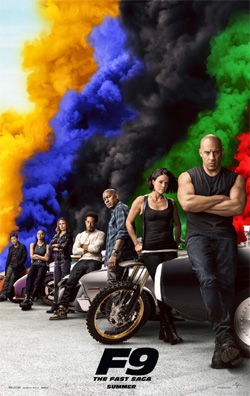 No matter how fast you are, no one outruns their past.
Vin Diesel's Dom Toretto is leading a quiet life off the grid with Letty and his son, little Brian, but they know that danger always lurks just over their peaceful horizon. This time, that threat will force Dom to confront the sins of his past if he's going to save those he loves most. His crew joins together to stop a world-shattering plot led by the most skilled assassin and high-performance driver they've ever encountered: a man who also happens to be Dom's forsaken brother, Jakob (John Cena, next year's The Suicide Squad).
THE SPONGEBOB MOVIE: SPONGE ON THE RUN
OPENS IN THEATRES MAY 22, 2020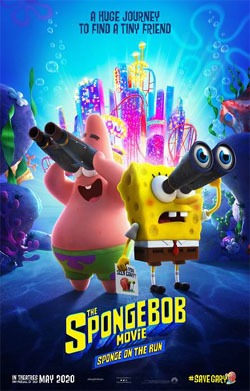 This Memorial Day weekend, SpongeBob SquarePants, his best friend Patrick Star and the rest of the gang from Bikini Bottom hit the big screen in the first-ever all CGI SpongeBob motion picture event. After SpongeBob's beloved pet snail Gary is snail-napped, he and Patrick embark on an epic adventure to The Lost City of Atlantic City to bring Gary home. As they navigate the delights and dangers on this perilous and hilarious rescue mission, SpongeBob and his pals prove there's nothing stronger than the power of friendship.
VOICE CAST:  Tom Kenny, Awkwafina, Clancy Brown, Rodger Bumpass, Bill Fagerbakke, Carolyn Lawrence, Douglas Lawrence, Reggie Watts    
In Theaters June 12, 2020.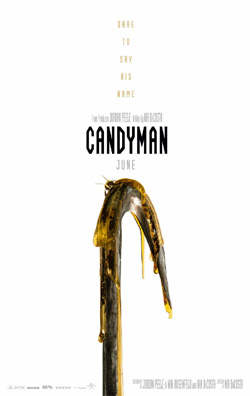 Don't say his name.
This summer, Oscar® winner Jordan Peele unleashes a fresh take on the blood-chilling urban legend that your friend's older sibling probably told you about at a sleepover: Candyman. Rising filmmaker Nia DaCosta (Little Woods) directs this contemporary incarnation of the cult classic. 
For as long as residents can remember, the housing projects of Chicago's Cabrini Green neighborhood were terrorized by a word-of-mouth ghost story about a supernatural killer with a hook for a hand, easily summoned by those daring to repeat his name five times into a mirror. In present day, a decade after the last of the Cabrini towers were torn down, visual artist Anthony McCoy (Yahya Abdul-Mateen II; HBO's Watchmen, Us) and his girlfriend, gallery director Brianna Cartwright (Teyonah Parris; If Beale Street Could Talk, The Photograph), move into a luxury loft condo in Cabrini, now gentrified beyond recognition and inhabited by upwardly mobile millennials. 
With Anthony's painting career on the brink of stalling, a chance encounter with a Cabrini Green old-timer (Colman Domingo; HBO's Euphoria, Assassination Nation) exposes Anthony to the tragically horrific nature of the true story behind Candyman. Anxious to maintain his status in the Chicago art world, Anthony begins to explore these macabre details in his studio as fresh grist for paintings, unknowingly opening a door to a complex past that unravels his own sanity and unleashes a terrifyingly viral wave of violence that puts him on a collision course with destiny. 
Universal Pictures presents, from Metro Goldwyn Mayer Pictures and Jordan Peele and Win Rosenfeld's Monkeypaw Productions, in association with BRON Creative, Candyman. Candyman is directed by DaCosta, and is produced by Ian Cooper (Us), Rosenfeld and Peele. The screenplay is by Peele & Rosenfeld and DaCosta. The film is based on the 1992 film Candyman, written by Bernard Rose, and the short story "The Forbidden" by Clive Barker. The film's executive producers are David Kern, Aaron L. Gilbert and Jason Cloth.
Cast: Yahya Abdul-Mateen II, Teyonah Parris, Nathan Stewart-Jarrett, Colman Domingo.
IN THEATRES JUNE 12, 2020.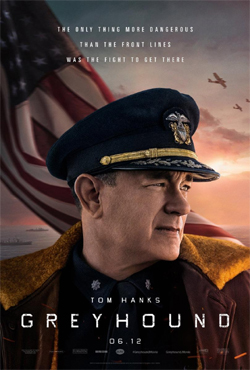 In the early days of WWII, an international convoy of 37 Allied ships, led by captain Ernest Krause (Tom Hanks) in his first command of a U.S. destroyer, crosses the treacherous North Atlantic while hotly pursued by wolf packs of Nazi U-boats.
Based on the novel "The Good Shepherd" by: C. S. Forester
Cast: Tom Hanks, Stephan Graham, Rob Morgan and Elizabeth Shue.
In Theatres: Jun 26, 2020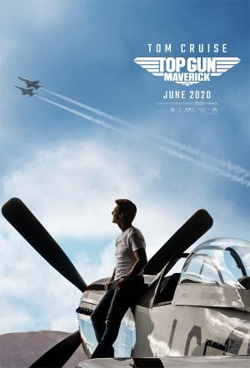 Paramount Pictures and Skydance and Jerry Bruckheimer Films Present
In Association with Tencent Pictures
A Don Simpson / Jerry Bruckheimer Production
A Joseph Kosinski Film
Tom Cruise
"Top Gun: Maverick"
DIRECTED BY
Joseph Kosinski 
EXECUTIVE PRODUCED BY
Tommy Harper, Chad Oman, Mike Stenson, Dana Goldberg, Don Granger  
PRODUCED BY
Jerry Bruckheimer, Tom Cruise, Christopher McQuarrie, David Ellison 
BASED ON CHARACTERS CREATED BY
Jim Cash & Jack Epps, Jr.
WRITTEN BY
Ehren Kruger and Eric Warren Singer and Christopher McQuarrie
STARRING
Tom Cruise, Miles Teller, Jennifer Connelly, Jon Hamm, Glen Powell, Lewis Pullman, Charles Parnell, Bashir Salahuddin, Monica Barbaro, Jay Ellis, Danny Ramirez,
Greg Tarzan Davis with Ed Harris
In theaters only on June 26th
The creator of "Hamilton" and the director of "Crazy Rich Asians" invite you to the event of the summer, where the streets are made of music and little dreams become big… "In the Heights." Lights up on Washington Heights…The scent of a cafecito caliente hangs in the air just outside of the 181st Street subway stop, where a kaleidoscope of dreams rallies this vibrant and tight-knit community. At the intersection of it all is the likeable, magnetic bodega owner Usnavi (Anthony Ramos), who saves every penny from his daily grind as he hopes, imagines and sings about a better life.
"In the Heights" fuses Lin-Manuel Miranda's kinetic music and lyrics with director Jon M. Chu's lively and authentic eye for storytelling to capture a world very much of its place, but universal in its experience. "In the Heights" stars Anthony Ramos ("A Star is Born," Broadway's "Hamilton"), Corey Hawkins ("Straight Outta Compton," "BlacKkKlansman"), singer/songwriter Leslie Grace, Melissa Barrera (TV's "Vida"), Olga Merediz (Broadway's "In the Heights"), Daphne Rubin-Vega (Broadway's "Rent"), Gregory Diaz IV (Broadway's "Matilda the Musical"), Stephanie Beatriz (TV's "Brooklyn Nine-Nine"), Dascha Polanco (TV's "Orange is the New Black") and Jimmy Smits (the "Star Wars" films).
Chu is directing the film from a screenplay by Quiara Alegría Hudes; it is based on the musical stage play, with music and lyrics by Lin-Manuel Miranda, book by Quiara Alegría Hudes and concept by Miranda. "In the Heights" is produced by Miranda and Hudes, together with Scott Sanders, Anthony Bregman and Mara Jacobs. David Nicksay and Kevin McCormick served as executive producers.
Behind the camera, Chu is reuniting with his "Crazy Rich Asians" production designer, Nelson Coates, and editor, Myron Kerstein. He is also collaborating with director of photography Alice Brooks (TV's "The Walking Dead") and costume designer Mitchell Travers ("Eighth Grade"). The choreography is by Christopher Scott, who previously teamed with Chu on the award-winning "The Legion of Extraordinary Dancers." "In the Heights" was filmed in New York, primarily on location in the dynamic community of Washington Heights. Slated for release on June 26, 2020, it will be distributed worldwide by Warner Bros. Pictures.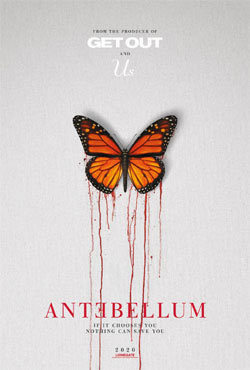 Successful author Veronica Henley (Janelle Monáe) finds herself trapped in a horrifying reality and must uncover the mind-bending mystery before it's too late.
ANTEBELLUM is a terrifying new thriller from the producer of the acclaimed films GET OUT and US, and groundbreaking directors Gerard Bush and Christoper Renz (Bush+Renz) – an exciting new voice in filmmaking.
In "Free Guy," a bank teller who discovers he is actually a background player in an open-world video game, decides to become the hero of his own story…one he rewrites himself. Now in a world where there are no limits, he is determined to be the guy who saves his world his way…before it is too late. Starring Ryan Reynolds, Jodie Comer, Joe Keery, Lil Rel Howery, Utkarsh Ambudkar and Taika Waititi, "Free Guy" is directed by Shawn Levy from a story by Matt Lieberman and a screenplay by Lieberman and Zak Penn. The film is produced by Ryan Reynolds, Shawn Levy, Greg Berlanti, Sarah Schechter and Adam Kolbrenner with Mary McLaglen, Josh McLaglen, George Dewey, Dan Levine and Michael Riley McGrath serving as executive producers.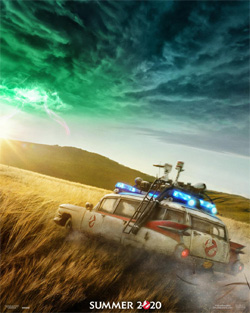 From director Jason Reitman and producer Ivan Reitman, comes the next chapter in the original Ghostbusters universe. In Ghostbusters: Afterlife, when a single mom and her two kids arrive in a small town, they begin to discover their connection to the original ghostbusters and the secret legacy their grandfather left behind. The film is written by Jason Reitman & Gil Kenan.
Cast: Carrie Coon,
Finn Wolfhard,
Mckenna Grace
and Paul Rudd.
PETER RABBIT 2: THE RUNAWAY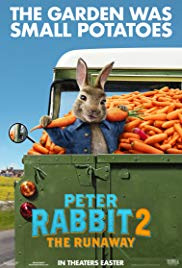 In PETER RABBIT™ 2: THE RUNAWAY, the lovable rogue is back. Bea, Thomas, and the rabbits have created a makeshift family, but despite his best efforts, Peter can't seem to shake his mischievous reputation. Adventuring out of the garden, Peter finds himself in a world where his mischief is appreciated, but when his family risks everything to come looking for him, Peter must figure out what kind of bunny he wants to be.
Based on the Characters and Tales of "Peter Rabbit" by:  Beatrix Potter
Cast:  Rose Byrne Domhnall Gleeson David Oyelowo, Elizabeth Debicki with Margot Robbie and James Corden as "Peter Rabbit"
IN THEATRES SEPTEMBER 4, 2020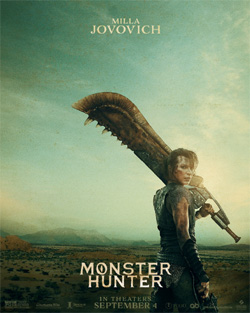 Behind our world, there is another: a world of dangerous and powerful monsters that rule their domain with deadly ferocity. When Lt. Artemis (Milla Jovovich) and her elite unit are transported through a portal from our world to a new world, they are in for the shock of their lives. In her desperate attempt to get home, the brave lieutenant encounters a mysterious hunter (Tony Jaa), whose unique skills have allowed him to survive in this hostile land. Faced with relentless and terrifying attacks from the monsters, the warriors team up to fight back and find a way home.
Based on the global video game series phenomenon MONSTER HUNTER.
Cast: Milla Jovovich,Tony Jaa, Tip 'T.I.' Harris, Meagan Good, Diego Boneta, Josh Helman, Jin Au-Yeung and Ron Perlman.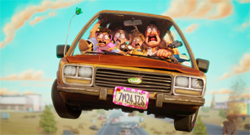 Sony Pictures Animation's Connected is an original animated comedy from director Mike Rianda (Gravity Falls) and producers Phil Lord and Christopher Miller (Spider-Man: Into the Spider-Verse, The Lego Movie), about an everyday family's struggle to relate while technology rises up around the world!
When Katie Mitchell (voiced by Abbi Jacobson), a creative outsider, is accepted into the film school of her dreams, her plans to meet "her people" at college are upended when her nature-loving dad Rick (voiced by Danny McBride) determines the whole family should drive Katie to school together and bond as a family one last time. Katie and Rick are joined by the rest of the family, including Katie's wildly positive mom Linda (voiced by Maya Rudolph), her quirky little brother Aaron (voiced by Mike Rianda), and the family's delightfully chubby pug Monchi for the ultimate family road trip. Suddenly, the Mitchells' plans are interrupted by a tech uprising: all around the world, the electronic devices people love – from phones, to appliances, to an innovative new line of personal robots – decide it's time to take over. With the help of two friendly malfunctioning robots, the Mitchells will have to get past their problems and work together to save each other and the world!
Cast: Abbi Jacobson, Danny McBride, Maya Rudolph, Mike Rianda, Eric Andre, Olivia Colman
In Theaters October 9, 2020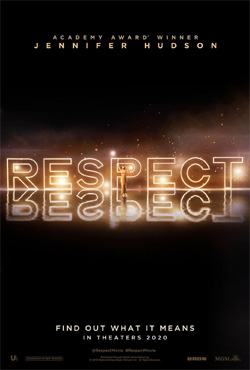 Following the rise of Aretha Franklin's career from a child singing in her father's church's choir to her international superstardom, RESPECT is the remarkable true story of the music icon's journey to find her voice.
WRITTEN BY: Tracey Scott Wilson
PRODUCERS: Scott Bernstein, Harvey Mason Jr.
EXECUTIVE PRODUCERS: Stacy Sher, Sue Baden-Powell, Aaron L. Gilbert and Jason Cloth
CAST: Jennifer Hudson, Forest Whitaker, Marlon Wayans, Audra McDonald, Marc Maron, Tituss Burgess, Saycon Sengbloh, Hailey Kilgore, Tate Donovan, Heather Headley, Skye Dakota Turner, and Mary J. Blige
RUMBLE OPENS IN THEATRES JANUARY 29, 2021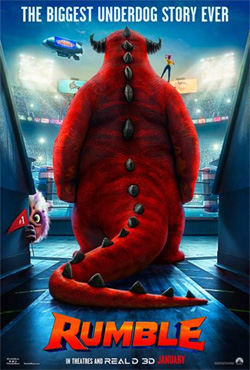 In a world where monster wrestling is a global sport and monsters are superstar athletes, teenage Winnie seeks to follow in her father's footsteps by coaching a loveable underdog monster into a champion.
CAST:  Will Arnett, Terry Crews, Geraldine Viswanathan, Joe "Roman Reigns" Anoa'i, Tony Danza, Becky Lynch, Susan Kelechi Watson, Stephen A. Smith, Jimmy Tatro, Ben Schwartz and Michael Buffer.