ALL RELEASE DATES ARE SUBJECT TO CHANGE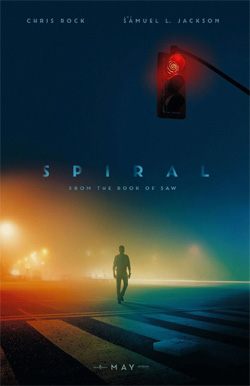 A sadistic mastermind unleashes a twisted form of justice in SPIRAL, the terrifying new chapter from the book of SAW. Working in the shadow of an esteemed police veteran (Samuel L. Jackson), brash Detective Ezekiel "Zeke" Banks (Chris Rock) and his rookie partner (Max Minghella) take charge of a grisly investigation into murders that are eerily reminiscent of the city's gruesome past. Unwittingly entrapped in a deepening mystery, Zeke finds himself at the center of the killer's morbid game.
SPIRAL stars Chris Rock, Max Minghella, Marisol Nichols, and Samuel L. Jackson, and is produced by the original SAW team of Mark Burg and Oren Koules. The film is directed by Darren Lynn Bousman and written by Josh Stolberg & Pete Goldfinger.
BODY CAM Premiering on Digital Platforms for Purchase May 19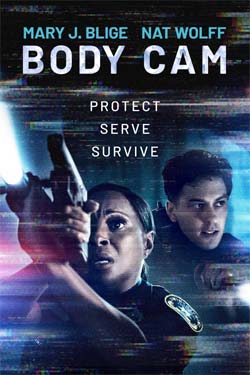 Mary J. Blige (Mudbound, "Power Book II: Ghost") and Nat Wolff (The Kill Team, Semper Fi) star in the intense action thriller BODY CAM, available to purchase on Digital May 19, 2020 and for rent On Demand June 2 from Paramount Home Entertainment. The film will arrive on DVD July 14. 
When a routine traffic stop results in the unexplained, grisly death of her colleague, a cop (Mary J. Blige) realizes footage of the incident will play for her eyes only. As the attacks mount, she races to understand the supernatural force behind them.
DIRECTED BY: Malik Vitthal
STARRING: Mary J. Blige, Nat Wolff, David Zayas, Anika Noni Rose.
AND OF SENTENCE releasing on demand, Friday, May 29, 2020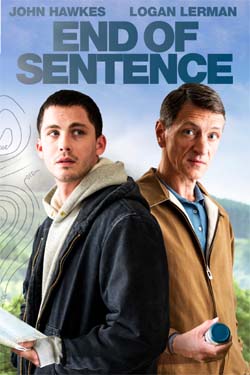 The film stars John Hawkes (Peanut Butter Falcon, The Sessions, Three Billboards Outside Ebbing, Missouri), Logan Lerman (Hunters, Fury, The Perks of Being a Wallflower), and Sarah Bolger (In America, The Spiderwick Chronicles, The Tudors). The film was directed by Elfar Adalstein.
After being widowed, Frank Fogle (John Hawkes) reluctantly embarks on a journey to honor his wife's last wish of spreading her ashes in a remote lake in her native Ireland and a promise of taking his estranged son, Sean (Logan Lerman), along for the trip.
Fresh out of prison, Sean is focused on anything but an international road trip with his father. After his travel plans to California don't pan out, he reluctantly accepts in father's proposal in return for a ticket to the West Coast and a promise that they never have to see each other again. Between a disconcerting Irish wake, the surfacing of an old flame, the pick-up of a pretty hitchhiker (Sarah Bolger) and plenty of unresolved issues, the journey becomes a little more than father and son had bargained for.
America's movie theaters will show their first new film on July 1st, Unhinged, a thriller starring Academy Award-winner Russell Crowe.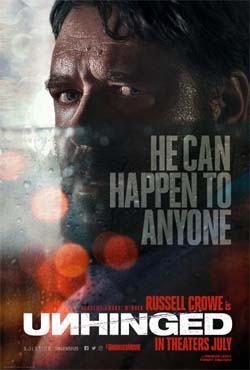 Academy Award® winner Russell Crowe and Caren Pistorius take the wheel in the new trailer from Solstice Studios' UNHINGED. The psychological thriller will be the first new film to open in America's movie theaters in accordance with state public health department safety guidelines on July 1st 
Award winner Russell Crowe stars in Unhinged, a timely psychological thriller that explores the fragile balance of a society pushed to the edge, taking something we've all experienced- road rage – to an unpredictable and terrifying conclusion. Rachel (Caren Pistorius) is running late to work when she has an altercation at a traffic light with a stranger (Crowe) whose life has left him feeling powerless and invisible. Soon, Rachel finds herself and everyone she loves the target of a man who decides to make one last mark upon the world by teaching her a series of deadly lessons. What follows is a dangerous game of cat and mouse that proves you never know just how close you are to someone who is about to become unhinged. 
Solstice Studios and Ingenious Media present a film by Derrick Borte, starring Russell Crowe, Caren Pistorius, Gabriel Bateman, Jimmi Simpson and Austin P. McKenzie. Casting is by Mary Vernieu, CSA & Raylin Sabo, CSA, with Music by David Buckley and Costume Design by Denise Wingate. The film was edited by Mike McCusker ACE, Steven Mirkovichm ACE and Tim Mirkovich ACE, with Production Design by Fredrick Waff and Cinematography by Brendan Galvin. Guy Botham, Crystal Bourbeau, Mary C. Russell, Christopher Milburn, Gareth West, Peter Touche and Anders Erden serve as Executive Producers.  Unhinged is produced by Lisa Ellzey, Mark Gill and Andrew Gunn and written by Carl Ellsworth.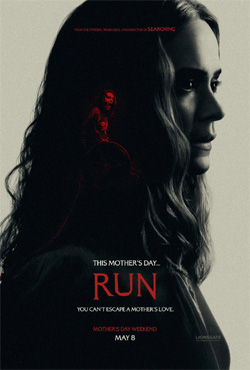 They say you can never escape a mother's love… but for Chloe, that's not a comfort — it's a threat. There's something unnatural, even sinister about the relationship between Chloe (newcomer Kiera Allen) and her mom, Diane (Sarah Paulson). Diane has raised her daughter in total isolation, controlling every move she's made since birth, and there are secrets that Chloe's only beginning to grasp. From the visionary writers, producers and director of the breakout film Searching, comes a suspense thriller that shows that when mom gets a little too close, you need to RUN.
THE PERSONAL HISTORY OF DAVID COPPERFIELD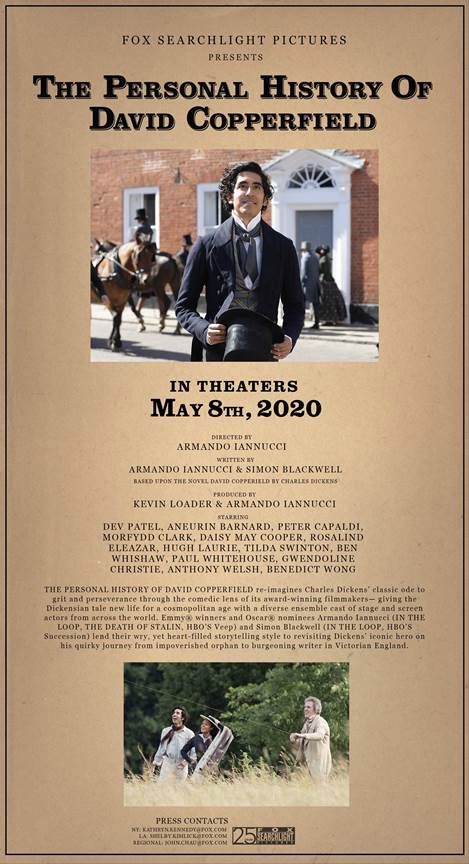 A GOOD WOMAN IS HARD TO FIND
AVAILABLE ON DEMAND & DIGITAL 
ON MAY 8, 2020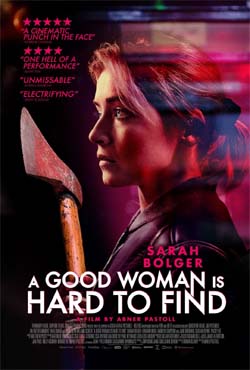 Set in the underbelly of Northern Ireland, A GOOD WOMAN IS HARD TO FIND follows Sarah (Sarah Bolger, "Mayans M.C.," The Spiderwick Chronicles,
Emelie), struggling as a single mother, desperate to discover who brutally murdered her husband in front of her young son, Ben (Rudy Doherty), rendering him mute. Dismissing the crime as thugs killing each other, the police haven't done a thing to help, and Sarah's very much on edge. One day, after being coerced into helping a low-life drug dealer (Andrew Simpson,
Notes on a Scandal) stash narcotics stolen from the neighborhood kingpin (Edward Hogg, White Lightnin), she's forced into taking drastic action to protect her children, evolving from downtrodden submissive to take-charge vigilante.
Following its UK premiere at FrightFest, where it captured five awards including "Best Film" and "Best Actor," and its US Premiere at L.A.'s
 Screamfest, where Bolger won "Best Actress," A GOOD WOMAN IS HARD TO FIND, a dynamic thriller, with its finger firmly on the pulse of stark social commentary and shattering suspense, has become an audience and critical favorite on the festival circuit. Michael Gingold of Rue Morgue Magazine writes, "Well-crafted on every level, A Good Woman is Hard to Find works above all because of how attuned it is to its people…. And if you want to find one of the very best performances by a woman on the recent genre scene, you need look no further." Christopher Webster of Screen Anarchy also says, "With a story that doesn't feel engineered or preachy, but rather grounded in its view of the everyday struggles of women or single mothers in the UK, A Good Woman is Hard to Find feels timely and unnerving while also embracing its genre roots. Add to this a breakout performance by Sarah Bolger and the film becomes an unmissable crime thriller from a new director to watch." And Becky Sayers of Dread Central says "Reminiscent of a European take on South Korean vengeance stories, Director Abner Pastoll rewards genre lovers with a brutal crescendo that is unexpected yet wholly gratifying".
In U.S. Theaters May 15, 2020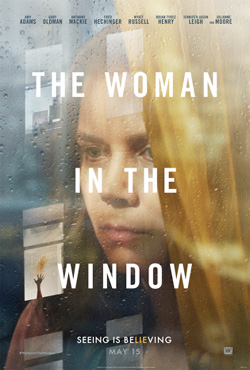 In "The Woman in the Window," an agoraphobic child psychologist befriends a neighbor across the street from her New York City brownstone, only to see her own life turned upside down when the woman disappears and she suspects foul play. A stellar ensemble cast brings Tracy Letts' screenplay based on the gripping, best-selling novel to life, where shocking secrets are revealed, and no one—and nothing—is what it seems. 
Starring Amy Adams, Gary Oldman, Anthony Mackie, Wyatt Russell, Brian Tyree Henry, Jennifer Jason Leigh and Julianne Moore, "The Woman in the Window" is produced by Scott Rudin, Eli Bush and Anthony Katagas.
A TOWERING TASK The Story of the Peace Corps Virtual Theatrical Release Begins May 22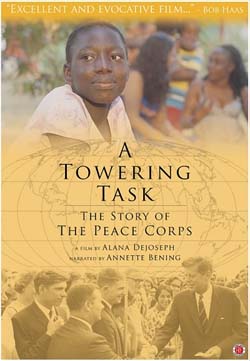 First Run Features is pleased to announce that A Towering Task: The Story of the Peace Corps will have virtual theatrical runs across the U.S. beginning May 22, 2020.

Directed by Alana DeJoseph and narrated by Annette Bening, A Towering Task is the first documentary to chronicle the remarkable history of the Peace Corps. It features indelible interviews of current and Returned Peace Corps Volunteers, many who are now  notable members of the media and politics, current and former staff, scholars, journalists, community members and leaders around the world including Presidents Jimmy Carter and Ellen Johnson Sirleaf.) 

Among the many other notable people who have either volunteered or worked for the Peace Corps are journalists Bill Moyers, Marco Werman, Maureen Orth, Peter Hessler, George Packer and Chris Matthews; Senators Jay Rockefeller and Chris Dodd; Congresswoman Donna Shalala and Congressmen Joe Kennedy and Christopher Shays; State Senator Jason Carter and his grandmother Lillian Carter; Ambassadors Vicki Huddleston and J. Christopher Stevens; Netflix founder Reed Hastings; novelist Paul Theroux; TV's Bob Vila; and Hollywood director Taylor Hackford. 

By expertly weaving together personal volunteer experiences with the political machinations of the time, screenwriter Shana Kelly provides viewers with a visceral experience of  John F Kennedy's legendary words spoken to the Peace Corps,"Ask not what your country can do for you—ask what you can do for your country. My fellow citizens of the world: ask not what America will do for you, but what together we can do for the freedom of man." 

Remarkable archival materials and stunning footage by cinematographer Vanessa Carr from around the globe bring to life an agency that represents to the world the American ideal.

In response to the current pandemic, and for the first time in its history, the Peace Corps has evacuated all Volunteers, and the future of the agency is in question. At a time when America is reevaluating its role in the world, the story of this uniquely American government agency takes viewers on a journey of what it means to be a global citizen. As the pandemic subsides and the world once again reevaluate how to cooperate, the story of the Peace Corps will serve as a reminder of Kennedy's call to action. 

After sold-out screenings at the Kennedy Center and the Denver Film Festival, numerous community screenings from Alaska to Washington, DC to Hawaii and Florida, not to mention international screenings in Colombia and Afghanistan, the film will be available via streaming for a national ticket price of $12.
May 22nd – Postponed until further notice!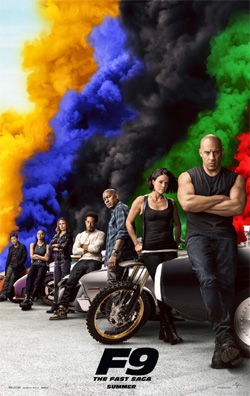 No matter how fast you are, no one outruns their past.
Vin Diesel's Dom Toretto is leading a quiet life off the grid with Letty and his son, little Brian, but they know that danger always lurks just over their peaceful horizon. This time, that threat will force Dom to confront the sins of his past if he's going to save those he loves most. His crew joins together to stop a world-shattering plot led by the most skilled assassin and high-performance driver they've ever encountered: a man who also happens to be Dom's forsaken brother, Jakob (John Cena, next year's The Suicide Squad).
THE SPONGEBOB MOVIE: SPONGE ON THE RUN
OPENS IN THEATRES MAY 22, 2020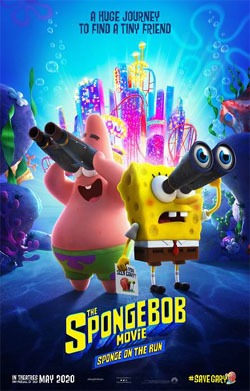 This Memorial Day weekend, SpongeBob SquarePants, his best friend Patrick Star and the rest of the gang from Bikini Bottom hit the big screen in the first-ever all CGI SpongeBob motion picture event. After SpongeBob's beloved pet snail Gary is snail-napped, he and Patrick embark on an epic adventure to The Lost City of Atlantic City to bring Gary home. As they navigate the delights and dangers on this perilous and hilarious rescue mission, SpongeBob and his pals prove there's nothing stronger than the power of friendship.
VOICE CAST:  Tom Kenny, Awkwafina, Clancy Brown, Rodger Bumpass, Bill Fagerbakke, Carolyn Lawrence, Douglas Lawrence, Reggie Watts    
In Theaters June 12, 2020.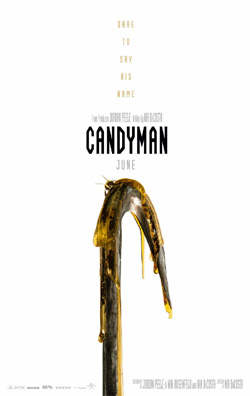 Don't say his name.
This summer, Oscar® winner Jordan Peele unleashes a fresh take on the blood-chilling urban legend that your friend's older sibling probably told you about at a sleepover: Candyman. Rising filmmaker Nia DaCosta (Little Woods) directs this contemporary incarnation of the cult classic. 
For as long as residents can remember, the housing projects of Chicago's Cabrini Green neighborhood were terrorized by a word-of-mouth ghost story about a supernatural killer with a hook for a hand, easily summoned by those daring to repeat his name five times into a mirror. In present day, a decade after the last of the Cabrini towers were torn down, visual artist Anthony McCoy (Yahya Abdul-Mateen II; HBO's Watchmen, Us) and his girlfriend, gallery director Brianna Cartwright (Teyonah Parris; If Beale Street Could Talk, The Photograph), move into a luxury loft condo in Cabrini, now gentrified beyond recognition and inhabited by upwardly mobile millennials. 
With Anthony's painting career on the brink of stalling, a chance encounter with a Cabrini Green old-timer (Colman Domingo; HBO's Euphoria, Assassination Nation) exposes Anthony to the tragically horrific nature of the true story behind Candyman. Anxious to maintain his status in the Chicago art world, Anthony begins to explore these macabre details in his studio as fresh grist for paintings, unknowingly opening a door to a complex past that unravels his own sanity and unleashes a terrifyingly viral wave of violence that puts him on a collision course with destiny. 
Universal Pictures presents, from Metro Goldwyn Mayer Pictures and Jordan Peele and Win Rosenfeld's Monkeypaw Productions, in association with BRON Creative, Candyman. Candyman is directed by DaCosta, and is produced by Ian Cooper (Us), Rosenfeld and Peele. The screenplay is by Peele & Rosenfeld and DaCosta. The film is based on the 1992 film Candyman, written by Bernard Rose, and the short story "The Forbidden" by Clive Barker. The film's executive producers are David Kern, Aaron L. Gilbert and Jason Cloth.
Cast: Yahya Abdul-Mateen II, Teyonah Parris, Nathan Stewart-Jarrett, Colman Domingo.
IN THEATRES JUNE 12, 2020.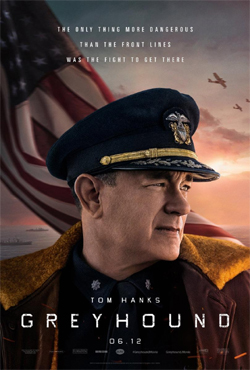 In the early days of WWII, an international convoy of 37 Allied ships, led by captain Ernest Krause (Tom Hanks) in his first command of a U.S. destroyer, crosses the treacherous North Atlantic while hotly pursued by wolf packs of Nazi U-boats.
Based on the novel "The Good Shepherd" by: C. S. Forester
Cast: Tom Hanks, Stephan Graham, Rob Morgan and Elizabeth Shue.
BABYTEETH will be in theaters and on demand June 19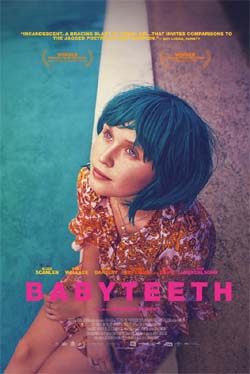 BABYTEETH is the powerful, coming-of-age feature debut from Shannon Murphy ("Killing Eve" Season 3). When seriously ill teenager Milla (Eliza Scanlen) falls madly in love with small-time drug dealer Moses (Toby Wallace), it's her parents' (Essie Davis and Ben Mendelsohn) worst nightmare. But as Milla's first brush with love brings her a renewed lust for life, traditional morals go out the window, leaving her parents wanting to hold tighter to their little girl. Milla soon teaches everyone in her orbit – her parents, Moses, a sensitive music teacher, a budding child violinist, and a disarmingly honest, pregnant neighbor – how to live like you have nothing to lose. What might have been a disaster for the Finlay family instead leads to letting go and finding grace in the glorious chaos of life. BABYTEETH joyously explores how good it is to be alive and how far we will go for love. BABYTEETH had its World Premiere in competition at the Venice Film Festival in 2019 where actor Toby Wallace won the Marcello Mastroianni Award for Best Young Actor.
Director: Shannon Murphy 
Writer: Rita Kalnejais
Cast: Eliza Scanlen, Toby Wallace, Emily Barclay, Eugenes Gilfedder, Essie Davis, and Ben Mendelsohn
Producer: Alex White
Executive Producer: Jan Chapman
Rating: Not Rated
In Theatres: Jun 26, 2020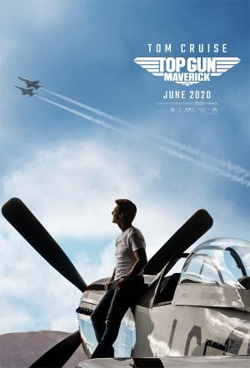 Paramount Pictures and Skydance and Jerry Bruckheimer Films Present
In Association with Tencent Pictures
A Don Simpson / Jerry Bruckheimer Production
A Joseph Kosinski Film
Tom Cruise
"Top Gun: Maverick"
DIRECTED BY
Joseph Kosinski 
EXECUTIVE PRODUCED BY
Tommy Harper, Chad Oman, Mike Stenson, Dana Goldberg, Don Granger  
PRODUCED BY
Jerry Bruckheimer, Tom Cruise, Christopher McQuarrie, David Ellison 
BASED ON CHARACTERS CREATED BY
Jim Cash & Jack Epps, Jr.
WRITTEN BY
Ehren Kruger and Eric Warren Singer and Christopher McQuarrie
STARRING
Tom Cruise, Miles Teller, Jennifer Connelly, Jon Hamm, Glen Powell, Lewis Pullman, Charles Parnell, Bashir Salahuddin, Monica Barbaro, Jay Ellis, Danny Ramirez,
Greg Tarzan Davis with Ed Harris
In theaters only on June 26th
The creator of "Hamilton" and the director of "Crazy Rich Asians" invite you to the event of the summer, where the streets are made of music and little dreams become big… "In the Heights." Lights up on Washington Heights…The scent of a cafecito caliente hangs in the air just outside of the 181st Street subway stop, where a kaleidoscope of dreams rallies this vibrant and tight-knit community. At the intersection of it all is the likeable, magnetic bodega owner Usnavi (Anthony Ramos), who saves every penny from his daily grind as he hopes, imagines and sings about a better life.
"In the Heights" fuses Lin-Manuel Miranda's kinetic music and lyrics with director Jon M. Chu's lively and authentic eye for storytelling to capture a world very much of its place, but universal in its experience. "In the Heights" stars Anthony Ramos ("A Star is Born," Broadway's "Hamilton"), Corey Hawkins ("Straight Outta Compton," "BlacKkKlansman"), singer/songwriter Leslie Grace, Melissa Barrera (TV's "Vida"), Olga Merediz (Broadway's "In the Heights"), Daphne Rubin-Vega (Broadway's "Rent"), Gregory Diaz IV (Broadway's "Matilda the Musical"), Stephanie Beatriz (TV's "Brooklyn Nine-Nine"), Dascha Polanco (TV's "Orange is the New Black") and Jimmy Smits (the "Star Wars" films).
Chu is directing the film from a screenplay by Quiara Alegría Hudes; it is based on the musical stage play, with music and lyrics by Lin-Manuel Miranda, book by Quiara Alegría Hudes and concept by Miranda. "In the Heights" is produced by Miranda and Hudes, together with Scott Sanders, Anthony Bregman and Mara Jacobs. David Nicksay and Kevin McCormick served as executive producers.
Behind the camera, Chu is reuniting with his "Crazy Rich Asians" production designer, Nelson Coates, and editor, Myron Kerstein. He is also collaborating with director of photography Alice Brooks (TV's "The Walking Dead") and costume designer Mitchell Travers ("Eighth Grade"). The choreography is by Christopher Scott, who previously teamed with Chu on the award-winning "The Legion of Extraordinary Dancers." "In the Heights" was filmed in New York, primarily on location in the dynamic community of Washington Heights. Slated for release on June 26, 2020, it will be distributed worldwide by Warner Bros. Pictures.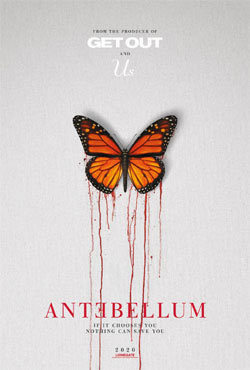 Successful author Veronica Henley (Janelle Monáe) finds herself trapped in a horrifying reality and must uncover the mind-bending mystery before it's too late.
ANTEBELLUM is a terrifying new thriller from the producer of the acclaimed films GET OUT and US, and groundbreaking directors Gerard Bush and Christoper Renz (Bush+Renz) – an exciting new voice in filmmaking.
In "Free Guy," a bank teller who discovers he is actually a background player in an open-world video game, decides to become the hero of his own story…one he rewrites himself. Now in a world where there are no limits, he is determined to be the guy who saves his world his way…before it is too late. Starring Ryan Reynolds, Jodie Comer, Joe Keery, Lil Rel Howery, Utkarsh Ambudkar and Taika Waititi, "Free Guy" is directed by Shawn Levy from a story by Matt Lieberman and a screenplay by Lieberman and Zak Penn. The film is produced by Ryan Reynolds, Shawn Levy, Greg Berlanti, Sarah Schechter and Adam Kolbrenner with Mary McLaglen, Josh McLaglen, George Dewey, Dan Levine and Michael Riley McGrath serving as executive producers.
Will open on July 10 in Theaters and on VOD.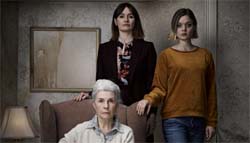 IFC Midnight invites you to preview RELIC, writer/director Natalie Erika James' unforgettable and auspicious feature debut. When elderly mother Edna (Robyn Nevin) inexplicably vanishes, her daughter Kay (Emily Mortimer) and granddaughter Sam (Bella Heathcote) rush to their family's decaying country home, finding clues of her increasing dementia scattered around the house in her absence. After Edna returns just as mysteriously as she disappeared, Kay's concern that her mother seems unwilling or unable to say where she's been clashes with Sam's unabashed enthusiasm to have her grandma back. As Edna's behavior turns increasingly volatile, both begin to sense that an insidious presence in the house might be taking control of her. All three generations of women are brought together through trauma and a powerful sense of strength and loyalty to face the ultimate fear together. RELIC had its World Premiere at the Sundance Film Festival in 2019 to critical acclaim, praising the film as a fresh and terrifying twist on the notorious haunted-house tale.
Starring: Emily Mortimer, Bella Heathcote, Robyn Nevin.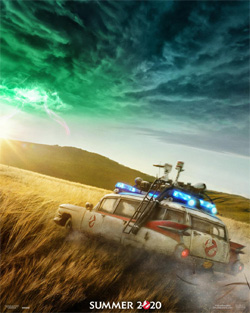 From director Jason Reitman and producer Ivan Reitman, comes the next chapter in the original Ghostbusters universe. In Ghostbusters: Afterlife, when a single mom and her two kids arrive in a small town, they begin to discover their connection to the original ghostbusters and the secret legacy their grandfather left behind. The film is written by Jason Reitman & Gil Kenan.
Cast: Carrie Coon,
Finn Wolfhard,
Mckenna Grace
and Paul Rudd.
THE PAINTED BIRD out July 17, 2020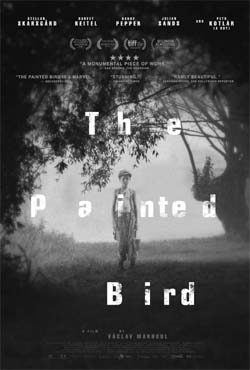 Based on the acclaimed Jerzy Kosiriski novel, THE PAINTED BIRD is a meticulous 35mm black and white evocation of wild, primitive Eastern Europe at the bloody close of World War II. The film follows the journey of The Boy, entrusted by his persecuted parents to an elderly foster mother. The old woman soon dies and the Boy is on his own, wandering through the countryside, from village to village, farmhouse to farmhouse. As he struggles for survival, The Boy suffers through extraordinary brutality meted out by the ignorant, superstitious peasants and he witnesses the terrifying violence of the efficient, ruthless soldiers, both Russian and German. In a defining scene, one of the peasants shows The Boy the flight of a captive bird, whom the man has painted and then released back into its own flock. The bird is immediately ripped apart because it is different from its fellows. That lesson reinforces all The Boy already knows and will soon know better: difference is fatal. But there are rare moments of compassion: a German soldier spares The Boy, a priest intervenes on his behalf, and finally The Boy becomes the protégé of a Russian sniper, who is kind to the child, but ruthless with the enemy. And there are signs of love. The Boy is seduced by an older girl, finally re-discovering the comfort of intimacy, only to realize that he has been used. When he is miraculously reunited with his weakened father at the end of the war, The Boy is cold and impenetrable, hardened by his ordeal. Yet we can still glimpse something of the old, sensitive Boy behind the eyes of the new. Perhaps there is hope.
Language: Czech, German, Russian, Slavic Esperanto
Director: Václav Marhoul
Cast: Petr Kotlár, Stellan Skarsgård, Harvey Keitel, Barry Pepper, Julian Sands, Udo Kier, Lech Dyblik, Jitka Cvancarová, Aleksey Kravchenko.
PETER RABBIT 2: THE RUNAWAY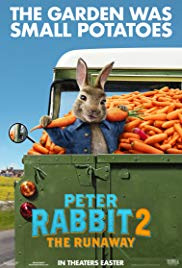 In PETER RABBIT™ 2: THE RUNAWAY, the lovable rogue is back. Bea, Thomas, and the rabbits have created a makeshift family, but despite his best efforts, Peter can't seem to shake his mischievous reputation. Adventuring out of the garden, Peter finds himself in a world where his mischief is appreciated, but when his family risks everything to come looking for him, Peter must figure out what kind of bunny he wants to be.
Based on the Characters and Tales of "Peter Rabbit" by:  Beatrix Potter
Cast:  Rose Byrne Domhnall Gleeson David Oyelowo, Elizabeth Debicki with Margot Robbie and James Corden as "Peter Rabbit"
IN THEATRES SEPTEMBER 4, 2020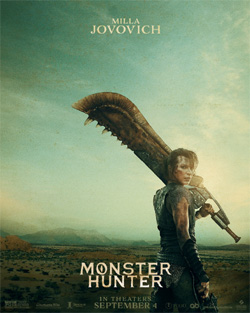 Behind our world, there is another: a world of dangerous and powerful monsters that rule their domain with deadly ferocity. When Lt. Artemis (Milla Jovovich) and her elite unit are transported through a portal from our world to a new world, they are in for the shock of their lives. In her desperate attempt to get home, the brave lieutenant encounters a mysterious hunter (Tony Jaa), whose unique skills have allowed him to survive in this hostile land. Faced with relentless and terrifying attacks from the monsters, the warriors team up to fight back and find a way home.
Based on the global video game series phenomenon MONSTER HUNTER.
Cast: Milla Jovovich,Tony Jaa, Tip 'T.I.' Harris, Meagan Good, Diego Boneta, Josh Helman, Jin Au-Yeung and Ron Perlman.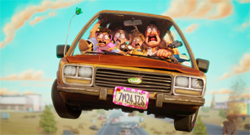 Sony Pictures Animation's Connected is an original animated comedy from director Mike Rianda (Gravity Falls) and producers Phil Lord and Christopher Miller (Spider-Man: Into the Spider-Verse, The Lego Movie), about an everyday family's struggle to relate while technology rises up around the world!
When Katie Mitchell (voiced by Abbi Jacobson), a creative outsider, is accepted into the film school of her dreams, her plans to meet "her people" at college are upended when her nature-loving dad Rick (voiced by Danny McBride) determines the whole family should drive Katie to school together and bond as a family one last time. Katie and Rick are joined by the rest of the family, including Katie's wildly positive mom Linda (voiced by Maya Rudolph), her quirky little brother Aaron (voiced by Mike Rianda), and the family's delightfully chubby pug Monchi for the ultimate family road trip. Suddenly, the Mitchells' plans are interrupted by a tech uprising: all around the world, the electronic devices people love – from phones, to appliances, to an innovative new line of personal robots – decide it's time to take over. With the help of two friendly malfunctioning robots, the Mitchells will have to get past their problems and work together to save each other and the world!
Cast: Abbi Jacobson, Danny McBride, Maya Rudolph, Mike Rianda, Eric Andre, Olivia Colman
In Theaters October 9, 2020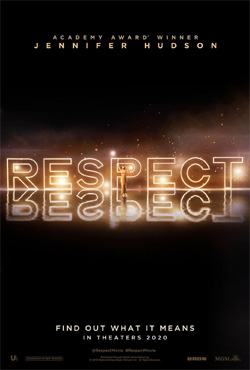 Following the rise of Aretha Franklin's career from a child singing in her father's church's choir to her international superstardom, RESPECT is the remarkable true story of the music icon's journey to find her voice.
WRITTEN BY: Tracey Scott Wilson
PRODUCERS: Scott Bernstein, Harvey Mason Jr.
EXECUTIVE PRODUCERS: Stacy Sher, Sue Baden-Powell, Aaron L. Gilbert and Jason Cloth
CAST: Jennifer Hudson, Forest Whitaker, Marlon Wayans, Audra McDonald, Marc Maron, Tituss Burgess, Saycon Sengbloh, Hailey Kilgore, Tate Donovan, Heather Headley, Skye Dakota Turner, and Mary J. Blige
RUMBLE OPENS IN THEATRES JANUARY 29, 2021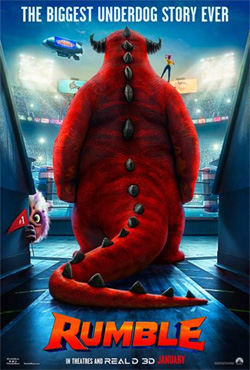 In a world where monster wrestling is a global sport and monsters are superstar athletes, teenage Winnie seeks to follow in her father's footsteps by coaching a loveable underdog monster into a champion.
CAST:  Will Arnett, Terry Crews, Geraldine Viswanathan, Joe "Roman Reigns" Anoa'i, Tony Danza, Becky Lynch, Susan Kelechi Watson, Stephen A. Smith, Jimmy Tatro, Ben Schwartz and Michael Buffer.