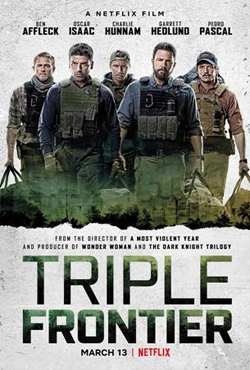 March 13, 2019
A group of former Special Forces operatives (Ben Affleck, Oscar Isaac, Charlie Hunnam, Garrett Hedlund and Pedro Pascal) reunite to plan a heist in a sparsely populated multi-border zone of South America. For the first time in their prestigious careers these unsung heroes undertake this dangerous mission for self instead of country. But when events take an unexpected turn and threaten to spiral out of control, their skills, their loyalties and their morals are pushed to a breaking point in an epic battle for survival. Directed by Academy Award® nominee J.C. Chandor (Margin Call, All Is Lost, A Most Violent Year) and co-written by Chandor and Academy Award® winner Mark Boal (The Hurt Locker, Zero Dark Thirty).
Nancy Drew and the Hidden Staircase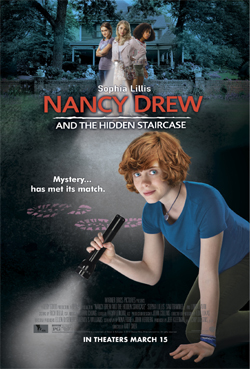 March 15, 2019
After the death of his wife, Carson Drew decides to leave Chicago behind and make a fresh start with his daughter in River Heights. But for 16-year-old Nancy Drew, life in a small town is mighty dull. She longs for excitement, adventure, and the chance to make a difference. Nancy gets that opportunity when she is asked to help solve the ghostly activity at the Twin Elms mansion. Can she help explain the creaking footsteps, exploding lightbulbs and the ominous creature? Is it the handiwork of high-school bully Derek Barnes? Or is it possible that the ghost of original owner Malcolm Colfax is back for revenge? Recruiting her best friends George and Bess, along with local "mean girl" Helen, Nancy Drew is on the case!
The iconic mystery solving teenager from the classic Nancy Drew books is back with an all-new movie in theaters March 15 from Warner Bros.! Nancy Drew and the Hidden Staircase is Co-Produced by Ellen DeGeneres, and the film stars Sophia Lillis (IT and "Sharp Objects"), Sam Trammell ("True Blood" and "This is Us"), and Linda Lavin ("The Good Wife" and Alice), and follows Nancy Drew in her new town, making new friends and on a mission to solve the case!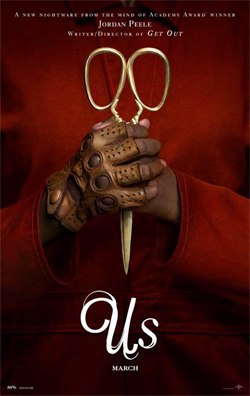 March 15, 2019
Visionary filmmaker and Academy Award® winner Jordan Peele, who created the blockbuster Get Out, follows that success with another original and provocative thriller: Us. Peele produces for his Monkeypaw Productions alongside Sean McKittrick and Jason Blum. Also producing is Monkeypaw's Ian Cooper. Written and directed by Peele. Cast: Lupita Nyong'o Winston Duke Elisabeth Moss Tim Heidecker Yahya Abdul-Mateen II Anna Diop Evan Alex Shahadi Wright Joseph Madison Curry Cali Sheldon Noelle Sheldon

WONDER PARK
In Theatres March 15, 2018
WONDER PARK tells the story of a magnificent amusement park where the imagination of a wildly creative girl named June comes alive. 
STARRING: Jennifer Garner, Matthew Broderick, John Oliver, Mila Kunis, Kenan Thompson, Ken Jeong, Norbert Leo Butz, Brianna Denski and Ken Hudson Campbell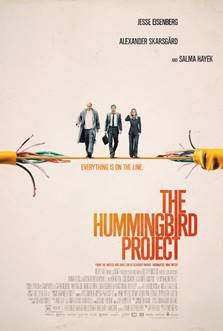 March 15
In this modern epic, Kim Nguyen exposes the ruthless edge of our increasingly digital world. Cousins from New York, Vincent (Jesse Eisenberg) and Anton (Alexander Skarsgård) are players in the high-stakes game of High-Frequency Trading, where winning is measured in milliseconds. Their dream? To build a straight fiber-optic cable line between Kansas and New Jersey, making them millions. But nothing is straightforward for this flawed pair. Anton is the brains, Vincent is the hustler, and together they push each other and everyone around them to the breaking point with their quixotic adventure. Constantly breathing down their necks is their old boss Eva Torres (Salma Hayek), a powerful, intoxicating and manipulative trader who will stop at nothing to come between them and beat them at their own game.
Starring: JESSE EISENBERG, ALEXANDER SKARSGÅRD, SALMA HAYEK, MICHAEL MANDO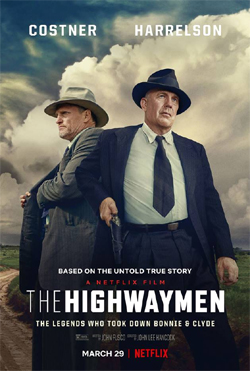 March 15, 2019
The outlaws made headlines. The lawmen made history. From director John Lee Hancock (The Blind Side), THE HIGHWAYMEN follows the untold true story of the legendary detectives who brought down Bonnie and Clyde. When the full force of the FBI and the latest forensic technology aren't enough to capture the nation's most notorious criminals, two former Texas Rangers (Kevin Costner and Woody Harrelson) must rely on their gut instincts and old school skills to get the job done.
Cast: Kevin Costner, Woody Harrelson, Kathy Bates, Kim Dickens

March 15, 2019
Roman (Matthias Schoenaerts), a convict in a rural Nevada prison who struggles to escape his violent past, is required to participate in an "outdoor maintenance" program as part of his state-mandated social rehabilitation. Spotted by a no-nonsense veteran trainer (Bruce Dern) and helped by an outgoing fellow inmate and trick rider (Jason Mitchell), Roman is accepted into the selective wild horse training section of the program, where he finds his own humanity in gentling an especially unbreakable mustang. Cast: Matthias Schoenaerts, Connie Britton, Bruce Dern, Jason Mitchell, Gideon Adlon and Josh Stewart

March 20, 2019
FOR THE FIRST TIME, 'MADE IN ABYSS' COMES TO MOVIE THEATERS ACROSS THE U.S. MARCH 20 AND 25 ONLY Sentai Filmworks and Kadokawa Pictures today announced that its first film in the two-part MADE IN ABYSS compendium, Journey's Dawn, will screen across hundreds of movie theater locations in the U.S. Heralded as an adventure that's both hopeful and harrowing, Journey's Dawn will be shown in theaters on March 20 for the Japanese with English subtitled screening and March 25 for the English dub showing. The MADE IN ABYSS television series took audiences by surprise and garnered ecstatic reviews with its disarming facade that shrouded a dark masterpiece. Now, cinema audiences can experience the timeless story with newly added scenes and dynamic storytelling.
Presented in partnership with Fathom Events, tickets for MADE IN ABYSS: Journey's Dawn are available at participating box offices and online at www.MadeInAbyssMovies.com and www.FathomEvents.com. To give audiences a unique experience, the event will include behind-the-scenes footage, Japanese created spots and a reflection on how MADE IN ABYSS mirrors fairytales.
Prior to the Fathom Events' dates for MADE IN ABYSS: Journey's Dawn, Sentai Filmworks will host the English subtitled red carpet event on March 15 at the Regal Cinema (L.A. LIVE) in downtown Los Angeles, Ca. The premiere will feature numerous special guests including famed director Masayuki Kojima, composer Kevin Penkin, music producer Hiromitsu Iijima and producer Shimpei Yamashita.
"On top of our major premiere event, we're thrilled to present MADE IN ABYSS across hundreds of cinemas nationwide," said John Ledford, CEO of Sentai Filmworks. "From the storyline, to the art style and music, Journey's Dawn is sure to entertain fans and new audiences by allowing those to venture 'deeper' and 'darker' into this captivating film."
The enigmatic Abyss is an unforgiving and deadly place. Despite the dangers, it still captures the imagination of explorers such as Riko who wishes to follow in her mother's footsteps and trains hard to become a Cave Raider. One day, she receives news that her mother died in the Abyss, yet a mysterious note tells Riko that her mother may still be alive. Vowing to uncover the truth about her mother's fate, Riko embarks on a journey with a humanoid robot boy name Reg. Together, they will discover if they have what it takes to survive where so many others have perished.
Information regarding both the movie and ticket sales for the Los Angeles premiere are available at https://www.madeinabyssmovies.com/
CRUEL INTENTIONS - BACK IN THEATERS FOR ITS 20TH ANNIVERSARY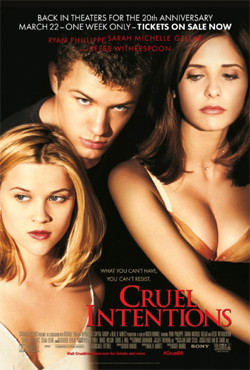 March 22nd - ONE WEEK ONLY
Kathryn (Sarah Michelle Gellar) and Sebastian (Ryan Phillippe), two wealthy, manipulative teenage step-siblings from Manhattan's upper-crust, conspire in Cruel Intentions, a wickedly entertaining tale of seduction and betrayal. The stakes are high when the duo agrees upon a deliciously diabolical wager of sexual conquest without consequences. The pawns? The naïve Cecile Caldwell (Selma Blair) and the virginal Annette Hargrove (Reese Witherspoon).
It's summer break, and Kathryn has been dumped by her beau, Court Reynolds, for the innocent Cecile. Desperate to get even, Kathryn challenges Sebastian to ruin Cecile by deflowering her and turning her into a tramp-thus humiliating Court by delivering Cecile to him as damaged goods. Sebastian has pretty much 'had' all of the girls in New York City up to this point, and he's gotten a bit bored of it all. Though this is too easy a conquest for him, he obliges. He sets his sights on a greater challenge-the new headmaster's daughter, Annette, who recently wrote an article in a magazine about how she intends to stay pure until she marries her boyfriend. Sebastian bets Kathryn that he can seduce the chaste and pristine Annette before school begins in the fall. Kathryn thinks this feat impossible and quickly agrees to the wager. The stakes: if Sebastian succeeds, Kathryn must give him a night of unbridled biblical pleasure, something he's wanted since their parents got married. If he fails, he must forfeit his priceless 1956 Jaguar to Kathryn and suffer the shame of defeat.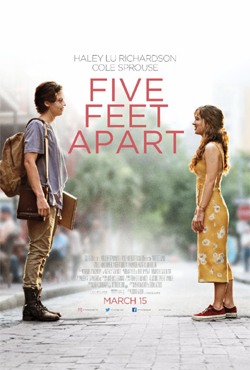 March 22, 2019
Stella Grant (Haley Lu Richardson) is every bit a seventeen-year-old...she's attached to her laptop and loves her best friends. But unlike most teenagers, she spends much of her time living in a hospital as a cystic fibrosis patient. Her life is full of routines, boundaries and self-control - all of which is put to the test when she meets an impossibly charming fellow CF patient named Will Newman (Cole Sprouse). There's an instant flirtation, though restrictions dictate that they must maintain a safe distance between them. As their connection intensifies, so does the temptation to throw the rules out the window and embrace that attraction. Further complicating matters is Will's potentially dangerous rebellion against his ongoing medical treatment. Stella gradually inspires Will to live life to the fullest, but can she ultimately save the person she loves when even a single touch is off limits? Starring Haley Lu Richardson (Split, The Edge of Seventeen), Cole Sprouse (Riverdale, THe Suite Life of Zack and Cody), Moises Arias (The Kings of Summer, Ben-Hur), Kimberly Hébert Gregory (Vice Principals), Paraminder Nagra (ER, Bend it Like Beckham), Claire Forlani (Crystal Inferno, Precious Cargo)
WHERE'D YOU GO BERNADETTE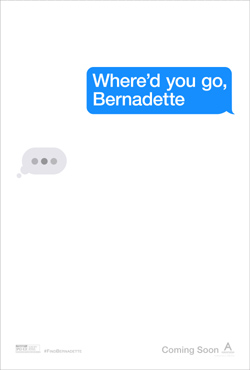 March 22, 2019
WHERE'D YOU GO, BERNADETTE is based on the runaway bestseller about Bernadette Fox, a Seattle woman who had it all - a loving husband and a brilliant daughter. When she unexpectedly disappears, her family sets off on an exciting adventure to solve the mystery of where she might have gone. Cast: Cate Blanchett, Billy Crudup, Kristen Wiig, Emma Nelson, James Urbaniak, Judy Greer, Troian Bellisario, Zoe Chao and Laurence Fishburne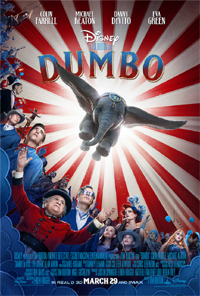 In Theaters March 29
From Disney and visionary director Tim Burton, the all-new grand live-action adventure "Dumbo" expands on the beloved classic story where differences are celebrated, family is cherished and dreams take flight. Circus owner Max Medici (Danny DeVito) enlists former star Holt Farrier (Colin Farrell) and his children Milly (Nico Parker) and Joe (Finley Hobbins) to care for a newborn elephant whose oversized ears make him a laughingstock in an already struggling circus. But when they discover that Dumbo can fly, the circus makes an incredible comeback, attracting persuasive entrepreneur V.A. Vandevere (Michael Keaton), who recruits the peculiar pachyderm for his newest, larger-than-life entertainment venture, Dreamland. Dumbo soars to new heights alongside a charming and spectacular aerial artist, Colette Marchant (Eva Green), until Holt learns that beneath its shiny veneer, Dreamland is full of dark secrets. Directed by Tim Burton ("Alice in Wonderland," "Charlie and the Chocolate Factory") from a screenplay by Ehren Kruger ("Ophelia," "Dream House"), and produced by Justin Springer ("TRON: Legacy"), Kruger, Katterli Frauenfelder ("Miss Peregrine's Home for Peculiar Children," "Big Eyes") and Derek Frey ("Miss Peregrine's Home for Peculiar Children," "Frankenweenie"), "Dumbo" flies into theaters on March 29, 2019.
Cast: Colin Farrell, Michael Keaton, Danny DeVito, Eva Green, Alan Arkin, Finley Hobbins, Nico Parker.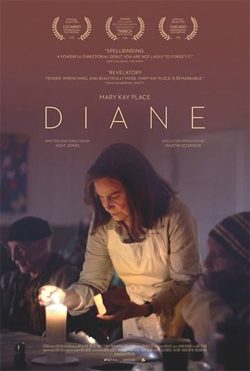 Opens New York and Los Angeles on March 29th
For Diane (Place), everyone else comes first. Generous but with little patience for self-pity, she spends her days checking in on sick friends, volunteering at her local soup kitchen, and trying valiantly to save her troubled, drug-addicted adult son (Lacy) from himself. But beneath her relentless routine of self-sacrifice, Diane is fighting a desperate internal battle, haunted by a past she can't forget and which threatens to tear her increasingly chaotic world apart. Built around an extraordinary, fearless performance from Place, Jones' narrative debut is a profound, beautifully human portrait of a woman rifling through the wreckage of her life in search of redemption.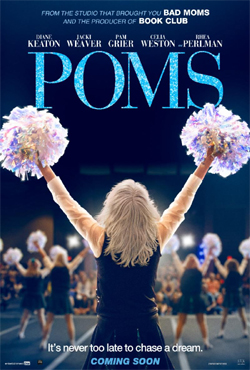 May 10, 2019
POMS is an uplifting comedy about Martha (played by Diane Keaton), a woman who moves into a retirement community and starts a cheerleading squad with her fellow residents, Sheryl (Jacki Weaver), Olive (Pam Grier) and Alice (Rhea Perlman), proving that it's never too late to follow your dreams. Celia Weston, Phyllis Somerville, Charli Tahan, Alisha Boe and Bruce McGill also star. Zara Hayes directed the script by Shane Atkinson. Producing are Kelly McCormick (Atomic Blonde); Alex Saks (Book Club); Mad as Birds Films' Andy Evans, Ade Shannon, Celyn Jones, Sean Marley and Rose Ganguzza. Keaton, Sierra/Affinity's Nick Meyer and Marc Schaberg, and Will Greenfield are executive producing.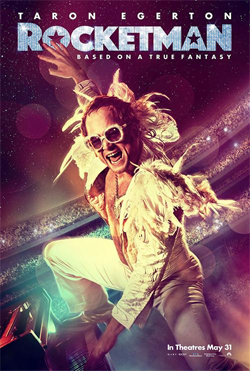 May 31, 2019
ROCKETMAN is an epic musical fantasy about the incredible human story of Elton John's breakthrough years. The film follows the fantastical journey of transformation from shy piano prodigy Reginald Dwight into international superstar Elton John. This inspirational story - set to Elton John's most beloved songs and performed by star Taron Egerton - tells the universally relatable story of how a small-town boy became one of the most iconic figures in pop culture. ROCKETMAN also stars Jamie Bell as Elton's longtime lyricist and writing partner Bernie Taupin, Richard Madden as Elton's first manager, John Reid, and Bryce Dallas Howard as Elton's mother Sheila Farebrother.
STARRING:
Taron Egerton, Jamie Bell, Richard Madden, Gemma Jones and Bryce Dallas Howard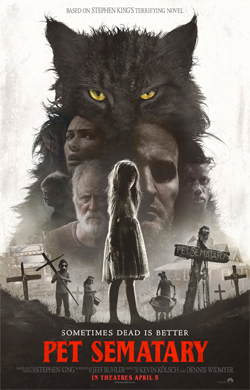 APRIL 5, 2019
Based on the seminal horror novel by Stephen King, Pet Sematary follows Dr. Louis Creed (Jason Clarke), who, after relocating with his wife Rachel (Amy Seimetz) and their two young children from Boston to rural Maine, discovers a mysterious burial ground hidden deep in the woods near the family's new home. When tragedy strikes, Louis turns to his unusual neighbor, Jud Crandall (John Lithgow), setting off a perilous chain reaction that unleashes an unfathomable evil with horrific consequences. STARRING: Jason Clarke Amy Seimetz Jeté Laurence Hugo & Lucas Lavoie John Lithgow
DIRECTED BY Kevin Kölsch and Dennis Widmyer
EXECUTIVE PRODUCED BY Mark Moran
PRODUCED BY Lorenzo di Bonaventura, Steven Schneider, Mark Vahradian
BASED ON THE NOVEL BY Stephen King
SCREENPLAY BY Jeff Buhler
STARRING Jason Clarke, Amy Seimetz, Jeté Laurence, Hugo & Lucas Lavoie and John Lithgow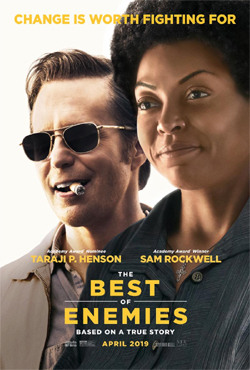 April 5, 2019
Based on a true story, THE BEST OF ENEMIES centers on the unlikely relationship between Ann Atwater (Henson), an outspoken civil rights activist, and C.P. Ellis (Rockwell), a local Ku Klux Klan leader who reluctantly co-chaired a community summit, battling over the desegregation of schools in Durham, North Carolina during the racially-charged summer of 1971. The incredible events that unfolded would change Durham and the lives of Atwater and Ellis forever.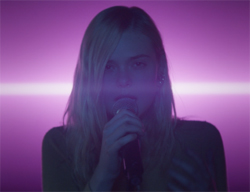 In Select Theaters April 5, 2019
Violet (Elle Fanning) is a shy teenager who dreams of escaping her small town and pursuing her passion to sing. With the help of an unlikely mentor, she enters a local singing competition that will test her integrity, talent and ambition. Driven by a pop-fueled soundtrack, "Teen Spirit" is a visceral and stylish spin on the Cinderella story. Featuring Elle Fanning performing music by Robyn, Ellie Goulding, Tegan & Sara, Annie Lennox, Orbital, Sigrid, Carly Rae Jepsen & Jack Antonoff, and music by Ariana Grande, Katy Perry, Grimes, The Undertones, Aqua, Alice Deejay, Whitfield, Major Lazer and No Doubt. Cast: Elle Fanning, Rebecca Hall, Zlatko Buric, Agnieszka Grochowska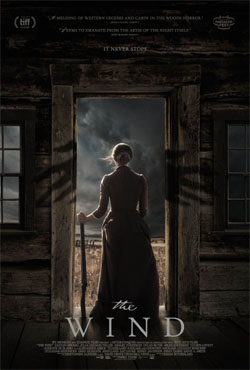 OPENS IN NEW YORK, LOS ANGELES AND TOP 20 MARKETS & VOD ON APRIL 5
THE WIND explores an unseen evil as it haunts the homestead in this chilling, folkloric tale of madness, paranoia, and otherworldly terror. Lizzy (Caitlin Gerard "Insidious: The Last Key") is a tough, resourceful frontierswoman settling a remote stretch of land on the 19th-century American frontier. Isolated from civilization in a desolate wilderness where the wind never stops howling, she begins to sense a sinister presence that seems to be borne of the land itself, an overwhelming dread that her husband (Ashley Zukerman HBO's "Succession") dismisses as superstition. When a newlywed couple arrives on a nearby homestead, their presence amplifies Lizzy's fears, setting into motion a shocking chain of events. Masterfully blending haunting visuals with pulse-pounding sound design, director Emma Tammi evokes a godforsaken world in which the forces of nature come alive with quivering menace.
CAST: Caitlin Gerard, Julia Goldani Telles "The Affair", Miles Anderson, Dylan McTee, Ashley Zuckerman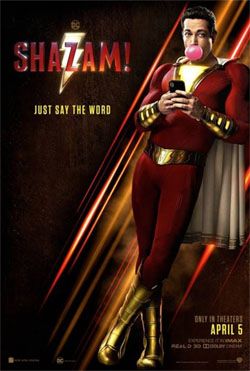 Friday, April 5
We all have a superhero inside us, it just takes a bit of magic to bring it out. In Billy Batson's (Asher Angel) case, by shouting out one word—SHAZAM!—this streetwise 14-year-old foster kid can turn into the adult Super Hero Shazam (Zachary Levi), courtesy of an ancient wizard. Still a kid at heart—inside a ripped, godlike body—Shazam revels in this adult version of himself by doing what any teen would do with superpowers: have fun with them! Can he fly? Does he have X-ray vision? Can he shoot lightning out of his hands? Can he skip his social studies test? Shazam sets out to test the limits of his abilities with the joyful recklessness of a child. But he'll need to master these powers quickly in order to fight the deadly forces of evil controlled by Dr. Thaddeus Sivana (Mark Strong).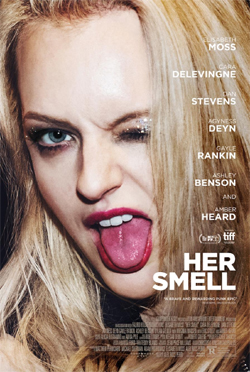 April 12th (NY); April 19th (LA); National expansion to follow
Becky Something (Elisabeth Moss) is a '90s punk rock superstar who once filled arenas with her grungy all-female trio Something She. Now she plays smaller venues while grappling with motherhood, exhausted bandmates, nervous record company executives, and a new generation of rising talent eager to usurp her stardom. When Becky's chaos and excesses derail a recording session and national tour, she finds herself shunned, isolated and alone. Forced to get sober, temper her demons, and reckon with the past, she retreats from the spotlight and tries to recapture the creative inspiration that led her band to success.
Anchored by a towering, unflinching performance from Golden Globe and Emmy winner Moss, and supported by a stellar ensemble cast, Her Smell examines the grit, grace and gravitas of an unforgettable fictional rock star crashing down to earth into the harsh realities of life. With his incendiary and deeply humane sixth feature, writer-director Alex Ross Perry (Listen Up Philip, Golden Exits) pumps up the volume and shines a light on the terrifying moment when superstardom wanes – and quiet beco
Cast: Elisabeth Moss, Cara Delevingne, Dan Stevens, Agyness Deyn,  Amber Heard, Gayle Rankin, Ashley Benson, Dylan Gelula, Virginia Madsen and Eric Stoltz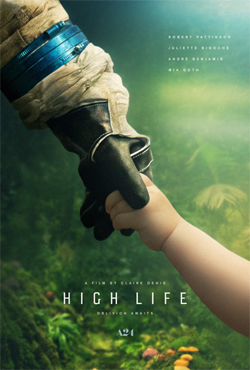 IN THEATERS APRIL 12
Juliette Binoche is a mad scientist in the first U.S. trailer for HIGH LIFE, the visionary and provocative new space odyssey from master filmmaker Claire Denis. STARRING: Robert Pattinson, Juliette Binoche, André Benjamin, and Mia Goth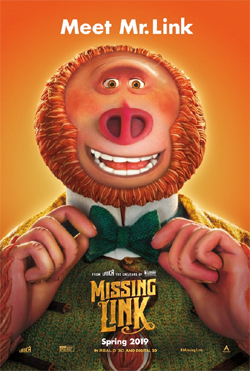 In Theaters April 12
This April, meet Mr. Link: 8 feet tall, 630 lbs, and covered in fur, but don't let his appearance fool you… he is funny, sweet, and adorably literal, making him the world's most lovable legend at the heart of Missing Link, the globe-trotting family adventure from LAIKA. Tired of living a solitary life in the Pacific Northwest, Mr. Link recruits fearless explorer Sir Lionel Frost to guide him on a journey to find his long-lost relatives in the fabled valley of Shangri-La. Along with adventurer Adelina Fortnight, our fearless trio of explorers encounter more than their fair share of peril as they travel to the far reaches of the world to help their new friend. Through it all, the three learn that sometimes you can find a family in the places you least expect.
Cast: Hugh Jackman, Zoe Saldana, Zach Galifianakis, Timothy Olyphant, David Walliams, Emma Thompson, Matt Lucas, Ching Valdes-Aran, Stephen Fry, Amrita Acharia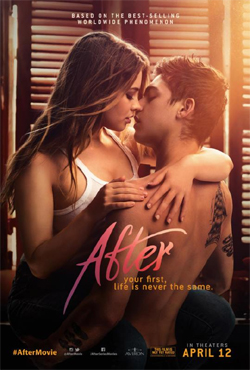 IN THEATERS APRIL 12, 2019
Based on Anna Todd's best-selling novel which became a publishing sensation on the social storytelling platform Wattpad, AFTER follows Tessa (Josephine Langford), a dedicated student, dutiful daughter and loyal girlfriend to her high school sweetheart, as she enters her first semester in college. Armed with grand ambitions for her future, her guarded world opens up when she meets the dark and mysterious Hardin Scott (Hero Fiennes Tiffin), a magnetic, brooding rebel who makes her question all she thought she knew about herself and what she wants out of life.
April 12
Girls Trip's Regina Hall and Black-ish's Marsai Martin both star as Jordan Sanders - Hall as the take-no-prisoners tech mogul adult version of Jordan and Martin as the 13-year-old version of her who wakes up in her adult self's penthouse just before a do-or-die presentation. Insecure's Issa Rae plays Jordan's long-suffering assistant April, the only one in on the secret that her daily tormentor is now trapped in an awkward tween body just as everything is on the line. Little is an irreverent new comedy about the price of success, the power of sisterhood and having a second chance to grow up - and glow up - right. Will Packer, blockbuster producer of Girls Trip, the Ride Along franchise, and ten movies that have opened No. 1 at the U.S. box office, including Night School, No Good Deed and Think Like a Man, brings an all-new perspective to the body-swap comedy. Little is directed by Tina Gordon (writer, Drumline) with a story by Tracy Oliver (Girls Trip) and a screenplay by Oliver and Gordon, based on an idea by teen actress Martin. The film is produced by Packer and his producing partner James Lopez and by Kenya Barris (Girls Trip, Black-ish), and is executive produced by Preston Holmes (Night School), Hall, Marsai Martin and Josh Martin.
Cast: Regina Hall Issa Rae and introducing Marsai Martin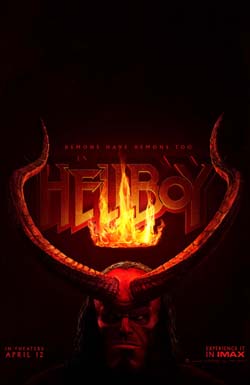 April 12
Hellboy is back, and he's on fire. From the pages of Mike Mignola's seminal work, this action packed story sees the legendary half-demon superhero (David Harbour, "Stranger Things") called to the English countryside to battle a trio of rampaging giants. There he discovers The Blood Queen, Nimue (Milla Jovovich, Resident Evil series), a resurrected ancient sorceress thirsting to avenge a past betrayal. Suddenly caught in a clash between the supernatural and the human, Hellboy is now hell-bent on stopping Nimue without triggering the end of the world. Hellboy also features Ian McShane (John Wick), Daniel Dae Kim ("Hawaii Five-0" and "Lost"), and Sasha Lane (American Honey).
BREAKTHROUGH
In Theatres Easter 2019
BREAKTHROUGH is based on the inspirational true story of one mother's unfaltering love in the face of impossible odds. When Joyce Smith's adopted son John falls through an icy Missouri lake, all hope seems lost. But as John lies lifeless, Joyce refuses to give up. Her steadfast belief inspires those around her to continue to pray for John's recovery, even in the face of every case history and scientific prediction. From producer DeVon Franklin (Miracles from Heaven) and adapted for the screen by Grant Nieporte (Seven Pounds) from Joyce Smith's own book, BREAKTHROUGH is an enthralling reminder that faith and love can create a mountain of hope, and sometimes even a miracle.
Based on: The Impossible: The Miraculous Story of a Mother's Faith and Her Child's Resurrection by Joyce Smith
Cast: Chrissy Metz, Josh Lucas, Topher Grace, Mike Colter, Marcel Ruiz, Sam Trammell and Dennis Haysbert
The Intruder
In Theatres April 26, 2018
When a young married couple (Michael Ealy and Meagan Good) buys their dream house in the Napa Valley, they think they have found the perfect home to take their next steps as a family. But when the strangely attached seller (Dennis Quaid) continues to infiltrate their lives, they begin to suspect that he has hidden motivations beyond a quick sale.
Cast: Michael Ealy,Meagan Good,Joseph Sikora and Dennis Quaid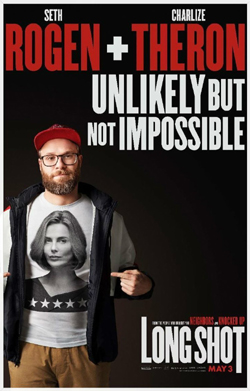 May 3
When Fred Flarsky (Seth Rogen) reunites with his first crush, one of the most influential women in the world, Charlotte Field (Charlize Theron), he charms her with his self-deprecating humor and his memories of her youthful idealism. As she prepares to make a run for the Presidency, Charlotte hires Fred as her speechwriter. A fish out of water on Charlotte's elite team, Fred is unprepared for her glamourous lifestyle in the limelight. Sparks fly as their unmistakable chemistry leads to a round-the-world romance and a series of unexpected and dangerous incidents.
TOLKIEN in Theaters May 10th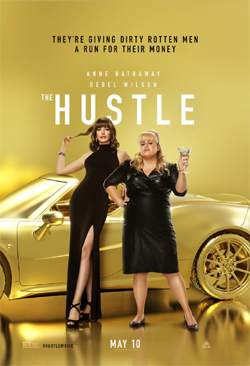 May 10, 2019
THE HUSTLE In the hilarious new comedy THE HUSTLE, Anne Hathaway and Rebel Wilson star as female scam artists, one low rent and the other high class, who team up to take down the dirty rotten men who have wronged them. Director: Chris Addison Screenplay By: Stanley Shapiro & Paul Henning and Dale Launer and Jac Schaeffer Producers: Roger Birnbaum p.g.a., Rebel Wilson p.g.a. Cast: Anne Hathaway, Rebel Wilson, Alex Sharp.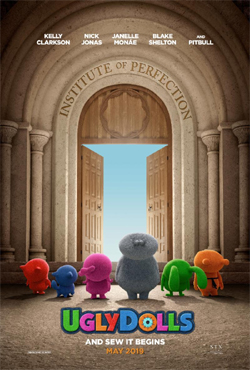 May 10, 2019
Unconventionality rules in UGLYDOLLS, STXfilms' new animated musical adventure starring the acting and singing voices of Kelly Clarkson, Nick Jonas, Janelle Monáe, Blake Shelton and Pitbull. The film is inspired by the unique and beloved global plush toy phenomenon launched in 2001. In the adorably different town of Uglyville, weird is celebrated, strange is special and beauty is embraced as more than simply meets the eye. Here, the free-spirited Moxy and her UglyDoll friends live every day in a whirlwind of bliss, letting their freak flags fly in a celebration of life and its endless possibilities. The endearingly unique residents of Uglyville occasionally look to the sky above the town, where a new UglyDoll will appear and be embraced by the community. Moxy (Kelly Clarkson) loves her square-peg life in this round-hole town, but her curiosity about all things leads her to wonder if there's something - anything - on the other side of the mountain which nestles Uglyville. Moxy gathers a group of her closest friends and sets off to find what's on the other side. They discover another world - Perfection - a town where more conventional dolls are trained in protocols before they graduate and are sent to the "real" world to find the love of a child. In Perfection, Moxy and her crew are subject to the manipulations of Lou (Nick Jonas), the perfect doll in charge of training recruits. Here, the UglyDolls will confront what it means to be different, struggle with their desire to be loved, and ultimately discover that you don't have to be perfect to be amazing because who you truly are is what matters most. Created as a plush toy line by David Horvath and Sun-Min Kim, the UglyDoll brand quickly gained a cult following around the world and was named Toy of the Year by the Toy Industry Association in 2006. Beloved by children, teenagers and adults alike, UglyDoll characters are distinct for their endearing "Uglyness," in a wonderful "Uglyverse" where differences are celebrated and embraced. Also starring in the voice cast of UGLYDOLLS are Wanda Sykes, Emma Roberts, Gabriel Iglesias, Wang Leehom, Bebe Rexha, Charli XCX and Lizzo.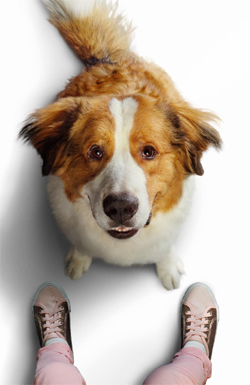 May 17, 2019
Some friendships transcend lifetimes. In A Dog's Journey, the sequel to the heartwarming global hit A Dog's Purpose, beloved dog Bailey finds his new destiny and forms an unbreakable bond that will lead him, and the people he loves, to places they never imagined. Bailey (voiced again by Josh Gad) is living the good life on the Michigan farm of his "boy," Ethan (Dennis Quaid) and Ethan's wife Hannah (Marg Helgenberger). He even has a new playmate: Ethan and Hannah's baby granddaughter, CJ. The problem is that CJ's mom, Gloria (Betty Gilpin), decides to take CJ away. As Bailey's soul prepares to leave this life for a new one, he makes a promise to Ethan to find CJ and protect her at any cost. Thus begins Bailey's adventure through multiple lives filled with love, friendship and devotion as he, CJ (Kathryn Prescott), and CJ's best friend Trent (Henry Lau) experience joy and heartbreak, music and laughter, and few really good belly rubs.
JOHN WICK: CHAPTER 3 - PARABELLUM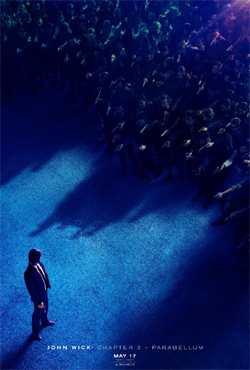 May 17, 2019
In this third installment of the adrenaline-fueled action franchise, super-assassin John Wick (Keanu Reeves) returns with a $14 million price tag on his head and an army of bounty-hunting killers on his trail. After killing a member of the shadowy international assassin's guild, the High Table, John Wick is excommunicado, but the world's most ruthless hit men and women await his every turn.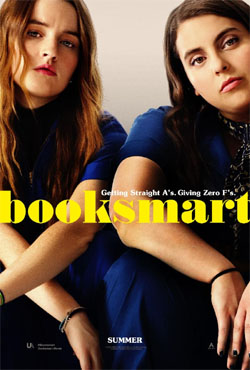 May 24, 2019
Told from a wildly original, fresh and modern perspective, Booksmart is an unfiltered comedy about high school best friends and the bonds we create that last a lifetime. Capturing the spirit of our times, the film is a coming of age story for a new generation. Director: Olivia Wilde  Cast: Kaitlyn Dever, Beanie Feldstein, Jessica Williams with Lisa Kudrow, Will Forte and Jason Sudeikis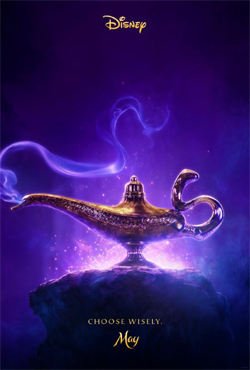 May 24, 2019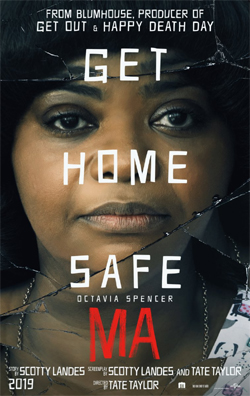 In Theaters May 31st
Everybody's welcome at Ma's. But good luck getting home safe. Oscar® winner Octavia Spencer stars as Sue Ann, a loner who keeps to herself in her quiet Ohio town. One day, she is asked by Maggie, a new teenager in town (Diana Silvers, Glass), to buy some booze for her and her friends, and Sue Ann sees the chance to make some unsuspecting, if younger, friends of her own. She offers the kids the chance to avoid drinking and driving by hanging out in the basement of her home. But there are some house rules: One of the kids has to stay sober. Don't curse. Never go upstairs. And call her "Ma." But as Ma's hospitality starts to curdle into obsession, what began as a teenage dream turns into a terrorizing nightmare, and Ma's place goes from the best place in town to the worst place on earth. Ma also stars Juliette Lewis (August: Osage County) as Maggie's mom, Luke Evans (Beauty and the Beast) as a local dad, Missi Pyle (Gone Girl) as his girlfriend, and McKaley Miller (TV's Hart of Dixie), Corey Fogelmanis (TV's Girl Meets World), Gianni Paolo (TV's Power) and Dante Brown (Lethal Weapon TV series) as Maggie's friends. From Tate Taylor, the acclaimed director of The Help and Get On Up, and blockbuster producer Jason Blum (Get Out, Halloween, The Purge series) comes a thriller anchored by a daring and unexpected performance from Spencer, one of the most powerful actors of her generation. Ma is written by Scotty Landes (Comedy Central's Workaholics) and Taylor, is produced by Blum for his Blumhouse Productions, by Taylor, and by John Norris (executive producer, Get On Up), and is executive produced by Spencer, Couper Samuelson, Jeanette Volturno, and Robin Fisichella.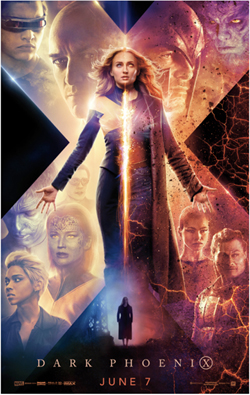 In Theaters: June 7, 2019
In DARK PHOENIX, the X-MEN face their most formidable and powerful foe: one of their own, Jean Grey. During a rescue mission in space, Jean is nearly killed when she is hit by a mysterious cosmic force. Once she returns home, this force not only makes her infinitely more powerful, but far more unstable. Wrestling with this entity inside her, Jean unleashes her powers in ways she can neither comprehend nor contain. With Jean spiraling out of control, and hurting the ones she loves most, she begins to unravel the very fabric that holds the X-Men together. Now, with this family falling apart, they must find a way to unite -- not only to save Jean's soul, but to save our very planet from aliens who wish to weaponize this force and rule the galaxy.
Stars: James McAvoy, Michael Fassbender, Jennifer Lawrence, Nicholas Hoult, Sophie Turner, Tye Sheridan, Alexandra Shipp, Kodi Smit-McPhee, Evan Peters, and Jessica Chastain. 
DARK PHOENIX is scored by composer Hans Zimmer. 
The Secret Life of Pets 2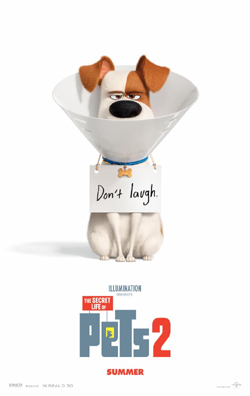 In Theaters: June 7, 2019
The Secret Life of Pets 2 will follow summer 2016's blockbuster about the lives our pets lead after we leave for work or school each day. Illumination founder and CEO Chris Meledandri and his longtime collaborator Janet Healy will produce the sequel to the comedy that had the best opening ever for an original film, animated or otherwise. The Secret Life of Pets 2 will see the return of writer Brian Lynch (Minions) and once again be directed by Chris Renaud (Despicable Me series, Dr. Seuss' The Lorax).
Cast: Lake Bell, Hannibal Buress, Dana Carvey, Harrison Ford, Tiffany Haddish, Kevin Hart, Pete Holmes, Garth Jennings, Ellie Kemper, Nick Kroll, Bobby Moynihan, Patton Oswald, Jenny Slate, Eric Stonestreet
MEN IN BLACK: INTERNATIONAL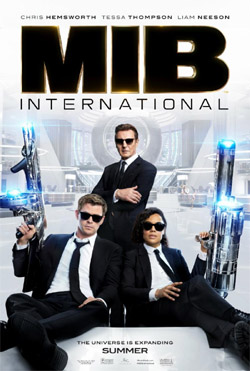 June 14th, 2019
The Men in Black have always protected the Earth from the scum of the universe. In this new adventure, they tackle their biggest, most global threat to date: a mole in the Men in Black organization. Cast: Chris Hemsworth Tessa Thompson Rebecca Ferguson Kumail Nanjiani Rafe Spall Laurent Bourgeois Larry Bourgeois with Emma Thompson and Liam Neeson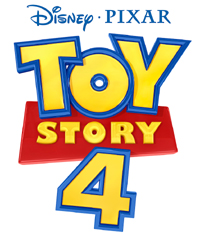 In Theaters June 21, 2019
Woody has always been confident about his place in the world and that his priority is taking care of his kid, whether that's Andy or Bonnie. But when Bonnie adds a reluctant new toy called "Forky" to her room, a road trip adventure alongside old and new friends will show Woody how big the world can be for a toy. Directed by Josh Cooley ("Riley's First Date?") and produced by Jonas Rivera ("Inside Out," "Up") and Mark Nielsen (associate producer "Inside Out"), Disney•Pixar's "Toy Story 4" ventures to U.S. theaters on June 21, 2019. Voice Cast: Tom Hanks, Tim Allen, Joan Cusack, Don Rickles, Estelle Harris, Wallace Shawn, John Ratzenberger, Jeff Pidgeon, Blake Clark, Tony Hale Director: Josh Cooley Producers: Jonas Rivera, Mark Nielsen History: "Toy Story," originally released on Nov. 22, 1995, was the first fully computer animated feature film and the highest grossing movie of the year. It was nominated for three Oscars® and two Golden Globes®. "Toy Story 2" is the first film ever to be entirely created, mastered and exhibited digitally. It was also the first animated sequel to gross more than its original, breaking opening weekend box office records in the U.S., UK and Japan, becoming the highest grossing animated release of 1999. It won the Golden Globe for best motion picture – comedy or musical. It won a Grammy® for best song written for a motion picture, television or other visual media (Randy Newman, "When She Loved Me"). Released in 2010, "Toy Story 3" won Oscars® for best animated feature film and best achievement in music written for motion pictures, original song (Randy Newman/"We Belong Together"). The film also won a Golden Globe® and BAFTA for best animated film. It was the second Pixar film to be nominated for the best picture Oscar. It's also Pixar's second highest-grossing film of all time behind "Incredibles 2." The 2015 short "Riley's First Date?" was helmed by director Josh Cooley and produced by Mark Nielsen.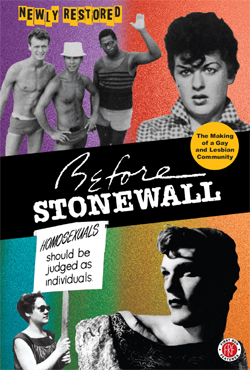 Opening June 21 in New York & June 28 in Los Angeles
First Run Features is proud to announce the theatrical re-release of the legendary documentary Before Stonewall: The Making of a Gay and Lesbian Community on June 21 in New York and June 28 in Los Angeles, with other cities to follow. Fifty years after the riots gave birth to the modern lesbian and gay liberation movement, and with substantial progress made, LGBT Americans still find themselves fighting on many fronts for full equality, in the U.S. and around the world; Before Stonewall offers a potent reminder of what life was like for LGBT people before that extraordinary event.
n the early morning hours of June 28, 1969, the police raided the Stonewall Inn, a gay bar in New York City's Greenwich Village, leading to three nights of rioting by the city's gay community. With this outpouring of courage and unity the gay and lesbian liberation movement had begun. 
Before Stonewall pries open the closet door, setting free the dramatic story of the sometimes horrifying public and private existences experienced by LGBT Americans since the early 1900's. Revealing and often humorous, this widely acclaimed film relives the emotionally-charged sparking of today's gay rights movement, from the events that led to the fevered 1969 riots to many other milestones in the brave fight for acceptance.

Experience the fascinating and unforgettable, decade-by-decade history of homosexuality in America through eye-opening historical footage and amazing interviews with those who lived through an often brutal closeted history. The theatrical re-release of Before Stonewall is a chance for audiences to experience this eye-opening film on the big screen, with an audience, the way it was meant to be seen.

Narrated by iconic author Rita Mae Brown, the film features stirring interviews with pioneering cultural figures and activists including Audre Lorde, Allen Ginsberg, Harry Hay, Richard Bruce Nugent, Frank Kameny and Barbara Gittings.

Before Stonewall was produced by Robert Rosenberg, John Scagliotti and Greta Schiiller, with Schiller as Director, Rosenberg as Co-Director and Scagliotti as Executive Producer. All three have gone on over the past three decades to continue their groundbreaking work in LGBT film (see press kit for more).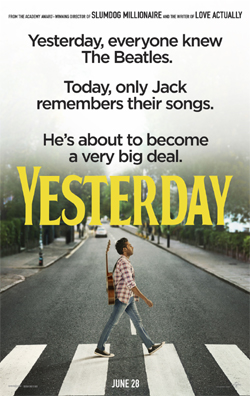 June 28, 2019
Academy Award®-winning director Danny Boyle (Slumdog Millionaire, Steve Jobs) joins celebrated screenwriter Richard Curtis (Love Actually, Notting Hill) for a new comedy from Working Title starring Lily James (Mamma Mia! Here We Go Again, Baby Driver), Himesh Patel (BBC's EastEnders, Damned) and Kate McKinnon (TV's Saturday Night Live, The Spy Who Dumped Me). Yesterday will be produced by Working Title's Tim Bevan and Eric Fellner (Les Misérables, Darkest Hour, Bridget Jones's series) alongside Matt Wilkinson (Kaleidoscope) and Bernie Bellew (Steve Jobs). Curtis and Boyle will also produce, while Nick Angel and Lee Brazier serve as executive producers.
Cast: Lily James, Himesh Patel, Kate McKinnon
Director: Danny Boyle
Producers: Tim Bevan, Eric Fellner, Matt Wilkinson,Bernie Bellow, Richard Curtis Danny Boyle
Executive Producers: Nick Angel,Lee Brazier
47 METERS DOWN: THE NEXT CHAPTER
47 METERS DOWN: THE NEXT CHAPTER will open in theaters June 2019.
Entertainment Studios has released a new teaser for 47 METERS DOWN: THE NEXT CHAPTER, the sequel to the monster hit from last year that took a bite out of the independent box office. Johannes Roberts returns to the shark-infested waters as director.
Spider-Man: Far From Home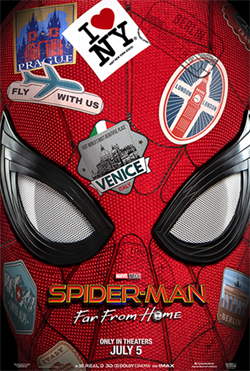 July 5, 2019
Peter Parker returns in Spider-Man™: Far From Home, the next chapter of the Spider-Man™: Homecoming series! Our friendly neighborhood Super Hero decides to join his best friends Ned, MJ, and the rest of the gang on a European vacation. However, Peter's plan to leave super heroics behind for a few weeks are quickly scrapped when he begrudgingly agrees to help Nick Fury uncover the mystery of several elemental creature attacks, creating havoc across the continent!
Fast & Furious Presents: Hobbs & Shaw
In Theaters August 2, 2019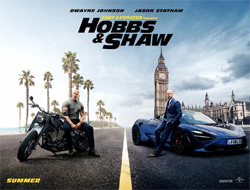 After eight films that have amassed almost $5 billion worldwide, the Fast & Furious franchise now features its first stand-alone vehicle as Dwayne Johnson and Jason Statham reprise their roles as Luke Hobbs and Deckard Shaw in Fast & Furious Presents: Hobbs & Shaw.
Ever since hulking lawman Hobbs (Johnson), a loyal agent of America's Diplomatic Security Service, and lawless outcast Shaw (Statham), a former British military elite operative, first faced off in 2015's Furious 7, the duo have swapped smack talk and body blows as they've tried to take each other down.
But when cyber-genetically enhanced anarchist Brixton (Idris Elba) gains control of an insidious bio-threat that could alter humanity forever – and bests a brilliant and fearless rogue MI6 agent (The Crown's Vanessa Kirby), who just happens to be Shaw's sister – these two sworn enemies will have to partner up to bring down the only guy who might be badder than themselves.
Hobbs & Shaw blasts open a new door in the Fast universe as it hurtles action across the globe, from Los Angeles to London and from the toxic wasteland of Chernobyl to the lush beauty of Samoa.
Directed by David Leitch (Deadpool 2) from a script by longtime Fast & Furious narrative architect Chris Morgan, the film is produced by Morgan, Johnson, Statham and Hiram Garcia. The executive producers are Kelly McCormick, Dany Garcia, Steven Chasman, Ethan Smith and Ainsley Davies.
Cast: Dwayne Johnson, Jason Statham, Idris Elba,Vanessa Kirby and Helen Mirren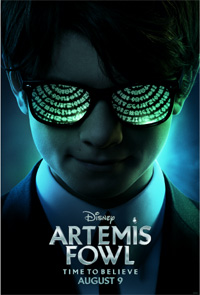 In Theaters August 9, 2019
Directed by Kenneth Branagh and based on the beloved book by Eoin Colfer, ARTEMIS FOWL follows 12-year-old genius Artemis Fowl, a descendant of a long line of criminal masterminds, as he finds himself in a battle of strength and cunning against a powerful, hidden race of fairies who may be behind his father's disappearance. The film stars Ferdia Shaw, Lara McDonnell, Tamara Smart, Nonzo Anozie, with Josh Gad, and Judi Dench. Judy Hofflund and Kenneth Branagh are producing with Angus More Gordon and Matthew Jenkins serving as executive producers. The screenplay is by Conor McPherson.
SCARY STORIES TO TELL IN THE DARK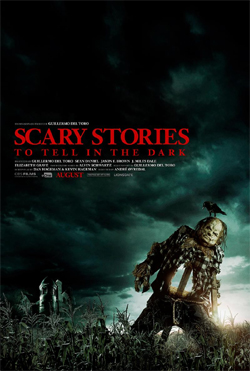 AUGUST 9, 2019
Inspired by one of the most terrifying children's book series of all time, SCARY STORIES TO TELL IN THE DARK follows a group of young teens who must solve the mystery surrounding sudden and macabre deaths in their small town.
Starring: Zoe Colletti, Michael Garza, Gabriel Rush,  Austin Abrams, Dean Norris, Gil Bellows,  Lorraine Toussaint, Austin Zajur,  Natalie Ganzhorn
ONCE UPON A TIME IN HOLLYWOOD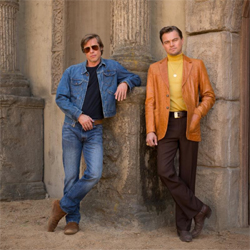 August 9, 2019
Quentin Tarantino's ninth feature film is a story that takes place in Los Angeles in 1969, at the height of hippy Hollywood. The two lead characters are Rick Dalton (Leonardo DiCaprio), former star of a western TV series, and his longtime stunt double Cliff Booth (Brad Pitt). Both are struggling to make it in a Hollywood they don't recognize anymore. But Rick has a very famous next-door neighbor...Sharon Tate.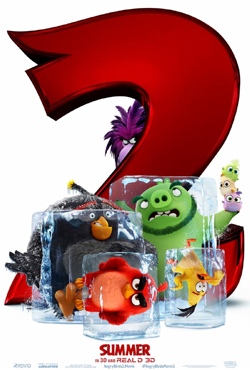 August 16, 2019
A hilarious all-star cast of new and returning talent are brought together as the flightless birds and scheming green pigs take their beef to the next level.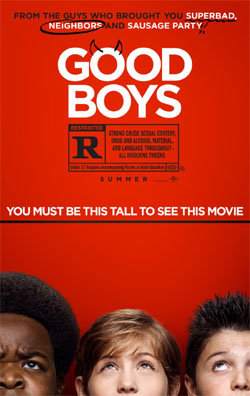 August 16, 2019
Just how bad can one day get? The creative minds behind Superbad, Pineapple Express and Sausage Party take on sixth grade hard in the outrageous comedy, Good Boys. After being invited to his first kissing party, 12-year-old Max (Room's Jacob Tremblay) is panicking because he doesn't know how to kiss. Eager for some pointers, Max and his best friends Thor (Brady Noon, HBO's Boardwalk Empire) and Lucas (Keith L. Williams, Fox's The Last Man On Earth) decide to use Max's dad's drone - which Max is forbidden to touch - to spy (they think) on a teenage couple making out next door. But when things go ridiculously wrong, the drone is destroyed. Desperate to replace it before Max's dad (Will Forte, The Last Man on Earth) gets home, the boys skip school and set off on an odyssey of epically bad decisions involving some accidentally stolen drugs, frat-house paintball, and running from both the cops and terrifying teenage girls (Life of the Party's Molly Gordon and Ocean's Eight's Midori Francis). From Point Grey producers Seth Rogen and Evan Goldberg, the writers of Superbad, Pineapple Express and Sausage Party, and James Weaver (Neighbors), Good Boys, from Universal Pictures and Good Universe, is written by the team of Lee Eisenberg and Gene Stupnitsky (NBC's The Office, Bad Teacher). Eisenberg also produces and Stupnitsky directs.
Keith L. Williams, Brady Noon, Molly Gordon, Lil Rel Howery, Will Forte.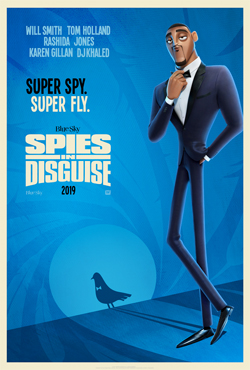 September 13, 2019
Super spy Lance Sterling (Will Smith) and scientist Walter Beckett (Tom Holland) are almost exact opposites. Lance is smooth, suave and debonair. Walter is... not. But what Walter lacks in social skills he makes up for in smarts and invention, creating the awesome gadgets Lance uses on his epic missions. But when events take an unexpected turn, Walter and Lance suddenly have to rely on each other in a whole new way. And if this odd couple can't learn to work as a team, the whole world is in peril. SPIES IN DISGUISE is an animated comedy set in the high-octane globe-trotting world of international espionage. Cast: Will Smith, Tom Holland, Ben Mendelsohn, Karen Gillan, Rashida Jones, DJ Khaled, Masi Oka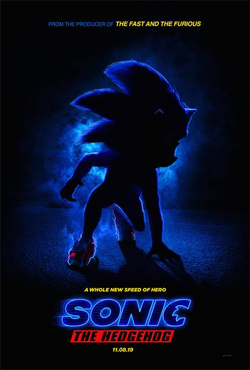 OPENS IN THEATRES NOVEMBER 8, 2019
Director: Jeff Fowler Cast: James Marsden, Ben Schwartz, Natasha Rothwell, Tika Sumpter, Neal McDonough, Adam Pally and Jim Carrey.
MOWGLI: LEGEND OF THE JUNGLE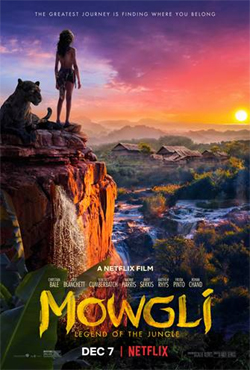 December 7
Acclaimed actor and director Andy Serkis reinvents Rudyard Kipling's beloved masterpiece, in which a boy torn between two worlds accepts his destiny and becomes a legend. Mowgli (Rohan Chand) has never truly belonged in either the wilds of the jungle or the civilized world of man. Now he must navigate the inherent dangers of each on a journey to discover where he truly belongs. Christian Bale, Cate Blanchett, Benedict Cumberbatch, Andy Serkis, Freida Pinto, Matthew Rhys and Naomie Harris lead an all-star cast along with newcomer Rohan Chand in this visually spectacular and emotionally moving adventure. MOWGLI: LEGEND OF THE JUNGLE will have exclusive limited theatrical engagements starting November 29 in Los Angeles, New York, San Francisco, and London. The film will be released globally on Netflix on December 7 and will have an expanded theatrical release in additional theaters in the U.S. and UK.