In theaters everywhere on September 20, 2019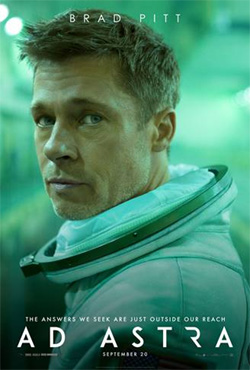 A paranoid thriller in space that follows Roy McBride (Brad Pitt) on a mission across an unforgiving solar system to uncover the truth about his missing father and his doomed expedition that now, 30 years later, threatens the universe.
Cast: Brad Pitt, Tommy Lee Jones, Ruth Negga, Liv Tyler and Donald Sutherland.
IN THE SHADOW OF THE MOON
In the Shadow of the Moon, only on Netflix Sept 27.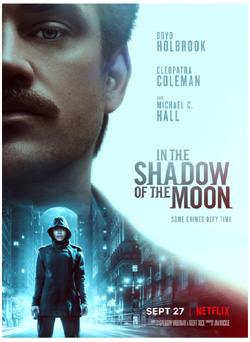 In 1988, Philadelphia police officer Thomas Lockhart (Boyd Holbrook), hungry to become a detective, begins tracking a serial killer who mysteriously resurfaces every nine years. But when the killer's crimes begin to defy all scientific explanation, Locke's obsession with finding the truth threatens to destroy his career, his family, and possibly his sanity. Directed by Jim Mickle and also starring Michael C. Hall and Cleopatra Coleman, IN THE SHADOW OF THE MOON is a genre-blending psychological thriller that examines the power of time, and how its passing can either bring us together or tear us apart. 
Winter 1968 and showbiz legend Judy Garland arrives in Swinging London to perform a five-week sold-out run at The Talk of the Town. It is 30 years since she shot to global stardom in The Wizard of Oz, but if her voice has weakened, its dramatic intensity has only grown. As she prepares for the show, battles with management, charms musicians and reminisces with friends and adoring fans, her wit and warmth shine through. Even her dreams of love seem undimmed as she embarks on a whirlwind romance with Mickey Deans, her soon-to-be fifth husband. Featuring some of her best-known songs, the film celebrates the voice, the capacity for love, and the sheer pizzazz of "the world's greatest entertainer.
Starring Renée Zellweger, Jessie Buckley, Finn Wittrock, Rufus Sewell, and Michael Gambon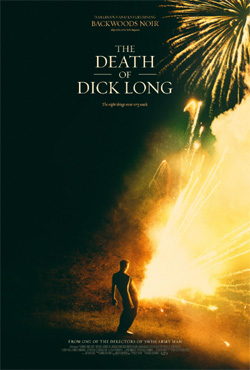 Holy Crap. Dick is dead. Died last night after band practice, and his bandmates, Zeke & Earl (Michael Abbott, Jr. & Andre Hyland), don't want anybody finding out how. That's too bad though, 'cause news travels fast in small town Alabama, and these guys suck at covering their tracks. The authorities haven't ID'd the body just yet, but Zeke's wife (Virginia Newcomb) and his daughter are suspicious already.
From a screenplay by Billy Chew, director Daniel Scheinert (one half of the Swiss Army Man duo known as Daniels) expertly balances the hilarity and heartache of what happens when dark secrets are dragged kicking and screaming into the light.
Featuring an eclectic ensemble of Southerners (Jess Weixler, Sarah Baker, Roy Wood Jr., and Sunita Mani), plus a soundtrack with songs by Staind, Creed, Nickelback, and an original score by Andy Hull and Robert McDowell of Manchester Orchestra. 
Starring: Michael Abbott Jr., Virginia Newcomb, Andre Hyland, Sarah Baker, Jess Weixler, Sunita Mani, Roy Wood Jr., Poppi Cunningham, & Janelle Cochrane
In Theaters September 27, 2019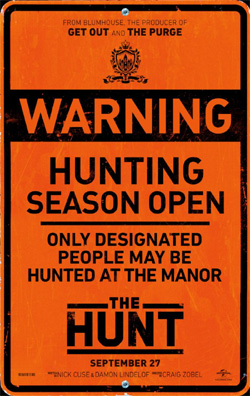 Twelve strangers wake up in a clearing. They don't know where they are, or how they got there. They don't know they've been chosen… for a very specific purpose … The Hunt.
In the shadow of a dark internet conspiracy theory, a bunch of elites gathers for the very first time at a remote Manor House to hunt humans for sport. But the elites' master plan is about to be derailed because one of the hunted, Crystal (Betty Gilpin, GLOW), knows The Hunters' game better than they do. She turns the tables on the killers, picking them off, one by one, as she makes her way toward the mysterious woman (two-time Oscar® winner Hilary Swank) at the center of it all.
From Jason Blum, the producer of Get Out and The Purge series, and Damon Lindelof, co-creator of the TV series The Leftovers and Lost, comes a new mysterious social thriller.
The Hunt is written by Lindelof and his fellow The Leftovers' collaborator Nick Cuse and is directed by Craig Zobel (Z for Zachariah, The Leftovers). Blum produces for his Blumhouse Productions alongside Lindelof. The film is executive produced by Zobel, Cuse and Steven R. Molen.
In Theaters September 27, 2019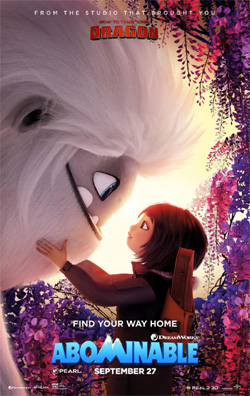 DreamWorks Animation and Pearl Studio's co-production Abominable takes audiences on an epic 2,000-mile adventure from the streets of Shanghai to the breathtaking Himalayan snowscapes.
When teenage Yi (Chloe Bennet, Marvel's Agents of S.H.I.E.L.D.) encounters a young Yeti on the roof of her apartment building in Shanghai, she and her mischievous friends, Jin (Tenzing Norgay Trainor) and Peng (Albert Tsai), name him "Everest" and embark on an epic quest to reunite the magical creature with his family at the highest point on Earth.
But the trio of friends will have to stay one-step ahead of Burnish (Eddie Izzard), a wealthy man intent on capturing a Yeti, and zoologist Dr. Zara (Sarah Paulson) to help Everest get home.
In Theaters October 4, 2019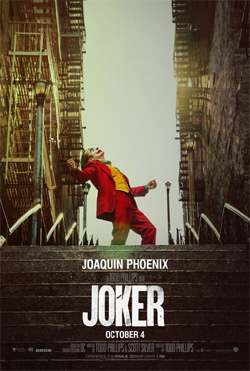 Director Todd Phillips "Joker" centers around the iconic arch nemesis and is an original, standalone fictional story not seen before on the big screen. Phillips' exploration of Arthur Fleck, who is indelibly portrayed by Joaquin Phoenix, is of a man struggling to find his way in Gotham's fractured society. A clown-for-hire by day, he aspires to be a stand-up comic at night…but finds the joke always seems to be on him. Caught in a cyclical existence between apathy and cruelty, Arthur makes one bad decision that brings about a chain reaction of escalating events in this gritty character study.
Starring Joaquin Phoenix, Robert De Niro, Zaie Beetz, Brett Cullen, and Frances Conroy. Directed by Todd Phillips.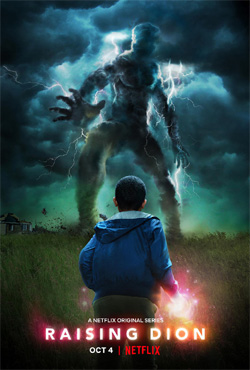 Raising Dion follows the story of a woman named Nicole (Alisha Wainwright), who raises her son Dion (newcomer Ja'Siah Young) after the death of her husband, Mark (Michael B. Jordan). The normal dramas of raising a son as a single mom are amplified when Dion starts to manifest several mysterious, superhero-like abilities. Nicole must now keep her son's gifts secret with the help of Mark's best friend Pat (Jason Ritter), and protect Dion from antagonists out to exploit him while figuring out the origin of his abilities.
Starring:  Alisha Wainwright, Ja'Siah Young, and Michael B. Jordan.
RAFALGAR RELEASING LAUNCHES TICKETS & TRAILER FOR METALLICA & SAN FRANCISCO SYMPHONY: S&M²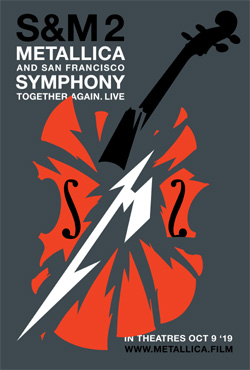 CELEBRATING THE 20TH ANNIVERSARY OF THE 1999 PERFORMANCE AND GRAMMY-WINNING S&M ALBUM, METALLICA & SAN FRANCISCO SYMPHONY REUNITE FOR S&M².
THE FILM WILL FEATURE THE FIRST LIVE PERFORMANCES OF S&M ARRANGEMENTS IN 20 YEARS PLUS RENDITIONS OF SONGS WRITTEN AND RELEASED SINCE ORIGINAL SHOW.
After the announcement of the forthcoming Metallica and San Francisco Symphony: S&M² film last week, Trafalgar Releasing is excited to reveal the official trailer for the film. Metallica and San Francisco Symphony reunite to celebrate the 20th anniversary of their original S&M (Symphony & Metallica) show with S&M², filmed at San Francisco's new Chase Center. The film will be released on October 9th.
The original S&M concerts were performed by Metallica and San Francisco Symphony and conducted by the late Michael Kamen in spring of 1999 at the Berkeley Community Theatre. 2019's S&M² concert will feature the first live performances of these arrangements in 20 years, plus the first-ever Metallica and San Francisco Symphony renditions of songs written and released since the original concert, with new orchestral charts by Bruce Coughlin.
 
Legendary conductor Michael Tilson Thomas completes the first week of his final season as San Francisco Symphony Music Director with a special appearance, conducting a portion of the show.

Metallica's first collaboration with San Francisco Symphony was documented by the Grammy-winning live album S&M.
 
Kymberli Frueh, SVP for Programming and Content Acquisitions at Trafalgar Releasing has said: "Trafalgar Releasing is excited to give Metallica fans around the world a chance to celebrate this anniversary concert together in local cinemas in October.
 
The original collaboration between two San Francisco legends—Metallica and San Francisco Symphony became a true moment in music history two decades ago. Reuniting again to perform S&M² is a salute to the legendary collaboration and creates a special moment for Metallica fans to see this iconic pairing."
In select theaters and on Netflix this Fall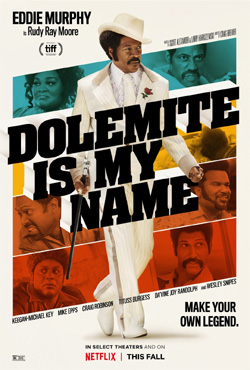 Stung by a string of showbiz failures, floundering comedian Rudy Ray Moore (Academy Award nominee Eddie Murphy) has an epiphany that turns him into a word-of-mouth sensation: step onstage as someone else. Borrowing from the street mythology of 1970s Los Angeles, Moore assumes the persona of Dolemite, a pimp with a cane and an arsenal of obscene fables. However, his ambitions exceed selling bootleg records deemed too racy for mainstream radio stations to play. Moore convinces a social justice-minded dramatist (Keegan-Michael Key) to write his alter ego a film, incorporating kung fu, car chases, and Lady Reed (Da'Vine Joy Randolph), an ex-backup singer who becomes his unexpected comedic foil. Despite clashing with his pretentious director, D'Urville Martin (Wesley Snipes), and countless production hurdles at their studio in the dilapidated Dunbar Hotel, Moore's Dolemite becomes a runaway box office smash and a defining movie of the Blaxploitation era.
Comics and rappers have praised Moore as a pioneering influence over the past few decades, and Dolemite Is My Name is a hilarious celebration of a singular talent who made his own legend. From director Craig Brewer (Hustle & Flow, Empire); Emmy and Golden Globe-winning writers Scott Alexander and Larry Karaszewski (Ed Wood, The People vs. O.J. Simpson); and the producing team of Oscar and Golden Globe nominee John Davis (Ferdinand, Joy), Golden Globe nominee John Fox (Joy) and Murphy; the film features an all-star supporting cast — including Mike Epps, Craig Robinson, Tituss Burgess, Kodi Smit-McPhee, Snoop Dogg, Ron Cephas Jones, Barry Shabaka Henley, Tip 'TI' Harris, Luenell, Tasha Smith — plus costumes designed by Academy Award winner Ruth E. Carter (Black Panther). 
Cast: Eddie Murphy, Keegan-Michael Key, Mike Epps, Craig Robinson, Tituss 
Burgess, Da'Vine Joy Randolph, Kodi Smit-Mcphee, Snoop Dogg, Ron Cephas 
Jones, Barry Shabaka Henley, Tip 'TI' Harris, Luenell, Tasha Smith, and Wesley Snipes
In select theaters and on Netflix this Fall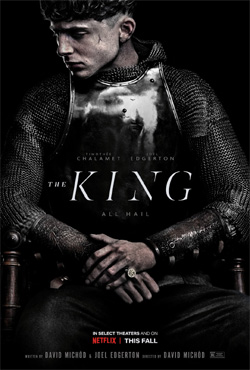 Hal (Timothée Chalamet), wayward prince and reluctant heir to the English throne, has turned his back on royal life and is living among the people. But when his tyrannical father dies, Hal is crowned King Henry V and is forced to embrace the life he had previously tried to escape. Now the young king must navigate the palace politics, chaos and war his father left behind, and the emotional strings of his past life — including his relationship with his closest friend and mentor, the ageing alcoholic knight, John Falstaff (Joel Edgerton). Directed by David Michôd and co-written by Michôd and Edgerton, THE KING co-stars Sean Harris, Ben Mendelsohn, Robert Pattinson, and Lily-Rose Depp.
Starring Timothée Chalamet, Joel Edgerton, Sean Harris, Lily-Rose Depp with Robert Pattinson and Ben Mendelsohn
In select theaters and on Netflix this Fall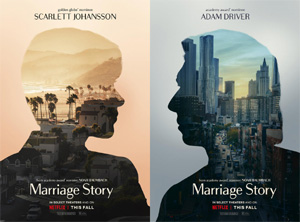 MARRIAGE STORY is Academy Award nominated filmmaker Noah Baumbach's incisive and compassionate portrait of a marriage breaking up and a family staying together. The film stars Scarlett Johansson and Adam Driver, Laura Dern, Alan Alda, and Ray Liotta co-star.
Starring Scarlett Johansson, Adam Driver, Laura Dern, Alan Alda, Ray Liotta, Julie Hagerty, Merritt Wever and Azhy Robertson, with Wallace Shawn, Martha Kelly and Mark O'Brien.
Bruce Springsteen invites you to experience his latest album as a special cinematic event.
Western Stars in theaters this fall.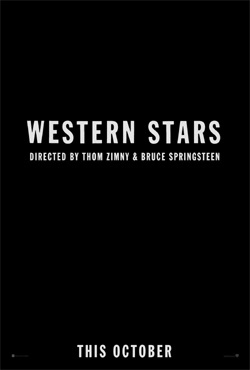 Warner Bros. Pictures will release a cinematic film version of Bruce Springsteen's latest album, Western Stars, worldwide, on the big screen.  Longtime collaborator Thom Zimny directs together with Springsteen in his directorial debut.  The announcement was made by Toby Emmerich, Chairman Warner Bros. Pictures Group.  "Western Stars," which will make its world premiere at the 2019 Toronto International Film Festival, is slated for release this fall. 
Springsteen's first studio album in five years, Western Stars marks a departure for the legendary singer/songwriter while still drawing on his roots.  Touching on themes of love and loss, loneliness and family and the inexorable passage of time, the documentary film evokes the American West—both the mythic and the hardscrabble—weaving archival footage and Springsteen's personal narration with song to tell the story of Western Stars.
"Western Stars" offers fans the world over their only opportunity to see Springsteen perform all 13 songs on the album, backed up by a band and a full orchestra, under the cathedral ceiling of his historic nearly 100-year-old barn.
            Emmerich stated, "Bruce lives in the super rarified air of artists who have blazed new and important trails deep into their careers.  With 'Western Stars,' Bruce is pivoting yet again, taking us with him on an emotional and introspective cinematic journey, looking back and looking ahead.  As one of his many fans for over 40 years, I couldn't be happier to be a rider on this train with Bruce and Thom."
            Western Stars, Springsteen's 19th studio album, has achieved global success.  It has been #1 on the iTunes charts on every continent, including such countries as the U.S., the UK, Belgium, Germany, Spain, Italy, the Netherlands, Australia, India, South Africa, and all of Scandinavia, among other countries.  It has also received rave reviews, with critics using words like "hauntingly brilliant," "beguiling," "gorgeous" and a "masterpiece."
Springsteen and Zimny, who together helmed "Western Stars," have collaborated on several projects over the years, including the documentary "The Promise: The Making of Darkness on the Edge of Town," and the Netflix filmed version of the Tony Award-winning "Springsteen on Broadway," which Zimny directed.
            "Western Stars" is written and performed by Bruce Springsteen, with Special Guest Patti Scialfa.  Thom Zimny, Jon Landau, Barbara Carr and George Travis produced the film, with Springsteen serving as executive producer.  The original score is by Springsteen.
Releases Globally on Netflix on October 11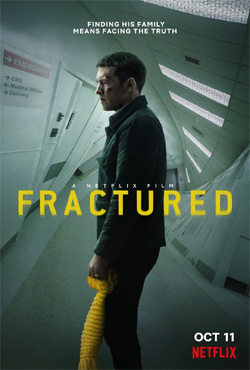 Driving home after a tense holiday weekend with his in-laws, Ray Monroe (Sam Worthington), a well-meaning but overwhelmed family man, pulls into a rest area with his wife Joanne (Lily Rabe) and daughter Peri (Lucy Capri). The trip takes a turn for the worse when Peri is hurt in an accident and the family rushes to a nearby emergency room run by a staff with dubious intentions. After being sent away for further testing Peri and Joanne vanish and all records of their visit disappear. Ray's concern turns into a desperate race to find his family and discover the truth of what happened to them.
Starring Sam Worthington, Lily Rabe, Stephen Tobolowsky, Adjoa Andoh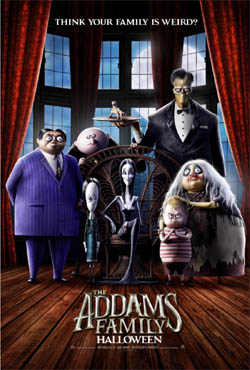 In Theaters Everywhere October 11th
In Theaters Everywhere October 11thGet ready to snap your fingers! The Addams Family is back on the big screen in the first animated comedy about the kookiest family on the block. Funny, outlandish, and completely iconic, the Addams Family redefines what it means to be a good neighbor.
Producers: Gail Berman, Conrad Vernon, Alex Schwartz, Alison O'Brien
Executive Producers: Kevin Miserocchi, Andrew Mittman, Joe Earley
Cast: Oscar Isaac, Charlize Theron, Chloë Grace Moretz, Finn
Wolfhard, Nick Kroll with Bette Midler and Allison Janney.
NETFLIX ANNOUNCES El CAMINO: A BREAKING BAD MOVIE STARRING AARON PAUL FROM SONY PICTURES TELEVISION
The Netflix Television Event will launch globally on Friday, October 11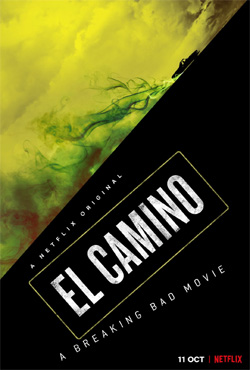 The Netflix Television Event EL CAMINO: A BREAKING BAD MOVIE reunites fans with Jesse Pinkman (Emmy-winner Aaron Paul).  In the wake of his dramatic escape from captivity, Jesse must come to terms with his past in order to forge some kind of future.  This gripping thriller is written and directed by Vince Gilligan, the creator of Breaking Bad.  The movie is produced by Mark Johnson, Melissa Bernstein, Charles Newirth, Diane Mercer and Aaron Paul, in association with Sony Pictures Television.
IN THEATRES OCTOBER 11, 2019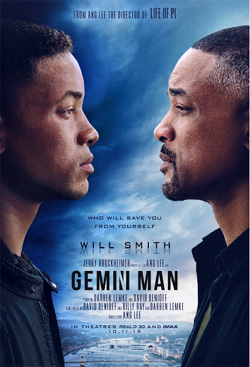 Gemini Man is an innovative action-thriller starring Will Smith as Henry Brogan, an elite assassin, who is suddenly targeted and pursued by a mysterious young operative that seemingly can predict his every move.  The film is directed by Academy Award®-winning filmmaker Ang Lee and produced by renown producers Jerry Bruckheimer, David Ellison, Dana Goldberg and Don Granger.  Also starring are Mary Elizabeth Winstead, Clive Owen and Benedict Wong. 
In Theaters October 18, 2019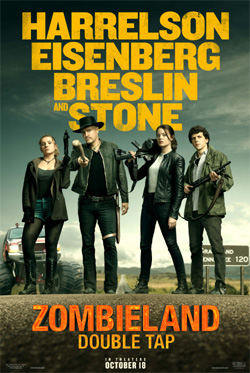 A decade after Zombieland became a hit film and a cult classic, the lead cast (Woody Harrelson, Jesse Eisenberg, Abigail Breslin, and Emma Stone) have reunited with director Ruben Fleischer (Venom) and the original writers Rhett Reese & Paul Wernick (Deadpool) for Zombieland: Double Tap. In the sequel, written by Rhett Reese & Paul Wernick and Dave Callaham, through comic mayhem that stretches from the White House and through the heartland, these four slayers must face off against the many new kinds of zombies that have evolved since the first movie, as well as some new human survivors. But most of all, they have to face the growing pains of their own snarky, makeshift family.
Cast: Woody Harrelson ,Jesse Eisenberg and Emma Stone, Abigail Breslin , Rosario Dawson ,Zoey Deutch, Luke Wilson.
MALEFICENT: MISTRESS OF EVIL
In Theaters October 18, 2019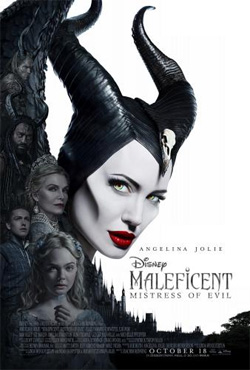 The years have been kind to Maleficent and Aurora. Their relationship, born of heartbreak, revenge and ultimately love, has flourished. Yet the hatred between man and the fairies still exists. Aurora's impending marriage to Prince Phillip is cause for celebration in the kingdom of Ulstead and the neighboring Moors, as the wedding serves to unite the two worlds. When an unexpected encounter introduces a powerful new alliance, Maleficent and Aurora are pulled apart to opposing sides in a Great War, testing their loyalties and causing them to question whether they can truly be family.
Cast: Angelina Jolie, Elle Fanning, Chiwetel Ejiofor, Sam Riley, Harris Dickinson, Ed Skrein, Imelda Staunton, Juno Temple, Lesley Manville and Michelle Pfeiffer.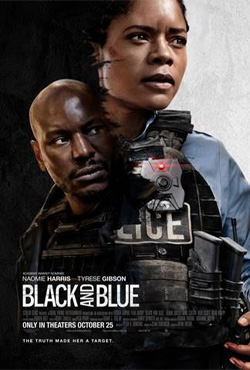 BLACK AND BLUE is a fast-paced action thriller about a rookie cop (Academy Award® nominee Naomie Harris) who inadvertently captures the murder of a young drug dealer on her body cam. After realizing that the murder was committed by corrupt cops, she teams up with the one person from her community who is willing to help her (Tyrese Gibson) as she tries to escape both the criminals out for revenge and the police who are desperate to destroy the incriminating footage.
Cast: Naomie Harris, Tyrese Gibson, Frank Grillo, Mike Colter, Reid Scott, Beau Knapp, Nafessa Williams.                                                                    
In Theatres November 1, 2019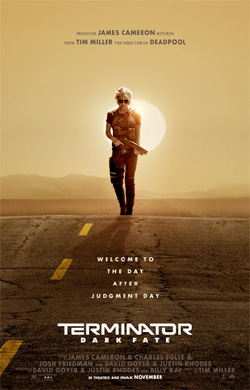 DIRECTED BY:
Tim Miller
PRODUCED BY:
James Cameron, David Ellison 
EXECUTIVE PRODUCED BY:
Dana Goldberg, Don Granger, Edward Cheng, Tim Miller, John J. Kelly, Bonnie Curtis, Julie Lynn
STORY BY:
James Cameron & Charles Eglee & Josh Friedman and David Goyer & Justin RhodesSCREENPLAY BY:
David Goyer & Justin Rhodes and Billy Ray
STARRING:
Linda Hamilton, Arnold Schwarzenegger, Mackenzie Davis, Natalia Reyes, Gabriel Luna, Diego Boneta
SONIC THE HEDGEHOG is a live-action adventure comedy based on the global blockbuster videogame franchise from Sega that centers on the infamously brash bright blue hedgehog. The film follows the (mis)adventures of Sonic as he navigates the complexities of life on Earth with his newfound – human – best friend Tom Wachowski (James Marsden). Sonic and Tom join forces to try and stop the villainous Dr. Robotnik (Jim Carrey) from capturing Sonic and using his immense powers for world domination. The film also stars Tika Sumpter and Ben Schwartz as the voice of Sonic.
STARRING: James Marsden, Ben Schwartz, Tika Sumpter, Natasha Rothwell, Neal McDonough, Adam Pally and Jim Carrey 
In Theaters November 8, 2019.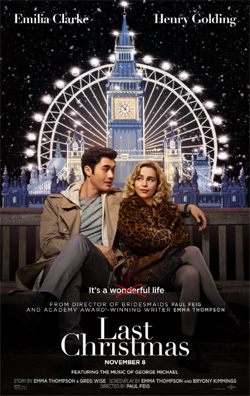 Emilia Clarke (HBO's Game of Thrones), Henry Golding (A Simple Favor, Crazy Rich Asians), Michelle Yeoh and Emma Thompson star for director Paul Feig (A Simple Favor, Spy, Bridesmaids) in Last Christmas, a romantic comedy inspired by a George Michael beat, from a screenplay by Academy Award® winner Thompson (Sense and Sensibility, Bridget Jones's Baby) and playwright Bryony Kimmings. 
Kate (Clarke) harumphs around London, a bundle of bad decisions accompanied by the jangle of bells on her shoes, another irritating consequence from her job as an elf in a year-round Christmas shop. Tom (Golding) seems too good to be true when he walks into her life and starts to see through so many of Kate's barriers. As London transforms into the most wonderful time of the year, nothing should work for these two. But sometimes, you gotta let the snow fall where it may, you gotta listen to your heart … and you gotta have faith.
IN THEATRES NOVEMBER 8, 2019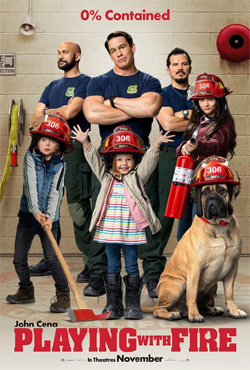 When straight-laced fire superintendent Jake Carson (John Cena) and his elite team of expert firefighters (Keegan-Michael Key, John Leguizamo and Tyler Mane) come to the rescue of three siblings (Brianna Hildebrand, Christian Convery and Finley Rose Slater) in the path of an encroaching wildfire, they quickly realize that no amount of training could prepare them for their most challenging job yet – babysitters. Unable to locate the children's parents, the firefighters have their lives, jobs and even their fire depot turned upside down and quickly learn that kids – much like fires –are wild and unpredictable.
STARRING: John Cena, Keegan-Michael Key, John Leguizamo, Brianna Hildebrand, Dennis Haybert, Judy Greer
Amazon Studios will release Honey Boy In Theaters November 8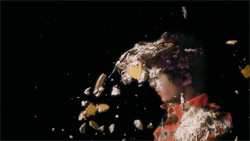 From a screenplay by Shia LaBeouf, based on his own experiences, award-winning filmmaker Alma Har'el (Bombay Beach, LoveTrue) brings to life a young actor's stormy childhood and early adult years as he struggles to reconcile with his father and deal with his mental health. Fictionalizing his ascent to stardom, and subsequent crash-landing into rehab and recovery, Har'el casts Noah Jupe (A Quiet Place) and Lucas Hedges (Boy Erased, Manchester by the Sea) as Otis Lort, navigating different stages in a frenetic career. LaBeouf takes on the therapeutic challenge of playing a version of his own father, an ex-rodeo clown and a felon. Dancer-singer FKA twigs makes her feature-film debut, playing neighbor and kindred spirit to the younger Otis in their garden-court motel home. Har'el's feature narrative debut is a one-of-a-kind collaboration between filmmaker and subject, exploring art as medicine and imagination as hope through the life and times of a talented, traumatized performer who dares to go in search of himself.
Starring:
Shia LaBeouf, Lucas Hedges, Noah Jupe and FKA twigs
THE WARRIOR QUEEN OF JHANSI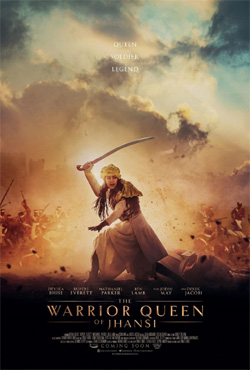 The Warrior Queen of Jhansi tells the true story of the legendary Rani (translation: Queen) of Jhansi, a feminist icon in India and a fearless freedom fighter.  In 1857 India, this 24-year old General led her people into battle against the British Empire earning the reputation as the Joan of Arc of the East.  This real-life Wonder Woman's insurrection shifted the balance of power in the region and set in motion the demise of the notorious British East India Company and the beginning of the British Raj under Queen Victoria.
Starring : Devika Bhise, Rupert Everett, Nathaniel Parker, Ben Lamb with Jodhi May and Derek Jacob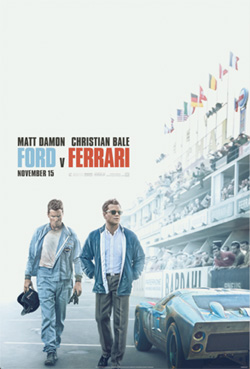 Academy Award-winners Matt Damon and Christian Bale star in FORD v FERRARI, based on the remarkable true story of the visionary American car designer Carroll Shelby (Damon) and the fearless British-born driver Ken Miles (Bale), who together battled corporate interference, the laws of physics, and their own personal demons to build a revolutionary race car for Ford Motor Company and take on the dominating race cars of Enzo Ferrari at the 24 Hours of Le Mans in France in 1966.
Cast: Matt Damon, Christian Bale, Jon Bernthal, Caitriona Balfe, Tracy Letts, Josh Lucas, Noah Jupe, Remo Girone, Ray McKinnon.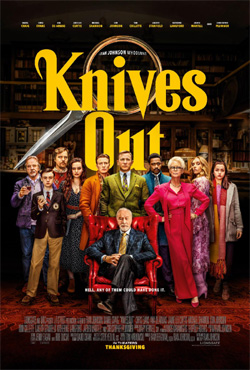 Acclaimed writer and director Rian Johnson (Brick,Looper, Star Wars: The Last Jedi) pays tribute to mystery mastermind Agatha Christie in KNIVES OUT, a fresh, modern-day murder mystery where everyone is a suspect.  When renowned crime novelist Harlan Thrombey (Christopher Plummer) is found dead at his estate just after his 85th birthday, the inquisitive and debonair Detective Benoit Blanc (Daniel Craig) is mysteriously enlisted to investigate. From Harlan's dysfunctional family to his devoted staff, Blanc sifts through a web of red herrings and self-serving lies to uncover the truth behind Harlan's untimely death. With an all-star ensemble cast including Chris Evans, Ana de Armas, Jamie Lee Curtis, Michael Shannon, Don Johnson, Toni Collette, LaKeith Stanfield, Katherine Langford and Jaeden Martell, KNIVES OUT is a fun, witty and stylish whodunit guaranteed to keep audiences guessing until the very end.
In select theaters on November 27 and on Netflix December 20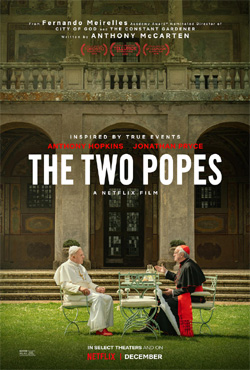 From Fernando Meirelles, the Academy Award-nominated director of "City of God," and three-time Academy Award-nominated screenwriter Anthony McCarten, comes an intimate story of one of the most dramatic transitions of power in the last 2,000 years. Frustrated with the direction of the church, Cardinal Bergoglio (Jonathan Pryce) requests permission to retire in 2012 from Pope Benedict (Anthony Hopkins). Instead, facing scandal and self-doubt, the introspective Pope Benedict summons his harshest critic and future successor to Rome to reveal a secret that would shake the foundations of the Catholic Church. Behind Vatican walls, a struggle commences between both tradition and progress, guilt and forgiveness, as these two very different men confront elements from their pasts in order to find common ground and forge a future for a billion followers around the world.
*Inspired by true events
In Theaters November 27, 2019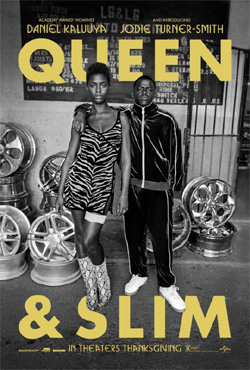 Terrified and in fear for their lives, the man, a retail employee, and the woman, a criminal defense lawyer, are forced to go on the run. But the incident is captured on video and goes viral, and the couple unwittingly become a symbol of trauma, terror, grief and pain for people across the country.
As they drive, these two unlikely fugitives will discover themselves and each 
other in the most dire and desperate of circumstances, and will forge a deep 
and powerful love that will reveal their shared humanity and shape the rest 
In Theaters November 15 On Prime Video November 29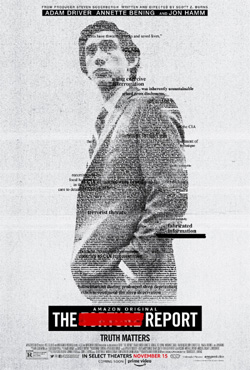 The Report is a riveting thriller based on actual events. Idealistic staffer Daniel J. Jones (Adam Driver) is tasked by his boss Senator Dianne Feinstein (Annette Bening) to lead an investigation of the CIA's Detention and Interrogation Program, which was created in the aftermath of 9/11. Jones' relentless pursuit of the truth leads to explosive findings that uncover the lengths to which the nation's top intelligence agency went to destroy evidence, subvert the law, and hide a brutal secret from the American public.
Starring: Adam Driver, Annette Bening, Ted Levine, Michael C. Hall, Tim Blake, Nelson
Corey Stoll, Maura Tierney
and Jon Hamm.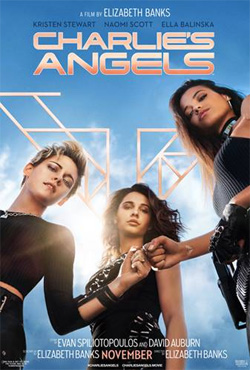 November 15, 2019
Elizabeth Banks directs the next generation of Angels - Kristen Stewart, Naomi Scott, and Ella Balinska - working for the mysterious Charles Townsend. Charlie's Angels have always provided security and investigative skills to private clients, and now the Townsend Agency has expanded internationally, with the smartest, most fearless, most highly trained women all over the globe - multiple teams of Angels guided by multiple Bosleys taking on the toughest jobs across the world. When a young systems engineer blows the whistle on a dangerous technology, these Angels are called into action, putting their lives on the line to protect us all. The screenplay is by Elizabeth Banks from a story by Evan Spiliotopoulos and David Auburn.
A BEAUTIFUL DAY IN THE NEIGHBORHOOD
In Theaters November 22, 2019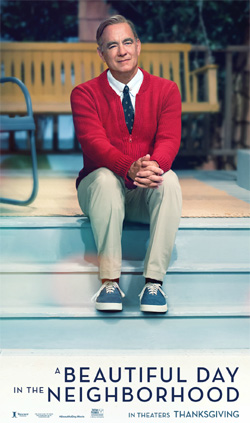 Tom Hanks portrays Mister Rogers in A Beautiful Day in the Neighborhood, a timely story of kindness triumphing over cynicism, based on the true story of a real-life friendship between Fred Rogers and journalist Tom Junod. After a jaded magazine writer (Emmy winner Matthew Rhys) is assigned a profile of Fred Rogers, he overcomes his skepticism, learning about empathy, kindness, and decency from America's most beloved neighbor.
Cast: Tom Hanks, Matthew Rhys, Susan Kelechi Watson and Chris Cooper
MOWGLI: LEGEND OF THE JUNGLE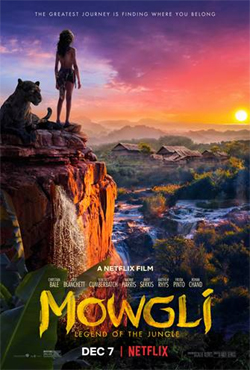 December 7
Acclaimed actor and director Andy Serkis reinvents Rudyard Kipling's beloved masterpiece, in which a boy torn between two worlds accepts his destiny and becomes a legend. Mowgli (Rohan Chand) has never truly belonged in either the wilds of the jungle or the civilized world of man. Now he must navigate the inherent dangers of each on a journey to discover where he truly belongs. Christian Bale, Cate Blanchett, Benedict Cumberbatch, Andy Serkis, Freida Pinto, Matthew Rhys and Naomie Harris lead an all-star cast along with newcomer Rohan Chand in this visually spectacular and emotionally moving adventure. MOWGLI: LEGEND OF THE JUNGLE will have exclusive limited theatrical engagements starting November 29 in Los Angeles, New York, San Francisco, and London. The film will be released globally on Netflix on December 7 and will have an expanded theatrical release in additional theaters in the U.S. and UK.
In Theaters December 13, 2019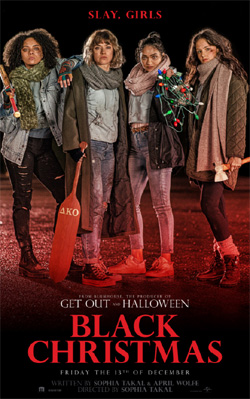 Just in time for the holidays comes a timely take on a cult horror classic as a campus killer comes to face a formidable group of friends in sisterhood.
Hawthorne College is quieting down for the holidays. But as Riley Stone (Imogen Poots, Green Room) and her Mu Kappa Epsilon sisters-athlete Marty (Lily Donoghue, The CW's Jane the Virgin), rebel Kris (Aleyse Shannon, The CW's Charmed), and foodie Jesse (Brittany O'Grady, Fox's Star)-prepare to deck the halls with a series of seasonal parties, a black-masked stalker begins killing sorority women one by one.
As the body count rises, Riley and her squad start to question whether they can trust any man, including Marty's beta-male boyfriend, Nate (Simon Mead, Same But Different: A True New Zealand Love Story), Riley's new crush Landon (Caleb Eberhardt, Amazon's Mozart in the Jungle) or even esteemed classics instructor Professor Gelson (Cary Elwes).
Whoever the killer is, he's about to discover that this generation's young women aren't about to be anybody's victims.
This December, on Friday the 13th, ring in the holidays by dreaming of a Black Christmas.  
Cast: Imogen Poots, Aleyse Shannon, Lily Donoghue, Brittany O'Grady,  Caleb Eberhardt, Simon Mead and Cary Elwes.
In Theaters December 13, 2019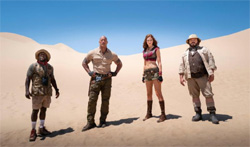 In Jumanji: The Next Level, the gang is back but the game has changed. As they return to Jumanji to rescue one of their own, they discover that nothing is as they expect. The players will have to brave parts unknown and unexplored, from the arid deserts to the snowy mountains, in order to escape the world's most dangerous game.
Cast:  Dwayne Johnson, Jack Black, Kevin Hart, Karen Gillan, Nick Jonas, Awkwafina,Ser'Darius Blain,
Madison Iseman, Morgan Turner, Alex Wolff with Danny Glover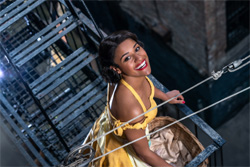 An adaptation of the original Broadway musical, WEST SIDE STORY explores young love and tensions between rival gangs the Jets and the Sharks on the streets of 1957 New York. The cast also includes Ansel Elgort (Tony); Rachel Zegler (Maria); Ana Isabelle (Rosalia); Corey Stoll (Lieutenant Schrank); Brian d'Arcy James (Officer Krupke); Curtiss Cook (Abe) and Academy Award®-winner Rita Moreno, who plays Valentina and also serves as one of the film's Executive Producers. The film is now in production for Twentieth Century Fox and The Walt Disney Studios.
WEST SIDE STORY is produced and directed by Steven Spielberg from a script by Academy Award®-nominated screenwriter and Pulitzer Prize-winning playwright Tony Kushner. The film has been adapted for the screen from the original 1957 Broadway musical, which was written by Arthur Laurents with music by Leonard Bernstein, lyrics by Stephen Sondheim and concept, direction and choreography by Jerome Robbins. Tony Award®-winner Justin Peck will choreograph the musical numbers in the film. Also leading the production are Tony Award®-winning producer Kevin McCollum and Academy Award®-nominated producer Kristie Macosko Krieger.
The film's music team includes renowned conductor Gustavo Dudamel, who will helm the recording of Bernstein's iconic score; Academy Award®-nominated composer and conductor David Newman (Anastasia) who will be arranging the score for the new adaptation; Tony Award®-winning composer Jeanine Tesori (Broadway's Fun Home and Thoroughly Modern Millie), who will be working with the cast on vocals; and Grammy®-nominated music supervisor Matt Sullivan (Beauty and the Beast, Chicago), who will serve as executive music producer for the film.
Writer-director Greta Gerwig (Lady Bird) has crafted a Little Women that draws on both the classic novel and the writings of Louisa May Alcott, and unfolds as the author's alter ego, Jo March, reflects back and forth on her fictional life.  In Gerwig's take, the beloved story of the March sisters – four young women each determined to live life on her own terms — is both timeless and timely.  Portraying Jo, Meg, Amy, and Beth March, the film stars Saoirse Ronan, Emma Watson, Florence Pugh, Eliza Scanlen, with Timothée Chalamet as their neighbor Laurie, Laura Dern as Marmee, and Meryl Streep as Aunt March.
Based on the Novel by: Louisa May Alco
Cast (In alphabetical order): Timothée Chalamet, Chris Cooper, Laura Dern, Louis Garrel, Tracy Letts, James Norton, Bob Odenkirk, Florence Pugh, Saoirse Ronan, Eliza Scanlen, Meryl Streep, Emma Watson.
UNDERWATER arrives in theaters everywhere on January 10, 2020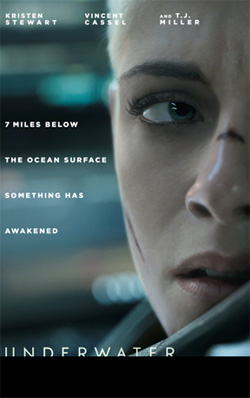 A crew of underwater researchers must scramble to safety after an earthquake devastates their subterranean laboratory.
Cast: Kristen Stewart, T.J. Miller, Vincent Cassel, John Gallagher Jr., Jessica Henwick, Mamoudou Athie, Gunner Wright
IN THEATRES JANUARY 10, 2020.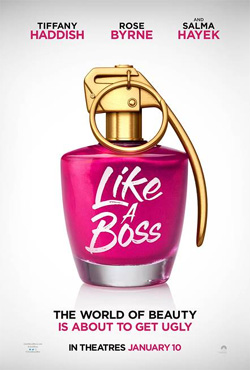 Best friends Mia and Mel (Tiffany Haddish and Rose Byrne) are living their best lives running their own cosmetics company they've built from the ground up. Unfortunately, they're in over their heads financially, and the prospect of a big buyout offer from a notorious titan of the cosmetics industry Claire Luna (Salma Hayek) proves too tempting to pass up, putting Mel and Mia's lifelong friendship in jeopardy. The beauty business is about to get ugly. LIKE A BOSS also stars Billy Porter, Jennifer Coolidge, Ari Graynor, Natasha Rothwell, Jessica St. Clair and Karan Soni.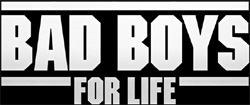 The Bad Boys Mike Lowrey (Will Smith) and Marcus Burnett (Martin Lawrence) are back together for one last ride in the highly anticipated Bad Boys for Life.
Cast: Will Smith, Martin Lawrence, Vanessa Hudgens, Alexander Ludwig, Charles Melton, Paola Nunez, Kate Del Castillo, Nicky Jam and Joe Pantoliano.
THE RHYTHM SECTION IS IN THEATRES JANUARY 31, 2020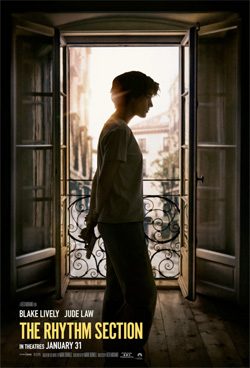 Blake Lively stars as Stephanie Patrick, an ordinary woman on a path of self-destruction after her family is tragically killed in a plane crash. When Stephanie discovers that the crash was not an accident, she enters a dark, complex world to seek revenge on those responsible and find her own redemption. Based on the novel by Mark Burnell, from director Reed Morano ("The Handmaid's Tale") and the producers of the James Bond film series, The Rhythm Section also stars Jude Law and Sterling K. Brown.
STARRING: Blake Lively, Jude Law, Sterling K. Brown
In Theaters: January 31, 2020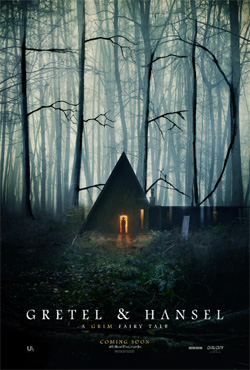 A long time ago in a distant fairytale countryside, a young girl leads her little brother into a dark wood in desperate search of food and work, only to stumble upon a nexus of terrifying evil. 
Starring: Sophia Lillis, Sammy Leakey, Alice Krige.
THE KING'S MAN arrives in theaters  in February 14, 2020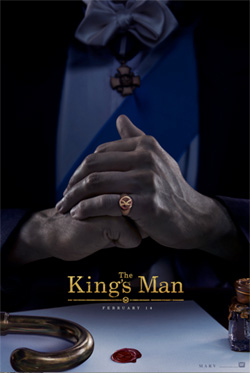 As a collection of history's worst tyrants and criminal masterminds gather to plot a war to wipe out millions, one man must race against time to stop them. Discover the origins of the very first independent intelligence agency in The King's Man, directed by Matthew Vaughn, coming to theaters February 2020.
Cast: Ralph Fiennes, Gemma Arterton, Rhys Ifans, Matthew Goode, Tom Hollander, Harris Dickinson, Daniel Brühl, with Djimon Hounsou, and Charles Dance
In theaters on April 8, 2020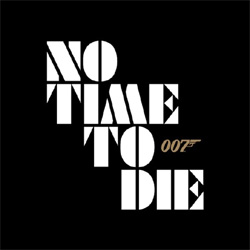 James Bond Producers, Michael G. Wilson and Barbara Broccoli today released the official title of the 25th James Bond adventure, No Time To Die. The film, from Albert R. Broccoli's EON Productions, Metro Goldwyn Mayer Studios (MGM), and Universal Pictures International is directed by Cary Joji Fukunaga (Beasts of No Nation, True Detective) and stars Daniel Craig, who returns for his fifth film as Ian Fleming's James Bond 007. Written by Neal Purvis & Robert Wade (Spectre, Skyfall), Cary Joji Fukunaga, Scott Z. Burns (Contagion, The Bourne Ultimatum) and Phoebe Waller-Bridge (Killing Eve, Fleabag) No Time To Die is currently in production. The film will be released globally from April 3, 2020 in the U.K. through Universal Pictures International and in the U.S on April 8, from MGM via their United Artists Releasing banner.
No Time To Die also stars Rami Malek, Léa Seydoux, Lashana Lynch, Ben Whishaw, Naomie Harris, Billy Magnussen, Ana de Armas, Rory Kinnear, David Dencik, Dali Benssalah with Jeffrey Wright and Ralph Fiennes.
In No Time To Die,Bond has left active service and is enjoying a tranquil life in Jamaica. His peace is short-lived when his old friend Felix Leiter from the CIA turns up asking for help. The mission to rescue a kidnapped scientist turns out to be far more treacherous than expected, leading Bond onto the trail of a mysterious villain armed with dangerous new technology.
Other members of the creative team are; Composer Dan Romer, Director of Photography Linus Sandgren, Editors Tom Cross and Elliot Graham, Production Designer Mark Tildesley, Costume Designer Suttirat Larlarb, Hair and Make-up Designer Daniel Phillips, Supervising Stunt Coordinator Olivier Schneider, Stunt Coordinator Lee Morrison and Visual Effects Supervisor Charlie Noble. Returning members to the team are; 2nd Unit Director Alexander Witt, Special Effects and Action Vehicles Supervisor Chris Corbould and Casting Director Debbie McWilliams.
Casino Royale, Quantum Of Solace, Skyfall and Spectre have grossed more than $3.1 billion in worldwide box office collectively. Skyfall ($1.1 billion) and Spectre ($880 million) are the two highest-grossing films in the franchise.