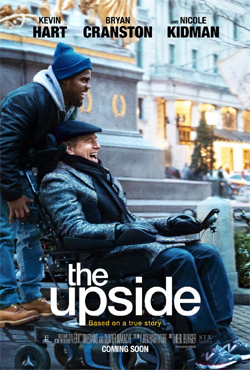 January 11, 2019
STXfilms, a division of Robert Simonds' STX Entertainment, partners with Lantern Entertainment to present The Upside, director Neil Burger's heartfelt comedy about a recently paroled ex-convict (Kevin Hart) who strikes up an unusual and unlikely friendship with a paralyzed billionaire (Bryan Cranston). The film also stars Nicole Kidman, Julianna Margulies and Aja Naomi King. Inspired by a true story, The Upside is written by Jon Hartmere, based on the hit 2011 French film The Intouchables.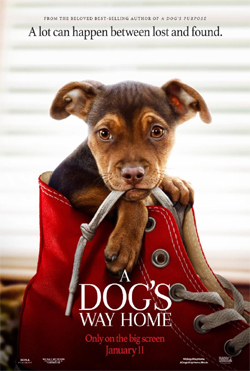 In Theaters January 11, 2019
A Dog's Way Home chronicles the heartwarming adventure of Bella, a dog who embarks on an epic 400-mile journey home after she is separated from her beloved human. "Finding Bella" takes us on the journey of a dog trying to get back to her owner. Bryce Dallas Howard, the voice of Bella, shares the story of how Shelby the dog was rescued and goes on a journey of her own. Discover Shelby's epic adventure as she finds her forever home and new life purpose as a therapy dog.
Cast: Ashley Judd , Jonah Hauer-King, Edward James Olmos , Alexandra Shipp
with Wes Studi, and Bryce Dallas Howard .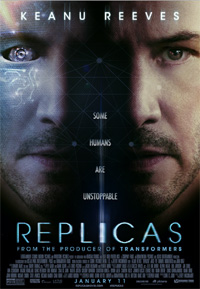 In Theaters January 11th, 2019
After a car accident kills his family, a daring synthetic biologist (Reeves) will stop at nothing to bring them back, even if it means pitting himself against a government-controlled laboratory, a police task force, and the physical laws of science.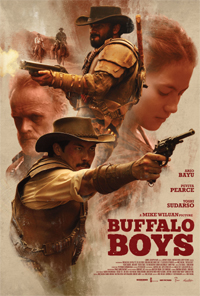 In Theaters January 11th, 2019
In 19th Century Java, a brutal massacre and the murder of Sultan Hamza by Captain Van Trach and his Dutch soldiers force Arana, Jamar and Suwo - the sultan's brother and infant sons - to flee the country, bringing them halfway around the world to the American Wild West. After working the railroads and learning the cowboy way of life, Arana tells the boys it's time to return to their homeland and avenge their father's death. Back on Indonesian soil, the hunt for their father's killer begins. Along the way, they meet some villagers including Kiona, the rebellious and beautiful headman's daughter who Suwo falls for, and soon find out that the treacherous Van Trach still rules the area. Their presence puts the village in danger, quickly turning their quest for revenge into a fight for freedom. With the odds stacked against them, Arana, Jamar and Suwo use the skills they learned from the wilds of America to face Van Trach and his army in a showdown for justice. Directed by: Mike Wiluan Written by: Raymond Lee, Mike Wiluan
Directed by: Mike Wiluan
Written by: Raymond Lee, Mike Wiluan
Cast: Yoshi Sudarso, Ario Bayu, Pevita Pearce, Tio Pakusadewo, Conan Stevens, Reinout Bussemaker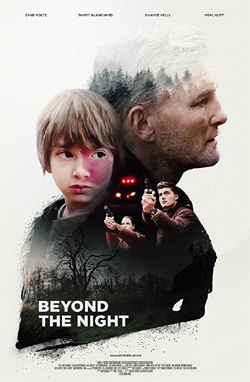 Opening in theaters January 11, 2019
BEYOND THE NIGHT is a mysterious thriller, revealing that some secrets don't die. When soldier Ray Marrow's son reveals damning information about a local gangster's missing daughter, a war of attrition wreaks havoc on their forgotten coal-mining town. Director Jason Noto brilliantly interweaves stories of complex familial relationships affected by war and trauma with the mystery surrounding a cold case murder. Beyond the Night comments on how our intuitive abilities can help us explain the seemingly inexplicable and lead us directly to what it is we're searching for.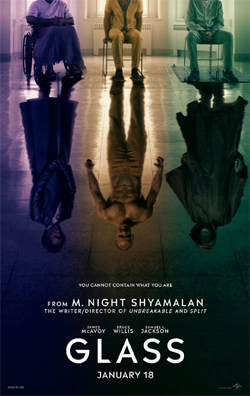 January 18, 2019
M. Night Shyamalan brings together the narratives of two of his standout originals-2000's Unbreakable, from Touchstone, and 2016's Split, from Universal-in one explosive, all-new comic-book thriller: Glass. From Unbreakable, Bruce Willis returns as David Dunn as does Samuel L. Jackson as Elijah Price, known also by his pseudonym Mr. Glass. Joining from Split are James McAvoy, reprising his role as Kevin Wendell Crumb and the multiple identities who reside within, and Anya Taylor-Joy as Casey Cooke, the only captive to survive an encounter with The Beast. Following the conclusion of Split, Glass finds Dunn pursuing Crumb's superhuman figure of The Beast in a series of escalating encounters, while the shadowy presence of Price emerges as an orchestrator who holds secrets critical to both men. Joining the all-star cast are Unbreakable's Spencer Treat Clark and Charlayne Woodard, who reprise their roles as Dunn's son and Price's mother, as well as Golden Globe Award winner Sarah Paulson (American Horror Story series). This riveting culmination of his worldwide blockbusters is produced by Shyamalan and Blumhouse Production's Jason Blum, who also produced the writer/director's previous two films for Universal. They produce again with Ashwin Rajan and Marc Bienstock, and Steven Schneider and Kevin Frakes, who executive produce. Gary Barber and Roger Birnbaum also serve as executive producers.
Evil Finds a New Destination on the Big Screen as 'The Final Wish' Arrives in Cinemas for a One-Night Event on January 24, 2019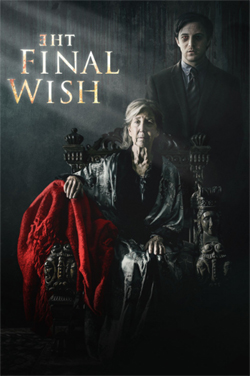 The Final Wish
From the creator of the Final Destination franchise comes a new, twisted tale of death in "The Final Wish." Following the passing of his father, Aaron returns home to his devastated mother and to confront his past demons. Sifting through his father's belongings, he stumbles upon an urn which is far more than it seems. Coming to movie theaters nationwide for one night on January 24, "The Final Wish" event will include a special introduction by Lin Shaye along with a pre-taped Q&A from Screamfest Horror Film Festival with actors Lin Shaye (Insidious, The Grudge), Michael Welch (The Twilight Saga), Tony Todd (Candyman, Final Destination) and Melissa Bolona (The Hurricane Heist), director Timothy Woodward Jr. (Hickok, Gangster Land) and Final Destination creator Jeffrey Reddick. Tickets for "The Final Wish" can be purchased beginning December 14 at www.FathomEvents.com and participating theater box offices.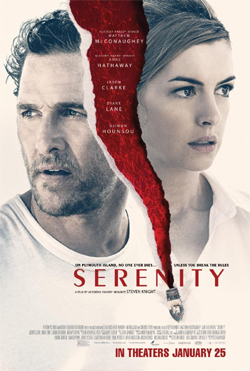 JANUARY 25, 2019
From the creative mind of Oscar nominee Steven Knight comes a daringly original, sexy, stylized thriller. Baker Dill (Academy Award winner Matthew McConaughey) is a fishing boat captain leading tours off a tranquil, tropical enclave called Plymouth Island. His quiet life is shattered, however, when his ex-wife Karen (Academy Award winner Anne Hathaway) tracks him down with a desperate plea for help. She begs Dill to save her - and their young son - from her new, violent husband (Jason Clarke) by taking him out to sea on a fishing excursion, only to throw him to the sharks and leave him for dead. Karen's appearance thrusts Dill back into a life he'd tried to forget, and as he struggles between right and wrong, his world is plunged into a new reality that may not be all that it seems.
THE KID WHO WOULD BE KING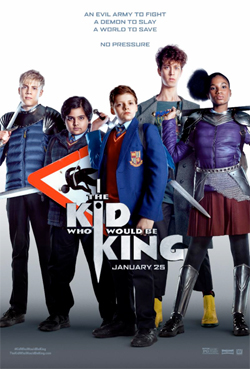 January 25, 2019
Old school magic meets the modern world in the epic adventure THE KID WHO WOULD BE KING. Alex (Ashbourne Serkis) thinks he's just another nobody, until he stumbles upon the mythical Sword in the Stone, Excalibur. Now, he must unite his friends and enemies into a band of knights and, together with the legendary wizard Merlin (Stewart), take on the wicked enchantress Morgana (Ferguson). With the future at stake, Alex must become the great leader he never dreamed he could be. The film is written and directed by Joe Cornish and stars Louis Ashbourne Serkis, Dean Chaumoo, Tom Taylor, Rhianna Dorris, Angus Imrie, with Rebecca Ferguson and Patrick Stewart.
Naoko Yamada's Animated Masterpiece, 'A Silent Voice,' Back in U.S. Cinemas for Two Days only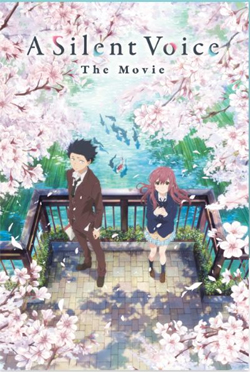 Eleven Arts and Fathom Events Partner to Bring Movie Anime Feature to 500-Plus Big Screens Nationwide on Monday, January 28 and Thursday, January 31
ELEVEN Arts and Fathom Events are proud to announce the return of director Naoko Yamada's stunningly animated coming-of-age drama "A Silent Voice." The hit Japanese film is a moving depiction of the struggles of adolescence told through its memorable characters and beautiful animation. In addition to the full feature, attendees will view a short feature and interview with the dub voice of Shoko Nishimiya, Lexi Cowden, from a deaf community group, where she talks about her experience and how it relates to the film. Tickets for "A Silent Voice" are available now online at www.FathomEvents.com and at participating box offices. "A Silent Voice" comes to move than 500 U.S. cinemas on Monday, January 28 (in Japanese, subtitled in English) and Thursday, January 31 at 7:00 p.m. local time (dubbed in English). For a complete list of theater locations, visit the Fathom Events website (theaters and participants are subject to change). "A Silent Voice" is based on Yoshitoki Oima's manga of the same name, and the plot centers on a deaf girl, Shoko Nishimiya. After transferring into a new school, Shoko is bullied by the popular Shoya Ishida. As Shoya continues to bully Shoko the class turns its back on him. Shoko transfers and Shoya grows up as an outcast. Alone and depressed, the regretful Shoya finds Shoko to make amends. The English dub cast includes Robbie Daymond as Shoya Ishida, Ryan Shanahan as Shoya (older), Kira Buckland as Naoka Ueno, Gia Grace as Naoka (older), Amber Lee Conners as Miki Kawai, Annabelle Corigliano as Miki (older), Melissa Hope as Miyoko Sahara, Catie Harvery as Miyoko (older), Michael Sinterniklaas as Kazuki Shimada, Spencer Rosen as Kazuki (older), Kristen Sullivan as Yuzuru Nishimiya, Lipica Shah as Yaeko Nishimiya, Janis Carol as Ito Nishimiya, Sara Cravens as Miyoko Ishida, and Graham Halstead as Nagatsuka. "We are pleased to partner again with our friends at ELEVEN Arts to bring another highly-anticipated title to American shores," Fathom Events CEO Ray Nutt said. "Beyond its sheer entertainment value, the hit 'A Silent Voice' deals with timely themes and important subject matter."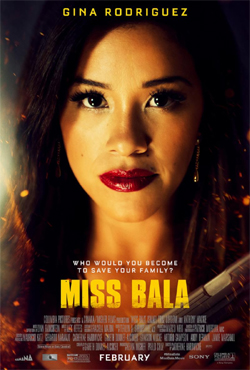 February 1, 2019
Gloria (Gina Rodriguez) finds a power she never knew she had when she is drawn into a dangerous world of cross-border crime. Surviving will require all of her cunning, inventiveness, and strength.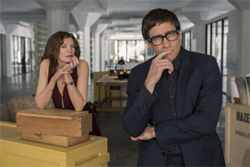 Launching on Netflix and in select theaters February 1, 2018
Velvet Buzzsaw is a satirical thriller set in the contemporary art world scene of Los Angeles where big money artists and mega-collectors pay a high price when art collides with commerce. About Velvet Buzzsaw Written and directed by Dan Gilroy, Velvet Buzzsaw is produced by Jennifer Fox and stars Jake Gyllenhaal, Rene Russo, Zawe Ashton, Natalia Dyer, John Malkovich, Daveed Diggs, Toni Collette and Tom Sturridge.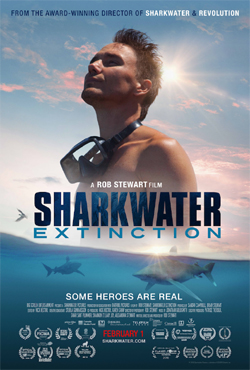 February 1st 2019
This documentary is a thrilling, action adventure journey that follows filmmaker Rob Stewart as he exposes the billion dollar illegal shark fin industry and the political corruption behind it. From West Africa, Spain, Panama, Costa Rica and France, to California, Stewart's third film dives into the often violent underworld of the pirate fishing trade. SHARKWATER EXTINCTION is a follow up to the critically acclaimed SHARKWATER, Rob Stewart's first film. Shark finning is still rampant, shark fin soup is still being consumed, and endangered sharks are now also being used to make products for human consumption. Stewart's mission is to save the sharks and oceans before it's too late.
The Least of the These: The Graham Staines Story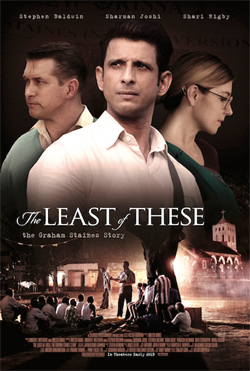 February 1st 2019
As the social fabric of life in rural India disintegrates in the late 1990s, journalist Manav Banerjee (Sharman Joshi) moves with his pregnant wife to the town of Orissa in hope of a better life and the promise of a lucrative career. When speculation mounts that local Australian missionary Graham Staines (Stephen Baldwin) is illegally proselytizing leprosy patients, Manav agrees to investigate undercover for the newspaper. What he finds is a series of revelations that are difficult to fathom and even harder to explain, and Manav is forced to make a choice between his own ambition and the truth. In the end, his actions spark a tragic event that is felt around the world. Based on a true story and shot on location in India, "THE LEAST OF THESE" beautifully illustrates the power of love, hope and forgiveness to overcome hate. Starring: Sharman Joshi (as Manav Banerjee) Stephen Baldwin (as Graham Staines) Shari Rigby (as Gladys Staines) Manoj Mishra (as Mahendra) Prakash Belawadi (as Kedar Mishra)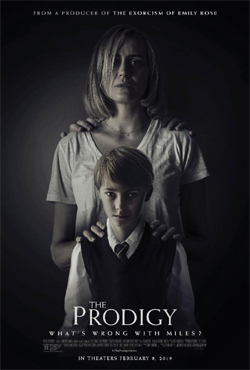 IN THEATRES FEBRUARY 8, 2019
In her much-anticipated foray into the horror-thriller genre, Taylor Schilling stars in THE PRODIGY as Sarah, a mother whose young son Miles' disturbing behavior signals that an evil, possibly supernatural force has overtaken him. Fearing for her family's safety, Sarah must grapple with her maternal instinct to love and protect Miles in favor of investigating what - or who - is causing his dark turn. She is forced to look for answers in the past, taking the audience on a wild ride; one where the line between perception and reality remains blurry.
Starring: Taylor Schilling, Jackson Robert Scott, Peter Mooney, and Colm Feore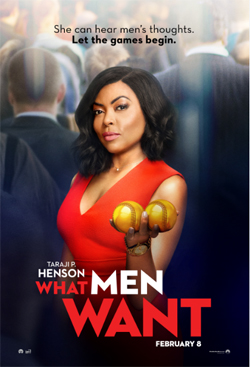 IN THEATRES FEBRUARY 8, 2019
Ali Davis (Taraji P. Henson) is a successful sports agent who's constantly boxed out by her male colleagues. When Ali is passed up for a well-deserved promotion, she questions what else she needs to do to succeed in a man's world... until she gains the ability to hear men's thoughts! With her newfound power, Ali looks to outsmart her colleagues as she races to sign the next basketball superstar, but the lengths she has to go to will put her relationship with her best friends and a potential new love interest (Aldis Hodge) to the test. WHAT MEN WANT is the latest comedy from director Adam Shankman (HAIRSPRAY) and producers Will Packer and James Lopez (GIRLS TRIP), co-starring Tracy Morgan, Richard Roundtree, Wendi McLendon-Covey, Josh Brener, Tamala Jones, Phoebe Robinson, Max Greenfield, Jason Jones, Brian Bosworth, Chris Witaske and Erykah Badu.
Starring: Taraji P. Henson, Aldis Hodge, Richard Roundtree, Wendi McLendon-Covey and Tracy Morgan 
Josh Groban's Sold-Out Bridges Concert at Madison Square Garden Comes to Cinemas Nationwide on Tuesday, February 12th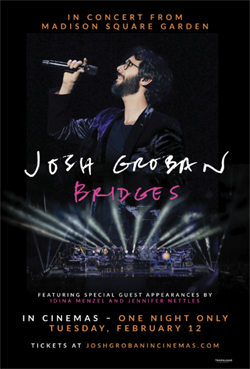 In Theaters February 12th, 2019
Multi-platinum award-winning singer, songwriter and global superstar Josh Groban announced today that his critically acclaimed, sold out performance from New York's famed Madison Square Garden, which recently marked the end of his Fall arena Bridges Tour, will be coming to cinemas nationwide on February 12th in collaboration with global event cinema distributor, Trafalgar Releasing and Warner Bros. Records. Described as "beautiful, pitch-perfect" (NY Times) and the "eighth world wonder" (Digital Journal), Groban's voice is instantly recognizable to fans around the world. Joining him on stage at this very special concert is Tony-Award winning, multi-platinum recording artist and actress, Idina Menzel as well as Grammy-Award winner and Billboard chart topper Jennifer Nettles. The Bridges Tour follows the release of Groban's eighth studio album, Bridges, which debuted at number one on the Billboard US Top Album Sales chart in October. Recorded before a live audience, the show includes a mixture of new songs and classic hits as well as duets with both Menzel and Nettles. Tickets for Josh Groban Bridges From Madison Square Garden will be on sale beginning today at JoshGrobaninCinemas.com or at participating theater box offices.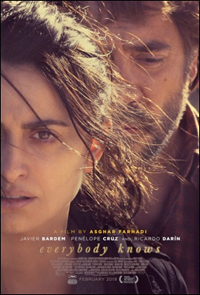 In Theaters February 8th, 2019
The film follows Laura (Cruz) on her travels from Argentina to her small home town in Spain for her sister's wedding, bringing her two children along for the occasion. Amid the joyful reunion and festivities, the eldest daughter is abducted. In the tense days that follow, various family and community tensions surface and deeply hidden secrets are revealed.
Writer/Director: Asghar Farhadi ("The Salesman," "A Separation")
Producers: Alexandre Mallet-Guy, Álvaro Longoria
Cast: Penélope Cruz, Javier Bardem, Ricardo Darín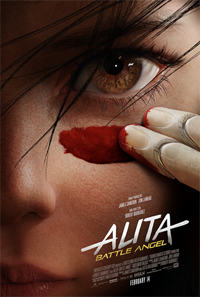 In Theaters February 14th, 2019
From visionary filmmakers James Cameron (AVATAR) and Robert Rodriguez (SIN CITY), comes ALITA: BATTLE ANGEL, an epic adventure of hope and empowerment. When Alita (Rosa Salazar) awakens with no memory of who she is in a future world she does not recognize, she is taken in by Ido (Christoph Waltz), a compassionate doctor who realizes that somewhere in this abandoned cyborg shell is the heart and soul of a young woman with an extraordinary past. As Alita learns to navigate her new life and the treacherous streets of Iron City, Ido tries to shield her from her mysterious history while her street-smart new friend Hugo (Keean Johnson) offers instead to help trigger her memories. But it is only when the deadly and corrupt forces that run the city come after Alita that she discovers a clue to her past – she has unique fighting abilities that those in power will stop at nothing to control. If she can stay out of their grasp, she could be the key to saving her friends, her family and the world she's grown to love.
Directed by: Robert Rodriguez
Produced by: James Cameron, Jon Landau
Screenplay by: James Cameron and Laeta Kalogridis and Robert Rodriguez – Based upon the graphic novel ("Manga") series "GUNNM" by Yukito Kishiro
Cast: Rosa Salazar, Christoph Waltz, Jennifer Connelly, Mahershala Ali, Ed Skrein, Jackie Earle Haley, Keean Johnson.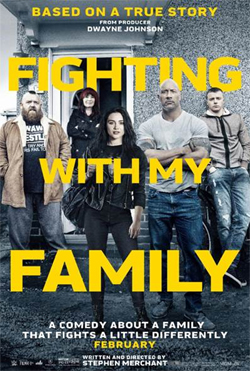 In Theaters February, 2019
Based on a true story, FIGHTING WITH MY FAMILY follows reformed gangster Ricky, wife Julia, daughter Paige and son Zak as they make a living wrestling together in tiny venues. When Paige and Zak get the opportunity to try out for WWE, the family grabs a once-in-a-lifetime chance to turn their wildest dreams into a dazzling future. However, brother and sister quickly discover that to become superstars, both their talent and their relationship will be put to the test. FIGHTING WITH MY FAMILY is a heartwarming and smart comedy that proves everything is worth fighting for when it comes to family.
Writer/Director: Stephen Merchant
Producers: Kevin Misher, Dwayne Johnson, Dany Garcia, Stephen Merchant, Michael J. Luisi
Executive Producers: Andy Berman, Hiram Garcia, Daniel Battsek, Tracey Josephs, David Kosse, Rhodri Thomas
Cast: Florence Pugh, Lena Headey, Nick Frost, Jack Lowden, with Vince Vaughn and Dwayne Johnson.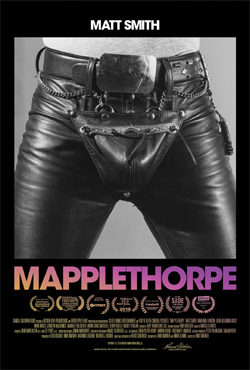 March 1st
Robert Mapplethorpe is arguably one of the most important artists of the 20th century. Mapplethorpe discovered himself both sexually and artistically in New York City throughout the 70's and 80's. The film depicts Mapplethorpe's life from moments before he and Patti Smith moved into the famed Chelsea hotel, home to a world of bohemian chic. Here, he begins photographing its inhabitants and his new found circle of friends including artists and musicians, socialites, film stars, and members of the S&M underground. Mapplethorpe's work displayed eroticism in a way that had never been examined nor displayed before to the public. Exploring the intersection of his art, his sexuality and his struggle for mainstream recognition, MAPPLETHORPE offers a nuanced portrait of an artist at the height of his craft and of the self-destructive impulses that threaten to undermine it all. Cast: Matt Smith, Marianne Rendón, John Benjamin Hickey, Mark Moses, Carolyn McCormick, Brian Stokes Mitchell, Kerry Butler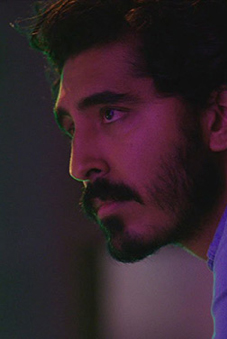 OPENS ON FRIDAY, MARCH 1 IN LOS ANGELES AND NEW YORK
This propulsive, globetrotting thriller from acclaimed director Michael Winterbottom is a breathless tour through the shadowy underworlds and hidden realms of Pakistan and India. Jay (Slumdog Millionaire's Dev Patel) is a man with a secret who travels from Britain to Pakistan to attend a wedding—armed with duct tape, a shotgun, and a plan to kidnap the bride-to-be (Radhika Apte). Despite his cool efficiency, the plot quickly spirals out of control, sending Jay and his hostage on the run across the border and through the railway stations, back alleys, and black markets of New Delhi—as all the while attractions simmer, loyalties shift, and explosive secrets are revealed. Pulsating with the sights and sounds of the Indian subcontinent, The Wedding Guest conjures a colorful world where danger lurks at every turn and nothing is as it seems.
CAST: Dev Patel, Radhika Apte, Jim Sarbh
March 1, 2019
A sweet, naïve young woman trying to make it on her own in New York City, Frances (Chloë Grace Moretz) doesn't think twice about returning the handbag she finds on the subway to its rightful owner. That owner is Greta (Isabelle Huppert), an eccentric French piano teacher with a love for classical music and an aching loneliness. Having recently lost her mother, Frances quickly grows closer to widowed Greta. The two become fast friends — but Greta's maternal charms begin to dissolve and grow increasingly disturbing as Frances discovers that nothing in Greta's life is what it seems in this suspense thriller from Academy Award®-winning director Neil Jordan. Cast: Isabelle Huppert, Chloë Grace Moretz, Maika Monroe, Colm Feore, Stephen Rea
How to Train Your Dragon: The Hidden World.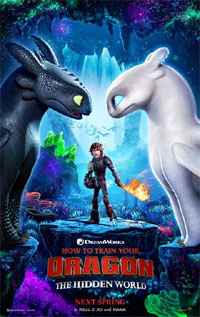 In Theaters March 1
From DreamWorks Animation comes the highly anticipated culmination of one of the most popular animated franchises in film history, How to Train Your Dragon: The Hidden World. What began as an unlikely friendship between an adolescent Viking and a fearsome Night Fury dragon has become an epic trilogy spanning their lives. In this next chapter, Hiccup and Toothless will finally discover their true destinies: the village chief as ruler of Berk alongside Astrid, and the dragon as leader of his own kind. As both ascend, the darkest threat they've yet faced—as well as the appearance of a female Night Fury—will test the bonds of their relationship like never before. For How to Train Your Dragon: The Hidden World, series director Dean DeBlois returns alongside the all-star cast. The film is produced by Brad Lewis (Ratatouille, ANTZ) and How to Train Your Dragon series producer Bonnie Arnold (Toy Story, Tarzan). www.howtotrainyourdragon.com
Genre: Epic Animated-Adventure
Cast: Jay Baruchel, America Ferrera, Cate Blanchett, Kit Harington, Craig Ferguson, F. Murray Abraham
Written and Directed by: Dean DeBlois
Based on the Books of: Cressida Cowell
Produced by: Brad Lewis, Bonnie Arnold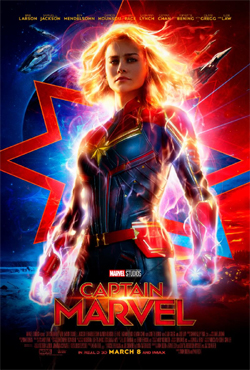 Opens in U.S. theaters on March 8, 2019
Set in the 1990s, Marvel Studios' "Captain Marvel" is an all-new adventure from a previously unseen period in the history of the Marvel Cinematic Universe that follows the journey of Carol Danvers as she becomes one of the universe's most powerful heroes. While a galactic war between two alien races reaches Earth, Danvers finds herself and a small cadre of allies at the center of the maelstrom. The film stars Brie Larson, Samuel L. Jackson, Ben Mendelsohn, Djimon Hounsou, Lee Pace, Lashana Lynch, Gemma Chan, Rune Temte, Algenis Perez Soto, Mckenna Grace, with Annette Bening, with Clark Gregg, and Jude Law. Marvel Studios' "Captain Marvel" is produced by Kevin Feige and directed by Anna Boden and Ryan Fleck. Louis D'Esposito, Victoria Alonso, Jonathan Schwartz, Patricia Whitcher and Stan Lee are the executive producers. The story is by Nicole Perlman and Joe Shrapnel & Anna Waterhouse, and the screenplay is by Anna Boden & Ryan Fleck and Geneva Robertson-Dworet and Jac Schaeffer.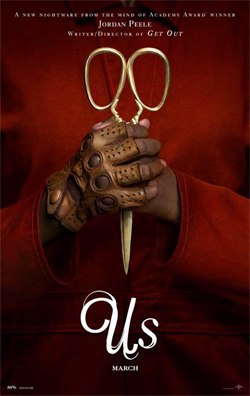 March 15, 2019
Visionary filmmaker and Academy Award® winner Jordan Peele, who created the blockbuster Get Out, follows that success with another original and provocative thriller: Us. Peele produces for his Monkeypaw Productions alongside Sean McKittrick and Jason Blum. Also producing is Monkeypaw's Ian Cooper. Written and directed by Peele. Cast: Lupita Nyong'o Winston Duke Elisabeth Moss Tim Heidecker Yahya Abdul-Mateen II Anna Diop Evan Alex Shahadi Wright Joseph Madison Curry Cali Sheldon Noelle Sheldon

WONDER PARK
In Theatres March 15, 2018
WONDER PARK tells the story of a magnificent amusement park where the imagination of a wildly creative girl named June comes alive. 
STARRING: Jennifer Garner, Matthew Broderick, John Oliver, Mila Kunis, Kenan Thompson, Ken Jeong, Norbert Leo Butz, Brianna Denski and Ken Hudson Campbell

March 15, 2019
Roman (Matthias Schoenaerts), a convict in a rural Nevada prison who struggles to escape his violent past, is required to participate in an "outdoor maintenance" program as part of his state-mandated social rehabilitation. Spotted by a no-nonsense veteran trainer (Bruce Dern) and helped by an outgoing fellow inmate and trick rider (Jason Mitchell), Roman is accepted into the selective wild horse training section of the program, where he finds his own humanity in gentling an especially unbreakable mustang. Cast: Matthias Schoenaerts, Connie Britton, Bruce Dern, Jason Mitchell, Gideon Adlon and Josh Stewart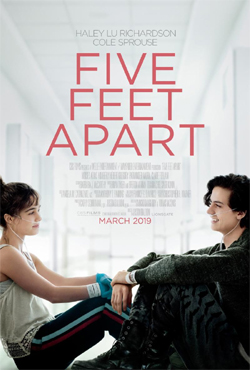 March 22, 2019
Stella Grant (Haley Lu Richardson) is every bit a seventeen-year-old...she's attached to her laptop and loves her best friends. But unlike most teenagers, she spends much of her time living in a hospital as a cystic fibrosis patient. Her life is full of routines, boundaries and self-control - all of which is put to the test when she meets an impossibly charming fellow CF patient named Will Newman (Cole Sprouse). There's an instant flirtation, though restrictions dictate that they must maintain a safe distance between them. As their connection intensifies, so does the temptation to throw the rules out the window and embrace that attraction. Further complicating matters is Will's potentially dangerous rebellion against his ongoing medical treatment. Stella gradually inspires Will to live life to the fullest, but can she ultimately save the person she loves when even a single touch is off limits? Starring Haley Lu Richardson (Split, The Edge of Seventeen), Cole Sprouse (Riverdale, THe Suite Life of Zack and Cody), Moises Arias (The Kings of Summer, Ben-Hur), Kimberly Hébert Gregory (Vice Principals), Paraminder Nagra (ER, Bend it Like Beckham), Claire Forlani (Crystal Inferno, Precious Cargo)
WHERE'D YOU GO BERNADETTE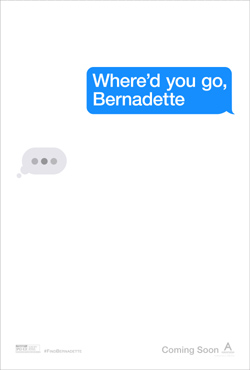 March 22, 2019
WHERE'D YOU GO, BERNADETTE is based on the runaway bestseller about Bernadette Fox, a Seattle woman who had it all - a loving husband and a brilliant daughter. When she unexpectedly disappears, her family sets off on an exciting adventure to solve the mystery of where she might have gone. Cast: Cate Blanchett, Billy Crudup, Kristen Wiig, Emma Nelson, James Urbaniak, Judy Greer, Troian Bellisario, Zoe Chao and Laurence Fishburne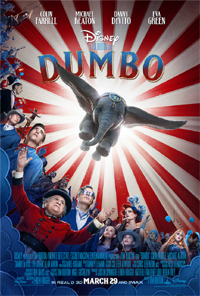 In Theaters March 29
From Disney and visionary director Tim Burton, the all-new grand live-action adventure "Dumbo" expands on the beloved classic story where differences are celebrated, family is cherished and dreams take flight. Circus owner Max Medici (Danny DeVito) enlists former star Holt Farrier (Colin Farrell) and his children Milly (Nico Parker) and Joe (Finley Hobbins) to care for a newborn elephant whose oversized ears make him a laughingstock in an already struggling circus. But when they discover that Dumbo can fly, the circus makes an incredible comeback, attracting persuasive entrepreneur V.A. Vandevere (Michael Keaton), who recruits the peculiar pachyderm for his newest, larger-than-life entertainment venture, Dreamland. Dumbo soars to new heights alongside a charming and spectacular aerial artist, Colette Marchant (Eva Green), until Holt learns that beneath its shiny veneer, Dreamland is full of dark secrets. Directed by Tim Burton ("Alice in Wonderland," "Charlie and the Chocolate Factory") from a screenplay by Ehren Kruger ("Ophelia," "Dream House"), and produced by Justin Springer ("TRON: Legacy"), Kruger, Katterli Frauenfelder ("Miss Peregrine's Home for Peculiar Children," "Big Eyes") and Derek Frey ("Miss Peregrine's Home for Peculiar Children," "Frankenweenie"), "Dumbo" flies into theaters on March 29, 2019.
Cast: Colin Farrell, Michael Keaton, Danny DeVito, Eva Green, Alan Arkin, Finley Hobbins, Nico Parker.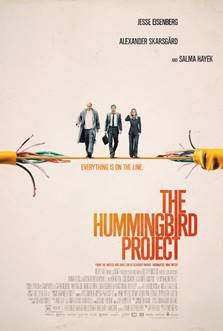 March 2019
In this modern epic, Kim Nguyen exposes the ruthless edge of our increasingly digital world. Cousins from New York, Vincent (Jesse Eisenberg) and Anton (Alexander Skarsgård) are players in the high-stakes game of High-Frequency Trading, where winning is measured in milliseconds. Their dream? To build a straight fiber-optic cable line between Kansas and New Jersey, making them millions. But nothing is straightforward for this flawed pair. Anton is the brains, Vincent is the hustler, and together they push each other and everyone around them to the breaking point with their quixotic adventure. Constantly breathing down their necks is their old boss Eva Torres (Salma Hayek), a powerful, intoxicating and manipulative trader who will stop at nothing to come between them and beat them at their own game.
Starring: JESSE EISENBERG, ALEXANDER SKARSGÅRD, SALMA HAYEK, MICHAEL MANDO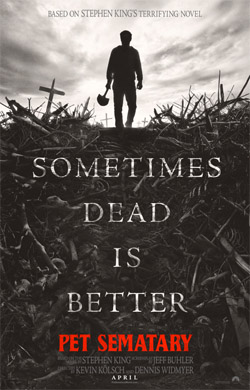 APRIL 5, 2019
Based on the seminal horror novel by Stephen King, Pet Sematary follows Dr. Louis Creed (Jason Clarke), who, after relocating with his wife Rachel (Amy Seimetz) and their two young children from Boston to rural Maine, discovers a mysterious burial ground hidden deep in the woods near the family's new home. When tragedy strikes, Louis turns to his unusual neighbor, Jud Crandall (John Lithgow), setting off a perilous chain reaction that unleashes an unfathomable evil with horrific consequences. STARRING: Jason Clarke Amy Seimetz Jeté Laurence Hugo & Lucas Lavoie John Lithgow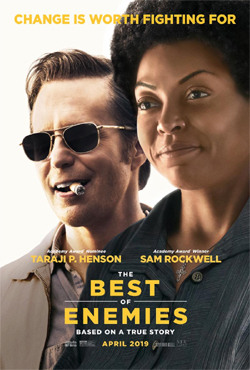 April 5, 2019
Based on a true story, THE BEST OF ENEMIES centers on the unlikely relationship between Ann Atwater (Henson), an outspoken civil rights activist, and C.P. Ellis (Rockwell), a local Ku Klux Klan leader who reluctantly co-chaired a community summit, battling over the desegregation of schools in Durham, North Carolina during the racially-charged summer of 1971. The incredible events that unfolded would change Durham and the lives of Atwater and Ellis forever.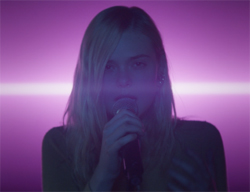 In Select Theaters April 5, 2019
Violet (Elle Fanning) is a shy teenager who dreams of escaping her small town and pursuing her passion to sing. With the help of an unlikely mentor, she enters a local singing competition that will test her integrity, talent and ambition. Driven by a pop-fueled soundtrack, "Teen Spirit" is a visceral and stylish spin on the Cinderella story. Featuring Elle Fanning performing music by Robyn, Ellie Goulding, Tegan & Sara, Annie Lennox, Orbital, Sigrid, Carly Rae Jepsen & Jack Antonoff, and music by Ariana Grande, Katy Perry, Grimes, The Undertones, Aqua, Alice Deejay, Whitfield, Major Lazer and No Doubt. Cast: Elle Fanning, Rebecca Hall, Zlatko Buric, Agnieszka Grochowska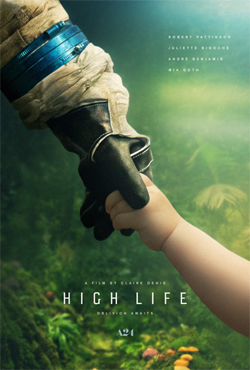 IN THEATERS APRIL 12
Juliette Binoche is a mad scientist in the first U.S. trailer for HIGH LIFE, the visionary and provocative new space odyssey from master filmmaker Claire Denis. STARRING: Robert Pattinson, Juliette Binoche, André Benjamin, and Mia Goth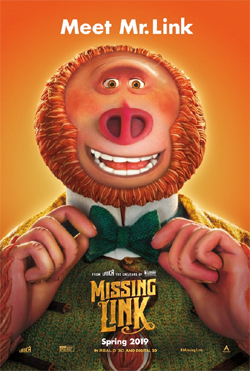 In Theaters April 12
This April, meet Mr. Link: 8 feet tall, 630 lbs, and covered in fur, but don't let his appearance fool you… he is funny, sweet, and adorably literal, making him the world's most lovable legend at the heart of Missing Link, the globe-trotting family adventure from LAIKA. Tired of living a solitary life in the Pacific Northwest, Mr. Link recruits fearless explorer Sir Lionel Frost to guide him on a journey to find his long-lost relatives in the fabled valley of Shangri-La. Along with adventurer Adelina Fortnight, our fearless trio of explorers encounter more than their fair share of peril as they travel to the far reaches of the world to help their new friend. Through it all, the three learn that sometimes you can find a family in the places you least expect.
Cast: Hugh Jackman, Zoe Saldana, Zach Galifianakis, Timothy Olyphant, David Walliams, Emma Thompson, Matt Lucas, Ching Valdes-Aran, Stephen Fry, Amrita Acharia
April 12
Girls Trip's Regina Hall and Black-ish's Marsai Martin both star as Jordan Sanders - Hall as the take-no-prisoners tech mogul adult version of Jordan and Martin as the 13-year-old version of her who wakes up in her adult self's penthouse just before a do-or-die presentation. Insecure's Issa Rae plays Jordan's long-suffering assistant April, the only one in on the secret that her daily tormentor is now trapped in an awkward tween body just as everything is on the line. Little is an irreverent new comedy about the price of success, the power of sisterhood and having a second chance to grow up - and glow up - right. Will Packer, blockbuster producer of Girls Trip, the Ride Along franchise, and ten movies that have opened No. 1 at the U.S. box office, including Night School, No Good Deed and Think Like a Man, brings an all-new perspective to the body-swap comedy. Little is directed by Tina Gordon (writer, Drumline) with a story by Tracy Oliver (Girls Trip) and a screenplay by Oliver and Gordon, based on an idea by teen actress Martin. The film is produced by Packer and his producing partner James Lopez and by Kenya Barris (Girls Trip, Black-ish), and is executive produced by Preston Holmes (Night School), Hall, Marsai Martin and Josh Martin.
Cast: Regina Hall Issa Rae and introducing Marsai Martin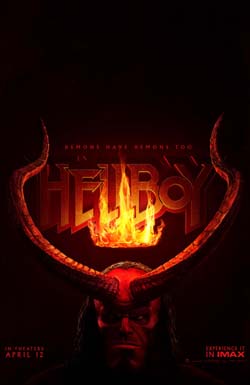 April 12
BREAKTHROUGH
In Theatres Easter 2019
BREAKTHROUGH is based on the inspirational true story of one mother's unfaltering love in the face of impossible odds. When Joyce Smith's adopted son John falls through an icy Missouri lake, all hope seems lost. But as John lies lifeless, Joyce refuses to give up. Her steadfast belief inspires those around her to continue to pray for John's recovery, even in the face of every case history and scientific prediction. From producer DeVon Franklin (Miracles from Heaven) and adapted for the screen by Grant Nieporte (Seven Pounds) from Joyce Smith's own book, BREAKTHROUGH is an enthralling reminder that faith and love can create a mountain of hope, and sometimes even a miracle.
Based on: The Impossible: The Miraculous Story of a Mother's Faith and Her Child's Resurrection by Joyce Smith
Cast: Chrissy Metz, Josh Lucas, Topher Grace, Mike Colter, Marcel Ruiz, Sam Trammell and Dennis Haysbert
The Intruder
In Theatres April 26, 2018
When a young married couple (Michael Ealy and Meagan Good) buys their dream house in the Napa Valley, they think they have found the perfect home to take their next steps as a family. But when the strangely attached seller (Dennis Quaid) continues to infiltrate their lives, they begin to suspect that he has hidden motivations beyond a quick sale.
Cast: Michael Ealy,Meagan Good,Joseph Sikora and Dennis Quaid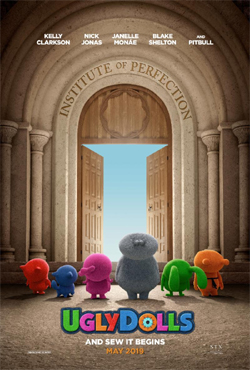 May 10, 2019
Unconventionality rules in UGLYDOLLS, STXfilms' new animated musical adventure starring the acting and singing voices of Kelly Clarkson, Nick Jonas, Janelle Monáe, Blake Shelton and Pitbull. The film is inspired by the unique and beloved global plush toy phenomenon launched in 2001. In the adorably different town of Uglyville, weird is celebrated, strange is special and beauty is embraced as more than simply meets the eye. Here, the free-spirited Moxy and her UglyDoll friends live every day in a whirlwind of bliss, letting their freak flags fly in a celebration of life and its endless possibilities. The endearingly unique residents of Uglyville occasionally look to the sky above the town, where a new UglyDoll will appear and be embraced by the community. Moxy (Kelly Clarkson) loves her square-peg life in this round-hole town, but her curiosity about all things leads her to wonder if there's something - anything - on the other side of the mountain which nestles Uglyville. Moxy gathers a group of her closest friends and sets off to find what's on the other side. They discover another world - Perfection - a town where more conventional dolls are trained in protocols before they graduate and are sent to the "real" world to find the love of a child. In Perfection, Moxy and her crew are subject to the manipulations of Lou (Nick Jonas), the perfect doll in charge of training recruits. Here, the UglyDolls will confront what it means to be different, struggle with their desire to be loved, and ultimately discover that you don't have to be perfect to be amazing because who you truly are is what matters most. Created as a plush toy line by David Horvath and Sun-Min Kim, the UglyDoll brand quickly gained a cult following around the world and was named Toy of the Year by the Toy Industry Association in 2006. Beloved by children, teenagers and adults alike, UglyDoll characters are distinct for their endearing "Uglyness," in a wonderful "Uglyverse" where differences are celebrated and embraced. Also starring in the voice cast of UGLYDOLLS are Wanda Sykes, Emma Roberts, Gabriel Iglesias, Wang Leehom, Bebe Rexha, Charli XCX and Lizzo.
JOHN WICK: CHAPTER 3 - PARABELLUM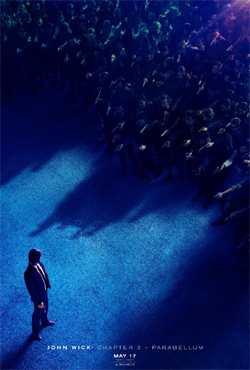 May 17, 2019
In this third installment of the adrenaline-fueled action franchise, super-assassin John Wick (Keanu Reeves) returns with a $14 million price tag on his head and an army of bounty-hunting killers on his trail. After killing a member of the shadowy international assassin's guild, the High Table, John Wick is excommunicado, but the world's most ruthless hit men and women await his every turn.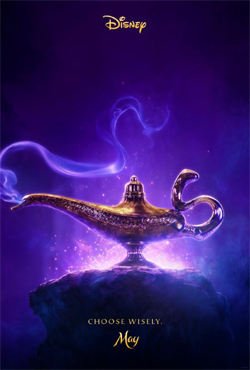 May 24, 2019
The Secret Life of Pets 2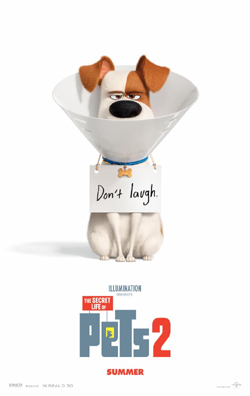 In Theaters: June 7, 2019
The Secret Life of Pets 2 will follow summer 2016's blockbuster about the lives our pets lead after we leave for work or school each day. Illumination founder and CEO Chris Meledandri and his longtime collaborator Janet Healy will produce the sequel to the comedy that had the best opening ever for an original film, animated or otherwise. The Secret Life of Pets 2 will see the return of writer Brian Lynch (Minions) and once again be directed by Chris Renaud (Despicable Me series, Dr. Seuss' The Lorax).
Cast: Lake Bell, Hannibal Buress, Dana Carvey, Harrison Ford, Tiffany Haddish, Kevin Hart, Pete Holmes, Garth Jennings, Ellie Kemper, Nick Kroll, Bobby Moynihan, Patton Oswald, Jenny Slate, Eric Stonestreet
MEN IN BLACK: INTERNATIONAL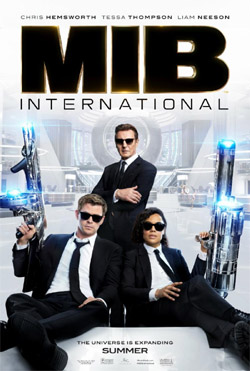 June 14th, 2019
The Men in Black have always protected the Earth from the scum of the universe. In this new adventure, they tackle their biggest, most global threat to date: a mole in the Men in Black organization. Cast: Chris Hemsworth Tessa Thompson Rebecca Ferguson Kumail Nanjiani Rafe Spall Laurent Bourgeois Larry Bourgeois with Emma Thompson and Liam Neeson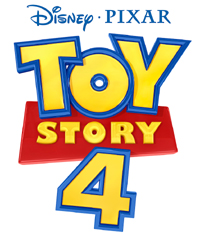 In Theaters June 21, 2019
Woody has always been confident about his place in the world and that his priority is taking care of his kid, whether that's Andy or Bonnie. But when Bonnie adds a reluctant new toy called "Forky" to her room, a road trip adventure alongside old and new friends will show Woody how big the world can be for a toy. Directed by Josh Cooley ("Riley's First Date?") and produced by Jonas Rivera ("Inside Out," "Up") and Mark Nielsen (associate producer "Inside Out"), Disney•Pixar's "Toy Story 4" ventures to U.S. theaters on June 21, 2019. Voice Cast: Tom Hanks, Tim Allen, Joan Cusack, Don Rickles, Estelle Harris, Wallace Shawn, John Ratzenberger, Jeff Pidgeon, Blake Clark, Tony Hale Director: Josh Cooley Producers: Jonas Rivera, Mark Nielsen History: "Toy Story," originally released on Nov. 22, 1995, was the first fully computer animated feature film and the highest grossing movie of the year. It was nominated for three Oscars® and two Golden Globes®. "Toy Story 2" is the first film ever to be entirely created, mastered and exhibited digitally. It was also the first animated sequel to gross more than its original, breaking opening weekend box office records in the U.S., UK and Japan, becoming the highest grossing animated release of 1999. It won the Golden Globe for best motion picture – comedy or musical. It won a Grammy® for best song written for a motion picture, television or other visual media (Randy Newman, "When She Loved Me"). Released in 2010, "Toy Story 3" won Oscars® for best animated feature film and best achievement in music written for motion pictures, original song (Randy Newman/"We Belong Together"). The film also won a Golden Globe® and BAFTA for best animated film. It was the second Pixar film to be nominated for the best picture Oscar. It's also Pixar's second highest-grossing film of all time behind "Incredibles 2." The 2015 short "Riley's First Date?" was helmed by director Josh Cooley and produced by Mark Nielsen.
47 METERS DOWN: THE NEXT CHAPTER
47 METERS DOWN: THE NEXT CHAPTER will open in theaters June 2019.
Entertainment Studios has released a new teaser for 47 METERS DOWN: THE NEXT CHAPTER, the sequel to the monster hit from last year that took a bite out of the independent box office. Johannes Roberts returns to the shark-infested waters as director.
Spider-Man: Far From Home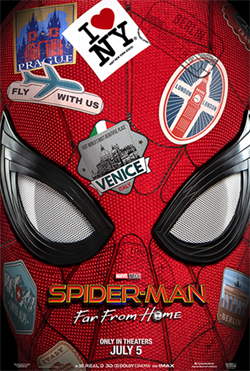 July 5, 2019
Peter Parker returns in Spider-Man™: Far From Home, the next chapter of the Spider-Man™: Homecoming series! Our friendly neighborhood Super Hero decides to join his best friends Ned, MJ, and the rest of the gang on a European vacation. However, Peter's plan to leave super heroics behind for a few weeks are quickly scrapped when he begrudgingly agrees to help Nick Fury uncover the mystery of several elemental creature attacks, creating havoc across the continent!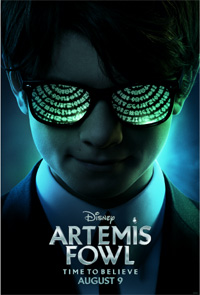 In Theaters August 9, 2019
Directed by Kenneth Branagh and based on the beloved book by Eoin Colfer, ARTEMIS FOWL follows 12-year-old genius Artemis Fowl, a descendant of a long line of criminal masterminds, as he finds himself in a battle of strength and cunning against a powerful, hidden race of fairies who may be behind his father's disappearance. The film stars Ferdia Shaw, Lara McDonnell, Tamara Smart, Nonzo Anozie, with Josh Gad, and Judi Dench. Judy Hofflund and Kenneth Branagh are producing with Angus More Gordon and Matthew Jenkins serving as executive producers. The screenplay is by Conor McPherson.
SCARY STORIES TO TELL IN THE DARK

AUGUST 9, 2019
Inspired by one of the most terrifying children's book series of all time, SCARY STORIES TO TELL IN THE DARK follows a group of young teens who must solve the mystery surrounding sudden and macabre deaths in their small town. Starring Zoe Colletti, Michael Garza, Gabriel Rush, Austin Abrams, Dean Norris, Gil Bellows, Lorraine Toussaint, Austin Zajur, Natalie Ganzhorn
ONCE UPON A TIME IN HOLLYWOOD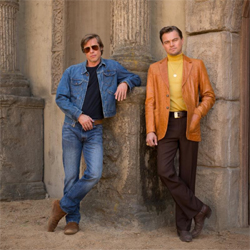 August 9, 2019
Quentin Tarantino's ninth feature film is a story that takes place in Los Angeles in 1969, at the height of hippy Hollywood. The two lead characters are Rick Dalton (Leonardo DiCaprio), former star of a western TV series, and his longtime stunt double Cliff Booth (Brad Pitt). Both are struggling to make it in a Hollywood they don't recognize anymore. But Rick has a very famous next-door neighbor...Sharon Tate.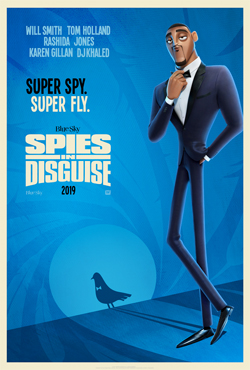 September 13, 2019
Super spy Lance Sterling (Will Smith) and scientist Walter Beckett (Tom Holland) are almost exact opposites. Lance is smooth, suave and debonair. Walter is... not. But what Walter lacks in social skills he makes up for in smarts and invention, creating the awesome gadgets Lance uses on his epic missions. But when events take an unexpected turn, Walter and Lance suddenly have to rely on each other in a whole new way. And if this odd couple can't learn to work as a team, the whole world is in peril. SPIES IN DISGUISE is an animated comedy set in the high-octane globe-trotting world of international espionage. Cast: Will Smith, Tom Holland, Ben Mendelsohn, Karen Gillan, Rashida Jones, DJ Khaled, Masi Oka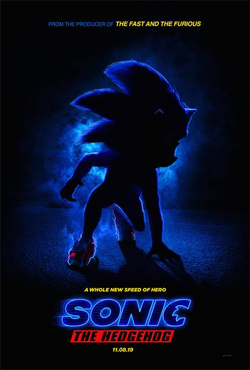 OPENS IN THEATRES NOVEMBER 8, 2019
Director: Jeff Fowler Cast: James Marsden, Ben Schwartz, Natasha Rothwell, Tika Sumpter, Neal McDonough, Adam Pally and Jim Carrey.
MOWGLI: LEGEND OF THE JUNGLE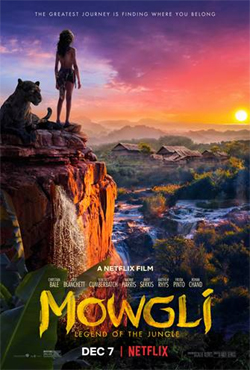 December 7
Acclaimed actor and director Andy Serkis reinvents Rudyard Kipling's beloved masterpiece, in which a boy torn between two worlds accepts his destiny and becomes a legend. Mowgli (Rohan Chand) has never truly belonged in either the wilds of the jungle or the civilized world of man. Now he must navigate the inherent dangers of each on a journey to discover where he truly belongs. Christian Bale, Cate Blanchett, Benedict Cumberbatch, Andy Serkis, Freida Pinto, Matthew Rhys and Naomie Harris lead an all-star cast along with newcomer Rohan Chand in this visually spectacular and emotionally moving adventure. MOWGLI: LEGEND OF THE JUNGLE will have exclusive limited theatrical engagements starting November 29 in Los Angeles, New York, San Francisco, and London. The film will be released globally on Netflix on December 7 and will have an expanded theatrical release in additional theaters in the U.S. and UK.