Concern Foundation's 45th Annual Block Party CALIFORNIA DREAMING to Conquer Cancer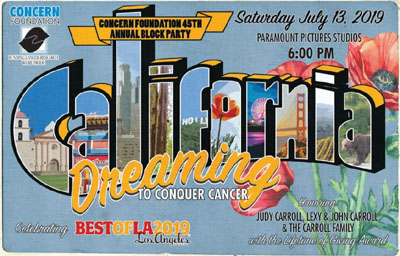 Saturday evening July 13, 2019 Concern Foundation's 45th Annual Block Party will be CALIFORNIA DREAMING to Conquer Cancer honoring Judy Carroll, Lexy & John Carroll & the Carroll Family with the Lifetime of Giving Award on the back lot of Paramount Studios in Hollywood.  The event will be designed once again by John Ferdenzi of Town and Country Event Rentals and is expected to the attended by 4,000 guests with a goal to exceed last year's $1.8 million dollars raised for cancer research.
For the 15th year in a row, Concern will help celebrate The Best of LA 2019® on Los Angeles magazine's street which will feature lounges, photo booths, food stations, DJ dancing and much, much more.  The magazine also donates $25,000 each year to Concern to help further the mission.

The backlot streets will be filled with over 75 food and beverage vendors under the direction of Nancy Eisenstadt including notable classics such as Vibrato Grill Jazz, Ocean Prime, The Grill on the Alley, Fogo de Chao, Atmosphere Restaurant, Outdoor Grill, Gyu-Kaku, The Urban Oven, Oak Smoke BBQ, STK, and Pink's Famous Hot Dogs just to name a few. Plenty of musical and interactive entertainment will held on multiple stages and various locations throughout the venue which will include photo studios, lounges and SPA services provided by the Beauty Bus Foundation.

One of the highlights of the evening will be The Silent Auction and live auction under the direction of this year's auction chairs Lynne Fox, Bettina Tendler O'Mara, Wendi Nogradi, and Courtney Teller.  Live and silent auction items and packages include one-of-a-kind opportunities, concert and event tickets, restaurants, staycations, golf packages and so many other wonderful items donated by our friends throughout the community.
​
Starting from a simple idea back in the early 70's and watching it become a reality with thousands of moving parts is the one thing that sets Concern's signature Block Party apart from most other organizations in this city. It takes a tremendous team comprised of three generations of volunteers all working together each year and this year's Block Party is on course to be one of our most successful fundraising events yet.
Taste of Wailea "The Best of The Best of Wailea's Best Chefs." during the 2019 Maui Film Festival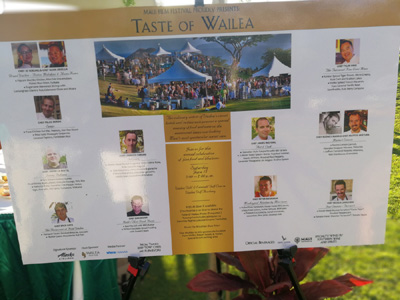 This premiere event also called the Crown Jewel' of the Festival's Culinary Arts Celebrations took place at the Wailea Golf Academy at Wailea Golf Club on Saturday, June 15th, 2019
Sponsors included: Alaska Airlines, Wailea Golf Club Gold & Emerald Courses, WHERE | HAWAII,
Grey Goose Vodka, Maui Brewing Co. and Specialty Wines by Southern Wine & Spirits, Taste of Wailea Chefs & Purveyors.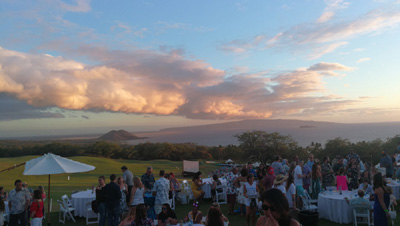 Taste of Chocolate at the 2019 Maui Film Festival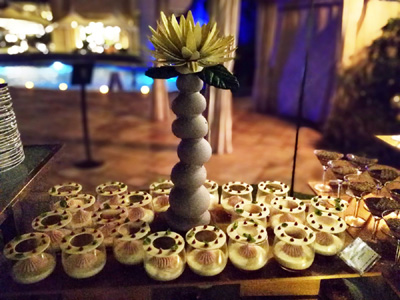 The event took place at the Four Seasons Resort Maui in Wailea on Thursday, June 13th, 2019.
One of Maui Film Festival's over-the-top event for chocolate lovers! The event featured extraordinary flavors and creations known as the Taste of Chocolate.
Sponsors included: Four Seasons Resort Maui at Wailea, Hawaii Tourism,Variety, Modern Luxury Hawaii, Grey Goose Vodka, Johnson Brothers and Maui Brewing Co.
Celebrities in attendance that evening included: Paul Rudd, Joe Manganiello and Sofía Vergara.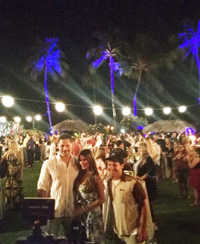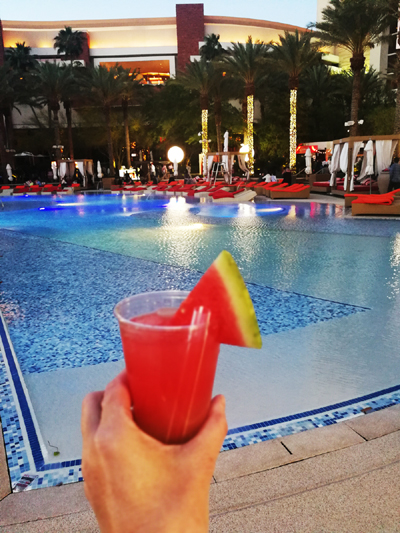 It's that time of the year again to enjoy an evening poolside at The Las Vegas Epicurean Affair. This years event took place on Thursday, May 19th at the Red Rock Resort & Casino. The Las Vegas Epicurean Affair, sponsored by the Nevada Restaurant Association, gathered the city's finest restaurants, nightclubs, and beverage vendors for this tasty event and featured the most savory cuisines and refreshing cocktails Las Vegas has to offer.
Some of the restaurants included: Scotch 80 Prime, TAO Las Vegas, Beauty & Essex, Blue Ribbon Sushi Bar & Grill, Hank's Fine Steaks & Martinis, Mint Indian Bistro, b.B.d.'s beers burgers desserts, Shake Shack and many more.
Event proceeds support the Nevada Restaurant Association's educational and scholarship programs, including ProStart ®, a national high school culinary skill and restaurant management program. In Nevada, more than 2600 students in 33 schools take part in the program, which teaches students the skills and knowledge needed to succeed in the food service industry.
nvrestaurants.com
VEGAS UNCORK'D BY BON APPÉTIT COMMENCES WITH A BURST OF CHAMPAGNE AT THE CEREMONIAL SABER OFF Chef Bruce Bromberg Kicked Off the Iconic Las Vegas Culinary Festival at Boulevard Pool at The Cosmopolitan of Las Vegas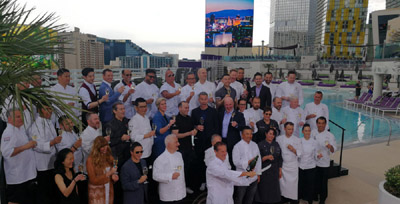 The 13th annual Vegas Uncork'd by Bon Appétit, presented by the Las Vegas Convention and Visitors Authority, started with a splash as some of the biggest names in the culinary world united at the Boulevard Pool at The Cosmopolitan of Las Vegas. Joined by more than 30 iconic chefs including Masaharu Morimoto, Roy Choi, Frankie Pellegrino Jr., Michelle Tribble, Greg Sherry, Angelo Auriana, Timon Balloo, Mark LoRusso and Stephen Hopcraft, Chef Bruce Bromberg sabered a magnum of champagne to kick off the weekend of festivities at Caesars Entertainment, The Cosmopolitan of Las Vegas, MGM Resorts International, The Venetian Resort and Wynn Las Vegas.
Hosts Adam Rapoport, Editor in Chief of Bon Appétit, Eric Gillin, Chief Business Officer of The Lifestyle Division at Condé Nast, Bree McKenney, Head of Marketing for The Lifestyle Division at Condé Nast, Simon Pettigrew, Senior Vice President of Resort Operations for The Cosmopolitan of Las Vegas, and Fletch Brunelle, Vice President of Marketing, Las Vegas Convention and Visitors Authority raised a toast to thank the chefs, resort partners and brands for their continued support of the Las Vegas culinary scene.
Recognized as one of the country's top food, wine and spirits festivals, the four-day event featured some of the world's greatest culinary talent including returning favorites Jean-Georges Vongerichten, Gordon Ramsay, Giada De Laurentiis, Guy Fieri, Lorena Garcia, Nobu Matsuhisa, Lisa Guy Savoy, Bryan and Michael Voltaggio, Julian Serrano, Michael Mina and Susan Feniger to name a few.
LEGENDARY CHEFS GATHER AT VEGAS UNCORK'D BY BON APPÉTIT'S 13TH ANNUAL GRAND TASTING EVENT, MAY 10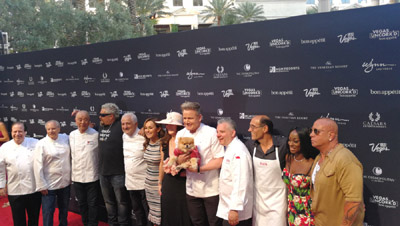 The world's most sought-after chefs, sommeliers and mixologists from Caesars Entertainment, The Cosmopolitan of Las Vegas, MGM Resorts International, The Venetian Resort and Wynn Las Vegas came together to showcase their extraordinary talents during the Grand Tasting at the 13th annual Vegas Uncork'd by Bon Appétit. This year's epicurean indulgence  returned to the dramatic 5-acre Garden of the Gods Pool Oasis at Caesars Palace and featured more than 50 award-winning chefs as well as more than 100 of the best wines and spirits from around the world.
Chefs and special guests  at the Grand Tasting red carpet included:
Lisa Vanderpump, Gordon Ramsay, Giada De Laurentiis, Guy Fieri, Nobu Matsuhisa, Frank Pellegrino Jr., Steve Martorano, Greg and Marc Sherry and Guy Savoy of Caesars Entertainment
Stephen Hopcraft of The Cosmopolitan of Las Vegas
Will Guidara, Roy Choi, Masaharu Morimoto, Susan Feniger, Shawn McClain, Michael Mina, Diane Mina, Arturo Corpuz, Philippe Angibeau, Florent Cheveau and Adam Arencibia of MGM Resorts International
Lorena Garcia, Kim Canteenwalla, Juyoung Kang, Evan Hosaka, Olivier Dubreuil, Christian Tetedoie, Claude Le Tohic, Steve Benjamin, Simone Bregardis, Alan Ji, Lee Man Sing, Timon Balloo, Joel Versola, Matteo Ferdinandi, Angelo Auriana and Daniel Yang of The Venetian Resort
Mark LoRusso of Wynn Las Vegas  
Charles Phan, Shaun King, Haruhiko Takeshita, Kiko Ojeda, Michael Ingino, Miguel A. Rivera and David Mangual of The Forum Shops at Caesars Palace
Fletch Brunelle, Vice President of Marketing, Las Vegas Convention and Visitors Authority
Eric Gillin, Chief Business Officer, The Lifestyle Division, Condé Nast
Bree McKenney, Head of Marketing, The Lifestyle Division, Condé Nast
Adam Rapoport, Editor in Chief, Bon Appétit
Alex Delany, Associate Web Editor, Bon Appétit
Andy Baraghani, Senior Food Editor, Bon Appétit
Christina Chaey, Associate Editor, Bon Appétit
Rachel Karten, Associate Director of Social Media, Bon Appétit
Paulie Dibner, Director of Editorial Operations, Condé Nast Traveler
Mayer Rus, West Coast Editor, Architectural Digest
Whembely Sewell, Executive Editor, them.
Mark Anthony Green, Special Projects Editor, GQ
Benjy Hansen-Bundy, Senior Associate Editor, GQ
Jeffrey Tousey, Social Media Director, Vanity Fair
Chris Legaspi, Menswear Editor,

Vanity Fair
3rd Annual Picnic at The Park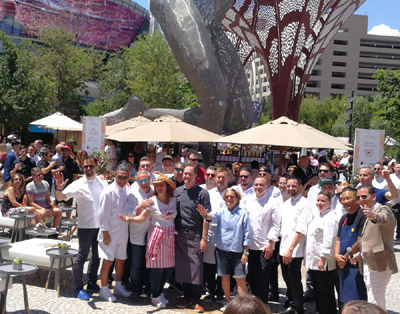 The third annual Picnic at The Park where some of the most notable chefs in the industry including Jean-Georges Vongerichten, Michael Mina, Masaharu Morimoto, Roy Choi, Bryan and Michael Voltaggio, Susan Feniger, Julian Serrano, Shawn McClain, and MGM Grand executive pastry chef Florent Cheveau came together to offer creative twists on classic al fresco dining along with carefully paired wine curated by Master Sommelier Jason Smith, cocktails by Mixologist Craig Schoettler, and a variety of beer. The outdoor dining and entertainment district was stocked with each chef's creation including sweet corn from Masaharu Morimoto, Japanese wagyu Thai beef salad from Jean-Georges Vongerichten, beef short ribs from Bryan and Michael Voltaggio, tandoori kampachi with butter chicken oysters from Michael Mina, apricot lacquered jidori chicken from Shawn McClain, and boquerones en vinaigrette from Julian Serrano, among other delectable options.
About Bon Appétit
Bon Appétit is where food and culture meet. The award-winning No. 1 food lifestyle brand covers food through the lens of cooking, fashion, travel, technology, design, and home. As the leading arbiter of taste, its home-grown talent and tireless dedication to recipe testing separates it from the competition by miles. Bon Appétit has been named to Advertising Age's A-List for eight consecutive years, including Magazine of the Year 2013 and 2017, Brand of the Year 2015, and Digital and Video recognition in 2019, and has been named to Adweek's Hot List every year since 2012, including Hottest Food Magazine in 2013, 2017 and 2018. Bon Appétit has also been nominated for 32 National Magazine Awards in the past six years, including wins in 2014 for General Excellence and Photography, in 2017 for General Excellence, and in 2019 for Social Media. For more, visit www.bonappetit.com.
About the Las Vegas Convention and Visitors Authority
The Las Vegas Convention and Visitors Authority (LVCVA) is charged with marketing Southern Nevada as a tourism and convention destination worldwide and also with operating the Las Vegas Convention Center. With nearly 150,000 hotel rooms in Las Vegas alone and more than 11 million square feet of meeting and exhibit space citywide, the LVCVA's mission centers on attracting ever increasing numbers of leisure and business visitors to the area. Download the virtual reality app, Vegas VR, to experience Las Vegas from your iPhone or Android by visiting http://www.vrtv.vegas/. For more information, go to www.lvcva.com or www.visitlasvegas.com.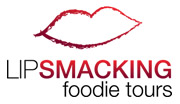 By S.P. – Come with an appetite!
It was such a wonderful delicious experience to take the "Savors of the Strip" by Lipsmacking Foodie Tours on Thursday, May 9th in Las Vegas.
The tour began in front of the arched waterfall outside the Aria Resort & Casino and included 4 top restaurants, and a little bit of history. As we stopped at Retrospecs & Co. located at The Cosmopolitan of Las Vegas were we got a tour of old preserved sunglasses, manufactured during the 1870s-1970s. (An interesting perk)
The first stop was BARDOT Brasserie, which served us: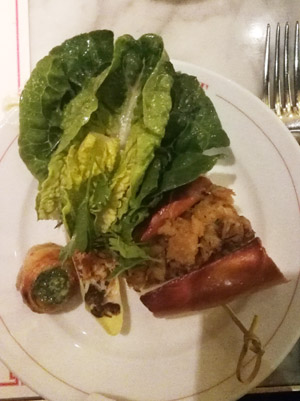 ECARGOTS BARDOT
Wild burgundy snails, Toasted hazelnuts chartreuse garlic butter, Puff pastry shells.
KING CRAB CAESAR
Belgian endive, Wild caught king crab, Parmesan bread crumb, Caper aioli, Herbed bread cumbs.
ROASTED FRENCH CHICKEN DIP
Gruyere cheese, Mushroom bread pudding, Greenbeans, Vin jaune au jus
Our second stop was Julian Serrano, which served us Tapas and Paella.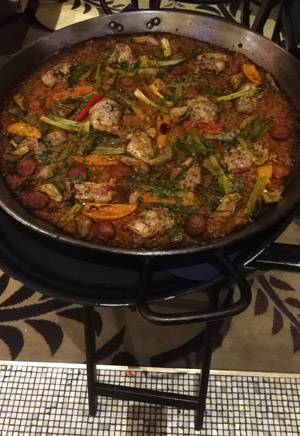 PAELLA
Valenciana, chicken, Spanish pork choizo, Vegetables, saffron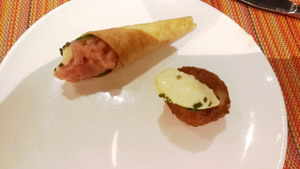 TAPAS
Spanish croquetas, Chicken bechamel, Tuna cones, Ahi tartare cucumbers, Cripy won ton, Avocado, Ponzu, Stuffed dates, Nedjool dates, Goat cheese, Bacon, Apple puree.
The third stop was Estiatorio Milos (my favorite) which served us a delicious Greek Salad, Octopus and Milos Special.
THE GREEK SALAD
Vine ripe tomatoes, Extra virgin olive oil, Barreel-Aged feta.
OCTOPUS
Sushi quality mediterranean octopus grilled, Santorini fava.
MILOS SPECIAL
Lightly Fried Zucchini, Eggplant, Tzatziki & Kefalograviera Cheese
The finally stop was Cucina by Wolfgang Puck which served us delicious yummy sweats with a choice of coffee.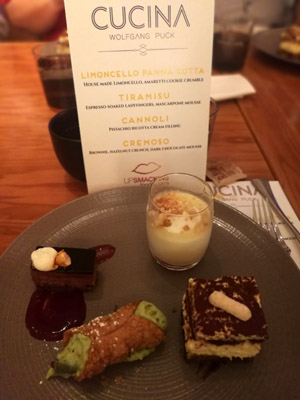 LIMONCELLO PANNA COTTA
House made limoncello, Amaretti cookie crumble
TIRAMISU
Expresso Soaked Ladyfingers, Mascarpone mousse
CANNOLI
Pistachio ricotta cream filling
CREMOSO
Brownie, hazelnut crunch, dark chocolate mousse
This tour is great for Locals and Tourists who want to experience some of the Top Restaurants, Las Vegas has to offer.
ABOUT LIPSMACKIN FOODIE TOURS:
In just a short time, Lip Smacking Foodie Tours has grown into the premier culinary walking tour in Las Vegas, garnering not only loyal fans but outstanding accolades. Its variety of tours offer guests personalized service and VIP access to the best tables in the house at the city's most acclaimed restaurants – all without standing in line or the hassle of making reservations. Each tour includes an expert guide who entertains guests with insider knowledge about the sights along the way. At each of four restaurant stops on The Strip or downtown, guests indulge in signature dishes, as well as receive a warm welcome from the chefs. Guests can sit beside different patrons at every stop, gaining new friends and networking connections. The tours are perfect for everyone from locals to tourists to business travelers, including corporate groups of up to 250. In 2019, Lip Smacking Foodie Tours expanded for the first time outside of Vegas to include upscale Santana Row in San Jose, located in the heart of California's dynamic Silicon Valley. 
Recent honors include: "Best Tour", "Best Food Tour", and "Best Date Night Spot" by Las Vegas Review-Journal in 2018; "Best Food/Beverage Tour Operations (Land)" by The World Food Travel Association 2018; "Best Tour", "Best Fine Dining", and "Best Brunch" by Las Vegas Review-Journal in 2017; "Best Tour" by Las Vegas Review-Journal in 2016; "Best Tour" by INVEGAS Magazine in 2015 and 2016; and "Best New Tour" by Thrillist in 2015; as well as inclusion in TripAdvisor's "Top 3" tours in Las Vegas, and ranked #1 tour on Yelp.
Additionally, Lip Smacking Foodie Tours has been given the honored distinction of "preferred partner member'' of Virtuoso, the invitation-only member network catering to luxury travel advisors. That designation means that no other company offering similar experiences can become a member of this leading international travel agency network that specializes in opulent experiential travel.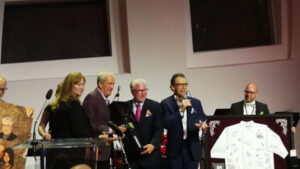 UNLVino, proudly sponsored by Southern Glazer's Wine & Spirits of Nevada since the event's inception, returned for its 45th year as Las Vegas' longest running wine and food festival. Benefitting the students of UNLV's Harrah College of Hospitality, this highly anticipated event returned for three incredible nights.
Bubble-Licous
Bubble-Licious, which is the first event in the UNLVino series, featured champagne, sparkling wines and award-winning restaurants from The Venetian and The Palazzo's outstanding collection.
UNLVino was confounded in 1974 by the William F. Harrah College of Hotel Administration and Southern Wine & Spirits of Nevada, now operating as Southern Glazer's Wine & Spirits. Over the past four decades, UNLVino has raised several million dollars for scholarships and other academic developmental needs of UNLV students. UNLVino is differentiated through unparalleled, hands-on student experiences at all levels of even planning, execution and promotion, as well as the impactful funds raised each year – all testaments to the celebratory weekend's broader purpose – scholarship.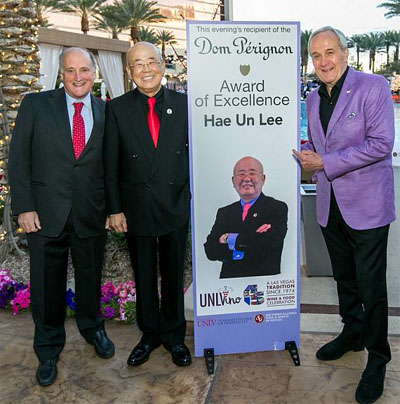 Night two officially open the evening celebration, with traditional Japanese drummers, Japanese swordsmen, themed characters and UNLV Rebel Girls paraded through the resort's casino and led guests to the entrance of the event. Japanese warriors with samurai swords performed alongside the traditional Japanese drummers. Guests also enjoyed the Great Tuna Cutting by Naked Fish's of the 300-lb tuna, a celebration that has come to be known by guests of Sake Fever. Following the ceremony, a DJ spun upbeat tracks alongside the evening's emcee, Ron Cabildo, while attendees worked their way around the beautiful resort pool under the beautiful Las Vegas sky to enjoy Japanese spirits, sake and more as well as Asian-inspired cuisine from restaurants in Las Vegas.
To further commemorate the evening, Michael Severino, Ian Staller and Larry Ruvo (all of SGWSNV), as well as Mr. Lee of Lee's Discount Liquors and Stowe Shoemaker of UNLV Harrah College of Hospitality, all took part of the Sake Barrel Ceremony, a tradition of the event since its inception. Following the ceremony, Severino, Shoemaker and a UNLV student of the UNLVino Class presented Mr. Lee with the Dom Pérignon Award of Excellence for his incredible contribution to our community.
UNLVino concludes on Saturday, April 13 with the Grand Tasting at The Mirage Events Center. This final event honored Nicole Brisson of Eataly Las Vegas and featured premium selections of wine, spirits, craft beer and other beverages and over 20 award-winning restaurants, as well as special performance  by Legends In Concert.
The 8th Annual LA Food & Wine Festival Once Again Took Over LA.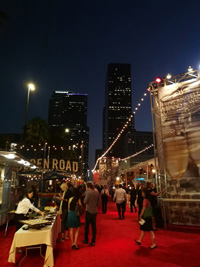 AUGUST 22-26, 2018
Los Angeles Food & Wine Festival, produced by Coastal Luxury Management and presented with founding partners FOOD & WINE and Lexus, celebrated its 8th Anniversary from August 22-26. Master sommeliers, local chefs, and the food world's biggest culinary stars once again gathered as the best of the Los Angeles culinary scene took over the City of Angels for the unprecedented four-night and five-day extravaganza. Here are some of the Highlights: Ultimate Bites of L.A. Hosted by Alvin Cailin & Antonia Lofaso.
Heat on the Street: Taco Takedown
Replaced the traditional Night Market in Downtown Los Angeles with an all-new Heat on the Street on Grand Avenue, hosted by Robert Irvine, Susan Feniger, Mary Sue Milliken, and Aarón Sánchez. This "Friday Fiesta" brought all the nuanced flavors of Latin cuisines to the plate, serving ceviche, tacos, carne asada, nopalitos, and more, with perfectly paired cervezas, tequila, and delectable wine.
Some other events included: LIVE on Grand with Curtis Stone, Tiffani Thiessen, and Special Guest DJ Questlove, Lexus Grand Tastings, Exclusive Luncheons and Dinners.
AMERICAN CANCER SOCIETY HONORS CHEF MING TSAI AT CALIFORNIA SPIRIT 33 GOURMET GARDEN PARTY, WITH HOST CHEF JAVIER PLASCENCIA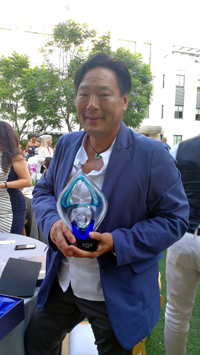 The American Cancer Society's California Spirit 33 gourmet garden party honored Chef Ming Tsai with the 2018 Impact Award for his inspiring work in the fight against cancer through his leadership in the national non-profit Family Reach on Sunday, July 15 at Sony Pictures Studios in Culver City. The event was hosted by Chef Javier Plascencia, celebrated chef, author, TV personality noted for his signature interpretation of the cuisine of Baja California. Chef Jason Fullilove, owner of Barbara Jean LA presided as Culinary Chair for the event. Honorary chairs Sherry Lansing (Paramount Pictures, STOP CANCER, Stand Up 2 Cancer) and Phil Rosenthal (15-time Emmy Award-winning "Everyone Loves Raymond," "Spanglish," "I'll have What Phil's Having" and second season of "Somebody Feel Phil" on Netflix) welcomed the crowd and Andrew Firestone (Principal at StonePark Capital) presided over the live auction. The event was attended by Sophia Bush (One Tree Hill, Chicago P.D.), Sharon Lawrence (NYPD Blue), Samantha Harris (Entertainment Tonight, Dancing with the Stars, Camila Banus (Days of Our Lives), among others.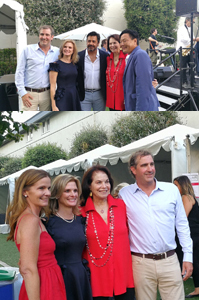 The event featured a performance by Band From TV, a powerhouse of well-known and acclaimed actors including Greg Grunberg, Adrian Pasdar, Jack Coleman, and Scott Grimes. Guests enjoyed offerings from LA's top restaurants including 71 Above, Barbara Jean LA, The Bel-Air, BOA, Fig & Olive, Frida Mexican Cuisine, Guerilla Tacos, Kato, Life Energy Food, Maple Block Meat Co, McConnell's Fine Ice Creams, Panini Kabob Grill, Prawn Coastal, Takami Sushi & Robata, Sweet Lady Jane, The Wallace, Wolfgang Puck Catering, and Wood & Vine. Libations were poured by Ammunition Wine, Codigo 1530 Tequila, Danone Waters of America, Drake's Organic Vodka & Rum, Golden Road Brewing, Hilltop Coffee, Lillet, Kikori Whiskey, Moraga Bel Air, Malibu Vineyards, and The Ojai Vineyard.
Corporate and individual sponsors include, at the Master Chef level ($25,000)—Centric Capital Advisors, Ellie Kanner and David Zuckerman. Chef de Cuisine sponsors ($10,000) include Cedars Sinai Samuel Oschin Comprehensive Cancer Institute, Sam and Peggy Grossman, Sherry Lansing, New York Film Academy Foundation, and Phil & Monica Rosenthal. Supporters at the Sous Chef level ($5,000) are Amalfi Estates, Heyler Realty, Lynn Both & Kent Kresa, SoCalGas, and Torrance Memorial Medical Center. Media sponsors included KTLA-TV, Variety, Angeleno, The Hollywood Reporter, and KJAZZ Radio. California Spirit raised $________ for the Society's groundbreaking research, free patient and caregiver services, and early detection and prevention education programs.