Your Holiday Gift List is One-Button-and-Done with Bouquet Bar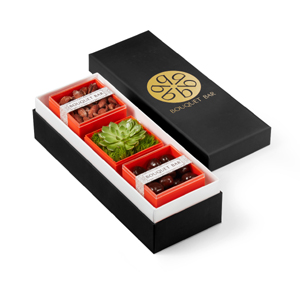 BouquetBar.com offers luxury gift boxes for everyone on your list, delivered at the click of a button
The holiday shopping rush is upon us, and Bouquet Bar (www.BouquetBar.com) has everything you need to get ahead of the holiday rush and be the season's hottest gift-giving connoisseur. Featured on Shark Tank, Bouquet Bar puts a curated collection of luxury gift boxes at your fingertips, delivering those hard-to-find, "how did you know?" items to everyone on your list with the simple touch of a button. So much more than flowers, Bouquet Bar's newest Black Box is the ultimate win-win for the man who has everything. In need of a last minute hostess gift? Bouquet Bar is on it, with free shipping and next-day delivery.
"We believe gifting is an art," says CEO David Yusuf, who co-founded Bouquet Bar alongside Alex Amidi and Sal Aziz in January 2017. "When you send one of our designer gift boxes to your loved ones, friends or a family member, that person will never see gifting the same." Combining the old-world tradition of gifting as an expression of love, gratitude and friendship with the convenience of modern technology, Bouquet Bar puts a new spin on a cherished art form. That's why clients like the Four Seasons Hotels and Resorts, Google and Neiman Marcus rely on Bouquet Bar to make thoughtful gifting effortless.
At BouquetBar.com, you can design your gift box, add a personal note and a customized box label for an extra special touch. With a 100% freshness guarantee and gift options starting at just at $49.99, make Bouquet Bar your one-stop luxury shop this holiday season. Start gifting now at BouquetBar.com and follow on Instagram @theBouquetBar for giveaways, curated gift features and more.

About Bouquet Bar:
Bouquet Bar is a luxury, yet affordable, gifting company founded in 2017 by David Yusuf, Alex Amidi and Sal Aziz. The founders aimed to make the gifting experience more meaningful and unique by bringing their vision to life with Bouquet Bar.David and Alex are the owners of the glamorous floral design company, Square Root Designs, which grace lavish hotel lobbies such as the iconic Four Seasons Beverly Wilshire Hotel, the Ritz Carlton Dana Point and some of the most exclusive weddings and events in Southern California. Now the company is rapidly redefining The Art of Gifting™ with the delivery of luxurious, custom gift boxes and gorgeous floral designs for any occasion and sentiment. Learn all about Bouquet Bar at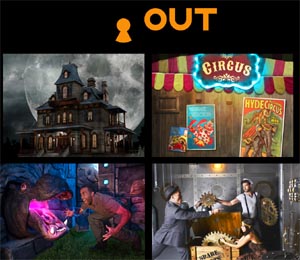 Give a spectacular and fun experiential gift this year by giving a 60out gift card. Home to Los Angeles' most popular escape rooms, 60out presents unique and interactive live-action adventure games. The company was voted Best Set Design (2016) and Top 10 Escape Rooms (2017) by Forbes Magazine and USA Today, respectively. Today, 60out has 23 rooms with plans to open two more before the end of the year. The rooms are housed in seven locations throughout Los Angeles—Hollywood, West Hollywood, Marina Del Rey, West LA, Silver Lake, Koreatown, and Downtown LA. 60out Escape Rooms is the go-to escape for A-list celebs, sports teams, and large corporations.
Most recently, the company partnered with Sony Pictures Entertainment to create an escape room inspired by the blockbuster film Jumanji: Welcome to the Jungle, located at our Melrose property.
For more information on 60out visit
Holiday Gift Guide for the Hollywood Fan!!!
As the holiday season is upon us it's time to start thinking of gifts for everyone in the family. Luckily, Screenbid is your one stop shop this season to find the perfect present for everyone on your list! Los Angeles based company, Screenbid, brings your favorite TV shows and movies to life by providing 100% authentic costumes, props, and everything in between to the everyday consumer. With up to 70% off designer fashion brands curated by stylists, you can have your favorite character's signature looks in your closet by purchasing from the Los Angeles store front, online retail store, and online auctions. Best part yet? Most of the collectables are available online for under $100!