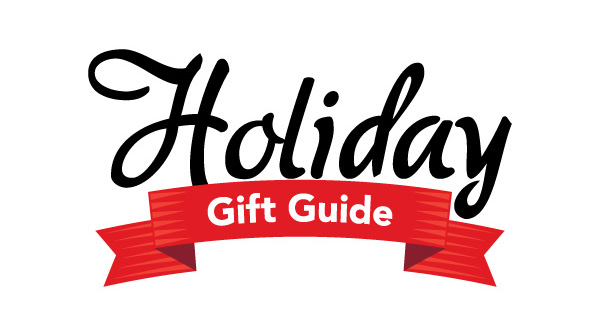 Peanuts Holiday Collection 70th Anniversary Limited Edition – Available October 1, 2019 in a Collectible Blu-ray™ Giftset and Available Now on Digital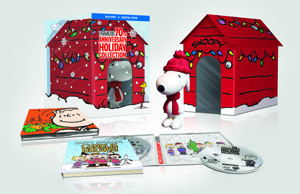 Good grief! The legendary Peanuts comic strip turns 70 and to celebrate the occasion, Warner Bros. Home Entertainment will release a gorgeous, collectible Blu-ray™ giftset comprised of three iconic animated holiday specials packaged in a limited edition Snoopy doghouse giftset! Titled Peanuts 70th Anniversary Holiday Collection Limited Edition, this collection includes It's the Great Pumpkin, Charlie Brown, A Charlie Brown Thanksgiving and A Charlie Brown Christmas, as well as six additional Peanuts specials that are re-mastered/restored, plus brand-new special features. All nine specials are released on Blu-ray™ with a digital copy. This must-own box set comes with two additional, keepsake collectibles, including an exclusive Snoopy figurine and a Charlie Brown holiday book. This is a numbered, limited edition set with only 25,000 total sets available. It's the perfect idea for seasonal gift-giving! Peanuts 70th Anniversary Holiday Collection Limited Edition retails for $99.99 SRP ($141.00 in Canada). The six additional specials include: It's Magic, Charlie Brown, Charlie Brown's All-Stars, The Mayflower Voyagers, Play it Again, Charlie Brown, It's Christmastime Again, Charlie Brown and It's Flashbeagle, Charlie Brown.
A Cinderella Story: Christmas Wish – Available on Digital October 15, and on Blu-ray™ Combo Pack and DVD October 29: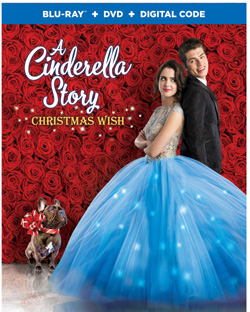 Break out the mistletoe and holly and get ready to sing and dance as Warner Bros. Home Entertainment releases A Cinderella Story: Christmas Wish. Relive the beloved timeless tale of Cinderella with a modern-day holiday twist! The enchanting all-new original movie stars Laura Marano (Disney's Austin and Ally) as Kat Decker, Gregg Sulkin (Marvel's Runaways, Faking It, Wizards of Waverly Place) as Dominic Wintergarden, Barclay Hope (Riverdale) as Terrence Wintergarden, three-time Leo® Award winner and Hallmark Channel favorite Johannah Newmarch (When Calls The Heart, Garage Sale Mystery franchise) as the cruel stepmother Deirdra Decker, Isabella Gomez (One Day at a Time) as Kat's best friend Isla, and evil-stepsisters Joy and Grace are played, respectively, by Lillian Doucet-Roche (The Miracle Season) and Chanelle Peloso (Syfy's Deadly Class). A Cinderella Story: Christmas Wish will be available on Blu-Ray™ Combo Pack for $24.98 SRP ($34.97 in Canada) and DVD for $19.98 SRP ($24.99 in Canada) as well as on Digital for $19.99 SRP. The Blu-ray Combo Pack (and Blu-ray in Canada) include a digital version of the film. This is the fifth installment in the A Cinderella Story movie series, and first one with a Christmas theme. Other titles include A Cinderella Story (Hilary Duff), Another Cinderella Story (Selena Gomez), A Cinderella Story: Once Upon a Song (Lucy Hale) and A Cinderella Story: If the Shoe Fits (Sofia Carson).
The Big Bang Theory: The Complete Series - Available Now on Digital, and on Blu-rayTM November 12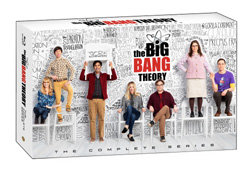 For years, fans have been delighted watching their favorite physicists Leonard (Johnny Galecki) and Sheldon (Jim Parsons) navigate the universe and everyday life along with Penny (Kaley Cuoco), and fellow scientists Howard (Simon Helberg), Raj (Kunal Nayyar), Amy (Mayim Bialik) and Bernadette (Melissa Rauch), as well as other beloved characters. The Big Bang Theory: The Complete Series, includes all 279 original episodes from 12 seasons of the top-rated sitcom, and is available for fans to own on DVD ($179.99) and a premium Limited Edition Blu-ray ($249.99 SRP). The complete set will feature nearly 12 hours of extras along with an additional disc including three exclusive and never-before-seen featurettes! The special Limited Edition Blu-ray Boxset comes in a beautiful lay-flat book with a fun pop-up and includes a digital copy.
Scooby-Doo, Where Are You! The Complete Series Limited Edition 50th Anniversary Mystery Machine – Available Now on Blu-ray™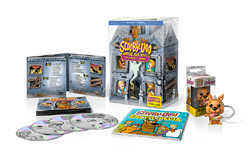 Jinkies! Warner Bros. Home Entertainment salutes that lovable Great Dane, Scooby-Doo and the Mystery Inc. gang with the release of Scooby-Doo, Where are You!: The Complete Series Limited Edition 50th Anniversary Mystery Mansion. This release is packaged in an eye-catching, limited edition collectible mystery mansion giftset that includes all 41 episodes of the original series, Scooby-Doo! Where are You!, released on Blu-ray™ for the first time, as well as a Digital Copy of the series. This must-own box set has some fun extras. The set contains all-new HD content and Scooby-Doo collectibles including an exclusive Scooby-Doo Funko keychain, and a mini Scooby-Doo Encyclopedia. Scooby-Doo, Where are You!: The Complete Series Limited Edition 50th Anniversary Mystery Mansion retails for $89.99 SRP.
Batman Beyond: The Complete Series Limited Edition - Available on Digital October 15, and on Blu-ray™ October 29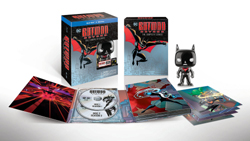 Batman Beyond, the landmark animated television series that illuminated the imagination of a new generation of Batman fans with its creation of an altogether new hero, is celebrating its 20th anniversary – and you get the gift! Warner Bros. Home Entertainment has remastered the heralded series for its first-ever presentation on Blu-ray™ in the all-encompassing Batman Beyond: The Complete Animated Series Limited Edition. The extraordinary package features approximately 1,500 minutes of entertainment spread over four Blu-ray™ discs, plus the two bonus discs of enhanced content. In addition to a newly-remastered Blu-ray presentation of Batman Beyond: Return of the Joker, there are 15 featurettes on the bonus discs, highlighted by two new inside looks at the beloved television series, led by Nostalgic Tomorrow, a gathering of Batman Beyond production talent and cast led by executive producer Bruce Timm and actors Kevin Conroy and Will Friedle, the voices of Batman and Terry McGinnis, respectively. The bonus discs also spotlight four episodes with audio commentary from Timm and select members of the production team.
Gotham: The Complete Series – Available Now on Blu-rayTM, DVD and Digital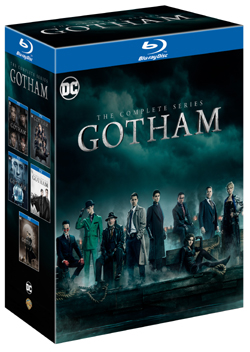 Gotham: The Complete Series, which includes all five seasons of the hit Gotham series, is available for fans to own on Blu-ray and DVD for $112.99 / 99.99 SRP. From character origins to the final episodes of the hit DC/WBTV series that lay the foundation for the city's iconic future, the release is the perfect gift for veteran fans and newcomers alike. The series features an all-star cast lead by Ben McKenzie (The O.C., Southland), Donal Logue (Grounded for Life, Vikings), David Mazouz (Touch), Sean Pertwee (Elementary), Robin Lord Taylor (The Walking Dead), Erin Richards (The Quiet Ones), Camren Bicondova (Gotham Stories), Cory Michael Smith (Carol) and Chris Chalk (12 Years a Slave). Shane West (A Walk to Remember) is also introduced in the as the iconic DC Super-Villain, Bane for the final season. Developed by Bruno Heller, the series is executive produced by Heller, Danny Cannon and John Stephens. Based on the DC characters, Gotham is produced by Warner Bros. Television.
Breakthrough Golf Technology - Stability Putter Shaft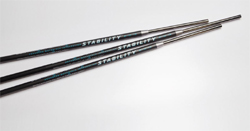 The Stability Shaft from Breakthrough Golf Technology. Breakthrough Golf uses scientifically advanced multi-material design with geometries never before used in a putter shafts. The Stability shaft has a unique look and a more solid feel than a traditional steel putter shaft.
Stability Armlock Putter Shaft is designed with the same advanced technology and performance benefits as the original Stability shaft. The Armlock Stability will feature a steel core wrapped with a highly twist-resistant outer graphite wrap, that reinforces flexural rigidity; over the typical flex point of the shaft, which is closer to the putter head. 
The Stability Shaft replaces 50-year old steel-shaft technology. Steel putter shafts stress during the motion of the stroke, which results in the putter face not returning square to the target line. Stability helps golfers make more putts and reduces 3-putts with better distance control.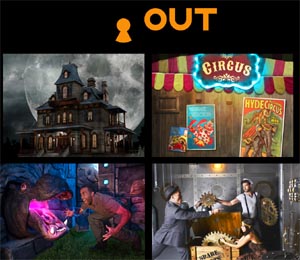 Give a spectacular and fun experiential gift this year by giving a 60out gift card. Home to Los Angeles' most popular escape rooms, 60out presents unique and interactive live-action adventure games. The company was voted Best Set Design (2016) and Top 10 Escape Rooms (2017) by Forbes Magazine and USA Today, respectively. Today, 60out has 23 rooms with plans to open two more before the end of the year. The rooms are housed in seven locations throughout Los Angeles—Hollywood, West Hollywood, Marina Del Rey, West LA, Silver Lake, Koreatown, and Downtown LA. 60out Escape Rooms is the go-to escape for A-list celebs, sports teams, and large corporations.
Most recently, the company partnered with Sony Pictures Entertainment to create an escape room inspired by the blockbuster film Jumanji: Welcome to the Jungle, located at our Melrose property.
For more information on 60out visit
Holiday Gift Guide for the Hollywood Fan!!!
As the holiday season is upon us it's time to start thinking of gifts for everyone in the family. Luckily, Screenbid is your one stop shop this season to find the perfect present for everyone on your list! Los Angeles based company, Screenbid, brings your favorite TV shows and movies to life by providing 100% authentic costumes, props, and everything in between to the everyday consumer. With up to 70% off designer fashion brands curated by stylists, you can have your favorite character's signature looks in your closet by purchasing from the Los Angeles store front, online retail store, and online auctions. Best part yet? Most of the collectables are available online for under $100!