Celebrity Connected Honoring "The Emmys" Luxury Gifting Suite.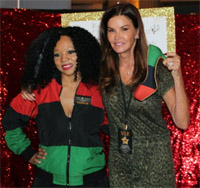 Janice Dickinson with Kingdom of Mel
The stars always come out for the Celebrity Connected Gifting Suite and this year there was no difference. The event was back at the beautiful Downtown Millennium Biltmore Hotel on Saturday, September 15th. Some of the guests included: Janice Dickinsons, Leigh Steinberg, Adrienne Lawrence, Stephen Glickman, Joseph D. Reitman and even Super Corgi Jojo. Kingdom of Mel are Pan- African and African Royalty inspired American Style Streetwear, shoes, bags and Designs by Artist and Fashion Designer Tiffany T. Hill.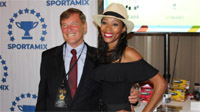 Sportamix
Sportamix was introducing guests to their sports networking platform that enables direct communication between athletes, coaches, recruiters and fans. Sportamix allows any athlete from anywhere in the world, regardless of nationality, age, geographical location, or social status to be discovered and connected.

Sushi Koo
Sushi Koo, located in Los Angeles, was treating guests to an assortment of fresh sushi.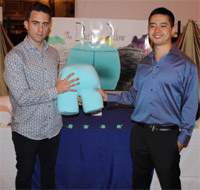 The Buttress Pillow
For more information, visit: TheButtressPillow.com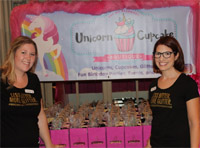 Unicorn Cupcake Boutique
Unicorn Cupcake Boutique was introducing to their unique unicorn parties at their location in Scottsdale. Anything unicorn related and they will help you celebrate.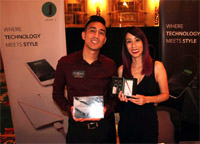 Jade J
Jade J was showcasing their extremely sleek and slim power bank that provides a full charge while doing it in a stylish way.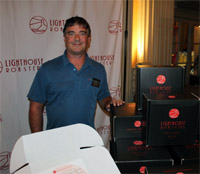 Lighthouse Roasters
Lighthouse Roasters is a coffee roaster out of Seattle and they were gifting guests coffee kits so they could brew and enjoy an assortment of their coffees.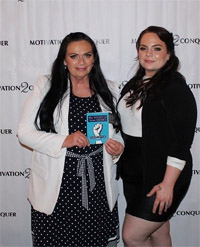 Motivation 2 Conquer
Kerrie Denton was gifting her Motivation 2 Conquer book that is full of powerful affirmations will motivate, inspire and help you to achieve success no matter what your goal is.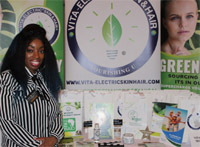 Vita-Electric Skin Care
Vita-Electric® Skin & Hair has a lot to offer in organic skincare buttercreams & macerated serum oils packed with antioxidants and other ultra-moisturizing ingredients that can benefit the skin & hair. We are a renowned organic health company focused on serving humanity with high-end products made from nature.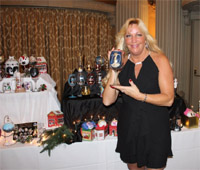 Custom Creations by Cyndie
Cyndie Wade, the founder and owner of CUSTOM CREATIONS, was showcasing her handcrafted ornaments and custom hand painted drink ware that make for the perfect personalized gift. Cyndie can paint anything you can dream up by simply sending her a photograph and she then turns your vision into reality, a custom gift that your family and friends will love and cherish for years to come!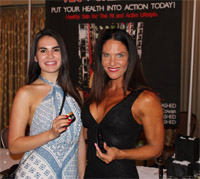 TLC Unleashed
TLC Unleashed was gifting their advanced sculpting cream that helps get rid of cellulite.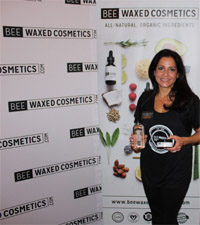 Bee Waxed Cosmetics
Bee Waxed Cosmetics was gifting an assortment of their products including their Bee Relieved that helps treat inflammation. All of their products contain organic, all natural ingredients.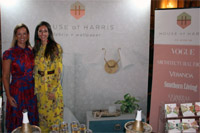 House of Harris
House of Harris was showcasing their unique and beautiful products that will help transform your home or business.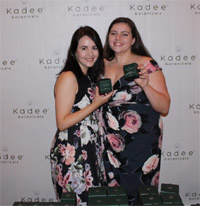 Kadee Botanicals
Kadee Botanicals was showcasing their luxury Australian natural plant based skincare that is focussed on celebrating the benefits of Australian plants like Kakadu Plum, Lilly Pilly and Jojoba Oil. All three ingredients can be found in the Kadee Botanicals range because of their high vitamin and nutrient content, antioxidants and natural anti-aging properties.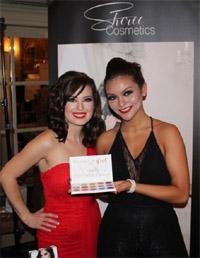 Sheree Cosmetics
Sheree Cosmetics was gifting cosmetics using amazing pigmentation, all natural, cruelty free, paraben-free, all with a luxury feel – without charging an extreme price-tag.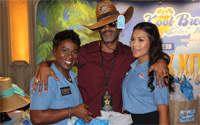 Kool Breeze Hats
Kool Breeze Hats live up to their name, as thanks to the little solar panel on top of each hat, the hat will have a fan blowing to keep you cool.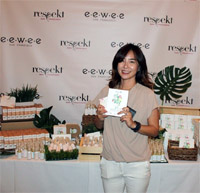 Respekt
Respekt was gifting their organic facial sheet mask. Each mask is made of organic ingredients, is vegan with no toxins and no animal testing.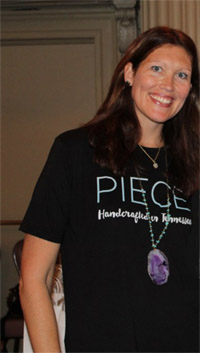 PIECE Jewelry
PIECE Jewelry was gifting their stunning one-of-a-kind necklaces designed and created by Nate and Dana Pruitt.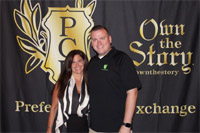 CG Investments (Preferred Coin Exchange)
Preferred Coin Exchange is much more than just an online coin company. We educate and guide our clients as they build their collections of numismatic coins. As time continues, we help them evaluate what they have. Finally, we help our clients determine what the best course of action is for their coin or currency collection when they feel it's the time to transfer or liquidate.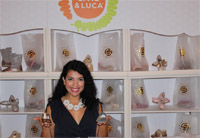 Livie and Luca
Inspired by a pair of hand-made shoes combined with the purpose to spread joy, Mitzi Rivas brought Livie & Luca's first collection into the world in 2005. When her close friend, Amie Garcia, saw that first pair of shoes she fell in love and wanted to give them to her own children, and to others. As a teacher, Amie strove to make a difference in children's lives and she knew through these beautiful healthy shoes, that purpose would continue. The mission at Livie & Luca has always been based in these values – to spread joy and to make a difference through the creation of comfortable and whimsical shoes.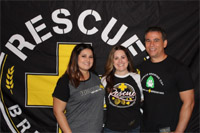 Rescue Brewing Company
Rescue Brewing Company was sampling an assortment of their flavorful beers including their rich and tasty chocolate porter. Guests were also gifted dog treats that are made from the spent grains that are left after each batch of beer with all of the proceeds from these going to the Upland Animal Shelter.
Once again held at the hip W Hotel in Hollywood on Friday, September 14. The WOW Creation gifting suite did not disappoint, there were many fabulous vendors gifting amazing items and lots of celebrities from music, TV and Film as well. This years charitable sponsor was Face Forward.
Other sponsors included:
www.faceforwardla.org
www.glamore4u.com
www.Schwarzkopf.com
www.tipsytravelerandco.com
Art Provided Bu New Artist "NO SKRIPT" www.hillbillyhustlers.com
www.lethalchickengames.com
www.sringrayne.com
www.thorlo.com
www.nursegigi.com
www.vanessapetronelli.com – ( spiritual speaker and channeler)
www.dentallace.com
www.luzarteproducts.com
www.abwinejelly.com
www.beatboxbeverages.com
www.dabahair.com
www.viavaifashion.com
www.hollywoodeyemagic.com
www.isobeauty.com
www.takako-beauty.com
www.bcl-company.jp/en
www.uniquecreativeideas.com
www.dirtnaphandcraftd.com
www.dailybodyrestore.com "What If Imagine the Possibilities" – book by author Matthew Imes ww.relites.com
www.aubio.com
www.aztec-secret.com
ww.winecaterers.com
www.nutrivista.com
www.vivisoi.com
www.damatequila.com

wowcreationsmedia.com