2019 Natural Food Expo West featured Erin Brockovich in a special Keynote presentation.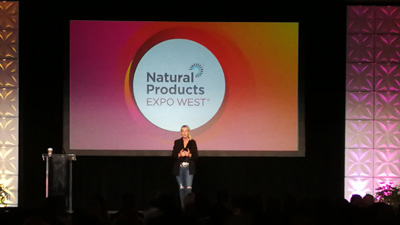 World-renowned consumer advocate and clean water activist Erin Brockovich receives thousands of emails a month from concerned citizens all over the country and around the world. Whether it's toxic drinking water, contaminated soil, or faulty medical devices, Erin has one simple message for the community, "superman is not coming."
In this keynote Erin addressed audience members to become their own heroes, to galvanize their communities and create the change they desire.
Erin discussed the current state of America's drinking water and how towns and cities across the country are experiencing their own Flints. From Chromium 6 to PFOA and lead, Americans are being poisoned at their own taps.
Erin also shared the steps you can take to organize and take control of the health and welfare of your friends, family and neighbors as well as what she recommends for your own home.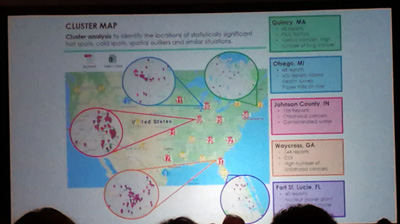 CATS opened in Los Angeles last night Wednesday February 27th, with a Jellicle carpet!
Absolute Masterpiece Amazing Performances – By S.P.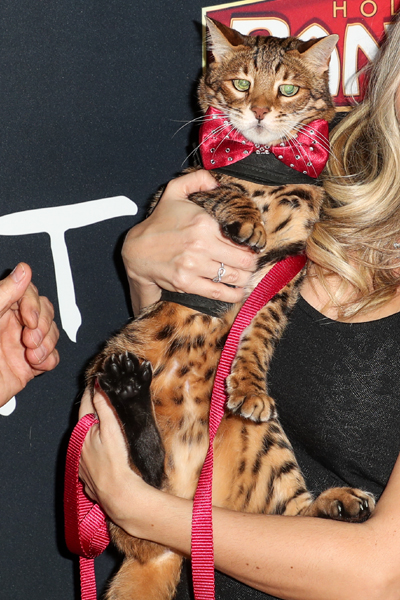 4 WEEKS ONLY • FEBRUARY 26 –MARCH 24, 2019 HOLLYWOOD PANTAGES THEATRE
Hollywood Pantages Theatre is pleased to present the national tour of Andrew Lloyd Webber's iconic musical, CATS. One of the biggest hits in theatrical history, direct from Broadway CATS comes to Los Angeles for a limited 4 week engagement at Hollywood Pantages Theatre.
Tickets for Cats are now on sale, and available at www.HollywoodPantages.com/Cats and www.Ticketmaster.com, by phone at (800) 982-2787 or in person at the Hollywood Pantages Theatre Box Office (Opens Daily at 10am PT)
The Jellicle Cats include Phillip Deceus as "Alonzo," McGee Maddox as "Bill Bailey/Rum Tum Tugger," Lexie Plath as "Bombalurina," Mariah Reives as "Cassandra," PJ DiGaetano as "Coricopat," Liz Schmitz as "Demeter," Keri René Fuller as "Grizabella," Kaitlyn Davidson as "Jellylorum," Emily Jeanne Phillips as "Jennyanydots," Tion Gaston as "Mistoffelees," Tony D'Alelio as "Mungojerrie," Dan Hoy as "Munkustrap," Timothy Gulan as "Peter/Bustopher Jones/Asparagus," Tyler John Logan as "Plato/Macavity," Anthony Michael Zas as "Pouncival," Rose Iannaccone as "Rumpelteazer," Ahren Victory as "Sillabub," Ethan Saviet as "Skimbleshanks," Halli Toland as "Tantomile," Devin Neilson as "Tumblebrutus," Brandon Michael Nase as "Victor/Old Deuteronomy," Caitlin Bond as "Victoria," along with Zachary S. Berger, Nicholas Burrage, Erin Chupinsky, Maria Failla, Justin W. Geiss, Laura Katherine Kaufman, Charlotte O'Dowd, Adam Richardson, Tricia Tanguy, and Andy Zimmermann.
Composed by Andrew Lloyd Webber and based on T.S. Eliot's Old Possum's Book of Practical Cats, the record-breaking musical spectacular has captivated audiences in over 30 countries and 15 languages and is soon to be on tour across North America! Featuring new sound design, direction and choreography for a new generation – experience Cats for the first time as it begins a new life, or let it thrill you all over again!
The original Broadway production opened in 1982 at Broadway's Winter Garden Theatre, where it ran for 7,485 performances and 18 years. Cats was originally produced on Broadway by Cameron Mackintosh, The Really Useful Company Limited, David Geffen, and The Shubert Organization.
The creative team for the new Broadway production of CATS includes John Napier (Scenic & Costume Design), Natasha Katz (Lighting Design), Mick Potter (Sound Design), choreography by Andy Blankenbuehler of Hamilton, based on the original choreography by Gillian Lynne, and direction by Trevor Nunn. Since its world premiere, CATS has been presented in over 30 countries, has been translated into 15 languages, and has been seen by more than 73 million people worldwide. Originally directed by Trevor Nunn with choreography and associate direction by Gillian Lynne, scenic and costume design by John Napier, lighting design by David Hersey, and sound design by Abe Jacob, CATS opened in the West End in 1981. The musical debuted on Broadway in 1982 where it won seven Tony Awards, including Best Musical. Both the original London and Broadway cast recordings won Grammy Awards for Best Cast Album. CATS hit song "Memory" has been recorded by over 150 artists from Barbra Streisand and Johnny Mathis to Liberace and Barry Manilow. The Tony Award-winning Best Musical held the title of longest-running musical in Broadway history until it was surpassed in 2006 by Lloyd Webber's The Phantom of the Opera. The original Broadway production closed on September 10, 2000 and is currently the fourth longest-running show in Broadway history.
The first national tour of the revival of CATS is licensed by The Really Useful Group and produced by The Shubert Organization, James L. Nederlander, The Really Useful Group and Cameron Mackintosh.
The performance schedule for Cats is Tuesday through Friday at 8pm, Saturday at 2pm & 8pm, and Sunday at 1pm & 6:30pm. There's an additional performance March 21st at 2pm and no performance March 24th at 6:30pm.
Opening Night is Wednesday, February 27th at 8pm.
Cats is recommended for ages 5 and up. Children under 5 will not be admitted to the theatre. All patrons must have a ticket, regardless of age.
Individual tickets for Cats start at $49. Prices are subject to change without notice. A complete list of cities and dates for the national tour of Cats can be found at www.Catsthemusical.com. For more information on Hollywood Pantages Theatre, visit HollywoodPantages.com, Facebook.com/PantagesTheatreand Twitter.com/Pantages.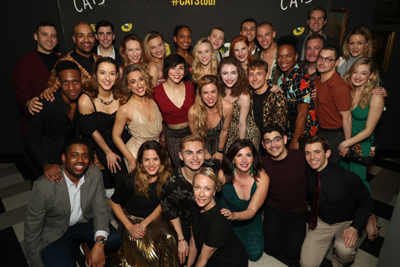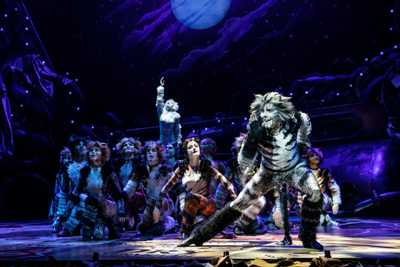 The Griot Gala and its Toast to Diversity & Inclusion Oscars After Party 2019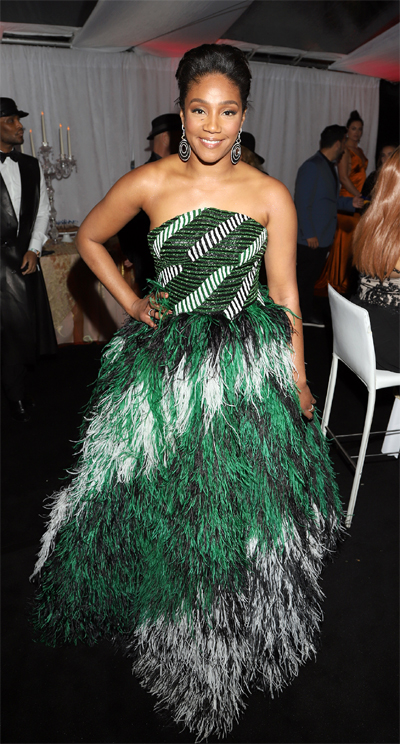 On Sun., Feb. 24, 2019, from 8 pm to 1 am the 2nd annual Griot Gala Toast to Diversity & Inclusion After Party took place at The District by Hannah An, Crustacean restaurant group's latest concept. Six hundred guests gathered to honor and celebrate the extraordinary accomplishments of today's top entertainers, influencers and industry greats who represent today's diversity, inclusion and the world becoming ONE. Los Angeles-based AIDS Healthcare Foundation (AHF), a global nonprofit organization providing cutting-edge medicine, advocacy to over 1 million people in 43 countries and largest provider of HIV/AIDS medical care in the U.S, served as the charity partner onboard.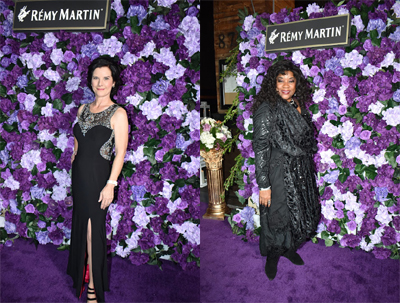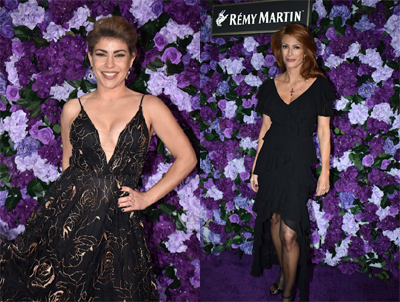 Famous faces to grace the event and it's purple carpet included Tiffany Haddish (Girls Trip), Craig DiFranca + Brian Distance (Green Book), Sheryl Lee Ralph (Dreamgirls), Loretta Devine (Grey's Anatomy), Shervin Roovenpur (Bravo's Shahs of Sunset), Chaz Dean (celebrity hair stylist), Vanessa Williams (Soul Food), Jayk Gavagher (VEEP), Billie Lee (Bravo's Vanderpump Rules), Angie Everhart (Supermodel), Brock O'Hurn (Boo! A Madea Halloween), Al B Sure (R&B Artist), Rolanda Watts (Rolanda), David Dobrovik (YouTuber), Miyavi (Unbroken), Cisco Reyes (All Eyez on Me), Camille James + Chantelle Albers (VICE), Kris D. Lofton (HBO Ballers), Mirai Nagasu (US Olympic Figure Skater Medalist), Renee Lawles (The Haves & Have Nots), The cast of Skin, Antonique Smith (Notorious), Porscha Coleman (TV personality), Dr. Chris Donaghue (Love Line), Steve Longi (Oscar-winning director), Kimberley Elise (Diary of a Mad Black Woman), Lunelle Campbell (comedian), and Mitchell Marchand (2019 Oscars writer).
Highlights from the evening incorporated Griot Gala co-founders Dionne Miller and Reid Johnson honoring Tony Award-winning and acclaimed veteran of film and television, Sheryl Lee Ralph with The Trailblazer Award. "Sheryl Lee Ralph is a trailblazer in the worlds of entertainment and activism. She represents the foundation of what the Griot Gala stands for and to honor her was a dream come true for her organization," stated Miller.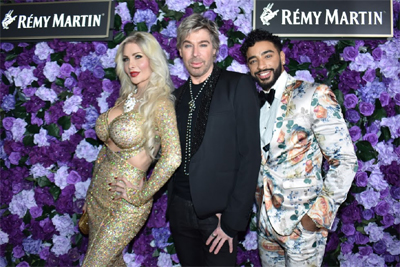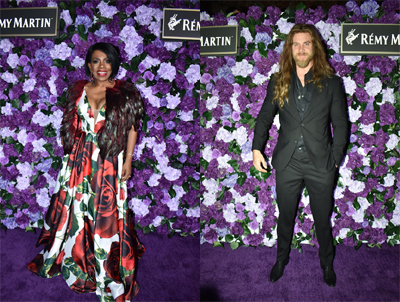 The VIP Lounge featured "Opulence Revealed," a multi-sensory and interactive tasting experience for exclusive celebrities and industry members. Guests sampled Rémy Martin's XO sophisticated flavors paired with fragrant fruits such as grapes, pear, dried apricots, and figs; spices like cinnamon, dried saffron, and stem ginger; or earthy characters like walnuts, hazelnuts, cheese, and chocolates — where taste buds hung upon every note. Premium producer of non-toxic, essential oils, Young Living created an aromatherapy oasis of diffused oils that streamed throughout the air of the VIP lounge as well. Full body massage chairs further heightened the senses to promote relaxation for those trying to unwind from the excitement of the 91st Academy Awards. Opulence Lounge furnishings were provided by Vitality Furniture, committed to traditional and contemporary values that create quality relationships and classic environments.
Kush Boys, a leader in California's cannabis footprint, spotlighted a Kush Boys Lifestyle Lounge with curated cannabis treats by Cal Farms, Lucid Mood, Try Chemistry, Papa & Barkley, Mellow, Foria Wellness, Apple Dabs, Neptune Sticks and Main Express. While DJ/Model MAAD kept the dance floor hot, signature Remy Martin cocktails, 1738, Botanist Gin, Cointreau, Mount Gay Rum and Moreno champagne glasses overflowed. The District tray-passed modern Vietnamese fare of crab, candy walnut prawns, lobster & crab wontons, tuna poke on rice crisps, spring rolls, noodle station, chocolate mousse cake, pineapple bread pudding, mango cheesecake and assorted macaroons for guests to devour. Annette BibbyOliver of Dream House MGB and Dwight Eubanks (Real Housewives of Atlanta) spearheaded event production and design. No Oscars event would be complete without gift bags. Griot Gala Remy XO VIPs received Bella Spirit and Wen bath, body and hair products by Chaz Dean, Young Living essential oil kits, AHF, Blings by Marium, Feather Lite Aesthetics/Mari Abdulian medical spa certificates, Paragon Cleaners, and Mixed Chicks multi-racial, non-sticky, lightweight curly hair products totaling three-thousand dollars.
About the Griot Gala: The Griot Gala celebrates diversity and inclusion while recognizing outstanding achievement in the Arts and Entertainment Industry. The Griot honors women and people of color who exude a Spirit of Excellent and who are trailblazers in the Arts and Entertainment Industry. The Griot recognizes the need for diversity, inclusion, and equality for ALL people regardless of race, gender or sexual orientation. We are GRIOT.
Oscars 2019: 'Green Book,' Rami Malek and Olivia Colman Are The Winners
"Green Book" won best picture, and Spike Lee won his first competitive Oscar, for best adapted screenplay.
Rami Malek won best actor for "Bohemian Rhapsody," and Olivia Colman won best actress for "The Favourite." Alfonso Cuarón won best director for "Roma," which also won best foreign language film.
2019 FILM INDEPENDENT SPIRIT AWARDS WINNERS ANNOUNCED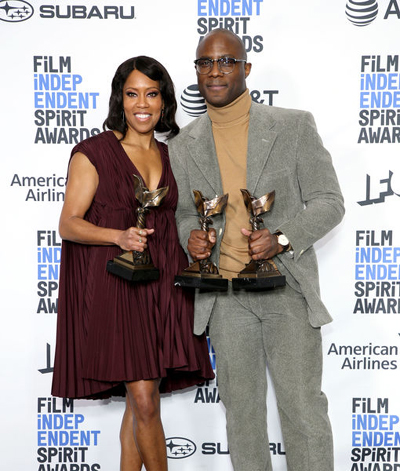 This year's major winners were If Beale Street Could Talk, which won Best Feature, Best Director and Best Supporting Female; Can You Ever Forgive Me? which won Best Screenplay and Best Supporting Male; Suspiria which won the Robert Altman Award and Best Cinematography; En El Séptimo Día which won the John Cassavettes Award; Eighth Grade which won Best First Screenplay; First Reformed which won Best Male Lead; Sorry to Bother You which won Best First Feature; The Wife which won Best Female Lead; You Were Never Really Here which won Best Editing; Won't You Be My Neighbor which won Best Documentary; and Roma which won Best International Film.
The 12th annual Robert Altman Award was given to one film's director, casting director and ensemble cast. Suspiria director Luca Guadagnino received this award, along with casting directors Avy Kaufman and Stella Savino as well as cast members Malgosia Bela, Ingrid Caven, Lutz Ebersdorf, Elena Fouina, Mia Goth, Jessica Harper, Dakota Johnson, Gala Moody, Chloë Grace Moretz, Fabrizia Sacchi, Renée Soutendijk, Tilda Swinton, Sylvie Testud, Angela Winkler.
The 2019 Roger and Chaz Ebert Foundation Fellowship annually selects an outstanding filmmaker and participant in Project Involve. Now in its 26th year, Project Involve has proudly fostered the careers of artists from underrepresented backgrounds, empowering them to create stories for film and television that are reflective of our community. The Fellowship includes an unrestricted cash grant of $10,000 and was awarded to screenwriter Stephanie Adams-Santos, a distinct and bold new voice.
Women in Film salutes this year's female nominees at pre-Oscars bash
Oscar nominees Yalitza Aparicio, front, and Glenn Close attend the 12th Women in Film Oscar Nominees Party at Spring Place in Beverly Hills on Friday.
Glenn Close, Regina King, Marina de Tavira and Yalitza Aparicio took time to drop into the 12th annual Women in Film Oscar Nominees Party.
"This is an amazing night," said the event's co-host, Cathy Schulman, in her official welcome to guests. "There are 61 female nominees this year. … An all-time high." An Oscar winner herself for "Crash," she then cited 17 repeat nominees and three women now up for two Academy Awards this year.
Held Friday at the private club Spring Place in Beverly Hills, Women in Film's pre-Oscars affair honored female Academy Award contenders, both in front of and behind the cameras, including producers, screenwriters, sound mixers, editors, makeup artists, hairstylists and others.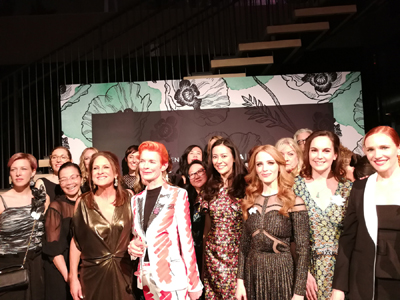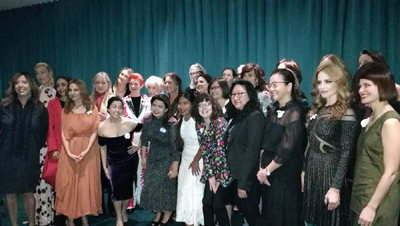 Also co-hosted by three-time Oscar-winning costume designer Sandy Powell, up this year for "The Favourite" and "Mary Poppins Returns," the many nominees on scene included "The Favourite" producer Ceci Dempsey, "Roma" producer Gabriela Rodriguez, "A Star Is Born" producer Lynette Howell Taylor and "I'll Fight" songwriter Diane Warren for the documentary "RBG."
Among others there to cheer on Oscar hopefuls were actors Kate Bosworth, Eva Longoria, Angela Bassett, Our Lady J, Kiki Layne, Jaime King, Felicity Huffman, Rumer Willis, Lake Bell, Nikki Reed, Justin Baldoni, Emily Baldoni, David Harbour, Angela Sarafyan, Nia Vardalos, Madelaine Petsch, Louise Roe and Ashley Madekwe.
As servers passed cheeseburger sliders and veggie spring rolls, guests mingled by the bar, seated themselves beside a towering potted palm or checked out the vanilla and chocolate desserts in a side room featuring an ice sculpture of a Chloe wine bottle.
Aerosmith helps Steven Tyler raise more than $2 million for his Janie's Fund charity at Grammy Viewing Party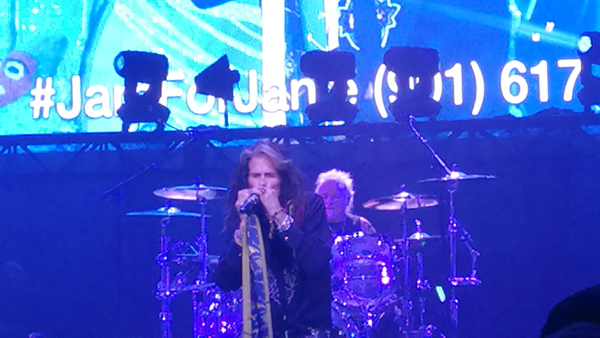 Billboard reports that the event, held at Raleigh Studios in Los Angeles, raised a total of $2.8 million for Janie's Fund, which helps young female victims of physical and sexual abuse.
Among the many celebrities in attendance were Mark Wahlberg, Sharon Stone, Alice Cooper, Duff McKagan, Extreme guitarist Nuno Bettencourt, X Ambassadors, producer David Foster, Kelsey Grammer and Caitlyn Jenner.
This year's fundraiser was a significantly larger event than the inaugural Grammy Viewing Party. "That's what we wanted," Tyler told Billboard during the benefit. "It means people are starting to feel it in their heart and they understand our mission!"
Aerosmith played a hit-packed, 11-song set that included classics such as "Back in the Saddle," "Love in an Elevator," "Cryin'," "Sweet Emotion," "Dream On," "Walk This Way" and "Janie's Got a Gun," which was the inspiration for Janie's Fund.
During the show, Stone jumped onstage wirth the band and played some harmonica.
In addition to the group's performance, the event featured a dinner, cocktails, an auction, speakers and, of course, a viewing of the awards ceremony.
Among the items sold during the auction: a guitar owned by Joe Perry, which fetched $80,000 and a Can-AM 3-wheeler belonging to Tyler, which brought in $40,000.
The gala was hosted by Glee star Jane Lynch, who said of Janie's Fund, "It's an amazing organization. Steven is so passionate about it and to hear him talk about it, you want to write a check and get involved."
For more information visit www.janiesfund.org
Hello Dolly! Opening Night at the Pantages Theatre in Hollywood
A beautiful colorful production with amazing costumes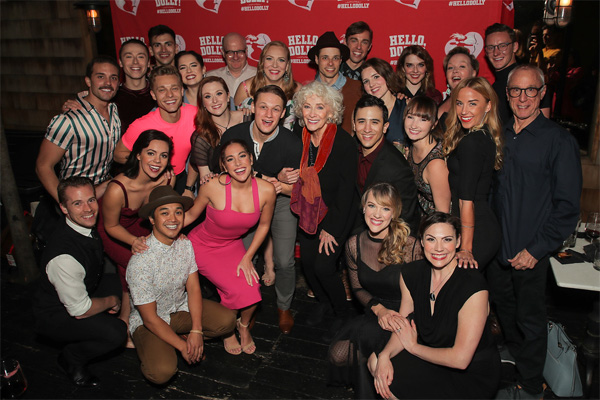 The first national tour of the Tony Award-winning Best Musical Revival of Hello, Dolly!, starring Tony Award winner Betty Buckley, opened at LA's Hollywood Pantages Theatre on Wednesday, January 30th, 2019.
Ms. Buckley is joined by Lewis J. Stadlen (Horace Vandergelder), Nic Rouleau (Cornelius Hackl), Analisa Leaming (Irene Molloy), Jess LeProtto (Barnaby Tucker), Kristen Hahn (Minnie Fay), Garett Hawe (Ambrose Kemper), Morgan Kirner(Ermengarde), and Jessica Sheridan (Ernestina).
Led by four-time Tony Award-winning director Jerry Zaks and choreographed by Tony Award winner Warren Carlyle, the entire creative team of the Broadway production reprises their roles for the national tour of Hello, Dolly!, including four-time Tony Award winner Santo Loquasto (Scenic & Costume Design), six-time Tony Award winner Natasha Katz (Lighting Design), Tony Award winnerScott Lehrer (Sound Design), Andy Einhorn(Music Supervision), Robert Billig (Music Direction), Tony Award winner Larry Hochman(Orchestrations), Tony Award winner Don Pippin (Vocal Arrangements), David Chase (Dance Arrangements), and Telsey + Company (Casting).
Hello, Dolly! is a 1964 musical with lyrics and music by Jerry Herman and a book by Michael Stewart, based on Thornton Wilder's 1938 farce The Merchant of Yonkers, which Wilder revised and retitled The Matchmaker in 1955. The musical follows the story of Dolly Gallagher Levi, a strong-willed matchmaker, as she travels to Yonkers, New York to find a match for the miserly "well-known unmarried half-a-millionaire" Horace Vandergelder.
Hello, Dolly! was first produced on Broadway by David Merrick in 1964, winning 10 Tony Awards, including Best Musical. This set a record which the play held for 37 years. The show album Hello, Dolly! An Original Cast Recording was inducted into the Grammy Hall of Fame in 2002. The album reached number one on the Billboard album chart on June 6, 1964, and was replaced the next week by Louis Armstrong's album Hello, Dolly!
The show has become one of the most enduring musical theater hits, with four Broadway revivals and international success. It was also made into the 1969 film Hello Dolly! which won three Academy Awards.
3 WEEKS ONLY • JANUARY 29 – FEBRUARY 17, 2019
Tickets for HELLO, DOLLY! are now on sale, and available at www.HollywoodPantages.com/HelloDolly and www.Ticketmaster.com, by phone at (800) 982-2787 or in person at the Hollywood Pantages Theatre Box Office (Opens Daily at 10am PT).
Disneyland Resort Launches 2019 with a Party for Mickey Mouse, the Summer Opening of Star Wars: Galaxy's Edge and More Magic Than Ever Throughout the Resort
The Disneyland Resort will become a "must-do" travel destination in 2019, whether it's for a celebration of 90 years of magic with Mickey Mouse and Minnie Mouse, a journey to the planet Batuu to live the adventures of Star Wars: Galaxy's Edge, a whirl on two family-friendly attractions opening at Pixar Pier, an encounter with Captain Marvel, or a chance to enjoy the Disney California Adventure Food & Wine Festival.
Starting in January and continuing throughout 2019, the Disneyland Resort will offer a collection of adventures, festivals, shows, food, Disney character interactions and more to inspire guests to join the fun with family and friends.
The year will kick off in true Disney fashion with Get Your Ears On – A Mickey and Minnie Celebration, a party to celebrate Mickey Mouse and Minnie Mouse at the place where they first appeared for guests. Disney California Adventure Park will celebrate Lunar New Year and the Year of the Pig with a special appearance by the Three Little Pigs, and this spring the annual Disney California Adventure Food & Wine Festival will offer tasty treats and special entertainment for guests of all ages to enjoy. The Downtown Disney District will continue its exciting, promenade-wide transformation, and the Hotels of the Disneyland Resort will open special dining locations.
For the first time ever, guests will be able to live their own Star Wars adventure at the highly anticipated new land, Star Wars: Galaxy's Edge, opening in summer 2019. The Star Wars universe will come to life like never before with authentic, intergalactic adventures.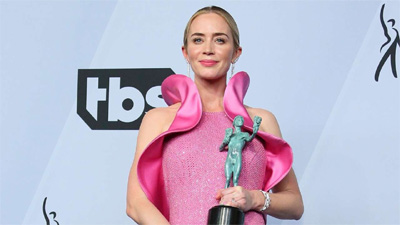 The latest and perhaps greatest key indicator as to which actors might be accepting an Oscar in the major categories next month was revealed on Sunday night, as the Screen Actors Guild Awards holds its 25th annual ceremony honoring excellence in film and television. Since the SAG Awards launched two and half decades ago, 20 lead actors claimed both the SAG prize and that year's Oscar, and 18 lead actresses have accomplished the same feat.
Which means that Glenn Close and Rami Malek may have just received some very good news: Fresh off of their Golden Globe wins, The Wife star and Bohemian Rhapsody frontman nabbed trophies in the Best Actress and Best Actor in a Drama categories, respectively. The spoils were scattered across other films, as the cast of Black Panther, Emily Blunt (A Quiet Place), and Mahershala Ali (Green Book) were among those taking home awards. A Star Is Born, which entered the night with the most nominations (four), was shut out, as were triple nominees BlacKkKlansman and The Favourite.
Over in TV land, The Marvelous Mrs. Maisel — a nominations co-leader with Ozark — delivered the strongest performance of the night by winning three of its four nominations, including Best Comedy Ensemble and individual honors for Rachel Brosnahan and Tony Shalhoub. This Is Us took home the Best Drama Ensemble award (with Sterling K. Brown, the night's most nominated actor, also hitting the stage later that night as part of the Black Panther cast), while Sandra Oh (Killing Eve), Jason Bateman (Ozark), Patricia Arquette (Escape at Dannemora), and Darren Criss (The Assassination of Gianni Versace) also came up victorious.
HOLLYWOOD AND THE ART WORLD UNITED TO SAVE LIVES AT 24th ANNUAL LA ART SHOW OPENING NIGHT GALA, BENEFITTING ST. JUDE CHILDREN'S RESEARCH HOSPITAL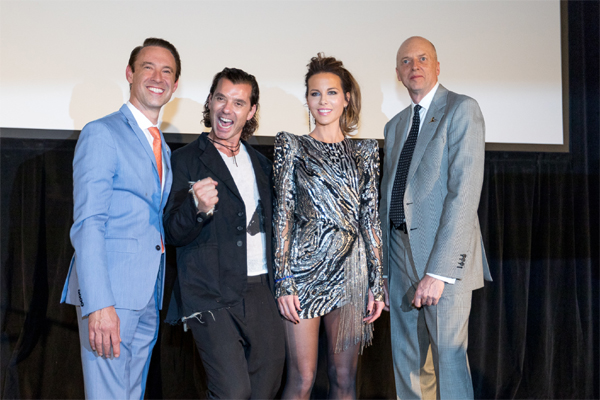 On Wednesday, January 23, Hollywood stars joined thousands of VIPs in LA's thriving arts community at the LA Convention Center for the 24th Annual LA Art Show Opening Night Gala, benefiting St. Jude Children's Research Hospital for the 5th year in a row. Boasting record breaking attendance, all proceeds from the sale of Patron and Vanguard tickets and 15 percent of sales of Friend tickets went directly to the charity. All attendees of the Opening Night Premiere party supported the lifesaving mission of St. Jude: Finding cures. Saving children.®
Kate Beckinsale drew a crowd as the evening's host, meeting with St. Jude patient families and delivering an address about the organization's mission to the VIP area. Gavin Rossdale, an avid collector and this year's Art Ambassador, reminded the audience that art can save lives. They were joined by previous host Emma Roberts, and stars such as Jessica Szohr, Peyton List, Cameron Monaghan, Joe Manganiello, Lance Bass, Amy Smart, Odette Annable, Brandon Boyd, Brigitte Nielsen, Evan Williams Bailee Madison, Kevin Zegers, Perrey Reeves, Amber Stevens West, JoAnna Garcia Swisher, Naomi Grossman, Davi Santos, Barry Sloane, Brittney Palmer, Ian Bohen, Denim Richards, Celeste Thorson and many more.
Art stars Tristan Eaton, Camille Rose Garcia, Jorge R. Gutierrez, Gregory Siff, Dave Pressler, Brandi Milne, Dosshaus, Mikael B, and hundreds more were in attendance.
VIPs enjoyed cuisine by James Beard Award-Nominated Chef Jeffrey Nimer of Haute Chefs LA, and Executive Chef Nick Shipp of The Upper West, desserts from celebrated local chefs Valerie Gordon and Shannon Swindle, NESPRESSO, Cavit Prosecco and delicious hors d'oeuvres from over 20 select LA restaurants.
In addition to food, beverages, live music and art, gala attendees were given special sneak peek of the LA Art Show's 200,000 sq. ft. of programming, featuring over 100 galleries from 18 countries. RISK's bisected cop car, Scott Hove's cake wall, Pip & Pop's candy installation, Dosshaus's Littletopia archway and the mirrored light sculptures by Anthony James at Melissa Morgan Fine Art proved to be huge hits with the gala-goers. They also got to see the first of many performances by Dorian Wood and Sarah Trouche, among others.
Following the Opening Night Gala, LA Art Show opened to the public and brought in over 70,000 attendees over the four day period, delighting with more highlights and featured exhibitions than ever before.
The most photographed and talked about highlights of the fair, Anthony James' large "Portal Icosahedrons" light and mirror sculptures at Melissa Morgan Fine Art, sold to a notable collector.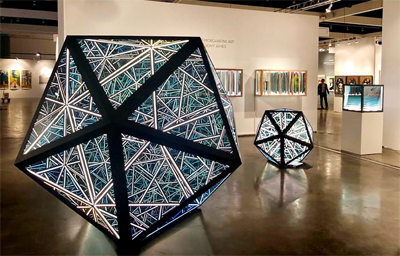 Maya Cinemas brings luxury movie theater to North Las Vegas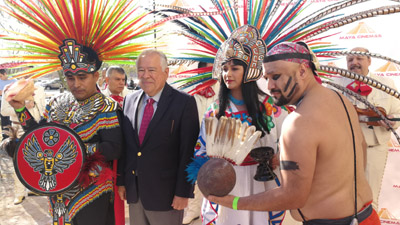 A $75 million cinema center opened its doors Thursday in North Las Vegas, paving the way for future development in the NLV downtown area.
Maya Cinemas are located on North Las Vegas Boulevard, between Lake Mead Boulevard and Carey Avenue, and includes 14 screens, an arcade, cantina, and event space. It also boasts some of the largest displays in Nevada, with one larger than IMAX and other theaters featuring chairs that move along with a movie.
"It's a dream come true for me," says Maya Cinemas CEO Moctezuma Esparza.
He also said he specifically chose the site, which was once a dirt lot, because he wanted to benefit the underserved community in North Las Vegas, as many residents had to drive at least 20 minutes to go the movies.
But the cinema is all part of a larger goal to spur development in downtown North Las Vegas.
Councilman Isaac Barron says he's glad to see a family-friendly space where the community can gather.
"Economic development is the best tool for combatting crime and poverty," Barron said.
In addition to showing everything mainstream theaters have, they also plan to showcase documentaries, international, and foreign language films.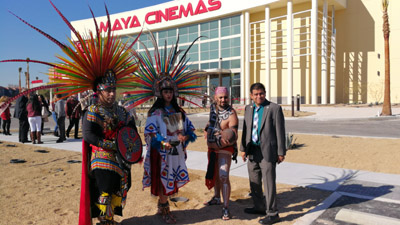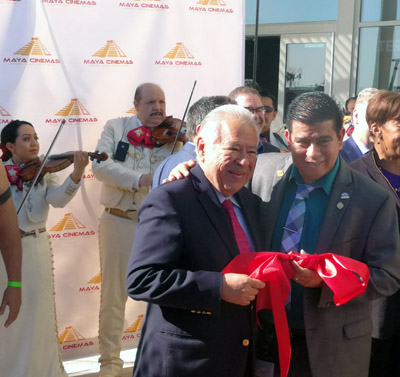 About Maya Theater
Maya Cinemas was chartered in 2000 with a mission to develop, build, own and operate modern, first-run, megaplex movie theaters in underserved, family oriented, Latino-dominant communities.
Maya's founder, Moctesuma Esparza combines his lifelong love of film, his vast experience as a film producer and pioneer and entertainment business developer in his pursuit of creating cornerstone movie theaters in communities lacking first run film entertainment options.
In 2003 Moctesuma's vision was realized with the launch of the first Maya Cinema in Salinas, CA. Today this vision has expanded to Bakersfield, Pittsburg, Fresno and Delano, CA with continuing expansion plans in California and beyond.
Maya theaters offers first-run Hollywood movies in high-end cinemas focused on quality of design, state-of-the-art film presentation technology, and providing first-rate entertainment with superior customer service.
Maya Theater is located at:
2195 North Las Vegas Boulevard
Las Vegas, NV 89030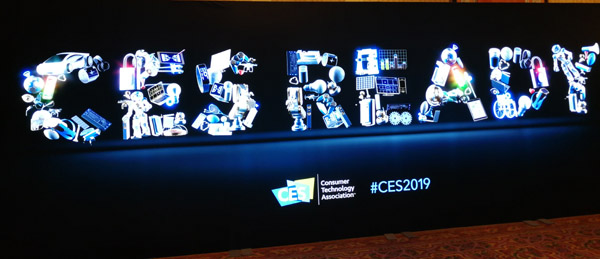 Dell Experience at the 2019 CES Las Vegas on Tuesday, January 8th hosted by Aisha Tyler with and Gerri Tunnell.
Dell Latitude 7400 2-in-1 With Express Sign-In, Cat. 16 LTE Launched at CES 2019
Dell has announced its new Latitude 7400 2-in-1 laptop. Aimed at business users, the Latitude 7400 is claimed to be the world's smallest commercial 14-inch 2-in-1 laptop. Dell says that the laptop is completely new from the ground-up and boasts of features such as Dell's Express Sign-in, Cat. 16 Gigabit LTE, and Express Charge which claims to offer up to an 80 percent charge in an hour. The Dell Latitude 7400 2-in-1 will go on sale in the US in March, at a starting price of $1,599.
The Latitude 7400 2-in-1 is available in a new Titan Gray finish, with a machined aluminium body and a hairline brushed design. The weight of the laptop starts at 1.36kg but this will vary depending on the configuration you select. Since it's a 2-in-1, the display of the laptop can be tilted all the way around so it can be used as a tablet. Dell has also says it's beefed up the thermal solution in the Latitude 7400 2-in-1, which now makes use of GORE material, infused by an aerogel, similar to what NASA uses.
One of the big new features is Dell's Express Sign-in which uses a combination of Intel's Context Sensing Technology and Windows Hello, to automatically authenticate the user. The proximity sensor built into the laptop detects your presence as you approach it and will automatically wake it up, after which the infrared camera system is used to authenticate your face and sign you into Windows. Dell says that the Latitude 7400 2-in-1 can recognize when you're away from the PC and automatically lock it and put it to sleep.
Dell Latitude 7400 2-in-1 Specifications:
The laptop is powered by Intel's 8th generation U-series 'Whiskey Lake' CPUs, and supports up to 16GB of LPDDR3 RAM, up to a 1TB M.2 PCIe NVMe SSD and integrated Intel UHD Graphics 620 GPU. There's a 2TB storage option coming in "summer 2019". The Latitude 7400 2-in-1 features a 14-inch touch display with a full-HD (16:9) resolution, with anti-reflective and anti-smudge treatments and Gorilla Glass 5. It also supports Dell's Active Pen, which is sold separately. The display boasts of having narrow borders on all sides and despite this, Dell has managed to fit the webcam and the infrared camera for Windows Hello up on the top, where it belongs.
In terms of physical connectivity, the laptop features two USB Type-A 3.1 (Gen1) ports, two Thunderbolt 3 ports (Type-C), a full-sized HDMI port, SIM card slot on compatible models, mciroSD card reader, SmartCard reader, and a Noble Wedge Lock slot. For wireless connectivity, you get dual-band 802.11ac Wi-Fi with 2×2 MIMO antennas, Bluetooth 5.0, and a option for a LTE version with Cat. 16 Gigabit LTE speeds. Being a business laptop, the Latitude 7400 2-in-1 has additional security in the form of Dell's ControlVault 3 for hardware multi-factor authentication and programs like VMware's Workspace ONE pre-installed. The laptop is also 'Skype for Business' certified and has stereo speakers with MaxxAudio Pro.
Dell Unveils new Alienware Desktop and Notebooks
Alienware Highlights Include:
Alienware unveils bold new "Legend" design to debut in new Alienware Area-51m, the first true desktop replacement

Alienware introduces its thinnest and lightest 17-inch notebook the m17; m15 and m17 offer NVIDIA GeForce RTX™ 20 Series GPUs

Dell G5 and G7 gaming laptops redesigned to deliver enhanced performance in a sleek chassis with narrow borders

Team Liquid to build second Alienware Training Facility, state-of-the-art esports facility powered by Alienware technology, in the Netherlands

New PC hardware partnership with Riot Games and League of Legends Esports, ushering in a new generation of PCs that will enable League pros to compete at a higher level and also standardize operational logistics for their global operation.
Samsung Unveils "The Wall," the World's First Modular MicroLED 146-inch TV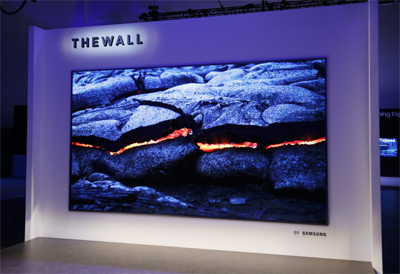 Samsung Electronics Co., Ltd. introduced "The Wall" – the world's first consumer modular MicroLED 146-inch TV – at its annual First Look CES event. The modular, self-emitting MicroLED 146" TV display was featured alongside Samsung's latest innovations in display technology, demonstrating how television is evolving to offer consumers an outstanding viewing experience, while acting as a centralized connected smart hub to enhance everyday life.
This year's First Look, attended by more than 300 global media and influencers, included remarks from Jonghee Han, Samsung's President of Visual Display, and Dave Das, Senior Vice President of Consumer Electronics at Samsung Electronics America. Both outlined Samsung's vision of the future – one in which TV displays deliver brilliant visuals and also evolve to integrate seamlessly into people's lives.
"At Samsung, we are dedicated to providing consumers with a wide range of cutting-edge screen experiences," said Jonghee Han, President of Visual Display Business at Samsung Electronics. "As the world's first consumer modular MicroLED television, 'The Wall' represents another breakthrough. It can transform into any size, and delivers incredible brightness, color gamut, color volume and black levels. We're excited about this next step along our roadmap to the future of screen technology, and the remarkable viewing experience it offers to consumers."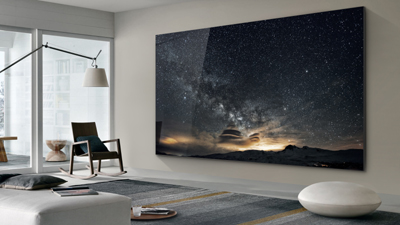 First Ever ModularTV with MicroLED: The Screen of the Future
Samsung's "The Wall," a 146-inch modular TV with MicroLED technology delivers incredible definition, without restrictions to size, resolution or form. It is a self-emitting TV with micrometer (µm) scale LEDs – which are much smaller than current LEDs, and serve as their own source of light.
The MicroLED technology featured in The Wall eliminates the need for color filters or backlight, yet allows the screen to offer consumers the ultimate viewing experience. Also, the MicroLED screen excels in durability and effectiveness, including luminous efficiency, the light source lifetime and power consumption, setting the standard for future screen technology.
Featuring a module-based, bezel-less design, "The Wall" also exemplifies how consumers can customize their television sizes and shapes to suit their needs. The screen can adapt to serve different purposes, such as creating a wall-size display for multiple spaces.
Google's Assistant Ride makes a Splash at the 2019 CES in Las Vegas.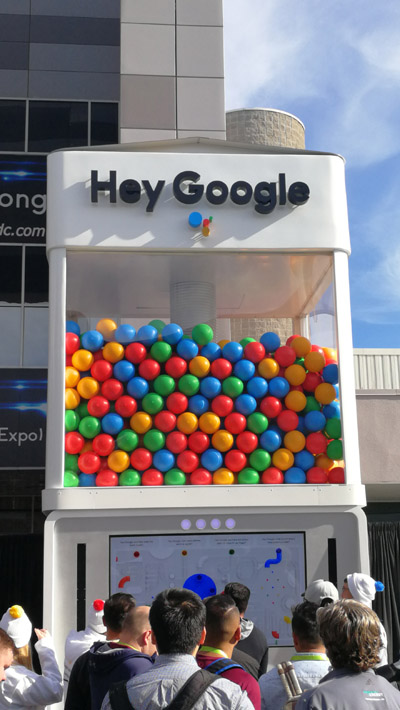 The ride, which opened Tuesday at Google's massive booth outside the Las Vegas Convention Center, is part of a big promotional blitz the search giant is making around the Assistant, the company's digital helper software, like Amazon's Alexa and Apple's Siri.
Here's how riders wait in line where they meet Grandma, who talks to the crowd. Then they are ushered into a room where they hear the story for the ride. You're with Dad as he tries to rush through his errands and buy a cake for Grandma's 91st birthday.
The slow-moving ride takes you through Dad's day as his rambunctious kids run through the house, he gets stalled in traffic, then gets caught in a downpour. Through it all, he gets help from none other than… the Google Assistant. Dad says things like "Hey Google, navigate to bakery," and "Send Jane my ETA."
Then he goes to a French bakery where the baker only speaks French. Which is a good time to use the new Assistant interpreter mode, announced at 2019 CES.
As the ride moves along, you can see the Google Assistant jumping into action on a screen on the dash of the ride cart. At the end of the ride, you get your picture taken.
LG OLED Falls one of the amazing displays at CES 2019
KiKi - AI-Powered Pet Robot
KiKi is a delightful and adorable pet robot that brings joy to your life. Every interaction you have with KiKi shapes its personality. Cherish your KiKi and it will love you more. It might even dream about you!
Zoetic AI is a startup founded by two ex -Google engineers. Zoetic's proprietary Deep Learning Personality Engine enables robots to interact and learn in real time, and form an emotional connection with people.
For  more info visit zoeticai.com
HOLLYWOOD ELITE CELEBRATE THE 6TH ANNUAL GOLD MEETS GOLDEN WITH J VINEYARDS & WINERY SPARKLING WINE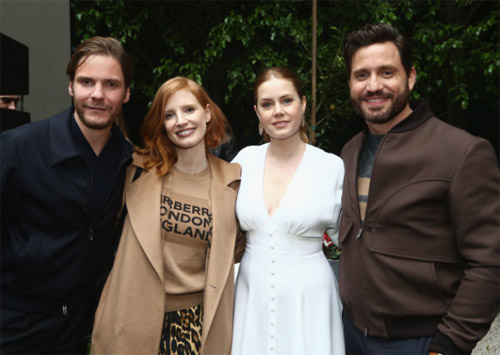 Hollywood heavyweights welcomed athletes and Olympians to the 6th annual Gold Meets Golden brunch on Saturday, hosted by actress Nicole Kidman together with J Vineyards & Winery, just ahead of Sunday's 76th annual Golden Globe Awards. Award-winning entertainers, including Nicole Kidman, Matt Bomer, Octavia Spencer, Jessica Chastain, Amy Adams, Patricia Clarkson, Jenna Dewan, Emmanuelle Chriqui, Billy Porter, Mark Ronson, Chrissy Metz, Daniel Bruhl, Danielle Macdonald, and more welcomed the stellar roster of athletes and Olympians in attendance, including Nastia Liukin, Michelle Kwan, Missy Franklin, Adam Rippon, and more. 
Actress and 2019 Golden Globe nominee Nicole Kidman hosted the intimate soirée at House on Sunset with J Vineyards & Winery. The acclaimed Russian River Valley winery presented their vibrant sparkling wines in a signature gold sparkling wine coupe tower. The gold-medal menu from J Executive Chef Carl Shelton paired the bubbly with his golden-inspired brunch bites, including a tower of golden croquembouches, gold-dusted marmalade pop-tarts and waffle squares topped with crème fraîche, caviar and gold leaf.
During the event, guests sipped on bubbly and enjoyed brunch from J Vineyards & Winery, choosing between the delicate and rich J Cuvée 20 Brut or vibrant, zesty J Brut Rosé to pair with Executive Chef Carl Shelton's lavish brunch bites. Sharp Objects star, Patricia Clarkson was spotted raising a toast with J sparkling wine. Matt Bomer and Chrissy Metz were spotted sharing a laugh outdoors as were BFFs Jenna Dewan and Emmanuelle Chriqui who arrived together and spent the brunch laughing and enjoying themselves. Daniel Bruhl, Jessica Chastain and Octavia Spencer were all smiles. Olympian Adam Rippon and boyfriend were spotted sipping on the vibrant J sparkling wine. Guests dined on sunny-side up quail eggs on milk bread with black truffle, mini prosciutto and black truffle grilled cheese, Dungeness crab wontons, and more from Chef Carl.