TWENTIETH CENTURY FOX HOME ENTERTAINMENT Announces Month-Long, Foot-Stomping BOHEMIAN RHAPSODY Fan Celebrations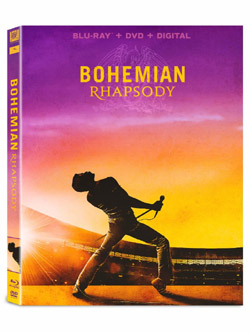 Fans Can Join the Party in Person via a Multi-City Sing-Along
Bus Tour and "Get Loud" Extravaganza
 
Take Part at Home and Online via #StompforQueen & New "Ay-Oh"
Call-Back Amazon Alexa Skill
To celebrate the fans that made BOHEMIAN RHAPSODY the number one music biopic of all time, Twentieth Century Fox Home Entertainment invites them to join the ultimate Queen celebration at events across the country, in their own homes and on social media. Are you ready, Freddie?
 
Rock Like Queen Tour Bus
Fans in New York City (January 25), Austin (January 30), Las Vegas (February 5) and Los Angeles (February 12) will have a chance to hop on board the double-decker Rock Like Queen Tour Bus and sing-along to their favorite Queen songs from "We Will Rock You" to "Radio Ga Ga". Fans can sign up for a spot via Rock Like Queen Tour registration site www.rocklikequeen.com. Space is available on a first come, first served basis.

"Get Loud" Extravaganza
The Rock Like Queen Tour will culminate in the ultimate Queen fan experience at the legendary Whiskey A-Go-Go on the famed Sunset Strip in Los Angeles. This BOHEMIAN RHAPSODY super-fan celebration will include musical tributes to Freddie and Queen, a performance by Queen Extravaganza and more. Free tickets are available online on a first come, first served basis here: gofobo.com/getloudwithqueen.

"Alexa, play Ay-Oh live!"
For fans in the US who can't make the Rock Like Queen Tour or the Los Angeles event, they can join the fun at home via a new Amazon Alexa skill that will enable fans to sing "Ay-Oh" with Freddie when they call out "Alexa, play Ay-Oh live!" Freddie will sing "Ay-Oh" with you just like Queen's audience did during the band's iconic Live Aid 1985 performance. US Fans can activate the skill via Amazon Alexa devices starting January 22 through March 31.
 
#StompforQueen Social Media Celebration
Twentieth Century Fox Home Entertainment invites fans around the world to show us your best "Stomp, Stomp, Clap" to become a part of the Bohemian Rhapsody family. A worldwide $100,000 donation will be made to the Mercury Phoenix Trust founded by Brian May and Roger Taylor in memory of Queen's iconic lead singer Freddie Mercury.
 
To join #StompforQueen fans can re-share the just released video found on Bohemian Rhapsody official channels (Facebook/Instagram @bohemianrhapsodymovie & Twitter @BoRhapMovie) or show us their very own "Stomp, Stomp, Clap" on any social platform. Twentieth Century Fox Home Entertainment may include their video in a tribute video to the legendary singer launching in February. 
 
Maya Cinemas brings luxury movie theater to North Las Vegas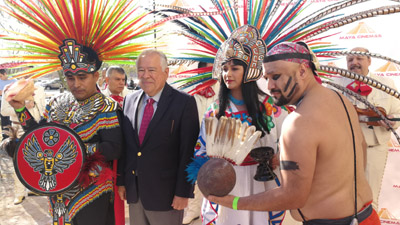 A $75 million cinema center opened its doors Thursday in North Las Vegas, paving the way for future development in the NLV downtown area.
Maya Cinemas are located on North Las Vegas Boulevard, between Lake Mead Boulevard and Carey Avenue, and includes 14 screens, an arcade, cantina, and event space. It also boasts some of the largest displays in Nevada, with one larger than IMAX and other theaters featuring chairs that move along with a movie.
"It's a dream come true for me," says Maya Cinemas CEO Moctezuma Esparza.
He also said he specifically chose the site, which was once a dirt lot, because he wanted to benefit the underserved community in North Las Vegas, as many residents had to drive at least 20 minutes to go the movies.
But the cinema is all part of a larger goal to spur development in downtown North Las Vegas.
Councilman Isaac Barron says he's glad to see a family-friendly space where the community can gather.
"Economic development is the best tool for combatting crime and poverty," Barron said.
In addition to showing everything mainstream theaters have, they also plan to showcase documentaries, international, and foreign language films.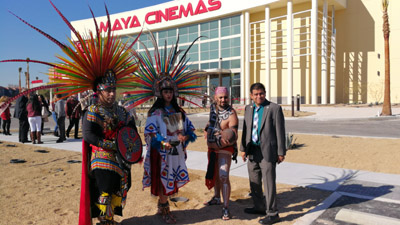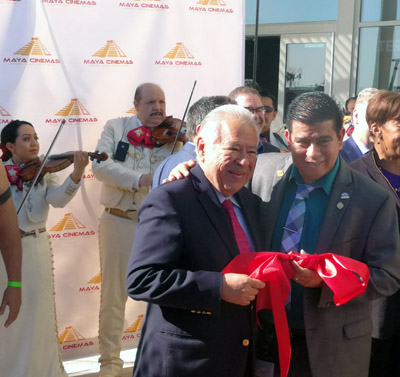 About Maya Theater
Maya Cinemas was chartered in 2000 with a mission to develop, build, own and operate modern, first-run, megaplex movie theaters in underserved, family oriented, Latino-dominant communities.
Maya's founder, Moctesuma Esparza combines his lifelong love of film, his vast experience as a film producer and pioneer and entertainment business developer in his pursuit of creating cornerstone movie theaters in communities lacking first run film entertainment options.
In 2003 Moctesuma's vision was realized with the launch of the first Maya Cinema in Salinas, CA. Today this vision has expanded to Bakersfield, Pittsburg, Fresno and Delano, CA with continuing expansion plans in California and beyond.
Maya theaters offers first-run Hollywood movies in high-end cinemas focused on quality of design, state-of-the-art film presentation technology, and providing first-rate entertainment with superior customer service.
Maya Theater is located at:
2195 North Las Vegas Boulevard
Las Vegas, NV 89030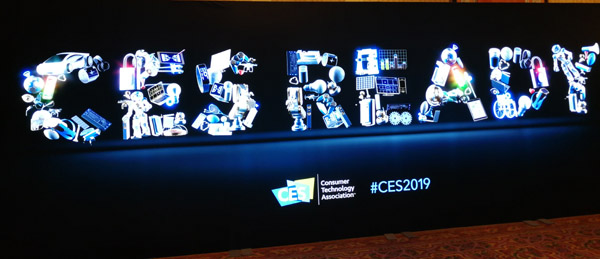 Dell Experience at the 2019 CES Las Vegas on Tuesday, January 8th hosted by Aisha Tyler with and Gerri Tunnell.
Dell Latitude 7400 2-in-1 With Express Sign-In, Cat. 16 LTE Launched at CES 2019
Dell has announced its new Latitude 7400 2-in-1 laptop. Aimed at business users, the Latitude 7400 is claimed to be the world's smallest commercial 14-inch 2-in-1 laptop. Dell says that the laptop is completely new from the ground-up and boasts of features such as Dell's Express Sign-in, Cat. 16 Gigabit LTE, and Express Charge which claims to offer up to an 80 percent charge in an hour. The Dell Latitude 7400 2-in-1 will go on sale in the US in March, at a starting price of $1,599.
The Latitude 7400 2-in-1 is available in a new Titan Gray finish, with a machined aluminium body and a hairline brushed design. The weight of the laptop starts at 1.36kg but this will vary depending on the configuration you select. Since it's a 2-in-1, the display of the laptop can be tilted all the way around so it can be used as a tablet. Dell has also says it's beefed up the thermal solution in the Latitude 7400 2-in-1, which now makes use of GORE material, infused by an aerogel, similar to what NASA uses.
One of the big new features is Dell's Express Sign-in which uses a combination of Intel's Context Sensing Technology and Windows Hello, to automatically authenticate the user. The proximity sensor built into the laptop detects your presence as you approach it and will automatically wake it up, after which the infrared camera system is used to authenticate your face and sign you into Windows. Dell says that the Latitude 7400 2-in-1 can recognize when you're away from the PC and automatically lock it and put it to sleep.
Dell Latitude 7400 2-in-1 Specifications:
The laptop is powered by Intel's 8th generation U-series 'Whiskey Lake' CPUs, and supports up to 16GB of LPDDR3 RAM, up to a 1TB M.2 PCIe NVMe SSD and integrated Intel UHD Graphics 620 GPU. There's a 2TB storage option coming in "summer 2019". The Latitude 7400 2-in-1 features a 14-inch touch display with a full-HD (16:9) resolution, with anti-reflective and anti-smudge treatments and Gorilla Glass 5. It also supports Dell's Active Pen, which is sold separately. The display boasts of having narrow borders on all sides and despite this, Dell has managed to fit the webcam and the infrared camera for Windows Hello up on the top, where it belongs.
In terms of physical connectivity, the laptop features two USB Type-A 3.1 (Gen1) ports, two Thunderbolt 3 ports (Type-C), a full-sized HDMI port, SIM card slot on compatible models, mciroSD card reader, SmartCard reader, and a Noble Wedge Lock slot. For wireless connectivity, you get dual-band 802.11ac Wi-Fi with 2×2 MIMO antennas, Bluetooth 5.0, and a option for a LTE version with Cat. 16 Gigabit LTE speeds. Being a business laptop, the Latitude 7400 2-in-1 has additional security in the form of Dell's ControlVault 3 for hardware multi-factor authentication and programs like VMware's Workspace ONE pre-installed. The laptop is also 'Skype for Business' certified and has stereo speakers with MaxxAudio Pro.
Dell Unveils new Alienware Desktop and Notebooks
Alienware Highlights Include:
Alienware unveils bold new "Legend" design to debut in new Alienware Area-51m, the first true desktop replacement

Alienware introduces its thinnest and lightest 17-inch notebook the m17; m15 and m17 offer NVIDIA GeForce RTX™ 20 Series GPUs

Dell G5 and G7 gaming laptops redesigned to deliver enhanced performance in a sleek chassis with narrow borders

Team Liquid to build second Alienware Training Facility, state-of-the-art esports facility powered by Alienware technology, in the Netherlands

New PC hardware partnership with Riot Games and League of Legends Esports, ushering in a new generation of PCs that will enable League pros to compete at a higher level and also standardize operational logistics for their global operation.
Samsung Unveils "The Wall," the World's First Modular MicroLED 146-inch TV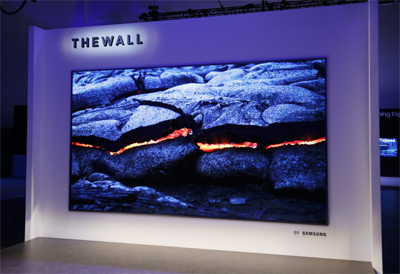 Samsung Electronics Co., Ltd. introduced "The Wall" – the world's first consumer modular MicroLED 146-inch TV – at its annual First Look CES event. The modular, self-emitting MicroLED 146" TV display was featured alongside Samsung's latest innovations in display technology, demonstrating how television is evolving to offer consumers an outstanding viewing experience, while acting as a centralized connected smart hub to enhance everyday life.
This year's First Look, attended by more than 300 global media and influencers, included remarks from Jonghee Han, Samsung's President of Visual Display, and Dave Das, Senior Vice President of Consumer Electronics at Samsung Electronics America. Both outlined Samsung's vision of the future – one in which TV displays deliver brilliant visuals and also evolve to integrate seamlessly into people's lives.
"At Samsung, we are dedicated to providing consumers with a wide range of cutting-edge screen experiences," said Jonghee Han, President of Visual Display Business at Samsung Electronics. "As the world's first consumer modular MicroLED television, 'The Wall' represents another breakthrough. It can transform into any size, and delivers incredible brightness, color gamut, color volume and black levels. We're excited about this next step along our roadmap to the future of screen technology, and the remarkable viewing experience it offers to consumers."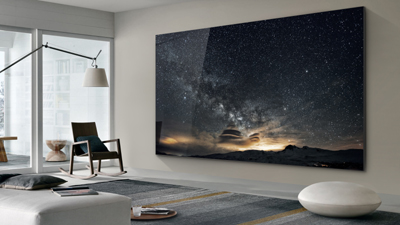 First Ever ModularTV with MicroLED: The Screen of the Future
Samsung's "The Wall," a 146-inch modular TV with MicroLED technology delivers incredible definition, without restrictions to size, resolution or form. It is a self-emitting TV with micrometer (µm) scale LEDs – which are much smaller than current LEDs, and serve as their own source of light.
The MicroLED technology featured in The Wall eliminates the need for color filters or backlight, yet allows the screen to offer consumers the ultimate viewing experience. Also, the MicroLED screen excels in durability and effectiveness, including luminous efficiency, the light source lifetime and power consumption, setting the standard for future screen technology.
Featuring a module-based, bezel-less design, "The Wall" also exemplifies how consumers can customize their television sizes and shapes to suit their needs. The screen can adapt to serve different purposes, such as creating a wall-size display for multiple spaces.
Google's Assistant Ride makes a Splash at the 2019 CES in Las Vegas.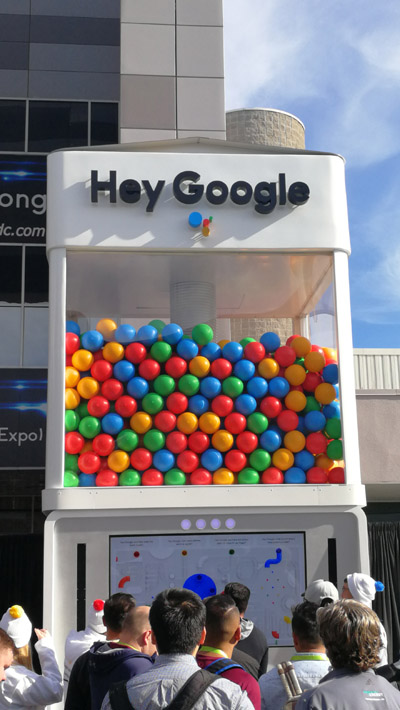 The ride, which opened Tuesday at Google's massive booth outside the Las Vegas Convention Center, is part of a big promotional blitz the search giant is making around the Assistant, the company's digital helper software, like Amazon's Alexa and Apple's Siri.
Here's how riders wait in line where they meet Grandma, who talks to the crowd. Then they are ushered into a room where they hear the story for the ride. You're with Dad as he tries to rush through his errands and buy a cake for Grandma's 91st birthday.
The slow-moving ride takes you through Dad's day as his rambunctious kids run through the house, he gets stalled in traffic, then gets caught in a downpour. Through it all, he gets help from none other than… the Google Assistant. Dad says things like "Hey Google, navigate to bakery," and "Send Jane my ETA."
Then he goes to a French bakery where the baker only speaks French. Which is a good time to use the new Assistant interpreter mode, announced at 2019 CES.
As the ride moves along, you can see the Google Assistant jumping into action on a screen on the dash of the ride cart. At the end of the ride, you get your picture taken.
LG OLED Falls one of the amazing displays at CES 2019
KiKi - AI-Powered Pet Robot
KiKi is a delightful and adorable pet robot that brings joy to your life. Every interaction you have with KiKi shapes its personality. Cherish your KiKi and it will love you more. It might even dream about you!
Zoetic AI is a startup founded by two ex -Google engineers. Zoetic's proprietary Deep Learning Personality Engine enables robots to interact and learn in real time, and form an emotional connection with people.
For  more info visit zoeticai.com
The Original Soupman Reinforces NYC Roots Delighting Locals, Travelers & Soup-Lovers Nationwide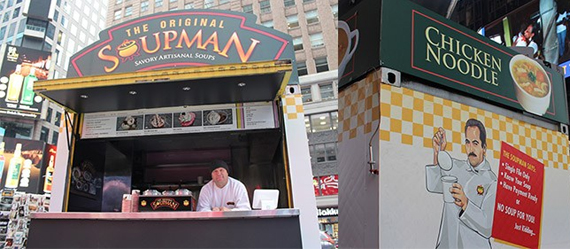 Ever since the phrase "No Soup For You!" was coined on the NBC sitcom "Seinfeld" back in the mid 90's, The Original Soupman has endured not only as a cultural icon, but a culinary one as well. Over two decades later, this New York City-born food brand has again turned its attentions to capturing the hearts, minds and palates of soup aficionados in the Big Apple and beyond reviving the legendary brand by realizing several notable milestones.
First, this past December The Original Soupman debuted an exclusive, seasonal 44th Street Kiosk allowing its fresh, authentic, local, artisanal soups to "return with a vengeance back to their rightful place as a heritage-driven NYC brand" as the company emphatically asserts. This is the first of other such kiosks the company plans to roll out, and is additional to The Original Soupman's other retail foodservice endeavors four franchise locations, one each in Albany (NY), Astoria (NY), Atlantic City (NJ) and Uncasville (CT) (noting the original 55th street location is no longer Original Soupman).
In a clear-cut strategic effort to proliferate The Original Soupman food service in NYC and bolster their overarching national franchise business, the new kiosk will operate in the heart of the Times Square hub through April 2019. It will avail four varieties of the company's internationally celebrated savory, artisanal soups to the throngs of passersby to the delight of both locals and tourists alike. Reportedly delivered fresh from the Bronx every morning, the soups are crafted with locally-sourced ingredients from Hunts Point, ostensibly the largest produce market in the world.
"We have one story, the NYC story," said Emmy-nominated Larry Thomas, the Original Soupman who brought this soup to life on Seinfeld in 1995. "What would make you stand in line, even risk ridicule? The best damn soup in the world. We are SOUP. Premium, fresh, and redefining our NYC roots."
Take a Behind the Scenes Look at the Film's Biggest Production Number, "Trip a Little Light Fantastic"
Now available – A new clip and a featurette which goes behind-the-scenes on the biggest song-and-dance number, "Trip a Little Light Fantastic" from Disney's "Mary Poppins Returns," nominated for 4 Golden Globe® Awards including Best Picture, 9 Critics' Choice Awards and AFI's Top 10 Films of 2018.
In Disney's "Mary Poppins Returns," an all new original musical, Mary Poppins is back to help the next generation of the Banks family find the joy and wonder missing in their lives following a personal loss. Emily Blunt stars as the practically-perfect nanny with unique magical skills who can turn any ordinary task into an unforgettable, fantastic adventure and Lin-Manuel Miranda plays her friend Jack, an optimistic street lamplighter who helps bring light—and life—to the streets of London.
"Mary Poppins Returns" is directedby Rob Marshall. The screenplay is by David Magee and the screen story is by Magee & Rob Marshall & John DeLuca based upon the Mary Poppins Stories by PL Travers. The producers are John DeLuca, p.g.a., Rob Marshall, p.g.a. and Marc Platt, p.g.a. with Callum McDougall serving as executive producer. The music score is by Marc Shaiman and the film features all new original songs with music by Shaiman and lyrics by Scott Wittman and Shaiman. The film also stars Ben Whishaw as Michael Banks; Emily Mortimer as Jane Banks; Julie Walters as the Banks' housekeeper Ellen; Pixie Davies, Nathanael Saleh and introducing Joel Dawson as the Banks' children, with Colin Firth as Fidelity Fiduciary Bank's William Weatherall Wilkins; and Meryl Streep as Mary's eccentric cousin, Topsy. Angela Lansbury appears as the Balloon Lady, a treasured character from the PL Travers books and Dick Van Dyke is Mr. Dawes, Jr., the retired chairman of the bank now run by Firth's character.
The SAG Awards Silver Anniversary Ceremony will be simulcast live on Sunday, January 27, 2019 on TNT and TBS at 8 p.m. (ET) / 5 p.m. (PT)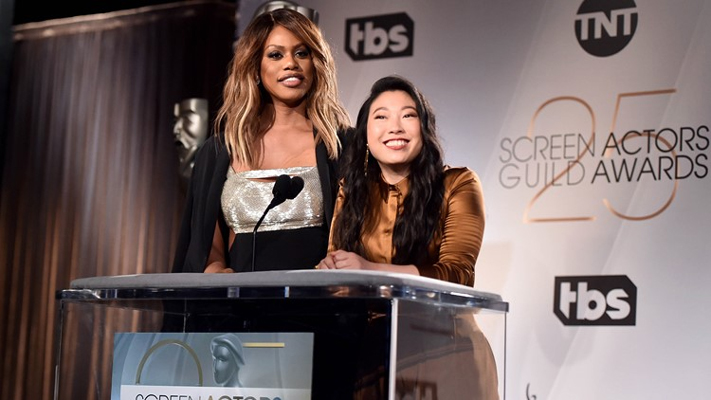 Nominees for the 25th Annual Screen Actors Guild Awards® for outstanding individual, cast and ensemble performances in film and television of 2018, as well as the nominees for outstanding action performances by film and television stunt ensembles were announced at the Pacific Design Center's SilverScreen Theater in West Hollywood.
SAG-AFTRA President Gabrielle Carteris introduced Awkwafina (Crazy Rich Asians, Ocean's Eight) and Laverne Cox (Orange Is the New Black, the upcoming Bad Hair), who announced the nominees for this year's Actors® live on TNT, TBS, truTV, tntdrama.com/sag-awards, truTV.com, sagawards.org, and on major social platforms.
Before that announcement, this year's stunt ensemble action performance nominees were announced by SAG Awards Committee Chair JoBeth Williams and SAG Awards Committee Member Elizabeth McLaughlin during a live webcast on tntdrama.com/sag-awards and sagawards.org.
A replay of both announcements is available for viewing on tntdrama.com/sag-awards.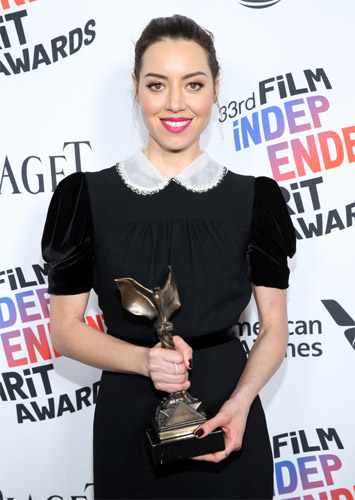 AUBREY PLAZA TO HOST 34TH FILM INDEPENDENT SPIRIT AWARDS
Film Independent announced that Aubrey Plaza (Ingrid Goes West, Legion, Parks & Recreation) will host the 2019 Film Independent Spirit Awards. The Spirit Awards are the primary fundraiser for Film Independent's year-round programs, which cultivate the careers of emerging filmmakers and promote diversity in the industry.
Nominees were announced by Gemma Chan (Crazy Rich Asians, Captain Marvel, Mary Queen of Scots) and Molly Shannon (Divorce, Private Life, Other People) at a press conference on November 16.
Best Feature nominees include Eighth Grade, First Reformed, If Beale Street Could Talk, Leave No Trace and You Were Never Really Here. The show will broadcast live exclusively on IFC at 2:00 pm PT/ 5:00 pm ET on Saturday, February 23, 2019.

"I am truly honored and delighted to host the Spirits Awards this year," said Host Aubrey Plaza. "It is a dream come true to host a show that celebrates my greatest loves… independent film, the people that make them possible and live television!"
HOLLYWOOD ELITE CELEBRATE THE 6TH ANNUAL GOLD MEETS GOLDEN WITH J VINEYARDS & WINERY SPARKLING WINE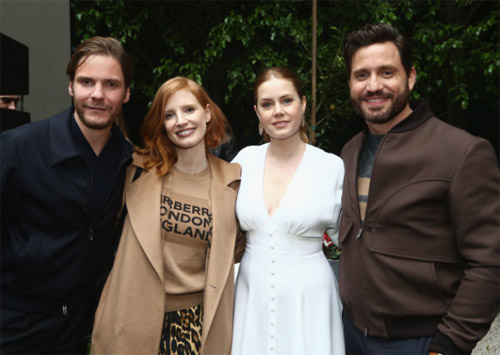 Hollywood heavyweights welcomed athletes and Olympians to the 6th annual Gold Meets Golden brunch on Saturday, hosted by actress Nicole Kidman together with J Vineyards & Winery, just ahead of Sunday's 76th annual Golden Globe Awards. Award-winning entertainers, including Nicole Kidman, Matt Bomer, Octavia Spencer, Jessica Chastain, Amy Adams, Patricia Clarkson, Jenna Dewan, Emmanuelle Chriqui, Billy Porter, Mark Ronson, Chrissy Metz, Daniel Bruhl, Danielle Macdonald, and more welcomed the stellar roster of athletes and Olympians in attendance, including Nastia Liukin, Michelle Kwan, Missy Franklin, Adam Rippon, and more. 
Actress and 2019 Golden Globe nominee Nicole Kidman hosted the intimate soirée at House on Sunset with J Vineyards & Winery. The acclaimed Russian River Valley winery presented their vibrant sparkling wines in a signature gold sparkling wine coupe tower. The gold-medal menu from J Executive Chef Carl Shelton paired the bubbly with his golden-inspired brunch bites, including a tower of golden croquembouches, gold-dusted marmalade pop-tarts and waffle squares topped with crème fraîche, caviar and gold leaf.
During the event, guests sipped on bubbly and enjoyed brunch from J Vineyards & Winery, choosing between the delicate and rich J Cuvée 20 Brut or vibrant, zesty J Brut Rosé to pair with Executive Chef Carl Shelton's lavish brunch bites. Sharp Objects star, Patricia Clarkson was spotted raising a toast with J sparkling wine. Matt Bomer and Chrissy Metz were spotted sharing a laugh outdoors as were BFFs Jenna Dewan and Emmanuelle Chriqui who arrived together and spent the brunch laughing and enjoying themselves. Daniel Bruhl, Jessica Chastain and Octavia Spencer were all smiles. Olympian Adam Rippon and boyfriend were spotted sipping on the vibrant J sparkling wine. Guests dined on sunny-side up quail eggs on milk bread with black truffle, mini prosciutto and black truffle grilled cheese, Dungeness crab wontons, and more from Chef Carl.