Miley Cyrus, Dennis Quaid and The Struts Join Robby Krieger To Celebrate The Doors' 50th Anniversary of 'Morrison Hotel' at The Sunset Marquis in West Hollywood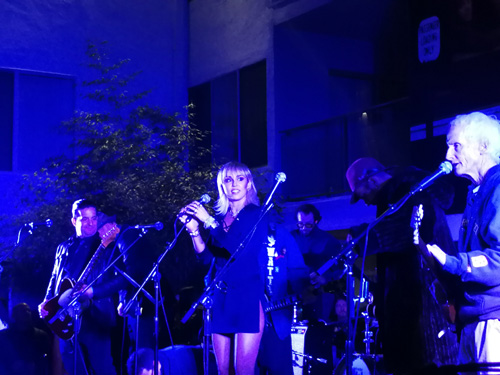 The Doors' iconic album, Morrison Hotel, was released exactly 50 years ago, on February 9th, 1970.
On the eve of the album's half-centennial anniversary, rock stars collided at West Hollywood's Sunset Marquis Hotel where music lovers and legends fêted the 50th anniversary of Morrison Hotel.
Hosted by industry trailblazers John Varvatos and Timothy White and sponsored by Jack Daniels, the homecoming celebration paid homage to the record's release 50 years ago with poolside performance helmed by The Doors' guitarist and co-founder, Robby Krieger.
Robby Krieger and Tangiers Blues Band (a NYC group who have shared the stage with artists such as Bruce Springsteen, Eddie Vedder, Brandi Carlisle, and many more)  along with an impressive roster of acclaimed musicians lent their respective talents to some of The Doors' time-honored greatest hits.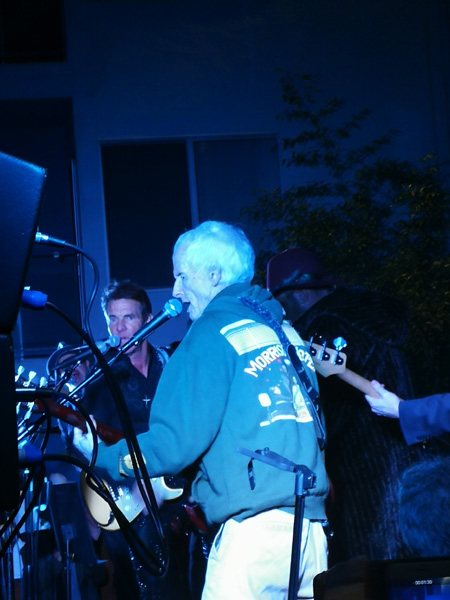 LA Art Show's Opening Night Gala Brought Together Hollywood, Fashion & the Art World to Kick-Off the Biggest Art Fair Season In LA's History, Benefiting St. Jude Children's Research Hospital
Host Sofia Vergara, Stars Charlize Theron, Emma Roberts, Cameron Monaghan, Jared Harris and  Iconic Designer Sue Wong Came to Celebrate the 25th Anniversary of LA's Longest Running Art Fair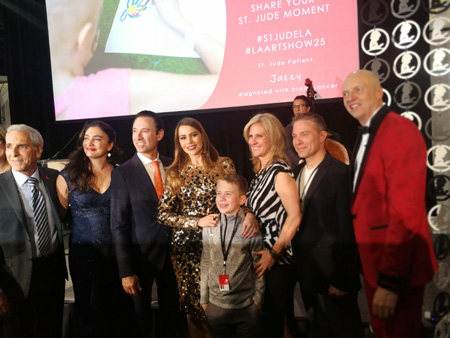 On Wednesday, February 5, 2020, Hollywood, fashion, and artworld stars alike gathered at the Los Angeles Convention Center for the Opening Night Party of the 25th annual LA Art Show, kicking off the largest year of art and cultural programming in our city's history. A portion of proceeds from ticket sales went to benefit the lifesaving mission of St. Jude Children's Research Hospital. 

Golden Globe nominated actress Sofia Vergara was the gracious host of the evening, and the star-studded party was attended by Charlize Theron, Emma Roberts, Cameron Monaghan, Jared Harris, Joe Manganiello, Sir Brodie, Brandon Boyd, KaDee Strickland, Andrew Howard, Lauren Sivan, Brittney Palmer, Josh Pence, Rebecca Metz, Meredith Salenger, Elizabeth Chambers, Jason Behr, Tig Notaro, Stephanie Allynne, Manolo Vergara, Ava Cantrell, and more. 

The VIP attendees were treated to a sneak peak of this year's programming, which features over 130 galleries, museums and cultural institutions from 23 countries. Highlights include Walker Fine Art's MC Escher Experience, featuring his complete series of his iconic self portraits, which have never been exhibited together before. Walker Fine Arts possesses the world's largest collection of Escher's work, and many of the pieces included in the LA Art Show have never been shown in California. The showcase also features an interactive photo-booth where patrons can insert themselves into Escher's iconic sphere self portrait. Kazu Hiro's ICONOCLASTS exhibition, featuring photo realistic, larger than life sculptures of the heads of Abraham Lincoln, Salvador Dali, Frida Kahlo, and Jimi Hendrix drew admirers before they even entered the art fair. Kazu is nominated for an Oscar for his special effects makeup in "Bombshell," starring Charlize Theron, Nicole Kidman, Margot Robbie and John Lithgow. With the Oscars taking place this same weekend, the LA Art Show also launched the FASHION section this year, featuring a retrospective of Sue Wong and her legendary gowns, many of which have been worn on the red carpet for the Academy Awards and Golden Globes. 

The programming in this year's DIVERSEartLA drew a crowd with the spectacle of the floor-to-ceiling MOLAA Pride Flag created by artists Leo Chiachio and Daniel Giannone. Next to this was Viktor Freso's "The Birth of the Niemand," featuring 16 larger than life statues that patrons could walk amongst and pose for photos with. The Japanese American National Museum booth drew patrons in with Taiji Terasaki's "TRANSCENDIENTS: Heroes at Borders" exhibition, an immersive meditation on the atrocities of the Japanese-American concentration camps during World War II, and a celebration of the heroes who fight for equality and democracy for other marginalized communities to this day. 

Attendees were wowed by the breadth of art featured in the new European Pavilion section of programming, featuring over a dozen galleries from Spain, Italy, the UK and beyond, in celebration of the profound influence that European art has had on the world. 

Throughout the evening, attendees were entertained by roaming performers from Cirque du Soleil's Volta, There Could Be a Monster Inside You performance by Spain's PSJM Collective (part of this year's DIVERSEartLA programming), live sculpting by Ichitaka Kamiji, presented by Zeal House, and live ink painting by Japanese calligrapher Sogen Chiba, presented by Gallery Kitai. Renown muralist Robert Vargas completed a new mural honoring the late Kobe Bryant. 

For six years in a row, the Opening Night Premiere Party has served as a benefit for St. Jude Children's Research Hospital. Thanks to generous donors, families never receive a bill from St. Jude for treatment, travel, housing or food – because all a family should worry about is helping their children live. All attendees of the Opening Night Premiere party are supporting the lifesaving mission of St. Jude: Finding cures. Saving children.
Lucha VaVOOM Announces Valentine's Show
Pin Ups 'N Pin Downs
Where Mexican Wrestling, Burlesque, and Comedy Collide
Los Angeles' Starcrawler Confirmed as Special Musical Guest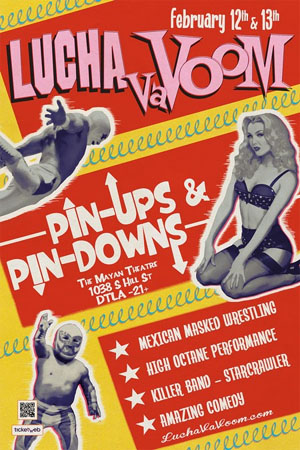 Two-Night Celebration at The Mayan Theater in Downtown Los Angeles
Wednesday, February 12 and Thursday, February 13
Los Angeles' longest-running, most celebrated variety show, where Mexican masked wrestling, burlesque, and comedy collide—returns to the City of Angels for their annual Valentine's shows. Dubbed "Pin Ups 'N Pin Downs," the shows are Wednesday, February 12 and Thursday, February 13 at LVV's home venue The Mayan Theater (1038 S Hill St.) in downtown Los Angeles. Tickets for this 21+ event are on sale now at LuchaVaVOOM.com.
LVV has been wowing audiences with their glam/slam extravaganzas for over 17 years — from L.A. to Tokyo, across the U.S. and all the way to Australia, people go crazy for this perfect combo of authentic masked Mexican wrestling matches interspersed with insane, high-octane burlesque performances, death defying aerial acts, live music, low riders, tequila, and comedy, adding up to an unforgettable night. Whether you're looking to get romantic and have a great date night or wild out for Valentine's day, LVV's shows are the only place to be in Los Angeles.
The special musical guest for these shows is Los Angeles' own Starcrawler, a band possessed by the spirit of its own hometown, every movement charged with a manic electricity. Since forming in 2015, vocalist Arrow de Wilde, guitarist/vocalist Henri Cash, bassist Tim Franco, and drummer Austin Smith have gone from bashing out classic-punk covers in the garage to winning the love of such legendary artists as Shirley Manson and Elton John. They've also opened for the likes of Beck, Foo Fighters, Spoon, and MC5, bringing their unhinged energy to an already-fabled live show—a spectacle that's simultaneously lurid and glorious and elegant as ballet. The band recently dropped their sophomore full-length album Devour You (released 10/11 on Rough Trade Records), capturing the band's dynamic with a whole new precision and revealing their rare ability to find a fragile beauty in even the greatest chaos. Click here to watch the video for lead single "Bet My Brains" and click here to watch the video for their second single "No More Pennies" off the new album.
The confirmed wrestling line-up for Lucha VaVOOM's Valentine's shows, featuring world-class, professional lucha libre-style matches, includes: LVV's current champ El Bombero (WWE's former Cruiserweight Champion as TJP), the LVV and U.S. debut of Micro Man (as seen on ESPN, CBS News, The Telegraph and El Espectador), two-time Reina de Reinas Champion Taya Valkrie, Katarina Leigh, Soberano Jr., the Crazy Chickens, Joey Ryan (the king of sleaze and master of the dick-move who is lined up to set hears a fluttering), Magno "The Man Mountain" Rudo, Mariacho Loco, Li'l Cholo, The Sexi Mexi's, Pantera Lisa, and Willie Mack aka Chocolatay Caliente.
The confirmed line-up of burlesque dancers, aerialists, and comedians includes:internationally published retro, fetish, pinup, glamour and art nude modelMiss Miranda (cast member at LA's renowned TEASE, If You Please! and face of Secrets in Lace lingerie), who has a stunning number in store sure to blow the audience away, the LVV debut of world-renowned burlesque superstar, LGBTQ activist, Glambassador, and fashion designer Miss Tosh, burlesque queen Trixie Little (crowned Miss Exotic World 2015), stunning daredevil aerialist Veronica Yune, who will be swooping down from above and stealing hearts, the marvelous contortion-trained pole artist Brynn Route, and comedy hosts Blaine Capatch and Jeff Davis delivering insanely off-the-cuff commentary both nights.
Doors for this 21+ event open at 7:00 pm and the show goes from 8:00 pm – 10:30 pm. Tickets are on sale now for $40.00 for general admission tickets (includes mezzanine and balcony seating and standing unreserved) and $55.00 for ringside tickets (includes floor and stage seating and standing, seats not guaranteed). For tickets and more info, visit
LuchaVaVOOM.com
.
Disney comes to the Bowers Museum Spring 2020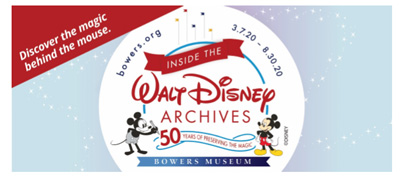 Coming to the Bowers March 7, 2020, the exhibition Inside the Disney Archives: 50 Years of Preserving the Magic celebrates the legacy of The Walt Disney Company on the 50th anniversary of its archives, with behind-the-scenes access never before granted to the public. The 10,000-square-feet traveling exhibit, which premiered at D23 Expo Japan in 2018, will offer several rare items only on loan to the Bowers.
Guests are invited to step into the Walt Disney Archives as they walk through a dazzling display of more than 400 objects, including original artwork, costumes, and props that tell the story of the Archives, The Walt Disney Company, and Walt Disney himself. From nostalgic classics like never-before-displayed sketches for Fantasia and ghouls from the Haunted Mansion attraction, to modern-day favorites like maquettes from Frozen and super hero costumes, this enchanting exhibition is an immersive treasuretrove the entire family will love.
The exhibition will open with a full schedule of diverse programs, beginning with an opportunity for the press to preview the exhibition on the morning of Thursday, March 5 at 11 AM. The preview will be followed by an evening Gala fundraiser with an international VIP guest list. Bowers' exclusive Member Opening Night will take place on Friday, March 6 and include a special presentation by a speaker soon to be announced. The exhibition opens to the public on Saturday, March 7 and will continue through August 30, 2020 with family-friendly programming and presentations.
Cirque du Soleil extends VOLTA in Los Angeles – now through March 8, 2020 Engagement at Dodger Stadium starts January 18
Following Los Angeles, VOLTA travels to OC Fair and Event Center March 18-April 19, 2020.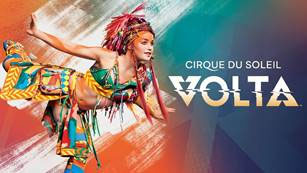 Cirque du Soleil is excited to add two weeks of performances of VOLTA's upcoming Los Angeles engagement. The show will be presented under its signature Big Top at Dodger Stadium, 1000 Vin Scully Avenue, Los Angeles, CA 90012 January 18 to March 8, 2020. Immediately following, VOLTA travels to the OC Fair and Event Center in Costa Mesa March 18–April 19, 2020.
Tickets, starting at $49, are available for purchase by visiting cirquedusoleil.com/volta or calling 1-877-9CIRQUE (1-877-924-7783). With an engagement right after the New Year, tickets for VOLTA are sure to be an appreciated holiday gift. The perfect way to start 2020!
The show
Energetic, urban and contemporary, VOLTA is a captivating voyage of discovery that showcases never-before-seen under the Big Top acrobatics in a visually striking world. Driven by a stirring melodic score and inspired in part by the adventurous spirit that fuels the culture of street sports, VOLTA is a story of transformation. It is about being true to oneself, fulfilling one's true potential, and recognizing one's own power to make it possible. Ultimate freedom comes with self-acceptance, and with the liberation of the judgement of others.
Written and directed by Bastien Alexandre, with Jean Guibert as the director of creation, VOLTA weaves acrobatics in a visually striking world driven by a stirring melodic score, composed by Anthony Gonzalez from the international electronic group M83.
BMX & Street Sports
The creators of VOLTA drew inspiration from the spirit of adventure that pervades the world of BMX, street sports and acrobatics. Whether they are on a bike, hopping from rooftop to rooftop, or double dutch rope skipping, urban sports enthusiasts constantly challenge themselves and defy convention.
Sure to be a crowd pleaser, VOLTA features a full-blown BMX park mounted on stage in front of the audience's very eyes for the breathtaking BMX finale as riders invade the stage to deliver a jaw-dropping, fast and furious performance of nonstop acrobatics on wheels. The riders go up the jump boxes and perform air tricks before
landing and leaping off the ramps again, crisscrossing and spinning their bikes in midair in a spirit of brotherhood.
The name VOLTA refers to a sudden about-face, a change in emotion or idea often used in poetry. It also speaks to the jolt of energy delivered through the show.
The Costumes
The stunning costumes of VOLTA have been designed by Zaldy Goco, famous for his work with Lady Gaga, Michael Jackson, Britney Spears, Gwen Stefany and for TV show RuPaul's Drag Race.
Ticket Information
VOLTA will be presented under the Big Top at under its signature Big Top at Dodger Stadium, 1000 Vin Scully Avenue, Los Angeles, CA 90012 January 18 to March 8, 2020. Immediately following, VOLTA travels to the OC Fair and Event Center in Costa Mesa March 18–April 19, 2020. Tickets, starting at $49, are available for purchase by visiting cirquedusoleil.com/volta or calling 1-877-9CIRQUE (1-877-924-7783).
Discover our VIP package – a cocktail reception with open bar and hors d'oeuvres inspired by the show, access to the best seats for greater comfort, complimentary parking and more!
Morrison Hotel Gallery and Equinox Honor Music's Biggest Night with a GRAMMYs Week Celebration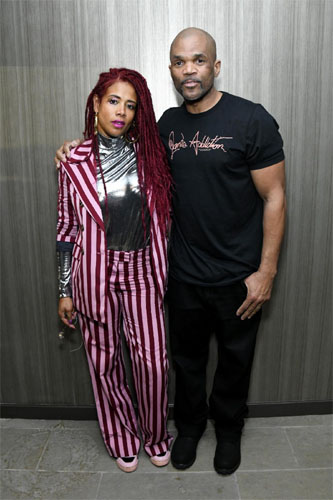 At the Sunset Marquis on Thursday January 23rd, where Morrison Hotel Gallery, the world leader in fine art music photography, partnered with Equinox, the global high-performance lifestyle brand, to celebrate the GRAMMYs and the history of hip hop.
GRAMMY Lifetime Achievement Award recipient Darryl "DMC' McDaniels of Run DMC performed for the packed audience, who were also treated to a performance from Grammy nominated singer/songwriter, Kelis. Guests at the event included Joey Kramer (Aerosmith), Ian Ziering (Beverly Hills 90210), Kelvin Brown (This Is Us) and many more. The evening also featured a special performance by renowned choreographer, Nick Kenkel, known for his stage and video work for Beyoncé, Alicia Keys, Madonna and more. The evening was an ode to the history of hip-hop, celebrating the genre's music and dance.
Pizza Hut x Legion M Lounge Park City, Utah - Day One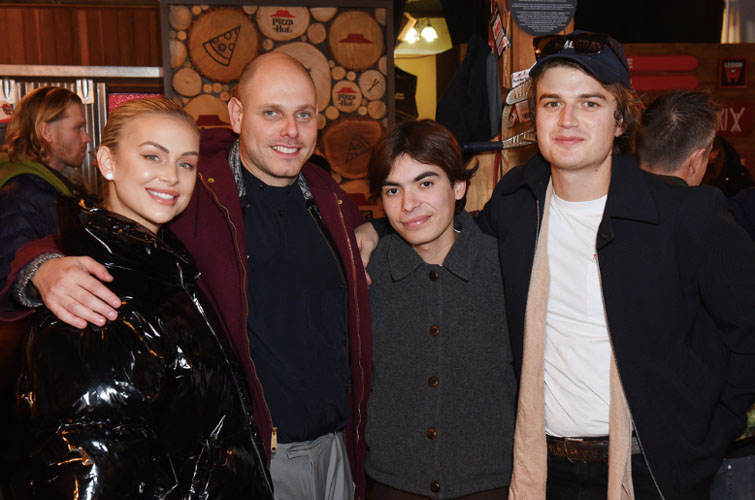 For the third year, Pizza Hut returns to Sundance as the après ski destination and on-the go fuel for talent and industry throughout the first weekend of the festival. Friday of the film festival weekend, Pizza Hut hosted talent and industry leaders in the Red Hut Lodge, a mountain lodge escape that served as a cozy space to warm up with hot Pizza Hut pizza, signature cocktails and a quiet moment for guests while they wait for their Getty Portraits. Guests spent the day warming up with a hot slice by Pizza Hut including Kelly Rowland, Oswin Benjamin, Joe Keery, Lala Kent, James Van Der Beek, Lea Thompson, Eugene Kotlyarenko, Josh Ovalle, Clare Dunne, David Arquette, Christina McLarty Arquette, Justin Simien, Malik Shakur, Biko Eisen-Martin, Evan Jonigkeit, Maimouna Doucoure, Sam Soko, Toni Kamau, Bramwel Iro, Aya Cash, Alex Bach, Merawi Gerima, Obinna Nwachukwu, Ashley Williams, Neal Dodson, Mary Lynn Rajskub, Pat Healy, Talia Ryder, Sidney Flanigan, Kendrick Sampson, Nicole Beharie, and more.
G'Day USA 2020 Standing Together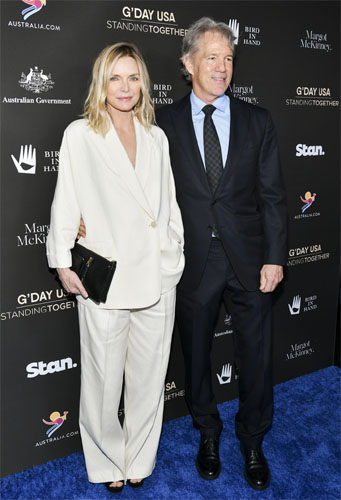 January 25, the 17th annual G'Day USA Los Angeles dinner brought together prominent Australian and Americans from film, television, music, business, sports, and culture to support relief and recovery efforts in response to the Australian bushfires. The evening saw Australians and Americans rally together in support of those affected, and Australia's unique land and wildlife. All funds raised from the event were directed to the Australian Bushfire Relief Fund and Australian Wildlife Fire Fund established by G'Day USA founding partner, the American Australian Association.

Former G'Day USA honoree, Hugh Jackman, introduced a compilation of messages of support from across the United States emphasizing the special relationship between our countries with messages of perseverance, rehabilitation, and recovery.

Hugh Sheridan hosted the evening which paid tribute to the brave Australian and American firefighters working side by side to battle the fires and honored those Australians and Americans who have lost their lives.

Multiple award-winning artist Delta Goodrem gave an emotional performance of her latest single "Let It Rain" against a backdrop of images from the bushfire crisis. The song was written in the wake of the bushfire crisis and served as a beautiful tribute to all those battling the blaze.

A highlight of the evening came from U.S. Forest Service Firefighter Chief Josh Mathieson. Chief Mathieson had just returned from deployment in Australia where he worked together with Australian firefighters to battle the bushfires. "We wanted to help our friends in Australia. When we were dealing with the devastating fires in California in 2018, our Australian firefighters came to our aid and we wanted to return the favor."

Australian wildlife expert and top-guide, Craig Wickham, spoke about rescuing and rehabilitating wildlife. He shared uplifting stories from the field about the wildlife and vegetation beginning to come back to affected areas. This message of hope for the recovery ahead was echoed in a video message from the Irwin Family, which shared with attendees, "My father called Wildlife Warriors, those who couldn't speak for themselves and it is up to us to see out this mission….Thank you all for your support and for being wildlife warriors. It's time for us to come together for our wildlife."

John Travolta and Oliva Newton-John took the stage to share their favorite things about Australia, by saying, "The people of Australia have this incredible ability to take responsibility for each other, as they have with these fires… and they take it to the world. To be responsible for others and see the global picture, and it deeply moves me….The beaches, the bay, the Great Barrier Reef, it's all utterly amazing," shares John Travolta. The duo encouraged everyone to support Australia by visiting soon highlighting the many areas that have not been affected by the fires. Olivia Newton-John commented, "We can all support the people and wildlife of Australia. It's tragic but the Ozzies have the spirit and we thank everyone for their support."

Paul Hogan uplifted the audience with comedic take encouraging people to come to visit Australia saying, "It's a big beautiful continent down there, and we'd love to see ya."

Colin Hay also performed his iconic Men at Work song "Land Down Under," much to the crowd's delight.

To keep the Aussie rocking going, Joel Madden introduced chart-toppers 5 Seconds of Summer performed their hit songs "Youngblood" and "Red Desert", a song that holds a special place in their hearts as they wrote it while in Australia, exactly a year ago today.

The evening ended with a rousing and emotional singing of "I Still Call Australia Home." Begun by Colin Hay, the number saw Hugh Sheridan, Delta Goodrem, Olivia Newton-John, John Travolta, Paul Hogan, Baiwa Kazil, Sharna Burgess, and the whole room stand and join in song, solidifying the close bond between the U.S. and Australia.
ALL STARS Came Out For The LA Art Show Opening Gala!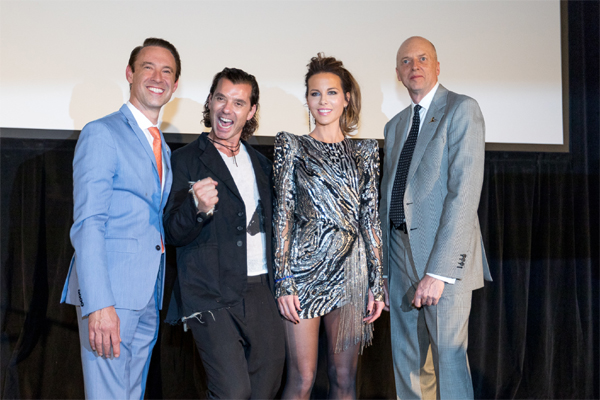 On Wednesday, January 23, 2019 Hollywood stars joined thousands of VIPs in LA's thriving arts community at the LA Convention Center for the 24th Annual LA Art Show Opening Night Gala, benefiting St. Jude Children's Research Hospital for the 5th year in a row. Boasting record breaking attendance, all proceeds from the sale of Patron and Vanguard tickets and 15 percent of sales of Friend tickets went directly to the charity. All attendees of the Opening Night Premiere party supported the lifesaving mission of St. Jude: Finding cures. Saving children.®
Kate Beckinsale drew a crowd as the evening's host, meeting with St. Jude patient families and delivering an address about the organization's mission to the VIP area. Gavin Rossdale, an avid collector and this year's Art Ambassador, reminded the audience that art can save lives. They were joined by previous host Emma Roberts, and stars such as Jessica Szohr, Peyton List, Cameron Monaghan, Joe Manganiello, Lance Bass, Amy Smart, Odette Annable, Brandon Boyd, Brigitte Nielsen, Bailee Madison, Kevin Zegers, Perrey Reeves, Amber Stevens West, JoAnna Garcia Swisher, Naomi Grossman, Davi Santos, Barry Sloane, Brittney Palmer, Ian Bohen, Denim Richards and many more.
Art stars Camille Rose Garcia, Brittany Palmer, Circle, Robert Vargas, Kazuhiro Tsuji, Gregory Siff, Dave Pressler, Brandi Milne, Dosshaus, Gary Baseman and hundreds more were in attendance. In addition to food, beverages, live music and art, gala attendees were given special sneak peek of the LA Art Show's 200,000 sq. ft. of programming, featuring over 100 galleries from 18 countries. RISK's bisected cop car, Scott Hove's cake wall, Pip & Pop's candy installation, Dosshaus's Littletopia archway and the mirrored light sculptures at Melissa Morgan Fine Art proved to be huge hits with the gala-goers. They also got to see the first of many performances by Dorian Wood and Sarah Trouche, among others.  
Joanna Krupa, Elphia Beauty's Brand Ambassador, Celebrates the Opening of Their First Concept Store
JOANNA KRUPA WEARS A VALENTINO DRESS AND CASADEI HEELS
Elphia Beauty concept store offers it's two signature products: the Luxe Exfoliating Gel and the Luxe Rejuvenation Serum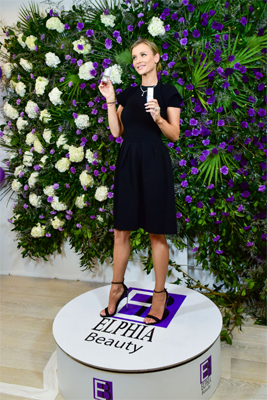 Elphia Beauty is pleased to announce its first concept store is opening in Manhattan, New York. The concept store is located at 137 Hudson Street, New York, NY 10013, in the heart of Tribeca. This luxury retail store is a place where you can try our exclusive products made with natural ingredients of the highest quality and experience their incredible renewing results on the skin.
"Elphia Beauty represents today's woman. Ethical, strong and performance driven. Our luxury skin care products are perfectly curated to fit their active lifestyles, quick and easy to use products that take care of the skin without sacrificing time," says Ellen Peia, CEO of Elphia Beauty. "With our new concept store you are welcome to go in, learn more about the unique development of our products and try them to have a luxurious experience."
Elphia Beauty concept store offers it's two signature products: the Luxe Exfoliating Gel and the Luxe Rejuvenation Serum.
The Luxe Exfoliating Gel is a vegan friendly face and décolletage refining gel. Think of it as an easy-to-use at-home spa treatment, targeting your dead skin cells. It instantly exfoliates and brightens for enhanced skin renewal, comparable to a professional salon peel. The Luxe Exfoliating Gel is suitable for all skin types. Elphia Beauty features a dynamic blend of restorative ingredients that are expertly blended with the highest quality botanical extracts. Elphia Beauty harnesses the exfoliating power of unique AHA's that radically renew the appearance of your complexion.
The Luxe Rejuvenation Serum is a pure, naturally derived formula that works to provide hydration through the layers of your skin, functioning to renew your skin's texture and provide a spa-like radiance. Elphia Beauty developed this innovative blend of nutrient-rich ingredients to not only protect your precious skin from environmental elements but also to help diminish the appearance of age spots and blemishes.
Elphia Beauty is delighted to announce the signing of world renowned actress and beauty icon, Joanna Krupa, as its new Beauty Brand Ambassador.
The world famous personality is featured in a new integrated campaign for Elphia Beauty running across TV, print and online channels as well as in-store.
"I chose Elphia Beauty as my skin care line because with all of the make-up that I use over the years I needed a product that is not harsh on my skin," says Joanna. "I do have very sensitive skin so I wanted a product that is gentle but it also needs to work. Elphia Beauty leaves my skin feeling silky soft and silky!"