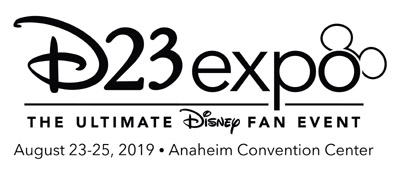 The Walt Disney Studios, Disney Parks, and Disney+ Join the Disney Legends Awards Ceremony in the 6,800-Seat "Hall D23" Venue at the Anaheim Convention Center.
D23: The Official Disney Fan Club has announced the lineup of the most highly anticipated presentations at D23 Expo 2019, August 23–25. The Disney Legends Awards Ceremony, hosted by Disney Chairman and CEO Bob Iger, will kick off the Expo on Friday morning, August 23. Later that same day, Disney+ will showcase its exciting slate of original films and series coming to the streaming service, set to launch in the U.S. on November 12. On Saturday morning, The Walt Disney Studios will give fans a sneak peek at their collection of world-class film labels, including Disney, Walt Disney Animation Studios, Pixar Animation Studios, Marvel Studios, and Lucasfilm. And on Sunday morning, fans will get a preview of what's in store at Disney Parks during a presentation hosted by Disney Parks, Experiences and Products Chairman Bob Chapek.
These Expo favorites will take place in "Hall D23," the 6,800-seat venue located in Hall D of the Anaheim Convention Center. The schedule of Hall D23 Events and Presentations is as follows (all events subject to change and additional events to be announced in the coming weeks):
The Disney Legends Awards Ceremony will take place at 10:30 a.m. Friday, August 23. The ceremony, hosted by Disney Chairman and CEO Bob Iger, will once again honor those visionaries and artists who have made significant contributions to the Disney legacy. This year's recipients are: Wing Chao, Robert Downey Jr., Jon Favreau, James Earl Jones, Bette Midler, Kenny Ortega, Barnette Ricci, Robin Roberts, Diane Sawyer, Ming-Na Wen, and Hans Zimmer.
On Friday afternoon at 3:30 p.m., the highly anticipated streaming service Disney+ will give guests a first look at some of its original content including Lady and the Tramp, The Mandalorian, High School Musical: The Musical: The Series, and many more during this star-studded presentation.
The Walt Disney Studios will present a behind-the-scenes look at its blockbuster collection of upcoming films on Saturday, August 24, at 10 a.m. Fans will see what's on the drawing board for the acclaimed filmmakers at Walt Disney Animation Studios and Pixar Animation Studios and get a peek at the exciting slate of live-action projects, from Disney to Marvel Studios to Star Wars. As always, attendees will be treated to exclusive footage, special guest appearances, and more!
On Sunday, August 25, at 10:30 a.m., step into the magical world of Disney Parks, Experiences and Products with Chairman Bob Chapek to find out what's new and what's next for resorts around the globe, including more about the transformational plans for Epcot at Walt Disney World Resort in Florida.
Single-day tickets for Friday and Sunday of D23 Expo 2019 are available for $89 for one-day adult admission and $69 for children 3–9. Gold Members of D23: The Official Disney Fan Club can purchase tickets for $77 for a one-day adult admission and $59 for children 3–9. Single-day Saturday tickets and three-day passes are sold out. For more information on tickets and D23 Expo 2019, visit D23Expo.com.
"Donut" Miss the DTLA Donut Fest!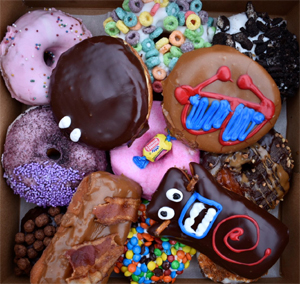 The momentously mouthwatering event, on Saturday, June 8th from 10-2 pm, will showcase the donut in its many forms: plain, glazed and filled; traditional; and new wave. 
Guests can stroll through the "Hole Donut Marketplace" featuring Voodoo Doughnuts, Astro Doughnuts & Fried Chicken, California Doughnuts, Donatsu, Dot & Dough, Primo's Donuts, Dazzling Donuts, DK Donuts & Bakery with special guest Donut Princess, Glazed Donut Bar, Fat Uncle Farms, RING Baked Tofu Donuts, and Dream Donut Truck.
To round out the grab-and-go breakfast offerings, The Rooster Truck, from "Chopped," and "Cutthroat Kitchen" competitor Rouha Sadighi will serve up breakfast burritos, tacos and sandwiches. To wash down the ultimate donut experience, Macchiato will serve coffee, tea and boba while a mobile espresso bar from Mobar & Co will offer specialty drinks including their signature Honey Lavender Latte!  And the Station's own Café Crepe will bring the bubbly with a mimosa bar.
The Donut Worry Be Happy activities area will feature baking demonstrations from celebrity baker, Jane Soudah, winner of 2016 Food Network "Spring Baking Championship" and author of "Delightful Desserts," along with donut-themed arts and crafts. 
 Admission is $5, kids 12 and under are free.
Tickets are $7 at the festival. 
Queen Mary's 2019 Movie Night Summer Series Presents FREE Outdoor Film Events at the Queen Mary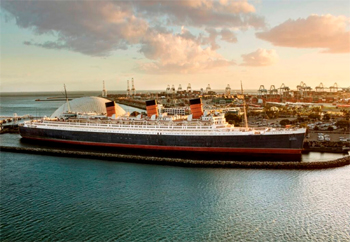 Select Thursday Nights May – August
WHAT:
The Queen Mary is proud to present the 2019 Movie Night Summer Series, welcoming the community to sit back, set up a picnic with friends and family, and soak up the silver screen under the summer night sky. Each movie night will offer guests an immersive cinematic experience with assorted food trucks themed to the film, full bars for those age 21 and over, and the legendary ship and Long Beach Harbor as backdrops. Taking place on select Thursday nights each month May through August and located on a grassy lawn adjacent to the Queen Mary, film titles include Mamma Mia! (2008), double feature of Indiana Jones – Raiders of the Lost Ark (1981), Temple of Doom (1984), Grease (1978), and double feature Beetlejuice (1988), Edward Scissorhands (1990). The movie nights are open to all ages and free to attend. Date Night Packages are available for $75 per couple and include a reserved couch for two, one bottle of signature Queen Mary Champagne, assorted snacks, and more!
WHEN:
Select Thursday Nights May – August
May 16, 2019, 6 p.m. – 10 p.m.: Mamma Mia!

June 20, 2019, 6 p.m. – 12 a.m.: Double Feature: Indiana Jones – Raiders of the Lost Ark & Indiana Jones – Temple of Doom

July 11, 2019, 6 p.m. – 10 p.m.: Grease

August 22, 2019, 6 p.m. – 12 a.m.: Double Feature: Beetlejuice & Edward Scissorhands
WHERE:
The Queen Mary Seawalk (lawn adjacent to the ship)
1126 Queens Hwy, Long Beach, CA., 90802
TICKETS:
General Admission: Free
Date Night Package Upgrade: $75 per couple
PARKING:
$10 per vehicle on-site.
The Queen Mary's Salute to Service Memorial Day Weekend May 25 - 27, 2019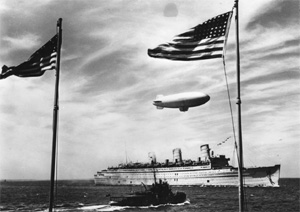 Period Actors, Wartime Reenactments, Historical Demonstrations, and More.
The Queen Mary is pleased to present, Salute to Service, a three-day Memorial Day Tribute honoring those who have served, and paying homage to the Queen Mary's duty as a troopship during WWII, taking place on Saturday, May 25 – Monday, May 27 from 12 – 8 p.m. Guests are welcome aboard the ship to experience character reenactments and demonstrations, appearances by historical figures, lectures and family-friendly activities.
The Queen Mary's impressive speed and size set her up to become an ideal troop hauler often carrying between 10,000-16,000  men in a single voyage. Over the course of the three-day event, guests will be able to explore the ship and witness WWII troops, nurses, Allied leaders, presentations and lectures. In honor of those who have fallen, a Taps performance will be held Saturday, Sunday, and Monday at sunset.  
Presentations and lectures in the Queen's Salon will include the War Rooms at Sea exhibit, Queen Mary Voices, a series of short films featuring stories from original crew members and passengers, and the legend of Queen Mary and the War led by Commodore Everette. A special War Bride film screening with June Allen, the first War Bride to be transported by the Queen Mary in 1946, and Victory through Strength and Unity: A Woman's tale with Captain James will also be shown throughout the three-day tribute.
Additional activations can be found around the ship transporting guests back to the 1940s including the Captain's Meet and Greet at the Bridge, Captain's Reception for Hotel Guests at Observation Bar, a tour of Sir Winston's Restaurant and Lounge led by Commodore Everette and Winston Churchill, and two Ship's Officer Tours.
The Queen Mary's Salute to Service takes place Saturday, May 25 – Monday, May 27 from 12 – 8 p.m. All veterans, active duty military and first responders receive free ship admission. Guests of the same party receive 25% off discount on ship admission tickets. Ship admission tickets are available for $40 for adults (12 years +) and $20 for children (ages 4-11). On-site parking is $20 per vehicle. For hotel accommodations and more information please visit www.queenmary.com
20th Annual Maui Film Festival June 12-16, 2019
The 20th Annual Maui Film Festival is happening June 12-16!
To celebrate 20 years of Aloha, our passes and packages are now available at special 2000 prices for a limited time only: http://bit.ly/mauiffpasses2019
INAUGURAL ROM COM FEST ANNOUNCES EVENT & FILM LINEUP FOR 2019 FESTIVAL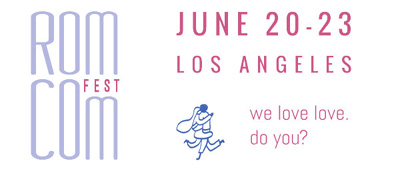 THE LOS ANGELES-BASED EXPERIENTIAL FILM FILM FESTIVAL,
TAKING PLACE JUNE 20-23,
SHINES A SPOTLIGHT ON THE ROM COM GENRE
Rom Com Fest, a new Los Angeles based film festival which celebrates love through film and experiences, announced the lineup for its inaugural festival which will take place June 20-23, 2019. The lineup includes special themed screenings of iconic romantic comedies, as well as a competition lineup of new romantic comedies, and a number of unique themed events and activities. The program was announced today by the festival's Founder and Executive Director Miraya Berke.

The experiential festival is a reimagining of a traditional film festival – pairing rosé and desserts with films, encouraging that its audiences show up dressed in themed attire, and holding memorable events and activities that bring together those that love and/or create romantic comedy films. Rom Com Fest will take place primarily at the Downtown Independent Theater in Los Angeles, with select events at other venues.

Highlights of the festival include a special curated screening and fireside chat with actress Rachel Bloom (CW's "Crazy Ex-Girlfriend") on her favorite classic rom com film NEVER BEEN KISSED, as well as anniversary screenings including 10 THINGS I HATE ABOUT YOU, featuring a special Q&A with the film's writers Kirsten "Kiwi" Smith and Karen McCullah (writers of LEGALLY BLONDE, SHE'S THE MAN), as well as a screening of BRIDE WARS, featuring a special Q&A with the film's writers, both of whom are also acclaimed actresses known for memorable roles in romantic comedies and TV shows – June Diane Raphael (LONG SHOT, Netflix's "Grace and Frankie") and Casey Wilson (Showtime's "Black Monday").

The festival will also hold the west coast premiere of actor Joseph Cross' directorial debut SUMMER NIGHT (starring Lana Condor, Analeigh Tipton, Victoria Justice, Justin Chatwin and Ellar Coltrane).

Special event highlights during the festival include a Mortified live comedy show, a live read of the winner of the Rom Com Fest screenplay competition (presented by Scriptd), as well as a live taping of WhoHaha's "Dirty Girl" Podcast – a company co-founded by producer/actress Elizabeth Banks.

The festival was organized and curated by its Founder and Executive Director, Miraya Berke. Berke is a female entrepreneur, the founder of Pop Productions event boutique studio (whose mission is to create events that spark joy & delight), and the founder of Dessert Goals, the popular dessert festival that is held in New York and Los Angeles. With a background in events and partnerships and a personal love of romantic comedies, Berke is passionate about the romantic comedy genre and its legitimization in the eyes of film fans, filmmakers, and critics, in addition to the pure enjoyment of the films themselves. Rom Com Fest aims to showcase empowering and realistic stories that have dynamic female characters.

"We all need something uplifting to escape to. Routinely dismissed by film critics as a lesser genre artistically, romantic comedies are universally beloved and are a true art form, being some of the most classic and beautiful films that we know today." said Berke. "I'm thrilled to be able to bring the Los Angeles community together to experience these films in a new, fun and creative atmosphere."

The festival will present both jury prizes and an audience award prize (presented by Frolic, The fastest growing entertainment media brand for the modern Romance fan) to its competition lineup for features and short films.

Badges and individual screening/event tickets are on sale as of today (May 7th) online at www.romcomfest.com. Tickets range from $12.00 to $15.00 USD per ticket, and you can save by bring a date/best friend, with a "party of two" paired discount.
All-American 4th of July Celebration aboard the RMS Queen Mary Tickets Available NOW!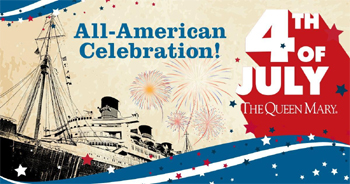 Multiple Stages with Live Entertainment, Family-Friendly Activities, Vintage Plane Flyover, Strolling Performers and More Aboard the Legendary Ship
WHAT:
Celebrate Independence Day aboard the historic RMS Queen Mary with an action-packed day fit for the entire family. Celebrations at the All-American 4th of July will include live entertainment, family-friendly activities and carnival games, delicious food, spectacular drinks from multiple bars, vintage aircraft flyover, and more on Thursday, July 4 from 3 – 10 p.m. The red, white and blue festival will be a ship-wide celebration, culminating with one of SoCal's top 4th of July fireworks displays above one of America's "shining seas."
ROYAL RENDEZVOUS:
This is a special year for The Queen Mary's All-American 4th of July, as the Cunard Line's namesake Queen Elizabeth will greet the Queen Mary in the harbor for a "Royal Rendezvous." This reunion will mark the third time the sister ships have crossed paths since 1967 (when the original Queen Elizabeth was still in commission).
FIREWORKS DISPLAY:
Dubbed Southern California's best display, the Queen Mary's 15-minute long fireworks show will take place at 9 p.m. off the stern of the ship in-sync to patriotic music.
WHEN:
Thursday, July 4, 2019
3 – 10 p.m.
WHERE:
The Queen Mary, 1126 Queens Hwy, Long Beach, CA 90802
TICKETS:
Purchase tickets online at http://www.queenmary.com/events/july-fourth/
Adult GA: $49 pre-sale, $59 day-of

Children GA (4-11): $29 pre-sale, $39 day of

VIP Patriot Pass: $119 pre-sale and $129 day of; ages 4+ and includes additional access to Britannia Decks, Britannia Salon, Verandah Grill, and premium fireworks viewing

Cabana & Table Service are available and include exclusive access to Capstan Deck. Please contact eleni.manukailea@queenmary.com
ALL STARS Came Out For The LA Art Show Opening Gala!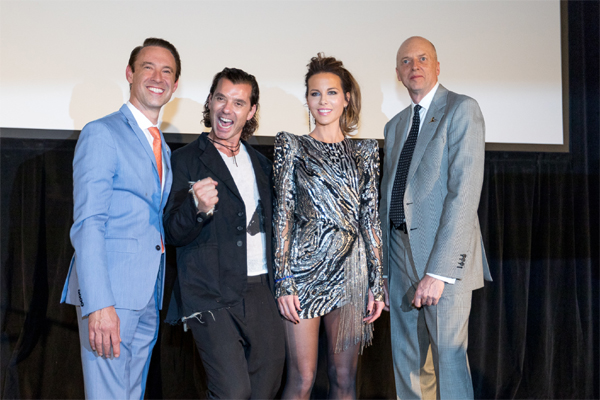 On Wednesday, January 23, 2019 Hollywood stars joined thousands of VIPs in LA's thriving arts community at the LA Convention Center for the 24th Annual LA Art Show Opening Night Gala, benefiting St. Jude Children's Research Hospital for the 5th year in a row. Boasting record breaking attendance, all proceeds from the sale of Patron and Vanguard tickets and 15 percent of sales of Friend tickets went directly to the charity. All attendees of the Opening Night Premiere party supported the lifesaving mission of St. Jude: Finding cures. Saving children.®
Kate Beckinsale drew a crowd as the evening's host, meeting with St. Jude patient families and delivering an address about the organization's mission to the VIP area. Gavin Rossdale, an avid collector and this year's Art Ambassador, reminded the audience that art can save lives. They were joined by previous host Emma Roberts, and stars such as Jessica Szohr, Peyton List, Cameron Monaghan, Joe Manganiello, Lance Bass, Amy Smart, Odette Annable, Brandon Boyd, Brigitte Nielsen, Bailee Madison, Kevin Zegers, Perrey Reeves, Amber Stevens West, JoAnna Garcia Swisher, Naomi Grossman, Davi Santos, Barry Sloane, Brittney Palmer, Ian Bohen, Denim Richards and many more.
Art stars Camille Rose Garcia, Brittany Palmer, Circle, Robert Vargas, Kazuhiro Tsuji, Gregory Siff, Dave Pressler, Brandi Milne, Dosshaus, Gary Baseman and hundreds more were in attendance. In addition to food, beverages, live music and art, gala attendees were given special sneak peek of the LA Art Show's 200,000 sq. ft. of programming, featuring over 100 galleries from 18 countries. RISK's bisected cop car, Scott Hove's cake wall, Pip & Pop's candy installation, Dosshaus's Littletopia archway and the mirrored light sculptures at Melissa Morgan Fine Art proved to be huge hits with the gala-goers. They also got to see the first of many performances by Dorian Wood and Sarah Trouche, among others.  
Joanna Krupa, Elphia Beauty's Brand Ambassador, Celebrates the Opening of Their First Concept Store
JOANNA KRUPA WEARS A VALENTINO DRESS AND CASADEI HEELS
Elphia Beauty concept store offers it's two signature products: the Luxe Exfoliating Gel and the Luxe Rejuvenation Serum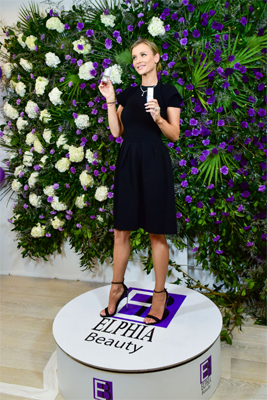 Elphia Beauty is pleased to announce its first concept store is opening in Manhattan, New York. The concept store is located at 137 Hudson Street, New York, NY 10013, in the heart of Tribeca. This luxury retail store is a place where you can try our exclusive products made with natural ingredients of the highest quality and experience their incredible renewing results on the skin.
"Elphia Beauty represents today's woman. Ethical, strong and performance driven. Our luxury skin care products are perfectly curated to fit their active lifestyles, quick and easy to use products that take care of the skin without sacrificing time," says Ellen Peia, CEO of Elphia Beauty. "With our new concept store you are welcome to go in, learn more about the unique development of our products and try them to have a luxurious experience."
Elphia Beauty concept store offers it's two signature products: the Luxe Exfoliating Gel and the Luxe Rejuvenation Serum.
The Luxe Exfoliating Gel is a vegan friendly face and décolletage refining gel. Think of it as an easy-to-use at-home spa treatment, targeting your dead skin cells. It instantly exfoliates and brightens for enhanced skin renewal, comparable to a professional salon peel. The Luxe Exfoliating Gel is suitable for all skin types. Elphia Beauty features a dynamic blend of restorative ingredients that are expertly blended with the highest quality botanical extracts. Elphia Beauty harnesses the exfoliating power of unique AHA's that radically renew the appearance of your complexion.
The Luxe Rejuvenation Serum is a pure, naturally derived formula that works to provide hydration through the layers of your skin, functioning to renew your skin's texture and provide a spa-like radiance. Elphia Beauty developed this innovative blend of nutrient-rich ingredients to not only protect your precious skin from environmental elements but also to help diminish the appearance of age spots and blemishes.
Elphia Beauty is delighted to announce the signing of world renowned actress and beauty icon, Joanna Krupa, as its new Beauty Brand Ambassador.
The world famous personality is featured in a new integrated campaign for Elphia Beauty running across TV, print and online channels as well as in-store.
"I chose Elphia Beauty as my skin care line because with all of the make-up that I use over the years I needed a product that is not harsh on my skin," says Joanna. "I do have very sensitive skin so I wanted a product that is gentle but it also needs to work. Elphia Beauty leaves my skin feeling silky soft and silky!"