Let the Good Times Roll Aboard the Queen Mary at Mardi Gras Krewe Ball Saturday, March 9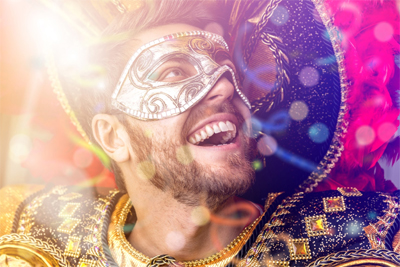 WHAT:
The Queen Mary presents its very own Mardi Gras Krewe Ball, bringing the flavor of the Big Easy aboard the historic ship! Celebrate the Mardi Gras season with dancing, drinks, jazz, and of course, traditional New Orleans cuisine. The Grand and Windsor salons will be transformed into French Quarter streets during a parade, as strolling entertainment hands out beads and live music brings everyone to the dance floor.

ENTERTAINMENT:
Live Band: Bear Brass Band – An 8-piece band complete with saxophones, trumpets, trombones, snare drums and more. Bear Brass Band was formed out of a love for traditional New Orleans jazz and brings the party wherever they perform.

Strolling Performers: Stilt walkers, jesters, juggling acts, harlequin acrobats, carnival dancers, a Mardi Gras King & Queen, and more.
DINING OPTIONS:
Delight your senses with traditional Seafood Gumbo, or spice up your palate with classic Jambalaya. Mardi Gras wouldn't be complete without mouthwatering beignets.

Multiple menus available including delicious Po' Boy Sliders, bratwurst, and more.
WHEN:
Saturday, March 9, 2019
7 p.m. – 12 a.m.
WHERE:
Grand & Windsor Salons
The Queen Mary 1126 Queens Hwy, Long Beach, CA 90802
TICKETS:
General Admission tickets start at $30

VIP tickets start at $50

Feel like a Mardi Gras king or queen with VIP Admission. VIP passes grant early access to the French Quarter Lounge and a Mardi Gras Swag Bag filled with party favors.

VIP Cabanas start at $199

Watch the festivities like true NOLA royalty from the exclusive Krewe Kabanas, with private food and beverage service for up to 10 people.

Tickets available now at Queenmary.com
St. Patrick's Day Eve Pub Stroll Transforms the Queen Mary's Historic Spaces into Irish Pubs Saturday, March 16
Stroll and Dance Through the Ship's Iconic Salons and Rooms While Enjoying Authentic Irish Food, Drinks, Family Fun and More
WHAT:
For one night only, the legendary Queen Mary will transform its historic salons into Irish pubs to host the new St. Patrick's Day Eve Pub Stroll. Explore the ship to the sounds of traditional Irish music performances by artists including The Poxy Boggards, Sportive Tricks, and The Merry Wives of Windsor. The entire family can experience authentic Irish food, drinks, dancing, and music on the eve of the Irish holiday.
WHEN:
Saturday, March 16, 2019
7 p.m. – 12 a.m.
WHERE:
The Queen Mary, 1126 Queens Hwy, Long Beach, CA., 90802
TICKETS:
Tickets are available now at queenmary.com
General Adult Admission: $22 online; $25 at door

Child's Admission (ages 4-11): $12 online; $15 at door
PARKING:
$15 per vehicle on-site.
The RMS Queen Mary Presents: Aiden Sinclair's A Night to Remember Saturday, April 13, 2019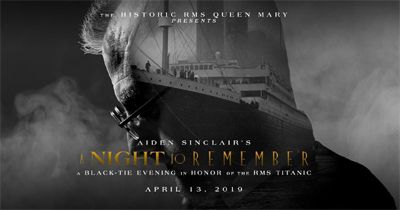 An Immersive Black Tie Evening in Honor of the RMS Titanic
Transport through time back to a cold night in April 1912, become a passenger of that ill-fated voyage and experience an evening that you will never forget. The Queen Mary presents Aiden Sinclair's A Night to Remember, a black tie evening in honor of the RMS Titanic on Saturday, April 13, 2019.
Enjoy a seven-course gourmet meal, inspired by the final first class dinner served aboard, view artifacts from the ship and hear the bone-chilling tales of the passengers who both lived and died on that cold April night.
The seven-course inspired dinner menu offers tray passed Canapes a L'Amiral and Oyster A La Russe to begin, a Consommé Olga for the first course, followed by Poached Salmon with Mousseline and Filet Mignons Lili complete with Foie Gras, Artichokes, Black Truffles, Demi-Glace and Potato Anna as the main entree. A Punch Romaine will clear the palate, followed by the Remove, Roasted Squab with Wilted Cress and Champagne-Saffron Asparagus Salad. For the dessert finale, Waldorf Pudding with peaches in Chartreuse Jelly and Chocolate Painted Eclairs filled with delectable French Vanilla Cream. After dinner, indulge in a haunting evening of paranormal illusions featuring artifacts from the Titanic at Aiden Sinclair's Titanic Seance: A Night to Remember.
"Beyond the great disaster of the Titanic, a number of strange and rumored supernatural events took place leading up to the sinking" shared Master Magician and Apparitionist, Aiden Sinclair.  "The performance portion of A Night to Remember will use artifacts from the tragic event to bring the audience a direct encounter with the ghosts and spirits of Titanic."
Tickets to Aiden Sinclair's A Night to Remember aboard the Queen Mary are currently on-sale starting at $300 general admission seating. VIP tickets start at $400 and include an exclusive cocktail hour with complimentary champagne 30 minutes before doors open, a private reception with our resident ship's officers and Aiden Sinclair himself, a souvenir photo, Whiskey Flights, a complimentary cigar and two-etched wine glasses. All tickets include a seven-course gourmet meal, inspired by the final first class dinner served aboard the Titanic and an evening of paranormal illusions featuring artifacts from the Titanic. Upgrades will be available on-site including souvenir photographs, and Whisky Flights & Cigar Rolling. Discounted hotel room rates will be available for all guests who attend A Night to Remember. To purchase tickets and for more information on pricing, events, and hotel packages visit queenmary.com.
2019 TRIBECA FILM FESTIVAL® SET TO OPEN WITH WORLD PREMIERE OF HBO DOCUMENTARY FILM THE APOLLO ON WEDNESDAY, APRIL 24

Academy Award® winning director Roger Ross Williams' film celebrates the historic New York City cultural landmark where musical legends were discovered
The Tribeca Film Festival, presented by AT&T, will open its 18th edition with the world premiere of the HBO Documentary Film The Apollo. Helmed by Academy and Emmy Award-winning director Roger Ross Williams, The Apollo chronicles the unique history and contemporary legacy of the New York City landmark, the Apollo Theater. The film will debut at the iconic theater itself on Wednesday, April 24, 2019 and later this year on HBO. The feature-length documentary weaves together archival footage, music, comedy and dance performances, and behind-the-scenes verité with the team that makes the theater run. The Apollo features interviews with artists including Patti LaBelle, Pharrell Williams, Smokey Robinson, and Jamie Foxx. The documentary is produced by Lisa Cortés, Nigel Sinclair's White Horse Pictures, and Williams. The 2019 Tribeca Film Festival runs April 24-May 5.
The Apollo covers the rich history of the storied performance space over its 85 years and follows a new production of Ta-Nehisi Coates' Between the World and Me as it comes to the theater's grand stage. The creation of this vibrant multi-media stage show frames the way in which The Apollo explores the current struggle of black lives in America, the role that art plays in that struggle and the broad range of African American achievement that the Apollo Theater represents.
The Apollo Theater is internationally renowned for having influenced American and pop culture more than any other entertainment venue. The space has created opportunities for new talent to be seen and has served as a launchpad for a myriad of artists including Billie Holiday, Aretha Franklin, Ella Fitzgerald, Diana Ross & The Supremes, Stevie Wonder, The Jackson 5, Luther Vandross, Dave Chappelle, Lauryn Hill, Jimi Hendrix, and more. 
"We're excited to finally be going uptown to play the Apollo," said Jane Rosenthal, Co-Founder and CEO of the Tribeca Film Festival. "The Apollo gives audiences an inside look at the major role this institution has played for the past 85 years. It's seen the emergence of everything from Jazz to R&B to Soul and Gospel – all quintessential American music genres, and this is the time to remind people of our nation's rich history. "
"The Apollo is about so much more than just music, it's about how we used music and art to lift ourselves out of oppression," commented director Roger Ross Williams.  "The story of the Apollo is the story of the evolution of black American identity and how it grew to become the defining cultural movement of our time.  I was fortunate to make my first film with HBO and I am thrilled to be coming back home with The Apollo. Premiering at The Tribeca Film Festival, at the Apollo Theater in Harlem is a dream come true."
 "The Apollo Theater is a symbol of the creative spirit of New York and beyond, and I'm very happy that we're kicking off our 18th Festival celebrating it with this documentary from Roger Ross Williams," said Tribeca Co-Founder Robert De Niro.
The Apollo, directed by Academy Award-winning and Tribeca alumnus Roger Ross Williams (Music by Prudence; Life, Animated) and is produced by Lisa Cortés (Precious), White Horse's Nigel Sinclair (George Harrison: Living in the Material World; Undefeated), Jeanne Elfant Festa (Foo Fighters: Back and Forth, Pavarotti) and Cassidy Hartmann (The Beatles: Eight Days A Week, Pavarotti) along with Williams.
The Apollo will have additional screenings during the Festival. Passes and packages to attend the Festival go on sale on February 19, 2019.
The 2019 Tribeca Film Festival will announce its feature film slate on March 5.
20th Annual Maui Film Festival June 12-16, 2019
The 20th Annual Maui Film Festival is happening June 12-16!
To celebrate 20 years of Aloha, our passes and packages are now available at special 2000 prices for a limited time only: http://bit.ly/mauiffpasses2019
ALL STARS Came Out For The LA Art Show Opening Gala!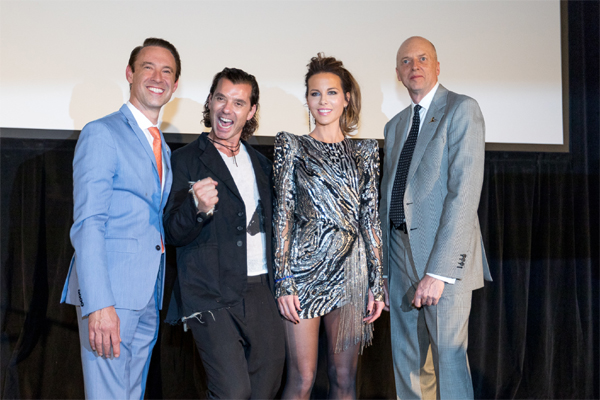 On Wednesday, January 23, 2019 Hollywood stars joined thousands of VIPs in LA's thriving arts community at the LA Convention Center for the 24th Annual LA Art Show Opening Night Gala, benefiting St. Jude Children's Research Hospital for the 5th year in a row. Boasting record breaking attendance, all proceeds from the sale of Patron and Vanguard tickets and 15 percent of sales of Friend tickets went directly to the charity. All attendees of the Opening Night Premiere party supported the lifesaving mission of St. Jude: Finding cures. Saving children.®
Kate Beckinsale drew a crowd as the evening's host, meeting with St. Jude patient families and delivering an address about the organization's mission to the VIP area. Gavin Rossdale, an avid collector and this year's Art Ambassador, reminded the audience that art can save lives. They were joined by previous host Emma Roberts, and stars such as Jessica Szohr, Peyton List, Cameron Monaghan, Joe Manganiello, Lance Bass, Amy Smart, Odette Annable, Brandon Boyd, Brigitte Nielsen, Bailee Madison, Kevin Zegers, Perrey Reeves, Amber Stevens West, JoAnna Garcia Swisher, Naomi Grossman, Davi Santos, Barry Sloane, Brittney Palmer, Ian Bohen, Denim Richards and many more.
Art stars Camille Rose Garcia, Brittany Palmer, Circle, Robert Vargas, Kazuhiro Tsuji, Gregory Siff, Dave Pressler, Brandi Milne, Dosshaus, Gary Baseman and hundreds more were in attendance. In addition to food, beverages, live music and art, gala attendees were given special sneak peek of the LA Art Show's 200,000 sq. ft. of programming, featuring over 100 galleries from 18 countries. RISK's bisected cop car, Scott Hove's cake wall, Pip & Pop's candy installation, Dosshaus's Littletopia archway and the mirrored light sculptures at Melissa Morgan Fine Art proved to be huge hits with the gala-goers. They also got to see the first of many performances by Dorian Wood and Sarah Trouche, among others.  
Joanna Krupa, Elphia Beauty's Brand Ambassador, Celebrates the Opening of Their First Concept Store
JOANNA KRUPA WEARS A VALENTINO DRESS AND CASADEI HEELS
Elphia Beauty concept store offers it's two signature products: the Luxe Exfoliating Gel and the Luxe Rejuvenation Serum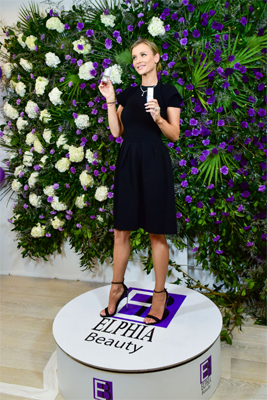 Elphia Beauty is pleased to announce its first concept store is opening in Manhattan, New York. The concept store is located at 137 Hudson Street, New York, NY 10013, in the heart of Tribeca. This luxury retail store is a place where you can try our exclusive products made with natural ingredients of the highest quality and experience their incredible renewing results on the skin.
"Elphia Beauty represents today's woman. Ethical, strong and performance driven. Our luxury skin care products are perfectly curated to fit their active lifestyles, quick and easy to use products that take care of the skin without sacrificing time," says Ellen Peia, CEO of Elphia Beauty. "With our new concept store you are welcome to go in, learn more about the unique development of our products and try them to have a luxurious experience."
Elphia Beauty concept store offers it's two signature products: the Luxe Exfoliating Gel and the Luxe Rejuvenation Serum.
The Luxe Exfoliating Gel is a vegan friendly face and décolletage refining gel. Think of it as an easy-to-use at-home spa treatment, targeting your dead skin cells. It instantly exfoliates and brightens for enhanced skin renewal, comparable to a professional salon peel. The Luxe Exfoliating Gel is suitable for all skin types. Elphia Beauty features a dynamic blend of restorative ingredients that are expertly blended with the highest quality botanical extracts. Elphia Beauty harnesses the exfoliating power of unique AHA's that radically renew the appearance of your complexion.
The Luxe Rejuvenation Serum is a pure, naturally derived formula that works to provide hydration through the layers of your skin, functioning to renew your skin's texture and provide a spa-like radiance. Elphia Beauty developed this innovative blend of nutrient-rich ingredients to not only protect your precious skin from environmental elements but also to help diminish the appearance of age spots and blemishes.
Elphia Beauty is delighted to announce the signing of world renowned actress and beauty icon, Joanna Krupa, as its new Beauty Brand Ambassador.
The world famous personality is featured in a new integrated campaign for Elphia Beauty running across TV, print and online channels as well as in-store.
"I chose Elphia Beauty as my skin care line because with all of the make-up that I use over the years I needed a product that is not harsh on my skin," says Joanna. "I do have very sensitive skin so I wanted a product that is gentle but it also needs to work. Elphia Beauty leaves my skin feeling silky soft and silky!"