Dark Hour Exclusive Experience!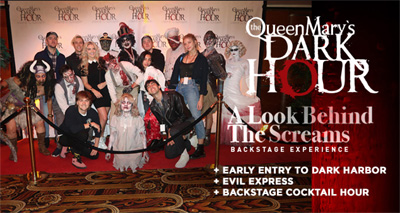 Dark Hour is held from 5:30pm – 6:45pm on October 11, 18, 25, and 31. At Dark Hour, an exciting backstage experience and cocktail hour, you'll be offered a rare chance to mingle and take pictures with all the main cast monsters, and enjoy hair-raising hors d'oeuvres and treats with cocktails available for purchase. You can then participate in a Q+A session with the producer of Dark Harbor, after which you will be escorted to a balcony viewing of the 7pm gate opening and monster run, a rare treat to view the rush from above! After your early entry and viewing of the opening ceremony, you can make wicked use of your Evil Express line admission the rest of the evening.
 
In addition to Evil Express (the fastest) admission into Dark Harbor and all six mazes, your Dark Hour upgrade includes:
On-site parking at Dark Harbor

General Admission to Dark Harbor

Evil Express (the fastest) entry into all six mazes

Admission to Dark Hour event from 5:30 – 6:45pm (entry begins at 5:00 pm)

Heavy hors d'oeuvres and spooky treats

Q&A with the producer of Dark Harbor

Photo ops with all signature monsters

Behind the scenes viewing of the opening ceremony
Can't Make It On October 11? We have 3 more dates for you to choose from! Click below to pick your date.

October 18
October 25
October 31
 
All-NEW Halloween Haunt in Orlando, Florida October 4 – November 2, 2019
The Creative Minds Behind LA's Dark Harbor at the Queen Mary Debut
Dark Horizon: Point of No Return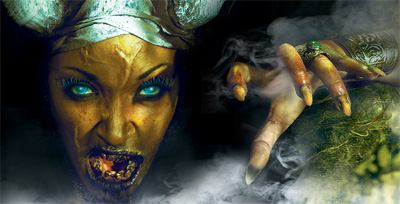 The creators, producers, and directors for one of the most authentically terrifying haunts in the world: The Queen Mary's Dark Harbor, are pleased to introduce the first-ever West Coast-style haunt in the East: Dark Horizon: Point of No Return runs October 4 – November 2, 2019 in Orlando, Florida.

"Much like its predecessor on the West Coast, Dark Horizon will deliver death-defying entertainment, blood-curdling haunted houses, immersive bars, and festive fare," commented Steve Sheldon, EPIC Entertainment Group Managing Partner and Dark Horizon Co-Producer.

Dark Horizon emerges in Orlando with much anticipation to feast upon fears, fray nerves, and curdle blood. Horror lovers will revel in sixteen nights of terror featuring four immersive bars, three gruesome haunted house mazes, two live stages, hundreds of monsters, festive fare, and one 'screaming' good time.

"Dark Horizon's haunted houses and main characters are based on Florida's darker history and local lore, highlighting infamous tales of piracy, vodou and murder," adds Charity Hill, EPIC Entertainment Group Managing Partner and Dark Horizon Co-Producer. "Dark Horizon will bring to life the stories of some of the more infamous figures in Florida's history – Bloody Ed Watson, Mambo Cecile, and Captain Killigrew."
The Queen Mary's Dark Harbor Unveils: Rogue
Navigate a Spine-Chilling Journey of Chaos & Dread in Dark Harbor's NEWEST MAZE
Sink to Never-Before-Seen Depths of the Historically Haunted Ship, including Door 13 & the Boiler Room
Test the Waters with 23 Nights of Terror September 26 – November 2 
Brace for impact as The Queen Mary's Dark Harbor releases a storm of fear like no other in the all-new maze: Rogue. Dark Harbor's newest maze will take guests through the frightening voyage that nearly changed history. Sparking the creation of the Hollywood blockbuster The Poseidon Adventure, the 95-foot wall of blackness sent waves of panic through the marine community and re-defined science as we know it. All who dare will grasp for air as they plummet with fear, clinging to survival in the newest, spine-chilling maze.
As the tale goes, while transporting American troops during World War II, the RMS Queen Mary became known as the Grey Ghost. During a stormy December crossing from New York to Scotland, the famed ocean liner was broadsided by a monstrous force of nature: later classified by NOAA as a "rogue wave".
Dark Harbor attendees will roll into the tide of this historic moment by becoming fully immersed in the panic and chaos of Rogue's impact with deafening water effects, complete darkness, floor to ceiling seafoam, and even experience the feeling of being capsized. All those aboard will hold on to dear life, as the Grey Ghost attempts to keep herself afloat.
In addition to the announcement of the all-new maze, the producers of Dark Harbor announced at Midsummer Scream, on Sunday August 4, for the first-time ever, Dark Harbor guest will have access to never-before-seen depths of the Queen Mary. In one of the newly re-imagined mazes onboard the historic ocean liner, attendees can now walk through the infamous Door 13. Dubbed one of the most haunted areas on the ship, legend has it that an 18-year old crewman was crushed to death by Door 13 in 1967, and now Dark Harbor guests can walk-thru the iconic location. Guests can also venture 6-fathoms below sea level submerged in the notorious Boiler Room to indulge in the newest secret bar offered at Dark Harbor nightly.
Southern California's most haunted Halloween event will welcome MORE scares than ever before with the season's most authentically frightening experience available. Dark Harbor tells the truly haunted, historic tales of the Queen Mary through the infamous spirits of Captain, Chef, Iron Master, Samuel the Savage, Graceful Gale, Half-Hatch Henry, Scary Mary, Voodoo Priestess, Ringmaster, plus hundreds of their bloodcurdling henchmen await to tempt your fate.
Live your nightmares aboard the Queen Mary with newly-intensified returning mazes Feast, B340 and Lullaby. Circus and Intrepid prove even more twisted and darker than before with new immersions and even more twisted scares for the 2019 season.
With Dark Harbor's disturbingly creative minds, 6 mazes, 13 bars, fire shows, aerialists, sliders, Michael Jackson's Neverland Ranch Sinister Swings, Panic! 4-D Experience, zombie DJs, Barrel Room Tastings, R.I.P. Lounge, and much more, Dark Harbor 2019 is certain to be a freakishly fun time.
The annual haunt opens its gates on September 26 and continues to scare those who dare on select nights through November 2. General admission ticket prices start at just $20 online, with Fast Fright, Evil Express, RIP Lounge Passes, Creepy Cabanas and lodging packages available. Dark Harbor is offering a 40% discount on general admission for select nights until August 5 at 11:59pm with promo code SCREAM. For more information or to purchase tickets online, visit www.queenmary.com/dark-harbor.
ALL STARS Came Out For The LA Art Show Opening Gala!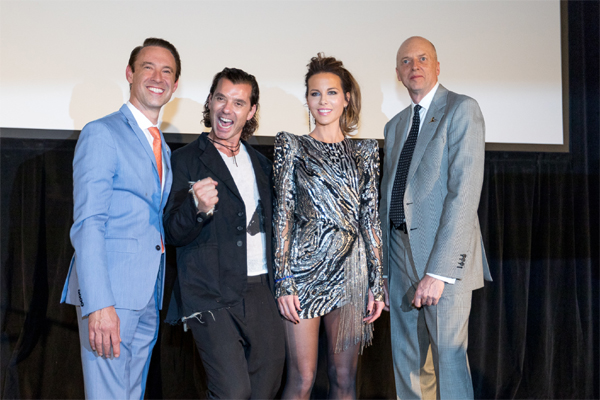 On Wednesday, January 23, 2019 Hollywood stars joined thousands of VIPs in LA's thriving arts community at the LA Convention Center for the 24th Annual LA Art Show Opening Night Gala, benefiting St. Jude Children's Research Hospital for the 5th year in a row. Boasting record breaking attendance, all proceeds from the sale of Patron and Vanguard tickets and 15 percent of sales of Friend tickets went directly to the charity. All attendees of the Opening Night Premiere party supported the lifesaving mission of St. Jude: Finding cures. Saving children.®
Kate Beckinsale drew a crowd as the evening's host, meeting with St. Jude patient families and delivering an address about the organization's mission to the VIP area. Gavin Rossdale, an avid collector and this year's Art Ambassador, reminded the audience that art can save lives. They were joined by previous host Emma Roberts, and stars such as Jessica Szohr, Peyton List, Cameron Monaghan, Joe Manganiello, Lance Bass, Amy Smart, Odette Annable, Brandon Boyd, Brigitte Nielsen, Bailee Madison, Kevin Zegers, Perrey Reeves, Amber Stevens West, JoAnna Garcia Swisher, Naomi Grossman, Davi Santos, Barry Sloane, Brittney Palmer, Ian Bohen, Denim Richards and many more.
Art stars Camille Rose Garcia, Brittany Palmer, Circle, Robert Vargas, Kazuhiro Tsuji, Gregory Siff, Dave Pressler, Brandi Milne, Dosshaus, Gary Baseman and hundreds more were in attendance. In addition to food, beverages, live music and art, gala attendees were given special sneak peek of the LA Art Show's 200,000 sq. ft. of programming, featuring over 100 galleries from 18 countries. RISK's bisected cop car, Scott Hove's cake wall, Pip & Pop's candy installation, Dosshaus's Littletopia archway and the mirrored light sculptures at Melissa Morgan Fine Art proved to be huge hits with the gala-goers. They also got to see the first of many performances by Dorian Wood and Sarah Trouche, among others.  
Joanna Krupa, Elphia Beauty's Brand Ambassador, Celebrates the Opening of Their First Concept Store
JOANNA KRUPA WEARS A VALENTINO DRESS AND CASADEI HEELS
Elphia Beauty concept store offers it's two signature products: the Luxe Exfoliating Gel and the Luxe Rejuvenation Serum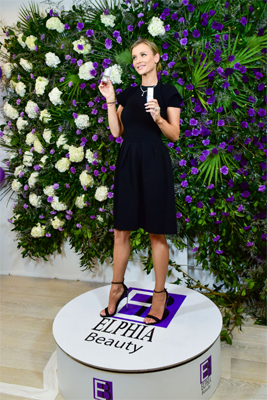 Elphia Beauty is pleased to announce its first concept store is opening in Manhattan, New York. The concept store is located at 137 Hudson Street, New York, NY 10013, in the heart of Tribeca. This luxury retail store is a place where you can try our exclusive products made with natural ingredients of the highest quality and experience their incredible renewing results on the skin.
"Elphia Beauty represents today's woman. Ethical, strong and performance driven. Our luxury skin care products are perfectly curated to fit their active lifestyles, quick and easy to use products that take care of the skin without sacrificing time," says Ellen Peia, CEO of Elphia Beauty. "With our new concept store you are welcome to go in, learn more about the unique development of our products and try them to have a luxurious experience."
Elphia Beauty concept store offers it's two signature products: the Luxe Exfoliating Gel and the Luxe Rejuvenation Serum.
The Luxe Exfoliating Gel is a vegan friendly face and décolletage refining gel. Think of it as an easy-to-use at-home spa treatment, targeting your dead skin cells. It instantly exfoliates and brightens for enhanced skin renewal, comparable to a professional salon peel. The Luxe Exfoliating Gel is suitable for all skin types. Elphia Beauty features a dynamic blend of restorative ingredients that are expertly blended with the highest quality botanical extracts. Elphia Beauty harnesses the exfoliating power of unique AHA's that radically renew the appearance of your complexion.
The Luxe Rejuvenation Serum is a pure, naturally derived formula that works to provide hydration through the layers of your skin, functioning to renew your skin's texture and provide a spa-like radiance. Elphia Beauty developed this innovative blend of nutrient-rich ingredients to not only protect your precious skin from environmental elements but also to help diminish the appearance of age spots and blemishes.
Elphia Beauty is delighted to announce the signing of world renowned actress and beauty icon, Joanna Krupa, as its new Beauty Brand Ambassador.
The world famous personality is featured in a new integrated campaign for Elphia Beauty running across TV, print and online channels as well as in-store.
"I chose Elphia Beauty as my skin care line because with all of the make-up that I use over the years I needed a product that is not harsh on my skin," says Joanna. "I do have very sensitive skin so I wanted a product that is gentle but it also needs to work. Elphia Beauty leaves my skin feeling silky soft and silky!"