LA ART SHOW, THE WEST COAST'S LARGEST ART FAIR, RETURNS WITH FOCUS ON LATIN AMERICA AND PACIFIC RIM FOR 24th YEAR
The LA Art Show will return to the Los Angeles Convention Center from January 23 – 27, 2019. As the city (and west coast's) largest art fair, and one of the most diversely programmed in the world, the LA Art Show features an encyclopedic lineup of exhibitors not only in contemporary and modern art, but also classical and other specialized art scenes that often command their own dedicated shows. For its 24th year, the LA Art Show will focus especially on programming from the Pacific Rim.
OPENING NIGHT PREMIERE
Wednesday, January 23, 2019 | 7pm – 11pm

SHOW HOURS
Thursday, January 24, 2019 | 11am – 7pm
Friday, January 25, 2019 | 11am – 7pm
Saturday, January 26, 2019 | 11am – 7pm
Sunday, January 27, 2019 | 11am – 5pm
LOS ANGELES CONVENTION CENTER – WEST HALL
1201 South Figueroa Street Los Angeles, CA 90015
The Queen Mary Presents All-NEW Paranormal Series with Master Magician and Apparitionist Aiden Sinclair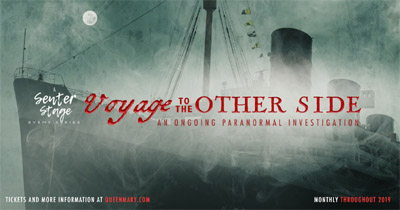 In September of 2018, Master Illusionist Aiden Sinclair opened a new theatre aboard the RMS Queen Mary in one of the most historically haunted areas of the ship. Since the opening of his theatrical séance, Illusions of the Passed, reports of paranormal activity in that area have increased dramatically. The Queen Mary is pleased to announce, Illusions of the Passed, will continue to lead guests through a journey back in time to meet the ghosts and legends of the ship throughout 2019.
Building on the success of Illusions of the Passed, the Queen Mary has invited the finest paranormal investigators in the world to come aboard, hosting a recurring intimate investigation of the Revenant Room Theatre and the historic Rope Locker in A Voyage to the Other Side. Each month, paranormal thrill seekers will be treated to one of Aiden Sinclair's 45-minute theatrical séance performances, a one-of-a-kind lecture, paranormal investigation, and meet and greet with a special guest. Haunt lovers will have the opportunity to investigate these locations first hand by participating in the first recurring paranormal research aboard the RMS Queen Mary.

On Saturday, January 19, the Queen Mary will welcome Grant Wilson aboard as the first Paranormal Investigator teaming up with Aiden Sinclair for A Voyage to the Other Side. Grant S. Wilson has been actively involved in all types of paranormal investigation and has paved the way for much of the modern field through his work with the group The Atlantic Paranormal Society (T.A.P.S) which he co-founded many years ago.

Saturday, February 23 will welcome Tennessee Wraith Chasers duo, Scott Porter & Doogie McDougal, for the second Voyage to the Other Side. Scott "Porter" is best known as the Profiler, Historian, and has also appeared on, and won, the Old South Pittsburg Hospital episode of Travel Channel's Paranormal Challenge. Steven "Doogie" McDougal has 20 plus years as an investigator and lecturer in the paranormal and has been seen on Destination America and Travel Channel's Haunted Live, Most Haunted Towns, Haunted Towns, Ghost Asylum, Ghostland Tennessee, Exorcism Live, and Paranormal Challenge.

The third and final installment of A Voyage to the Other Side will welcome aboard the CW's Supernatural, Chad Lindberg, on March 30. Lindberg is a well-known actor on the CW's hit Supernatural and starred as "Jesse" from the original The Fast and Furious. Through the years, Lindberg has found a way to put his passion and his Paranormal Investigation skills to the test as the co-host of Destination America's paranormal reality show Ghost Stalkers and can currently be found leading fans on ghost hunts across the country on Paranormal Investigations.

Those looking to continue the paranormal excursion are welcome to review their paranormal findings with Chief Perley at the Ghost Investigation Evidence Review Brunch the following morning on January 21, February 24 and March 31. Guests can indulge in the Queen Mary's Royal Sunday Brunch and uncover their ghost findings with one of the ship's resident Chiefs. Tickets to the Ghost Investigation Evidence Review Brunch are an add-on, starting at $125 per person.  

Tickets to Voyage to the Other Side start at $275 and include a meet and greet hour with paranormal celebrities, (1) meal voucher (*tax and gratuity not included), private showing of Illusions of the Passed featuring Aiden Sinclair, Private Ghost Hunt with  a celebrity ghost hunter in the Queen Mary's Rope Hold and Revenant Room. To purchase tickets and for more information on pricing, hotel packages and more visit queenmary.com.
Joanna Krupa, Elphia Beauty's Brand Ambassador, Celebrates the Opening of Their First Concept Store
JOANNA KRUPA WEARS A VALENTINO DRESS AND CASADEI HEELS
Elphia Beauty concept store offers it's two signature products: the Luxe Exfoliating Gel and the Luxe Rejuvenation Serum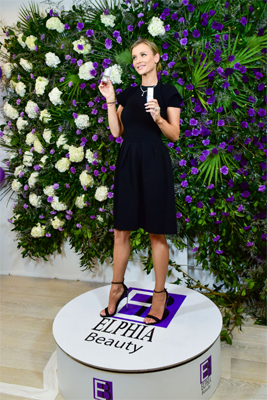 Elphia Beauty is pleased to announce its first concept store is opening in Manhattan, New York. The concept store is located at 137 Hudson Street, New York, NY 10013, in the heart of Tribeca. This luxury retail store is a place where you can try our exclusive products made with natural ingredients of the highest quality and experience their incredible renewing results on the skin.
"Elphia Beauty represents today's woman. Ethical, strong and performance driven. Our luxury skin care products are perfectly curated to fit their active lifestyles, quick and easy to use products that take care of the skin without sacrificing time," says Ellen Peia, CEO of Elphia Beauty. "With our new concept store you are welcome to go in, learn more about the unique development of our products and try them to have a luxurious experience."
Elphia Beauty concept store offers it's two signature products: the Luxe Exfoliating Gel and the Luxe Rejuvenation Serum.
The Luxe Exfoliating Gel is a vegan friendly face and décolletage refining gel. Think of it as an easy-to-use at-home spa treatment, targeting your dead skin cells. It instantly exfoliates and brightens for enhanced skin renewal, comparable to a professional salon peel. The Luxe Exfoliating Gel is suitable for all skin types. Elphia Beauty features a dynamic blend of restorative ingredients that are expertly blended with the highest quality botanical extracts. Elphia Beauty harnesses the exfoliating power of unique AHA's that radically renew the appearance of your complexion.
The Luxe Rejuvenation Serum is a pure, naturally derived formula that works to provide hydration through the layers of your skin, functioning to renew your skin's texture and provide a spa-like radiance. Elphia Beauty developed this innovative blend of nutrient-rich ingredients to not only protect your precious skin from environmental elements but also to help diminish the appearance of age spots and blemishes.
Elphia Beauty is delighted to announce the signing of world renowned actress and beauty icon, Joanna Krupa, as its new Beauty Brand Ambassador.
The world famous personality is featured in a new integrated campaign for Elphia Beauty running across TV, print and online channels as well as in-store.
"I chose Elphia Beauty as my skin care line because with all of the make-up that I use over the years I needed a product that is not harsh on my skin," says Joanna. "I do have very sensitive skin so I wanted a product that is gentle but it also needs to work. Elphia Beauty leaves my skin feeling silky soft and silky!"
World Pet Association Adjusts SuperZoo 2019 Show Dates to August to Align With Seasonal Buying Cycles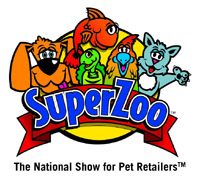 SuperZoo, the largest gathering of the pet industry in North America, announced a date change for the 2019 SuperZoo. After listening to feedback from pet professionals and reviewing post show research, SuperZoo will now host the community of over 20,000 pet professionals August 20-22 at Las Vegas' Mandalay Bay, with the show's highly acclaimed retailer education set for August 19. This date move will ensure that SuperZoo is positioned to serve the buying needs of industry retailers.
According to Tradeshow Executive, shows like MAGIC Market Week ASD Las Vegas and NY Now grew in size to cater to the growing demands of August retail buying trends. With this date shift, SuperZoo is well-aligned with holiday product launches and seasonal buying cycles, giving retailers the opportunity to be the first to see, touch and buy emerging product trends.
With more than 1,200 exhibitors and over 800 product debuts, retailers can source unique gear, pet technology, accessories and pet food and snacks that will allow them to differentiate themselves and compete in today's competitive market.
SuperZoo brings together over 20,000 pet professionals on an annual basis, boasting 36% more buyers than any other show in North America, for an annual opportunity to participate in the industry's largest professional learning forum. With more education sessions on and off the show floor than any other industry event, the new August dates allow retailers to stay on the leading-edge of emerging trends and business insights.
"SuperZoo's goal is to provide the most robust platform of product discovery, education and networking to ensure this hardworking, dedicated community is able to come together at a date that is most conducive to their business imperatives," said Jacinthe Moreau, WPA president. "Our commitment to serving the needs of the industry requires us to be vigilant, listen to feedback and take action when required. After several conversations and in-depth post show research analysis, we realized that hosting SuperZoo in August more efficiently matches the business goals and priorities of both brands and retailers. Armed with that information, we took immediate action and are pleased to make this industry-requested change."
"In visits with independent pet retailers across the country, our Community Relations team was able to gain valuable insights, and bring information back to our team to ensure the needs of industry retailers are being heard," said Mike Karsting, VP of Exhibitions. "I'm thrilled to be a part of an organization that cares, listens and is responsive to the concerns and feedback from our community— and I am pleased to announce this date shift ensuring success for our exhibitors and retailers."

SuperZoo registration is expected to open by January 2019. Visit superzoo.org to sign up to receive news, updates, industry insights and behind-the-scenes exclusives about SuperZoo.