Petcube - Interactive Pet Camera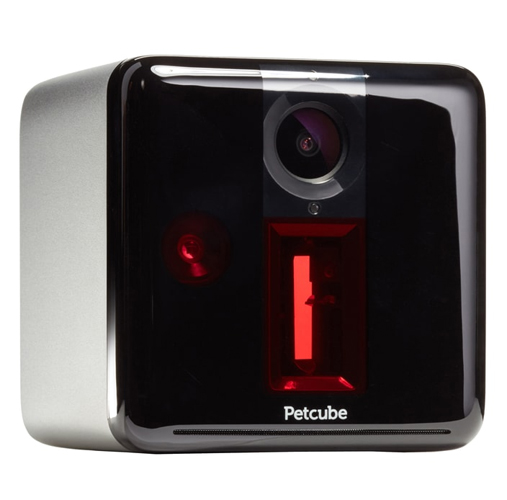 The Petcube Camera is a device which lets you check in via video and audio with your pets, while you're away from home. But the Petcube is far more than a simple pet monitor.
The Petcube interactive wi-fi pet camera is truly interactive: It has a laser 'toy' built in, which can be remotely activated to play with your pets while you are away. There is also two-way audio: You can speak to your pets and hear them. A significant part of the Petcube experience, is the Petcube app for both Android and Apple phones. This is not only how you interact with your pet, but it also provides a powerful social networking tool. Via Petcube Care, your pet's activities can be recorded on Petcube video and viewed at your leisure.

Specs: The Petcube plugs into the mains power, and uses WiFi to connect to the rest of the world. It ships in a neat 4-inch aluminum cube with a black plastic face that shields the camera and laser. The camera offers 720p HD and offers a wide angle 138-degree lens so you should" be able to see your pet in its main room.
Laser Pointer: The laser is a mere 5 milliwatt model, so there's no risk of singe marks on your cat or dog, but by dragging your finger across the smartphone screen, you can guide the laser across the floor or up a wall for the pet to play with as a laser toy, helping coax them out of destructive behavior.
Access Control: Users can share access to the camera and app with family, allowing them to play with the pets too – and there's a special Petcube social media site where owners can gather and show off their pets in action. That public mode may be not for everybody regarding privacy, but it is there.

Pros:
Excellent video quality
Unobtrusive design
Multi-purpose app
Barking and movement alerts

Cons:
Erratic laser
Non-adjustable camera
The other great use is for animal shelters and establishments such as cat cafes. Petcube works with a number of shelters across the US, and it's nice that you're able to help keep the animals entertained. Even if you don't have a Petcube of your own, you might enjoy the app just to be able to play with and observe animals from around the world.