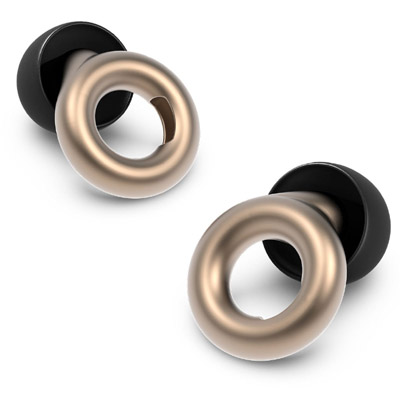 Stylish, Comfortable and Easy-to-Use
Designed specifically for listening to music, Loop uses an acoustic channel that imitates the function of your ear canal. At the end of this channel is an acoustic mesh filter that reduces sound by 20 decibels across all frequencies. The combination of the channel and the filter produces a clear sound and lets you enjoy the music without destroying your eardrums.
I tried out a pair at a rock concert during the 2019 CES recently and must say the work effectively.
The Loops lowered the intensity of the volume, but didn't smother it. The sound of the bass and drums were reduced, while the singers' voices and guitar riffs remained clear. Every now and then I'd remove the Loops from my ears to experience the loudness for a few minutes, but put them right back in "what a difference". They are extremely comfortable with the clever "ring" design they fit securely in your ear you don't have to constantly push them back in, like other earplugs.
They come with assorted sizes of foam tips to ensure you'll get a good fit inside your ear and a little leather bag to store them inside your pocket or purse. There are five different colors to choose from and they retail for $ 29.95.
Audio-Technica ATH-SR30BT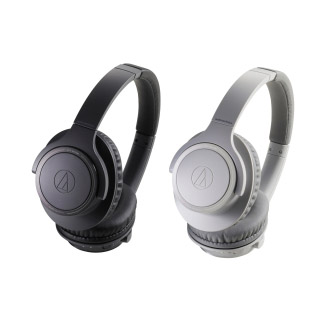 Audio-Technica introduced a headphone with 70 hours of battery life. At $99, the ATH-SR30BT is a great deal for any budget.
The SR30BT are very light and just big enough to be over-ear headphones and they fit perfect without feeling too tight. And the sound isolation is decent with no compromise on comfort.
What sets these headphones apart from the pack is the battery life. With 70 hours of charge, this headphone will outlive any other device. Unfortunately, the SR30BT does not have a wired capability. There's no input for a cable, so you can't use these in passive mode. And you'll just have  to recharge them with the included micro-USB to USB cable.
Another defining quality of these headphones is that they employ Bluetooth 5 technology. And although this is slowly becoming the standard for newly released wireless headphones, it's still hard to find a pair with Bluetooth 5 for this price. The SR30BT comes with all the usual functions; 3 buttons on the left earcup allow you play, pause, skip and control volume. You can also invite Siri or Google Assistant over for a chat by holding down the middle button. Audio-Technica headphones tend to be easy to pair. When you take them out of the box, all you have to do is turn them on, and you'll find the headphone in your Bluetooth settings. After you've first paired them, they will connect automatically every time you turn them on.
SPECIFICATIONS:
Driver: 40mm
Frequency Response: 5 – 40,000 Hz
Sensitivity: 100dB
Impedance: 35 Ohms
Weight: 180g
For more info visit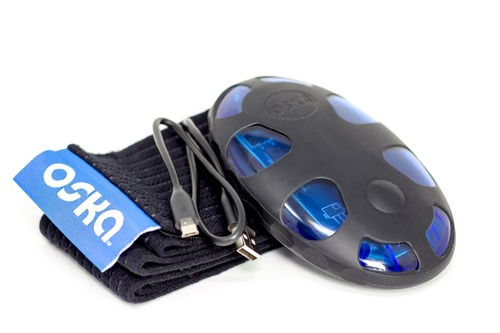 Oska Pulse is a wearable pain-relief device intended to help reduce muscle stiffness, relieve minor pain and increase mobility through its proprietary eTec pulse technology. eTec pulse technology optimizes pulsed electromagnetic field (PEMF) therapeutic technology to help individuals live a more active, pain-free lifestyle. Oska Pulse is a small, portable, wearable, safe, noninvasive, drug free technology that has no side effects and is made in the USA.
So how does Oska Pulse work if we don't see or feel it physically doing anything?
Fundamentally, pain radiates from a damaged area of the body and the same area exhibits inflammation. In the case of a knee injury, irrespective of whether it's due to damage to your nervous system, your bone, your cartilage etc, when PEMF ( Pulsed Electromagnetic Field Therapy ) is applied, it stimulates your body to repair and renovate the damaged area. Almost immediate relief is delivered via a reduction in inflammation and longer term relief results from the repair mechanisms your body implements under the influence of Oska Pulse.
I have to admit I was amazed by this device is so cool and futuristic looking. I turned it on and I didn't feel a thing; It doesn't vibrate, buzz, get warm, hum or do anything visibly other than seeing it light up in its blue color so you know it's on. It's super simple to handle, you just turn it on with the back button then you can lay it next to the painful area of your body; against clothing or you can use the adjustable strap (which is included) and wrap it around your painful area. Here is the cool thing… you don't even have to have it touching your body, as long as it's within 8 inches from the effected area you're good to go and it's working! It's an amazing little device, easy handle, great for traveling and office use.
For more information visit www.oskawellness.com
ANTOP 400-BV - Best Outdoor TV Antenna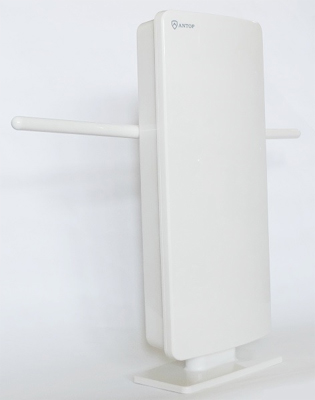 After testing the Antenna on multiple TVs in different rooms in an area with the worst reception to begin with, I must say this is so far the best outdoor TV antenna.
The ANTOP Flat Panel Smartpass Amplified Outdoor/Indoor HDTV antenna (AT-400BV) is encased in rigid white plastic that has been UV coated and has a weather resistant finish. It is a large antenna measuring 22″ x 10″ x 4.7″. It comes with a Smartpass Amplifier and 4G filter for "balanced reception range and blocking unwanted 3G/4G interference". It also has a white plastic indoor stand for occasions when you may want to set this antenna on a flat surface.
The AT-400BV
is also referred to as the "Big Boy" model. It can be mounted either on a roof or roof peak as well. The antenna has a metal bracket on the back of the panel for mounting. It comes with all the hardware needed for installation. That includes a 39-foot cable with a thick weather resistant coating.
Getting yourself a TV antenna can change the way you look at your finances, and your cable subscription. If you properly set up a TV antenna, there's an excellent chance that you will get a much better HD quality picture compared to cable. Channels like CBS, ABC, PBS, NBC, The CW and FOX are all yours for the taking and looking better than your pay-TV subscription.
TV antennas are pulling in digital signals directly from a broadcast tower. Cable companies like Comcast,Cox etc…have to compress the broadcast at the expense of picture quality to send it through the cable cord going into your home.
Digital broadcasts only began around seven years ago, and a surprisingly small number of Americans know about free high definition signals despite the best efforts of the federal government. That's beginning to change in a dramatic way.
An estimated 22 million people are expected to drop their cable TV subscription this year.
So whether you're a football fan who wants to watch NFL and NCAA games, or a PBS addict who wants every episode of America's Test Kitchen, a TV antenna gets you free high definition programming for life.
Receiving sub-channels:
Sub-channels are not offered on cable: There's a good chance that your local network affiliates like NBC are broadcasting more than one channel from their broadcast tower. These sub-channels might not all be in HD quality. Many of them aren't. But there has been a rise genre-specific channels with programming as good as many a cable channel. If you're a true crime fan, you might find a sub-channel like ESCAPE. Episodes of Forensic Files and American Greed are broadcasted regularly. Those two shows are regularly shown on cable channels like HLN and CNBC.
Range:
Being able to pull in channels from a far distance, and have a decent gain to pull in VHF and UHF signals is one of the more important aspects of any antenna you choose. I recommend using an amplifier with an antenna because in many cases it can help with getting channels.
Other antennas that I've tested here have struggled with picture quality. I noticed right away that the ANTOP was getting a stronger signal even from a less-than-ideal placement. This was probably due two features in particular. The ANTOP AT-400BV comes with a Smartpass amplifier that you can actually switch on and off. A small bulb on the amp turns green when it's on, yellow when it's off. This TV antenna also has a 4G LTE Filter, designed to block 3G and 4G interference from cell towers.This is by far the best of all of the antennas that I have tried so far .
The Package Contents:
Flat Panel Smartpass Amplified Outdoor/Indoor HDTV antenna (AT-400BV)

Two plastic coated VHF enhancing rods

Indoor Table Stand

AC/DC Power Adapter

Power Inserter with Smart Switch

Wall/Pole Mounting Bracket

39 ft Coaxial Cable

Instruction/User Manual
Technical Specifications:
Application: Indoor/Outdoor

Amplification: Smartpass Amplified

Reception Pattern: Multi-directional

Distance to transmitter: 60/70 mile

Frequency Range: 87.5-230MHz, 470-700MHz

Gain: Switch-OFF: 10dB; Switch-ON: 33dB

Output Level: 100dBuV Max

Noise Figure: <3.5dB

Impedance: 75Ω

Power Supply: DC 12V via power adapter

Cable Length: 39ft

Color: White

Size: 22″ x 10″ x 4.7″

Operating Temperature: -40° F to 140° F

Whole house solution: Can feed multiple TVs

Enhancer Rods to strengthen VHF reception

4G LTE filter: Blocks unwanted 3G and 4G signals

UV coating, weather resistant finish

Easy home exterior installation: wall, roof, balcony (can be installed in attic and used on table too)

Online customer support, installation assistance

12-month warranty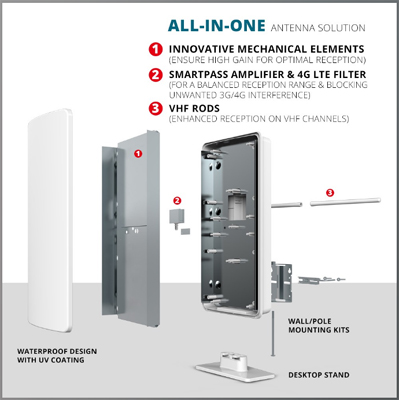 For more information visit https://antopusa.com/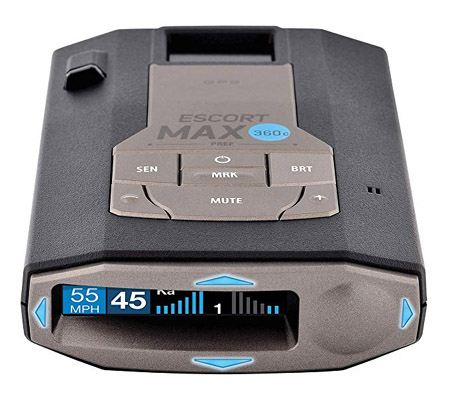 Escort released the new Max 360c ($699), their successor to the original Max 360 ($649). The updated 360c adds WiFi for automatic updates which means it's now the first windshield mount radar detector that can automatically keep itself updated over time as new software updates are released. Let's take a closer look at the Max 360c.
An interesting new feature are the Escort Live & Automatic Updates that Escort has introduced with the Max 360c is integrated WiFi. (The "c" stands for "connected" as in "connected car.") If you have WiFi built into your car, your radar detector can connect to Escort Live without requiring your phone.
Using WiFi, the Max 360c can also automatically update both its firmware and built-in red light camera database, something that's not available over Bluetooth like with the original Max 360. To update your radar detector, you no longer have to bring the detector home, plug it into your computer, and run the update software. The Max 360c is now the first radar detector that's able to keep itself updated for you automatically.
When a new firmware update is available, the Max360c will notify you, ask you if you want to update, and then the update process takes about 5-10 min. You can also go into the detector manually at any time and check to see if there's a new update available. This is a great feature and convenient.
Escort doesn't notify users of updates except for posting notifications on their forum, so unless you're actively keeping an eye out for updates it's nice to have the detector taking care of this for you.
While it is possible for Escort to update their detectors over Bluetooth, Bluetooth LE is really slow to transfer files in a reasonable amount of time which is one of the main reasons why Escort has opted to use WiFi for the update process. The AntiLaser Priority laser jammer can do automatic firmware updates over Bluetooth, but its firmware update files are much smaller.
The Max 360c can also automatically update its built-in red light camera and speed camera database over WiFi, a nice feature since Escort updates their RLC database pretty regularly. Normally you'd have to bring your detector inside periodically, plug it into your computer, and run Escort's update software, but now the detector can take care of that for you while driving. Pretty cool.
You see, as long as you're connected to Escort Live, whether it's through your phone via Bluetooth or over your WiFi hotspot, you'll always have access to the latest red light camera database. If the RLC database built into your detector is out of date, it actually doesn't matter because your detector will reference the latest database online and use that instead. Since the detector is designed to automatically connect to Escort Live every time you get in your car, as long as you take your phone with you, you've already have access to the latest RLC database so it's not a big deal if you haven't updated the detector's built-in database recently.
If you want to use WiFi, there's several different different ways to give your Max 360c the WiFi connection it needs.
The Max 360c works best if your vehicle has a dedicated WiFi hotspot built into it. This way you start up your vehicle, your detector automatically hops online, and everything works seamlessly while you drive.
As far as your phone many cell phones have tethering capabilities where they can turn into a WiFi hotspot and share their internet connection with other devices. I use this all time time when traveling to give my laptop an internet connection, for example. This would work with the Max 360c, particularly on Android. On iOS it wouldn't work as well.
Whichever type of phone you're using, if your phone is going to act as a WiFi hotspot, you'll need a second phone to set up your Max 360c. You'll need your primary phone set up as a hotspot and a second phone to control the 360c and connect it to the first phone. Once you do that then yes, your 360c will work with tethering.
Max 360c features includes:
Latest Magnetic Sticky Cup Windshield Mount

Included Escort USB SmartCord (for an additional savings of $34.95!)

Flexible Travel Case

FREE 1 Year Subscription to Escort Live!

FREE 3 Month Subscription to Defender Database
For more information about the Escort Max 360c Radar/Laser Detector visit www.https://www.escortradar.com
Petcube - Interactive Pet Camera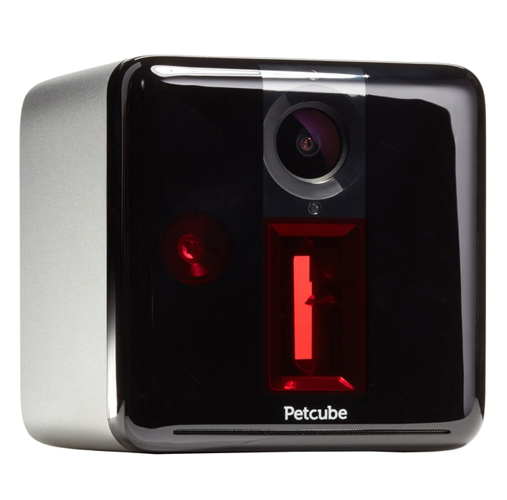 The Petcube Camera is a device which lets you check in via video and audio with your pets, while you're away from home. But the Petcube is far more than a simple pet monitor.
The Petcube interactive wi-fi pet camera is truly interactive: It has a laser 'toy' built in, which can be remotely activated to play with your pets while you are away. There is also two-way audio: You can speak to your pets and hear them. A significant part of the Petcube experience, is the Petcube app for both Android and Apple phones. This is not only how you interact with your pet, but it also provides a powerful social networking tool. Via Petcube Care, your pet's activities can be recorded on Petcube video and viewed at your leisure.

Specs: The Petcube plugs into the mains power, and uses WiFi to connect to the rest of the world. It ships in a neat 4-inch aluminum cube with a black plastic face that shields the camera and laser. The camera offers 720p HD and offers a wide angle 138-degree lens so you should" be able to see your pet in its main room.
Laser Pointer: The laser is a mere 5 milliwatt model, so there's no risk of singe marks on your cat or dog, but by dragging your finger across the smartphone screen, you can guide the laser across the floor or up a wall for the pet to play with as a laser toy, helping coax them out of destructive behavior.
Access Control: Users can share access to the camera and app with family, allowing them to play with the pets too – and there's a special Petcube social media site where owners can gather and show off their pets in action. That public mode may be not for everybody regarding privacy, but it is there.

Pros:
Excellent video quality
Unobtrusive design
Multi-purpose app
Barking and movement alerts

Cons:
Erratic laser
Non-adjustable camera
The other great use is for animal shelters and establishments such as cat cafes. Petcube works with a number of shelters across the US, and it's nice that you're able to help keep the animals entertained. Even if you don't have a Petcube of your own, you might enjoy the app just to be able to play with and observe animals from around the world.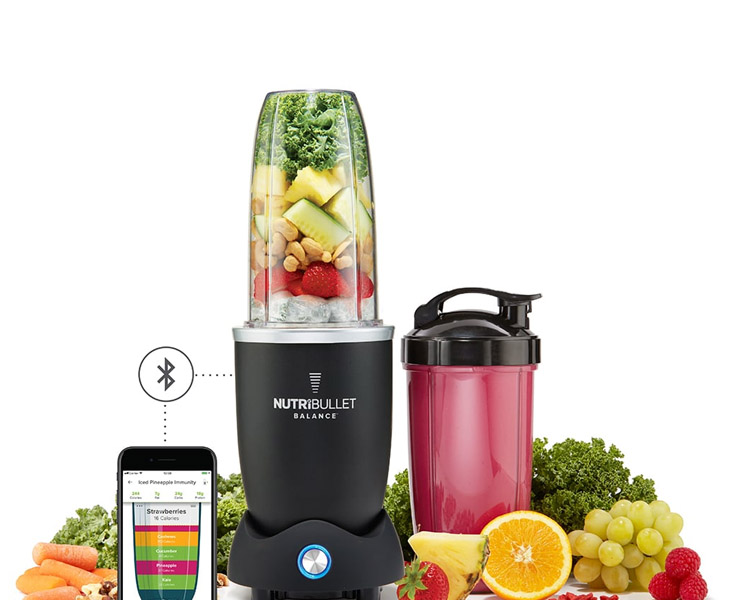 I love smoothies for my breakfast and throughout the day, especially after a work out. It's an easy, healthy solution and I love that it doesn't take me much time to make myself a nutritious meal. I use plant-based protein powder, almond milk, fresh spinach, and whatever other ingredients I feel like, such as beets, bananas, carrots, pineapples, kale etc. to make a healthy smoothie.
So I tried the NutriBullet Balance it's compact, easy to use, even easier to wash, and it can blend up just about anything. Even more than that, though, this smart blender hooks up to an app on your phone and helps you track everything you put in your smoothie. It tells you how many calories you're consuming with every smoothie, along with all your macros.
The NutriBullet Balance, is a smart nutrient extractor that has a built-in scale and a Bluetooth connection. With the NutriBullet Balance blender and its companion app, available for iOS and Android, you can build NutriBlast smoothies that have been customized to meet your dietary preferences and needs.
Using this blender has been a huge help for me, because I can now see that some of my smoothies in the past have simply contained too much food for one meal. If you're trying to lose weight and you love smoothies, you might fall in love with this product!
Here is how it works:
Before you start using the NutriBullet Balance, you should get the Balance App. The App is available for Apple iOS and Android mobile devices, and you can download it in the Apple App Store or Google Play. Once you have downloaded and installed the App on your smart phone or tablet, you can launch it, and it will quickly connect via Bluetooth.
The App lets you choose your eating style, with options such as low-sugar, dairy-free, and paleo. Based on your tastes, nutrition goals and dietary restrictions, the App will search its database of hundreds of recipes, and show you recipes that match your preferences. In addition to smoothies, the database contains recipes for soups, desserts, dips, and other liquid meals and snacks. Each recipe is accompanied with nutritional information, including calories, protein, carbs, sugar, and fiber.
After choosing a recipe, you can place the blending cup on the NutriBullet Balance and start adding ingredients per the App's instructions. The built-in scale of the blender measures the weight of your ingredients as you add them to the blending cup, and sends the information to the App via Bluetooth. Once you hit the right amount of an ingredient, the App gives you visual and audible cues so you know it is time to move on to the next step.
Once the ingredients are in the blender, you can initiate the blending process. Based on the ingredients, the NutriBullet Balance automatically sets the blend time, so each NutriBlast smoothie should come out nice and smooth. During the blending process, you can watch the second countdown to your perfect smoothie on the App.
Tenba Transport Air Wheeled Case Attache 3220W (Black)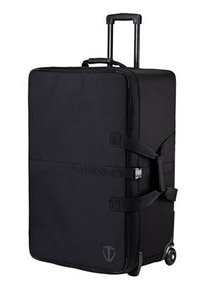 Photographers wishing to up their travel game will appreciate the black Transport Air Wheeled Case Attache 3220W from Tenba. The case has a zippered, spacious main compartment with touch-fastening dividers for storing and organizing two video/DSLR cameras or lighting gear, up to ten lenses, flash, and related accessories. Under the lid is a clear-mesh, zip pocket for cables, cards, batteries, and more. The lid is tethered for easy access to gear. Carry the case with the three soft-rubber grip handles, or roll with the heavy-duty wheels and extending handles. Knowing how hard life can be on a photographer's gear, Tenba has designed the case to withstand a stacked load of up to 400 pounds. The front of the case has a clear I.D. window for your business card. Strength and durability are ensured by the 1680D ballistic nylon construction, YKK zippers, welded steel D-rings, ABS molded rim, air-channeled polypropylene walls, high-density EVA foam, and more.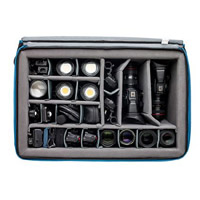 Hard Case Safety
Air Cases provide the strength and rigidity of a hard case at a fraction of the weight. They are strong enough to withstand more than 400 pounds stacked on top, yet they weigh up to 35% less than the average plastic hard case.
Impact Protection
Patented layered construction absorbs and disperses impact better than the single-layer wall of an injection molded hard case.
Durability and Weather Resistance
Built with the finest materials and hardware, including water-repellent 1680D ballistic nylon (exterior), soft brushed tricot (interior), hypalon-reinforced corners, YKK® zippers and heavily-reinforced stitching.
Heavy-duty Wheels and Extending Handle
Corner mounted wheels give the case a wide wheelbase and ensure excellent stability when rolling. Aircraft-grade aluminum handle extends to comfortable walking height, easing the strain on the back and shoulders when wheeling through long airport stretches. Ergonomic handle has soft coating for a comfortable grip.
Tethered Case Lid
Keeps lid upright when opened so it works as a mobile workstation. Helps the Air Case maintain a small footprint in tight environments.
Soft Rubber Hand Grips
Comfortable to carry even when the case is fully loaded. Three handles per case ensure that heavy loads can be shared with a second person when needed.
Zippered Interior Pocket
Keeps cables and other small items organized.
Versatile Divider System
Reinforced, adjustable dividers to customize layout. Gray dividers are flexible and blue dividers are rigid for additional support.
The Tenba Air Case retails for $399.95, www.tenba.com