Now open! Under the direction of Beverly Hills plastic surgeon Dr. Hopp, we now offer Youthfill MD botox, dermal fillers, vein therapy, B12 shots, and more.
These new medical aesthetics are a great addition to your facials and massages – the ultimate spa day with a boost of confidence!
BW MED+SPA IS EXCLUSIVELY AVAILABLE IN WOODLAND HILLS AND MISSION VIEJO
Glen Ivy Hot Springs Unveils Innovative New Service Enhancement with CBD Care Garden
Glen Ivy Hot Springs has unveiled an innovative new service enhancement with the addition of hemp-based wellness and beauty skincare line, CBD Care Garden. CBD Care Garden products are non-psychoactive and infused with organic PhytoActiv rich hemp oil. The products incorporate the same cannabinoid molecules that are made within the human body that are also found within the hemp plant, playing a significant role in optimizing body and cell function.
Glen Ivy Hot Springs is among the first spas in Southern California to offer CBD Care Garden. Guests can experience the brand's luxurious CBD oil or lotion for an additional $25 as an enhancement to the signature Aromasoul Elements Massage.
Glen Ivy Hot Springs
25000 Glen Ivy Road Corona, CA 92883
RESERVATIONS AND CONTACT:
To make a reservation (888) 453-6489 visit
GIULIANA RANCIC LAUNCHING SKINCARE LINE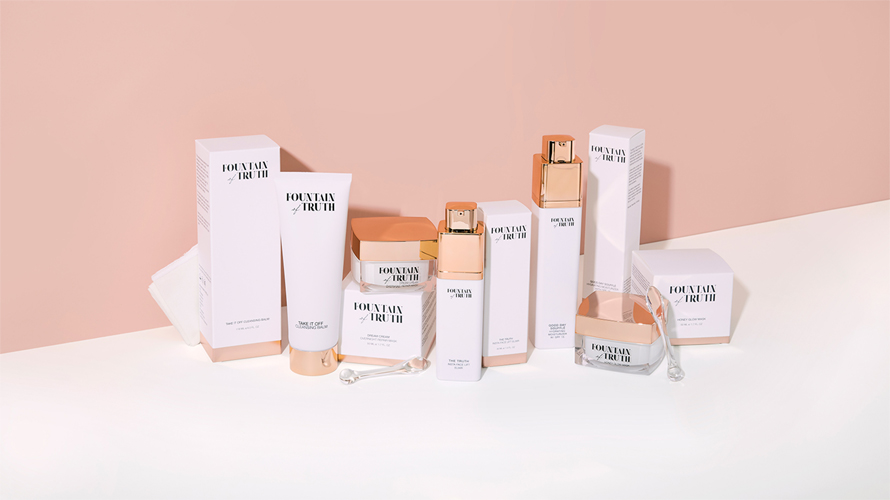 Giuliana Rancic steps into the clean beauty skincare industry, officially launching Fountain of Truth! After being diagnosed with breast cancer at the age of 36, she was determined to find skincare products that were safe to use and offered age-defying benefits. She committed herself to creating her own line of clean, safe and gentle products and sharing them with all people of all ages.
"The energy and focus that I have personally invested these past two years in partnership with the team at Hain Celestial has been beyond rewarding.  My dream has come true to create a clean skincare line that you and I can both trust. Fountain of Truth is made up of effective formulas that utilize advanced skin care technology and powerful botanicals from around the globe.  It's a personal journey for me that will change the way you look and feel about skincare." Xo Giuliana
Utilizing advanced skincare technology with the most efficacious botanicals from across the globe, the Fountain of Truth collection will feature its Super Bio-Ferment Complex containing highly-effective, fermented skin-loving botanical and earth derived ingredients of Zinc, Iron, Copper, Magnesium and Wakame Seaweed.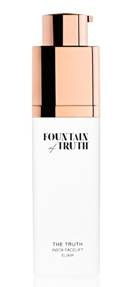 The TRUTH Insta-Face Lift Elixir $86 (30ML/1.0 FL. OZ):
This light-weight, botanically-charged treatment can help your skin fight the visible signs of aging without a visit to a medi-spa. Developed to reduce the appearance of fine lines and wrinkles, this product contains powerful Spilanthes Acmella flower Extract, which helps to create smoother and tighter looking skin, as well as Black Cumin Seed Oil, with essential fatty acids, vitamins and amino acids, to help create a look of plumpness and volume. With continued use, skin's appearance will improve and take on more bounce and radiance.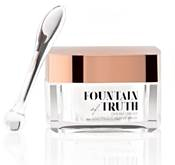 Dream Cream Overnight Repair Mask $60.00 (50 ML/ 1.7 FL. OZ):
An overnight, transformative sleep cream, containing Sodium Hyaluronate, replenishes moisture and the appearance of fuller looking skin. Our exclusive five botanical extract blend contains several naturally occurring Alpha Hydroxy Acids to help wake up your skin, making it appear smoother and brighter with a dreamy glow.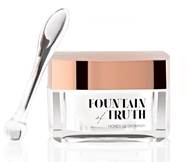 Honey Glow Mask $60.00 (148 ML/5.0 FL. OZ):
This mask enhances and hydrates skin for a dewy, youthful appearance. The mask features an intensely moisturizing ingredient trio of nutrient-rich Certified Organic Honey, restorative Propolis Extract and Amino Acid-Rich Royal Jelly Extract. The creamy, soft texture warms when massaged and will nourish and revitalize, for a glowing, smoother and softer appearance.

Good Day Soufflé Hydrating Moisturizer SPF 15 $60 (50 ML/ 1.7 FL. OZ):
This lightweight, luxurious moisturizer, suitable for all skin types, is proven to help minimize the visible signs of aging. Our renewing botanical blend that includes Organic Argan Oil, along with Hibiscus Flower, Maca Root and Fig Fruit Extracts, contains exfoliating Natural Alpha Hydroxyl Acids (AHAs) and Amino Acids, helping the skin look more supple and hydrated.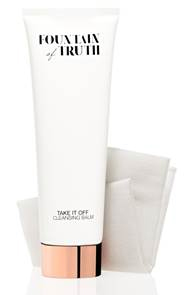 Take It Off Cleansing Balm $35 (118 ML/4.0 FL. OZ:
This transformational cleansing balm changes to a lightweight milk when activated with water. Developed with our highly effective botanical blend of ultra-hydrating Organic Argan Oil, calming Turmeric extract and Vitamin E, this formula gently cleanses, tones, exfoliates and soothes, while helping to remove waterproof makeup. The woven muslin cloth used with the cleansing balm helps to open pores, cleanse, exfoliate and improve skin tone.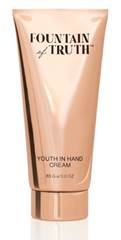 The Youth In Hand Cream $28 (3.0 FL. OZ):
This limited edition luxurious hand treatment can instantly improve skin's moisture, while restoring the appearance of a youthful glow. The Triple Emulsion Formula has an emollient-rich blend of Shea Butter, Coconut and Macadamia Oils, Honey and Jojoba, which makes the cream soothing and luxurious, while providing long-lasting hydration with a protective moisture barrier. This formula, with breakthrough age-defying ingredients, provides skin with a more youthful appearance, leaving hands nourished, hydrated and soft. 10% of the purchase price of this product, up to $100,000, will be donated to FAB-U-WISH™ & The Pink Agenda to help grant wishes and fun groundbreaking research while supplies lasts.
Cosmoprof North America 2018
Paris Hilton Skincare Launches New Product Line At The 2018 CosmoProf North America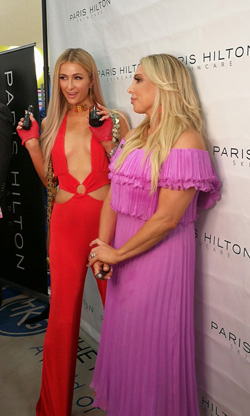 Hilton Lifestyle, LLC, a skincare manufacturer based in Los Angeles, debuted its first full skincare line, Paris Hilton Skincare ProD.N.A., at CosmoProf North America in Las Vegas on Sunday, July 29th.
The new skincare line is called ProD.N.A. and features four products that are based upon a proprietary formulation trademarked, GenoMatrix. This advanced complex contains exclusive enzymes, sourced from the Mediterranean Sea, that help support the body's natural DNA repair process. The line is manufactured and packaged in Los Angeles and contains natural ingredients from around the world.
The products are available online from the Paris Hilton Skincare store and at select retailers both domestic and worldwide.
ABOUT THE COMPANY
Hilton Lifestyle Group is committed to developing innovative, natural skincare products while incorporating the founders' vision of a genuine and transparent consumer/company relationship. With the help of world-renowned chemists and biologists, Paris Hilton and a team of industry experts established the company in 2016 with the goal of formulating skincare products for ingredient-conscious consumers that deliver measurable results and support skin health from within. Hilton Lifestyle is a privately held company based in Los Angeles, California.
Cosmoprof North America the Paradise for Beauty Lovers!
Cosmoprof North America is proud to announce once again it exceeded projections and maintained its unique position as the largest and most expansive B2B beauty event in North America. This year 40,000 attendees attended the show, (up 9% from 2017) engaged with record breaking 1,415 exhibitors (up 10% from 2017), representing 56 countries (up from 45 in 2017) and attendees were able to see and experience several new programs, special areas and unique opportunities to engage in. The show floor space covered 311,150 sqf (29,520 sqm) of space with an increase of 8% compared to the previous year.
CosmoProf is the ultimate exclusive business-to-business beauty trade show. The show is filled with exhibitors from all over the world, either showcasing their latest innovative product launches, interactive booths experiences, or state-of-the-art product packaging.
There was no shortage in the variety of brands at CosmoProf North America this year. The show is held at Mandalay Bay Hotel & Casino and divided into three primary areas: Cosmetics & Personal Care, Professional Beauty and Packaging, Contract Manufacturing & Private Label. However, within each of these sections, there was a mix of exhibitors that were divided into special areas, including: Boutique Beauty, Discover Beauty, Discover Green, Discover Pro Beauty, Discover Scent, Emerging Beauty, Glamour Me, Interactive Technology, Tones of Beauty and more!
One of the latest trends in beauty that took over CosmoProf was Green Beauty. There was an entire area named Discover Green at the show that was filled with clean, green and organic beauty products!
Another one of the trends I noticed was the inclusion of men in beauty. Some brands were using men in their marketing, some releasing exclusive men's products and some fully-focused men's beauty brands.
Undoubtedly one of the most educational parts of CosmoProf are the endless seminars that are offered as well.
The next show will be held JULY 28-30, 2019