Roald Dahl's Charlie and the Chocolate Factory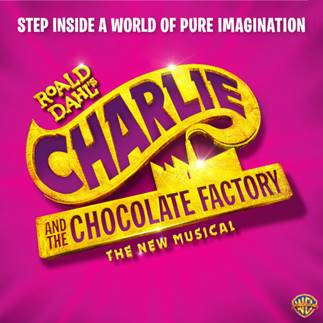 3 WEEKS ONLY • MARCH 27 – April 14, 2019 HOLLYWOOD PANTAGES THEATRE LOS ANGELES, CA
Charlie and the Chocolate Factory, based on Roald Dahl's books. It most definitely is a world of pure imagination for kids of all ages. Currently at the Hollywood Pantages through April 14, The Chocolate Factory is a uniquely mesmerizing tale of little Charlie Bucket.
Willy Wonka (Noah Weisberg) desperately wants an heir to his Chocolate Factory, so disguises himself and takes over a local store. His plan is to devise a contest in which five lucky young contestants will win a golden ticket, enclosed in a candy purchase, that will entitle them to visit the Chocolate Factory. Charlie (Henry Boshart, sharing the role with Collin Jeffery and Rueby Wood) is from an impoverished family and is the last to win. He is an adorable child who has always settled for a chocolate bar once a year on his birthday. In the contest, he finds himself competing against the Bavarian Beefcake fatty Augustus Gloop (Matt Wood), Veruca Salt, a selfish Russian ballerina (Jessica Cohen), Violet Beauregarde (Brynn Williams), an LA pop star with a humongous ego and Mike Teavee (Daniel Quadrino), a tech geek, all of whom do not deserve to work for the Chocolate Factory. They are selfish and self-absorbed. Sincere and creative Charlie is the only one who merits the attention.
Act Two is the most diabolical with each of the contestants facing their doom. It's murder pure and simple but we laugh uproariously when Augustus slides down the chocolate falls and gets fudged. or when Violet, who chews gum incessantly, chews a toxic substance that changes flavor and causes her body to expand until she blows up. And Mike? To be on TV, his size must be reduced to fit into the screen. It's all sick and violent, but we desperately want these losers out of the way so Charlie can win.
Under the brilliant direction of Jack O'Brien and aided by the magnificent choreography of Joshua Bergasse, the entire 36 member cast do triple threat work. Standouts include Weisberg as Willie Wonka, Boshart as the lovable Charlie, and James Young so delightful as Grandpa Joe, who has lived his whole life in a dream world and who willingly forces himself out of his deathbed to accompany Charlie on this precious journey. Also worthy of mention are Amanda Rose as the hard working and caring single mom Mrs. Bucket…and especially Madeleine Doherty as Mrs. Teavee who gets through her day with an excess of booze and pill popping. Doherty turns in an hysterically fun yet real and gritty performance.
Mark Thompson's scenic and costume design are vivid and glaringly colorful aided by the amazing background projections of Jeff Sugg. The chocolate factory would not come as vibrantly alive without them. Also credit perfect light design to Japhy Weideman and on.target sound to Andrew Keister.
David Greig's book is riveting and full of bizarre detail and Marc Shaiman and Scott Whittman's additional music is upbeat and bright, accompanying Briscusse's and Newley's original tuneful hits "Pure Imagination" and "Candy Man" with delicious fervor.
The performance schedule for Roald Dahl's Charlie and the Chocolate Factory is Tuesday through Friday at 8pm, Saturday at 2pm & 8pm, and Sunday at 1pm & 6:30pm. There's an additional performance March 28th at 2pm and no performance March 26th at 8:00pm. Opening Night is Wednesday, March 27th at 8pm. Roald Dahl's Charlie and the Chocolate Factory is recommended for ages 6and up. Children under 5 will not be admitted to the theatre. All patrons must have a ticket, regardless of age. Individual tickets for Roald Dahl's Charlie and the Chocolate Factory start at $35. Prices are subject to change without notice.A complete list of cities and dates for the national tour of Roald Dahl's Charlie and the Chocolate Factory can be found at www.CharlieOnBroadway.com.For more information on Hollywood Pantages Theatre, visit HollywoodPantages.com, Facebook.com/PantagesTheatreand Twitter.com/Pantages.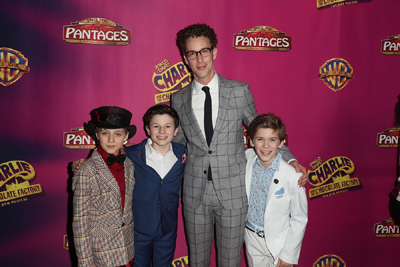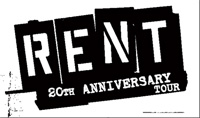 PULITZER PRIZE AND TONY AWARD WINNING LANDMARK MUSICAL RENT ANNOUNCES RETURN TO LOS ANGELES HOLLYWOOD PANTAGES THEATRE • JULY 9 – 14, 2019
Hollywood Pantages Theatre is thrilled to announce that The 20th Anniversary production of RENT, the Pulitzer Prize and Tony Award-winning landmark rock musical written by Jonathan Larson, will return to Los Angeles at Hollywood Pantages Theatre for one week only, July 9 – 14, 2019. Tickets for RENT are currently available exclusively to 2018-19 Pantages Season Ticket Holders. For more information about Season Ticket Packages, visit www.HollywoodPantages.com/SeasonPackages, or call the Season Ticket Office at 866-755-2929 (Mon-Fri; 8am - 6pm). Groups purchases of 15 or more tickets will be available beginning Tuesday, May 22, 2018. To inquire about groups, visit www.HollywoodPantages.com/Groups to submit a form or call (323) 463-4367. Individual tickets will go on sale to the public at a later date. "For the past 20 years, RENT has touched the lives of audiences around the world from Broadway to regional productions to high school auditoriums," notes Producer Stephen Gabriel. "We're thrilled to introduce a new generation to this timeless story of love, friendship and community. " A re-imagining of Puccini's La Bohème, RENT follows an unforgettable year in the lives of seven artists struggling to follow their dreams without selling out. With its inspiring message of joy and hope in the face of fear, this timeless celebration of friendship and creativity reminds us to measure our lives with the only thing that truly matters—love. The show received its world premiere off-Broadway at New York Theatre Workshop on February 13, 1996 to ecstatic reviews and transferred to Broadway on April 29, 1996. RENT is winner of the 1996 Tony Award for Best Musical as well as the Pulitzer Prize for Drama. It is one of only five musicals to win both awards. Based on the original direction by Michael Greif (Tony and Drama Desk Nominations, RENT), Evan Ensign will restage this 20th anniversary tour. Marlies Yearby (Tony Nomination, RENT) will serve as choreographer. The RENT 20th Anniversary Tour is produced by Work Light Productions, whose other touring productions include Cinderella, MAMMA MIA!, Irving Berlin's White Christmas, Vocalosity, and Crazy For You. For more information on the production, please visit www.WorklightProductions.com
BROADWAY IN HOLLYWOOD 2019-20 SEASON

The Hollywood Pantages, a Nederlander Theatre, is proud to announce the BROADWAY IN HOLLYWOOD 2019-20 Season, consisting of eight Los Angeles premieres, all direct from Broadway. This season will mark the first time Los Angeles Theatre audiences will have regular access to Broadway National Tours at both the Pantages and Dolby Theatres in Hollywood. 8 great shows, 2 iconic theatres, one blockbuster season Pantages Theatre General Manager Jeff Loeb states, "There are so many new and amazing experiences in store for our audiences this season – it's almost impossible to pinpoint what to celebrate first! By working with our neighbors at the Dolby Theatre to add this gorgeous venue to our family of presenting theatres, we have entered a world of endless theatrical possibilities. More shows. Longer runs. Endless memories – all while staying rooted in the neighborhood we love.  Hollywood is the entertainment capital of the world and we are so excited to now be presenting shows at two iconic venues less than a mile apart from each other on Hollywood Boulevard. We are so excited to present the best of Broadway in the heart of Hollywood."
Pantages Theatre will play host to the first three shows of the new 2019-20 Season. Disney's FROZEN, last year's biggest Broadway musical hit, will cast an icy spell across Los Angeles this holiday season as the ©Oscar®-winning film comes to life with the scale and spectacle only Disney Theatrical can deliver. Donna Summer, the disco icon with the voice from heaven, who shot through the stars from gospel choir to dance floor diva will have her life story come to life in the most electric way possible when SUMMER: The Donna Summer Musical makes its L.A. debut. From the Tony Award®-winning creators of the Broadway classic Ragtime and inspired by the beloved films, ANASTASIA will transport us from the twilight of the Russian Empire to the euphoria of Paris in the 1920s.
Continuing the BROADWAY IN HOLLYWOOD season at the Dolby Theatre, Hollywood will truly intersect with Broadway when MEAN GIRLS, the record-breaking new musical comedy based on the hit Paramount Pictures film and featuring a book by nine-time Emmy® Award winner Tina Fey, makes its L.A. debut. Come get away from it all and put your mind on island time as Jimmy Buffett's ESCAPE TO MARGARITAVILLE brings you a change in latitude and a change in attitude. The critically-acclaimed creative team who brought the epic production of Rodgers & Hammerstein's The King and I and South Pacific to L.A. return with the Lincoln Center Theater production of Lerner & Loewe's MY FAIR LADY, helmed by Bartlett Sher. THE SPONGEBOB MUSICAL, the critically acclaimed, award-winning new musical adapted from the beloved Nickelodeon series, and hailed by The New York Times as "brilliant" and "effervescent candy-for-the-spirit" by New York Magazine makes its L.A. Premiere. And lastly, THE BAND'S VISIT, the 10-time Tony Award-winning BEST MUSICAL, will celebrate the deeply human ways music, longing and laughter can connect us all.
HAMILTON will return to Los Angeles at the Pantages in March of 2020 as an additional event. Season Ticket Holders who purchase a 2019-20 season package will have priority access to HAMILTON. Detailed ticketing information will be announced later this season.
Season Ticket Packages are available now at www.HollywoodPantages.com/SeasonPackages or www.BroadwayInHollywood.com or by phone at 866-755-BWAY (2929) (M-F; 8am-6pm PT). Current Season Ticket Holders can renew their tickets beginning today. New customers may purchase new season packages beginning today as well. Season Ticket Holders lock in the best seats at the best prices and enjoy benefits such as complimentary ticket exchanges online and at the box office, lost ticket insurance and 24/7 account access.  Season Ticket Holders are also guaranteed priority access to added events. Mobile Tickets offer Season Ticket Holders greater security and flexibility, as well as greater ease in managing season tickets.