TOUR OFFICIALLY LAUNCHES WITH STAR-STUDDED BLUE CARPET PREMIERE IN L.A.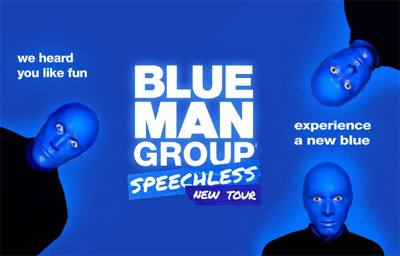 NOW PLAYING IN LOS ANGELES HOLLYWOOD PANTAGES THEATRE NOW THROUGH OCTOBER 6, 2019
Blue Man Group, owned by Cirque du Soleil Entertainment Group, celebrates the launch of their new tour, Speechless, at the Hollywood Pantages Theatre in Los Angeles after developing the production at the Walton Arts Center in Fayetteville, AR. The launch of the new tour marks the premiere of Blue Man Group in Los Angeles, the first of more than 50 cities around North America that will welcome the Speechless tour in its first season. Under the helm of visionary director Jenny Koons, in her first-time collaboration with Blue Man Group, the world-renowned bald and blue trio embark on a fresh journey of discovery through this tour, the result of 27+ years spent observing humanity. Speechless will feature new and original compositions, invented instruments and unexpected situations alongside iconic Blue Man Group moments based in joy, art, music, comedy, social commentary and profound absurdity.
Individual Tickets are now available for purchase at www.HollywoodPantages.com or www.Ticketmaster.com. Tickets may also be purchased by phone (24 hours) on Ticketmaster at 800-982-2787. Tickets may also be purchased in person at the Hollywood Pantages Theatre box office (6233 Hollywood Boulevard); box office opens daily at 10am PT."By building on the original DNA of Blue Man Group, Speechless will forge a path for future generations of the Blue Man tribe to explore," said Diane Quinn, Cirque du Soleil Entertainment Group's Chief Creative Officer. "To further challenge themes of invention, curiosity and human connection, we are excited to work with our new director, Jenny Koons, whose expertise in dissolving spatial boundaries and diverse background in theater and activism, set the stage for us to deliver a transformative Blue Man Group experience." Jenny Koons is a New York-based director who comes to Blue Man Group having recently completed productions of Between Us: The Deck of Cards with the Denver Center for the Performing Arts, A Midsummer Night's Dream with The Public Theater Mobile Unit, The Tempest with The Juilliard School, and Burn All Night with the American Repertory Theatre. Koons was an artist in residence at Philadelphia School of Circus Arts, SPACE on Ryder Farm, and The Invisible Dog Art Center and has developed new work at Ars Nova, Steppenwolf, Joe's Pub and the Roundabout Theatre Company. Jenny was the 2017 curator of New York City Center's Encores! Off-Center Lobby Project, co-curator of the 2016 Toronto This Gen Conference, and co-founder of Artists 4 Change NYC (National Black Theatre). She is a proud 2017 Lilly Award recipient."It's Blue Man Group's continued commitment to push boundaries, and think bigger and bolder with every new exploration, that excites me most about this opportunity, and I'm thrilled to join the Blue Man Group family to undertake this new show," said Jenny Koons, Director of the Blue Man Group SpeechlessToure.
"Speechless will feature material that fosters communal moments, debut the evolution of our tube-based instruments to support all new music, and include large-scale audience participation. It is my hope that this show will deliver on its name and continue Blue Man Group's legacy to transcend words and inspire audiences through non-verbal connections." Working in collaboration with Jenny Koons on the Blue Man Group Speechless Tour is Blue Man Group Creative Director Jon Knight. The tour is produced and promoted in partnership with NETworks Presentations.
For more information on the production and a video sneak peek, please visit www.BlueMan.com/Speechless.
Cirque Du Soleil Co-Founder Guy Lalibert Brings A New Entertainment Experience To Miami This Winter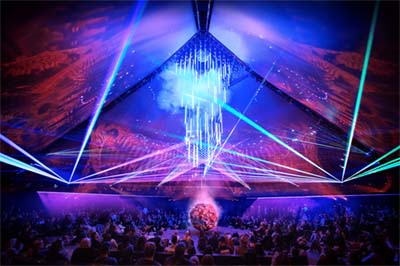 Guy Laliberté, the PY1 experience includes Through the Echoes, the first custom production by Lune Rouge Entertainment, a multimedia show for children and family making its world debut in Miami and PY1 Nights, a redefined nightlife concept tapping local DJs and artists. Opening November 29th through the winter season, PY1 combines technology with powerful storytelling to produce the following multisensory experiences:
Through The Echoes
A 50-minute multimedia show produced by multidisciplinary artist Gabriel Coutu-Dumont, tells the evolution of life from the Big Bang to today. Transporting guests through a technological odyssey through space and time, Through The Echoes utilizes visuals, music and light to guide the audience.
A Kids and Family-Focused Show
Teleporting the audience 14 billion years into the past to discover what we are all made of, the "space and time machine" is a fun-for-the-whole-family multimedia experience encourages children and adults alike to move and dance in the biggest time machine ever built. 
PY1 Nights 
As night falls, PY1 Nights will be taking over the sacred space of the pyramid with 7 awe-inspiring worlds rotating on select evenings where guests (21+) are encouraged to dress to express their innermost desires and enjoy music played exclusively by local artists, offering those an immersive and participatory thematic nights experience like no other. 
PY1's mission is to create the future of entertainment by presenting highly immersive shows where guests can take center stage. No matter where you stand in the PY1 Pyramid, you will have the best spot in the house to experience a fusion of art, music, and technology.
Tickets for PY1 Through the Echoes are now available at PY1.com and Ticketmaster and start at 40$ while tickets for the family show and PY1 Nights will be on sale starting October.
OLIVIER AWARD-WINNING 50TH ANNIVERSARY TOUR WILL MAKE L.A. PREMIERE AT HOLLYWOOD PANTAGES THEATRE OCTOBER 29 – NOVEMBER 3, 2019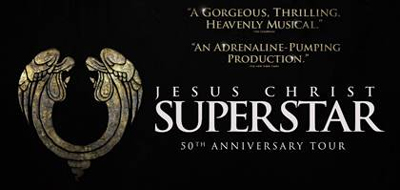 Hollywood Pantages Theatre is proud to announce that the L.A. Premiere of the 50th Anniversary North American Tour of Tim Rice and Andrew Lloyd Webber's iconic musical JESUS CHRIST SUPERSTAR will play a one week engagement this Fall, from October 29 – November 3, 2019. Tickets are available today exclusively to 2019-20 Pantages Season Ticket Holders.  For more information about Season Ticket Packages, visit www.HollywoodPantages.com/SeasonPackages, or call the Season Ticket Office at 866-755-2929 (Mon-Fri; 8am – 6pm | Sat; 10am – 4pm).  Group purchases of 10 or more tickets will be available beginning Tuesday, June 11, 2019.  To inquire about groups, visit www.HollywoodPantages.com/Groups to submit a form or call (323) 463-4367.  Individual tickets will go on sale to the public at a later date.
The Olivier Award-winning production first premiered in 2016 at Regent's Park Open Air Theatre in London.  The North American tour launches in Austin, TX in the fall of 2019 and celebrates fifty epic years since the original rock opera concept album release that began this musical theatre phenomenon. "Dropping the needle on that iconic brown album was a defining moment for me as a kid growing up in the 70's," remarked producer Stephen Gabriel.  "This production of Superstar embodies all of the power and excitement captured in that music."
Helmed by the acclaimed director Timothy Sheader and cutting-edge choreographer Drew McOnie, the Regent's Park Open Air Theatre production won the 2017 Olivier Award for Best Musical Revival, selling out two consecutive engagements in 2016 and 2017.  Additional creative team includes set and costume design by 2016 Tony AwardÒ nominee, Tom Scutt, lighting design by Lee Curran, and music supervision by Tom Deering.
JESUS CHRIST SUPERSTAR is set against the backdrop of an extraordinary series of events during the final weeks in the life of Jesus Christ, as seen through the eyes of Judas.  Reflecting the rock roots that defined a generation, the legendary score includes 'I Don't Know How to Love Him', 'Gethsemane' and 'Superstar'.
Full creative team and casting to be announced at a later date.
For additional information, please visit https://ustour.jesuschristsuperstar.com.
Facebook & Instagram: @JesusChristSuperstar | Twitter: @JCSTheMusical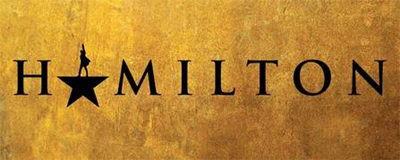 PUBLIC ON SALE MONDAY, NOVEMBER 18 AT 8AM
 FOR PERFORMANCES MARCH 12 – SEPTEMBER 20, 2020
AT HOLLYWOOD PANTAGES THEATRE
Producer Jeffrey Seller and Hollywood Pantages Theatre announced today that single tickets for HAMILTON will go on-sale to the public on Monday, November 18 at 8AM.  Tickets will be available for performances March 12 through September 20, 2020.
On Monday, November 18 at 8AM tickets will be available at www.HollywoodPantages.com/HamiltonLA and www.Ticketmaster.com, by phone at (800) 982-2787 or in person at the Hollywood Pantages Theatre Box Office. To inquire about groups of 10 or more, visit www.HollywoodPantages.com/Groups.
There is a maximum purchase limit of 8 tickets per household for the engagement. Tickets start at $55. There will be a lottery for a limited number of $10 Orchestra seats for all performances. Details will be announced closer to the engagement.
Jeffrey Seller notes, "It's tempting to get tickets any way you can. There are many sites and people that are selling overpriced, and in some cases, fraudulent tickets. For the best seats, the best prices and to eliminate the risk of counterfeit tickets, all purchases should be made through an authorized Hollywood Pantages Theatre ticket source: either the Hollywood Pantages Theatre box office, or Ticketmaster.com".
HAMILTON is the story of America's Founding Father Alexander Hamilton, an immigrant from the West Indies who became George Washington's right-hand man during the Revolutionary War and was the new nation's first Treasury Secretary.  Featuring a score that blends hip-hop, jazz, blues, rap, R&B, and Broadway, HAMILTON is the story of America then, as told by America now.  
With book, music and lyrics by Lin-Manuel Miranda, direction by Thomas Kail, choreography by Andy Blankenbuehler and musical supervision and orchestrations by Alex Lacamoire, HAMILTON is based on Ron Chernow's biography of Founding Father Alexander Hamilton.
HAMILTON's creative team previously collaborated on the 2008 Tony Award ® Winning Best Musical IN THE HEIGHTS.
 HAMILTON features scenic design by David Korins, costume design by Paul Tazewell, lighting design by Howell Binkley, sound design by Nevin Steinberg, hair and wig design by Charles G. LaPointe, and casting by Telsey + Company, Bethany Knox, CSA.
The musical is produced by Jeffrey Seller, Sander Jacobs, Jill Furman and The Public Theater.
The HAMILTON Original Broadway Cast Recording is available everywhere nationwide. The HAMILTON recording received a 2016 Grammy for Best Musical Theatre Album. 
For information on HAMILTON, visit www.HamiltonOnBroadway.com, www.Facebook.com/HamiltonMusical, www.Instagram.com/HamiltonMusical and www.Twitter.com/HamiltonMusical.
RETURNING TO L.A. DIRECT FROM BROADWAY DOLBY THEATRE PREMIERE APRIL 14 – 19, 2020 • ONE WEEK ONLY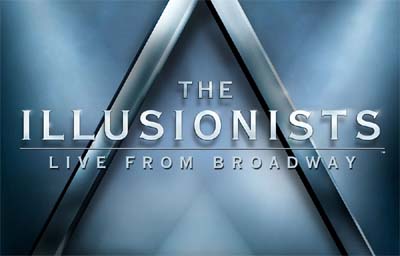 Broadway in Hollywood is proud to announce that THE ILLUSIONISTS – Live From Broadway will play a limited one-week engagement at the Dolby Theatre in Hollywood as part of its North American Tour, from April 14 – 19, 2020. Noted as the world's best-selling touring magic show, THE ILLUSIONISTS returns to Los Angeles on the heels of a highly successful multi-city tour and run on Broadway.
Tickets are available exclusively to 2019-20 Broadway in Hollywood Season Ticket Holders.
For more information about Season Ticket Packages, visit www.BroadwayinHollywood.com, or call the Season Ticket Office at 866-755-2929 (Mon-Fri; 8am – 6pm | Sat; 10am – 4pm).  Group purchases of 10 or more tickets will be available beginning Friday, August 9, 2019.  To inquire about groups, call (323) 463-4367. 
Individual tickets will go on sale to the public at a later date.
THE ILLUSIONISTS – LIVE FROM BROADWAY™ is produced by Simon Painter, Tim Lawson and MagicSpace Entertainment. Conceived by Simon Painter, the show's creative team also includes executive producer Tim Lawson and director Neil Dorward.
Full of hilarious magic tricks, death-defying stunts and acts of breathtaking wonder, THE ILLUSIONISTS has shattered box office records worldwide and thrilled audiences of all ages with a mind-blowing spectacular showcasing the jaw-dropping talents of six of the most incredible illusionists on earth.
Creative Producer Simon Painter said, "We can't wait to bring this electrifying show to Los Angeles for a truly entertaining experience for the whole family. THE ILLUSIONISTS is the most non-stop and powerful mix of outrageous and astonishing acts ever to be seen on the live stage."
Frozen North American Tour to Star Caroline Bowman as Elsa and Caroline Innerbichler as Anna
Tour to Officially Open in LA This Fall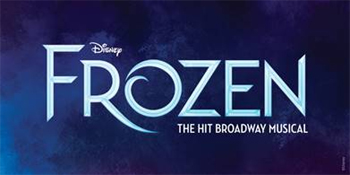 Disney Theatrical Productions is pleased to announce the women who will star in the Frozen North American tour as Elsa and Anna, the heroic sisters at the heart of the joy-filled musical. Caroline Bowman will play Elsa and Caroline Innerbichler will play Anna, with additional casting to be announced in the coming months.
CAROLINE BOWMAN (Elsa) has starred in Broadway and touring productions as Nicola in Kinky Boots, Elphaba in Wicked, Eva Peron in Evita, Lady of the Lake in Spamalot, and Carmen in Fame. She holds a BFA from Penn State.
CAROLINE INNERBICHLER (Anna). Credits include: Little House on the Prairie (national tour); Guys and Dolls, Little House on the Prairie (Guthrie Theater); Mamma Mia!, White Christmas, The Sound of Music, The Pirates of Penzance (Ordway Center); Grease, The Little Mermaid, Fiddler on the Roof, Bye Bye Birdie (Chanhassen Dinner Theatres); Miss Bennet: Christmas at Pemberley (Ensemble Theatre Company); Hair (7th House Theater); Ragtime (Park Square Theatre).
From the producers of The Lion King and Aladdin, Disney's Frozen, the Tony®-nominated Best Musical, will launch a North American tour this fall, commencing in Schenectady, NY prior to an official opening at The Hollywood Pantages in Los Angeles. Heralded by The New Yorker as "thrilling" and "genuinely moving," Frozen has emerged as the biggest hit musical of the last two seasons, breaking four St. James Theatre house records and placing in the top 10 best-selling shows every week since opening in March 2018.
A mysterious secret. A family torn apart. As one sister struggles with being an outsider and harnessing her powers within, the other sets out on a thrilling adventure to bring her family together once again. Both are searching for love, but they'll learn that to find it they'll have to look inside themselves first.
Frozen is melting hearts on Broadway in an all-new production created for the stage by an award-winning team. It features the songs you know and love from the original Oscar®-winning film, plus an expanded score with a dozen new numbers by the film's songwriters, Oscar winner Kristen Anderson-Lopez and EGOT winner Robert Lopez. Joining them on a creative team that has won a cumulative 16 Tonys Awards are Oscar winner Jennifer Lee (book), Tony and Olivier Award winner Michael Grandage (director), and Tony winner Rob Ashford (choreographer).
The design team for Frozen includes scenic and costume design by two-time Tony and Olivier Award winner Christopher Oram, lighting design by six-time Tony winner Natasha Katz, sound design by seven-time Tony nominee Peter Hylenski, video design by Tony winner Finn Ross, puppet design by Michael Curry, hair design by David Brian Brown, makeup design by Anne Ford-Coates, and special effects design by Jeremy Chernick.
Two-time Tony Award winner Stephen Oremus is music supervisor and creates vocal, incidental and dance arrangements. He is joined on the music team by Tony nominee Dave Metzger (orchestrations), Chris Montan (executive music producer), David Chase (additional dance arrangements), and Faith Seetoo (music director).
An unforgettable theatrical experience filled with sensational special effects, stunning sets and costumes, and powerhouse performances, Frozen is everything you want in a musical: It's moving. It's spectacular. And above all, it's pure Broadway joy.
Frozen is produced by Disney Theatrical Productions under the direction of Thomas Schumacher.
For more information, including a list of currently announced cities, visit FrozenTheMusical.com/Tour.
In addition to the Broadway company and the North American tour launching this fall, Frozen will be mounted in London and Australia in 2020 and in Hamburg in 2021.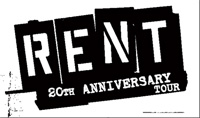 PULITZER PRIZE AND TONY AWARD WINNING LANDMARK MUSICAL RENT ANNOUNCES RETURN TO LOS ANGELES HOLLYWOOD PANTAGES THEATRE • JULY 9 – 14, 2019
Hollywood Pantages Theatre is thrilled to announce that The 20th Anniversary production of RENT, the Pulitzer Prize and Tony Award-winning landmark rock musical written by Jonathan Larson, will return to Los Angeles at Hollywood Pantages Theatre for one week only, July 9 – 14, 2019. Tickets for RENT are currently available exclusively to 2018-19 Pantages Season Ticket Holders. For more information about Season Ticket Packages, visit www.HollywoodPantages.com/SeasonPackages, or call the Season Ticket Office at 866-755-2929 (Mon-Fri; 8am - 6pm). Groups purchases of 15 or more tickets will be available beginning Tuesday, May 22, 2018. To inquire about groups, visit www.HollywoodPantages.com/Groups to submit a form or call (323) 463-4367. Individual tickets will go on sale to the public at a later date. "For the past 20 years, RENT has touched the lives of audiences around the world from Broadway to regional productions to high school auditoriums," notes Producer Stephen Gabriel. "We're thrilled to introduce a new generation to this timeless story of love, friendship and community. " A re-imagining of Puccini's La Bohème, RENT follows an unforgettable year in the lives of seven artists struggling to follow their dreams without selling out. With its inspiring message of joy and hope in the face of fear, this timeless celebration of friendship and creativity reminds us to measure our lives with the only thing that truly matters—love. The show received its world premiere off-Broadway at New York Theatre Workshop on February 13, 1996 to ecstatic reviews and transferred to Broadway on April 29, 1996. RENT is winner of the 1996 Tony Award for Best Musical as well as the Pulitzer Prize for Drama. It is one of only five musicals to win both awards. Based on the original direction by Michael Greif (Tony and Drama Desk Nominations, RENT), Evan Ensign will restage this 20th anniversary tour. Marlies Yearby (Tony Nomination, RENT) will serve as choreographer. The RENT 20th Anniversary Tour is produced by Work Light Productions, whose other touring productions include Cinderella, MAMMA MIA!, Irving Berlin's White Christmas, Vocalosity, and Crazy For You. For more information on the production, please visit www.WorklightProductions.com
BROADWAY IN HOLLYWOOD 2019-20 SEASON

The Hollywood Pantages, a Nederlander Theatre, is proud to announce the BROADWAY IN HOLLYWOOD 2019-20 Season, consisting of eight Los Angeles premieres, all direct from Broadway. This season will mark the first time Los Angeles Theatre audiences will have regular access to Broadway National Tours at both the Pantages and Dolby Theatres in Hollywood. 8 great shows, 2 iconic theatres, one blockbuster season Pantages Theatre General Manager Jeff Loeb states, "There are so many new and amazing experiences in store for our audiences this season – it's almost impossible to pinpoint what to celebrate first! By working with our neighbors at the Dolby Theatre to add this gorgeous venue to our family of presenting theatres, we have entered a world of endless theatrical possibilities. More shows. Longer runs. Endless memories – all while staying rooted in the neighborhood we love.  Hollywood is the entertainment capital of the world and we are so excited to now be presenting shows at two iconic venues less than a mile apart from each other on Hollywood Boulevard. We are so excited to present the best of Broadway in the heart of Hollywood."
Pantages Theatre will play host to the first three shows of the new 2019-20 Season. Disney's FROZEN, last year's biggest Broadway musical hit, will cast an icy spell across Los Angeles this holiday season as the ©Oscar®-winning film comes to life with the scale and spectacle only Disney Theatrical can deliver. Donna Summer, the disco icon with the voice from heaven, who shot through the stars from gospel choir to dance floor diva will have her life story come to life in the most electric way possible when SUMMER: The Donna Summer Musical makes its L.A. debut. From the Tony Award®-winning creators of the Broadway classic Ragtime and inspired by the beloved films, ANASTASIA will transport us from the twilight of the Russian Empire to the euphoria of Paris in the 1920s.
Continuing the BROADWAY IN HOLLYWOOD season at the Dolby Theatre, Hollywood will truly intersect with Broadway when MEAN GIRLS, the record-breaking new musical comedy based on the hit Paramount Pictures film and featuring a book by nine-time Emmy® Award winner Tina Fey, makes its L.A. debut. Come get away from it all and put your mind on island time as Jimmy Buffett's ESCAPE TO MARGARITAVILLE brings you a change in latitude and a change in attitude. The critically-acclaimed creative team who brought the epic production of Rodgers & Hammerstein's The King and I and South Pacific to L.A. return with the Lincoln Center Theater production of Lerner & Loewe's MY FAIR LADY, helmed by Bartlett Sher. THE SPONGEBOB MUSICAL, the critically acclaimed, award-winning new musical adapted from the beloved Nickelodeon series, and hailed by The New York Times as "brilliant" and "effervescent candy-for-the-spirit" by New York Magazine makes its L.A. Premiere. And lastly, THE BAND'S VISIT, the 10-time Tony Award-winning BEST MUSICAL, will celebrate the deeply human ways music, longing and laughter can connect us all.
HAMILTON will return to Los Angeles at the Pantages in March of 2020 as an additional event. Season Ticket Holders who purchase a 2019-20 season package will have priority access to HAMILTON. Detailed ticketing information will be announced later this season.
Season Ticket Packages are available now at www.HollywoodPantages.com/SeasonPackages or www.BroadwayInHollywood.com or by phone at 866-755-BWAY (2929) (M-F; 8am-6pm PT). Current Season Ticket Holders can renew their tickets beginning today. New customers may purchase new season packages beginning today as well. Season Ticket Holders lock in the best seats at the best prices and enjoy benefits such as complimentary ticket exchanges online and at the box office, lost ticket insurance and 24/7 account access.  Season Ticket Holders are also guaranteed priority access to added events. Mobile Tickets offer Season Ticket Holders greater security and flexibility, as well as greater ease in managing season tickets.