The 2019 International Travel Goods Show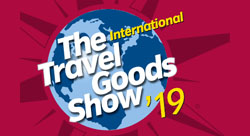 The  TGA was held from March 26-28 at the Las Vegas Convention Center.
The Travel Goods Show, the world's largest trade show for travel products. With more than 2,000 lines representing more than 40,000 products, The Show is the annual must-see event that sets the tone for the travel goods industry. Sponsored by Travel Goods Association. The Travel Goods Association is the international organization for the travel goods industry. Members include manufacturers, distributors, retailers, promoters, sales representatives and suppliers of luggage and travel products, casual bags, briefcases and computer bags, and business and travel accessories for travelers.
New Product Showcase at The 2019 International Travel Goods Show
When we created Mix•o•logie, we didn't want to just "make scents." We wanted to make sense of what we (as girls, women, or just as people) feel internally, of our relationship with the world and each other, and of our identities. That's why each of Mix•o•logie's ten fragrances is beautifully and mindfully blended to express who you are when you are.
As a gift to yourself or a gift to someone else, Mix•o•logie is intended to be experienced (and to empower) over and over again—not just when you open the box for the first time. More than just great smelling products, Mix•o•logie is an exercise and a celebration of experimentation, individuality, and evolution.
The Airhook is a two-in-one solution for airplane travel comfort: a stable drink holder and a secure mount for an electronics device. The Airhook uses the tray table in its vertical and locked position as an anchor, rather than horizontally across your lap as a platform. NEW features include a stabilizer bar that makes setup more secure, a convertible mode where the drink holder folds away when not in use, a separate device perch for full range of viewing, and integrated can support.
With the Qdapter, you can safely adapt the local power source to work seamlessly with your electronics. It can be easily stored in your luggage or carry-on. This adapter features a fully grounded system that lets you connect your laptop, tablet, smartphone, camera and other portable electronics internationally without overheating.
The Travel Mat™ will fit any aircraft seat for superior comfort and has 2 inches of high density convoluted foam with a breathable bamboo cover along with a multi functional neck pillow that can be tailored to an individuals needs. We have masterfully designed The Travel Mat™ to roll up compactly so that it can be stored on ones carry-on luggage.
Matador® Freerain24 2.0 is the lightest, most capable, waterproof packable backpack there is. At 6.6 oz, this 24 liter backpack has technical specs unheard of in packable bags. We don't believe in compromises, the Freerain24 2.0 means you don't have to either.
The Barrier Method Travel Mask is so comfortable and keeps you protected on the plane.
Rollux is sleek looking, expands from a carry-on to a full-size suitcase in seconds and is built with craftsmanship and durability in mind.
In the air or on the road, the Bracketron Roadtripper Travel Mount safely and securely holds phones, tablets and other mobile devices.
While traveling, use EazyCushion™ as a Seat Divider to provide a comfortable personal armrest, while preventing intrusions from elbows of passengers seated next to you.
pkt. is a high-quality powdered multivitamin that is easy to dissolve, easy to swallow, and easy to digest.
The Crossbar is a spring loaded coupling for The Airhook that fits within a vehicle's headrest and luggage handlebars. Simply extend to the correct size, lock into place, and then slide The Airhook's tray table anchor into the back slot. Good to go!
This work of art in on the move! Geo shapes trick out this travel bag with a unique, enticing look that'll elevate your travel style.
Plane It Safe's – Travel Safety Kit has you covered from head to toe. Starting with our tread soled foot covers to protect you from Big Foot's nasty feet when walking through TSA security. Or our 4-Ply carbon filtered face masks to keep the flu with the guy next to you. We're your indoor parachute – keeping you healthy, safe and clean.
Reusable, collapsible water bottles for travel, fitness, active lifestyles.
The Captain Zip Around Backpack.
This work of art in on the move! Geo shapes trick out this travel bag with a unique, enticing look that'll elevate your travel style.
Posh Pollution Mask reduces the effects of pollutants, pollen, fumes, dust, and odors.
The Expedition Crossbody bag can hold US Passports, smaller purses and checkbooks, your stack of foreign currency, cell phone, mini-camera, keys, lip gloss, hair elastics, and all the change that is fit to carry. Very scalable cross-body bag that flexes to accommodate whatever you pack yet manages to stay sleek due to its super-thin nylon-microfiber nature. And light enough that even filled, it is easy to trek through the mountains of Europe and sail through the oceans of the South Pacific, knowing all your stuff is close at at hand. The top full zip also deters potential pickpockets.
This work of art in on the move! Geo shapes trick out this travel bag with a unique, enticing look that'll elevate your travel style.
Top design trolley to make shopping easy, pleasant and fun.
Stop motion sickness & morning sickness in style! Get fast nausea relief with Blisslets, the only anti-nausea bracelets that are also beautiful jewelry. Ease sea sickness, car sickness, pregnancy, migraines, vertigo, or chemo–without drugs or frumpy wristbands.
Wherever you go, The Highlander Backpack makes it easier.
Book a solo trip around the world. Visit friends in the town over. Take a much needed family vacation. Or simply head to the office for the day.
Scoocase is an electric scooter suitcase specially designed for making your commute in airports simple. With its built in skateboard, high-quality wheels, and innovative steering, traveling becomes easier than ever.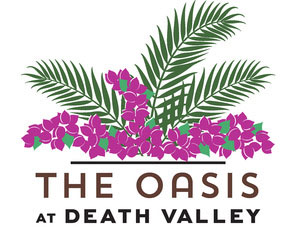 A Long Time Ago (1977)  In Death Valley (Not That Far, Far Away) A Director Introduced Us To  A Film That Became A Cultural Phenomenon
While Much Of The Galaxy Was In Studios
Some Of The Movie Was Filmed On Earth
And It's Still There. In Death Valley National Park, U.S.A.
When families and people watch the 1977 movie Star Wars is at The Oasis at Death Valley, it starts inevitable tales of when the movie's director came to this true American Oasis in 3.3 million square miles of desert, oasis and mountain national park to film and transport people to another galaxy. 
 
Past generations of employees have shared stories with newer generations and certainly know where the movie locations are. These include the breathtakingly and picturesque locations throughout Death Valley National Park including Dante's View, Mesquite Flat Sand Dunes, Desolations Canyon, Artist's Drive and Golden Canyon – all just a quick 20 to 40 minute drive from the Resort.
 
While Death Valley may seem like another universe to vacationers, those in the know have also found an "oasis-like planet" that is the, luxurious, AAA Four-Diamond The Inn at Death Valley and the family-friendly The Ranch at Death Valley both part of the recent $100 million renaissance at the Oasis at Death Valley.
 
So for those that want to pay homage to the real movie locations and sets, this is the place. And if you want to explore the universe, this is the place – it's one of the only gold-tier designated International Dark Sky Parks in the United States where stargazers can actually see the Milky Way with the naked eye.
 
In celebration of the epic tale and Hollywood franchise, The Oasis at Death Valley is hyper-spacing an exclusive map for guests leading them to the filming locations that are easily accessible via car. Rates* begin at $309 at The Inn and only $169 at The Ranch at Death Valley.  It's sunny, there is almost no rain, no bugs and Oasis features massive swimming pools, gardens, golf, tennis, horseback riding, numerous restaurants, date palm groves, a general store, post office and ample lush lawns to run and play on, or do just nothing but take in the stunning scenery during the day and stars at night.
 
For information, details and reservations, access www.oasisatdeathvalley.com or dial 800-236-7916.
Hex Announces New Kindred Collection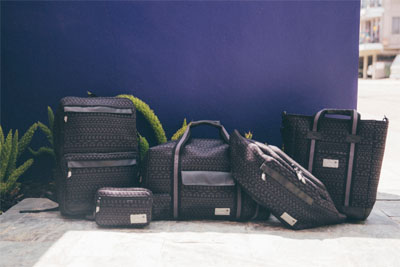 HEX announced the release of its new Kindred Collection of bags. Featuring sneaker and gym duffels, backpacks, slings and waist pack models. The collection features a subtle tonal-patterned neoprene that offers a sophisticated and distinctive look while also offering water resistance. The new look bags are available in eight of the best-selling HEX designs, including the Sneaker Duffel, Signal Backpack, Sling and Dopp Kit.
Pricing for the collection is as follows and all products are available now at hexbrand.com, HEX's Los Angeles retail store, and premium retail partners around the world.
KINDRED COLLECTION
Kindred Sneaker Duffel – $159.95
Kindred Medium Gym Duffel – $149.95
Kindred Sneaker Backpack – $149.95
Kindred Drifter Duffel – $99.95
Kindred Signal Backpack – $89.95
Kindred Sneaker Sling – $59.95
Kindred Waist Pack – $34.95
Kindred Dopp Kit – $29.95
Princess Cruises to Activate Three Additional Princess MedallionClass™ Ships in 2019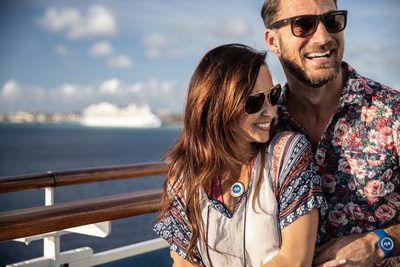 With the addition of Crown Princess and Sky Princess all Princess ships sailing the Caribbean this fall will be MedallionClass ships
Royal Princess will be the first MedallionClass ship on the West Coast sailing in Alaska and Mexico
Princess Cruises announced today the expansion of its Princess MedallionClass™ experience to three additional ships – Royal Princess, Crown Princess and Sky Princess – building on the enhanced and personalized cruise vacations guests are currently enjoying on its Caribbean Princess ship sailing the Caribbean, and with Regal Princess starting February 17, 2019. The OceanMedallion™, included complimentary, is a wearable device that elevates the guest experience by delivering an enhanced level of personalization and innovative services resulting in high guest satisfaction scores.
With the Princess MedallionClass experience coming to Crown Princess in July and Sky Princess in October, all guests sailing with the brand in the Caribbean will be able to enjoy an enhanced vacation through simplified, personalized and engaging experiences by the end of 2019. The addition of Royal Princess will also be the first time a Princess MedallionClass ship will be sailing in Alaska.
"Guests are finding their vacations enhanced with Princess MedallionClass on Caribbean Princess as a new and memorable experience, and we're ready to offer these experiences and personalized services to even more of our guests, including everyone who sails with us in the Caribbean in the fall and winter," said Jan Swartz, president of Princess Cruises. "Starting in April, we will continue the expansion to a total of five Princess MedallionClass ships expected this year, as we continue on our path to fleet-wide activation. And we look forward to bringing the experience to new groups for the first time, such as those sailing to visit exciting destinations in Alaska and Mexico."
Considered a breakthrough in the vacation industry and recently honored with a CES® 2019 Innovation Award, the OceanMedallion features leading-edge technology that delivers personalized service through enhanced guest-crew interactions, eliminates friction points and enables interactive entertainment.
Princess MedallionClass vacations offer guests a portfolio of experiences specifically designed to enhance their cruise vacation, including: 
From curbside to poolside in a breeze – guests who arrive at the terminal with travel documents (i.e. passports) uploaded to their profile have a personalized check-in process that starts their vacation with ease. Personalization starts pre-cruise by guests becoming OceanReady™ while at home.
The best Wi-Fi at sea: MedallionNet™ is fast, reliable, affordable and unlimited. MedallionNet provides land-like speeds that allow guests to stay connected from anywhere on the ship including staterooms which are each equipped with a Wi-Fi access point. With MedallionNet guests easily share vacation experiences with friends and family back home, stream TV shows, movies and sports events, and even make voice and video calls.
On demand beverage delivery: Using smart devices, guests have the ability to order drinks using OceanNowTM and have them delivered directly to them throughout the ship and even in their stateroom.
Other innovative features of the Princess MedallionClass experience include:
Hands-Free Keyless Stateroom Entry: Access to staterooms is a seamless experience where each guest is securely validated as the door automatically unlocks. Personalized greetings including loyalty level recognition welcome the guest on their door portal.
OceanCompass™: Available on guests' smart devices and portals throughout the ships, OceanCompass leverages the OceanMedallion to enable point-to-point wayfinding throughout the ship. OceanCompass guides guests throughout their journey, providing directional information so they can seamlessly navigate to their next point of interest, as well as easily locate and chat with friends and family on board using ShipMates. 
JourneyViewTM: Available now on ship portals and coming soon to smart devices, this interactive timeline lets guests scroll through all of the events available on board during their voyage. Functionality will also soon give guests the ability to bookmark and add activities that appeal most to them to their own personalized itinerary.
MedallionPay™: An easy to use payment feature, enabling crew members to focus on meaningful guest interactions.
OceanCasino™: On smart devices and select portals, guests can wager real money on games, including slots, poker, bingo, roulette, keno and lottery from anywhere on board.
PlayOceanTM: On portals located shipwide and using smart devices, PlayOcean offers guests a new level of fun with interactive games, a digital scavenger hunt, customizable avatars, and more. PlayOcean also transforms guests' mobile devices into game controllers for interactive gaming on the massive Movies Under the Stars screen.
OceanViewTM: Guests can stream more than 100 hours of award-winning Ocean Original travel shows to their smart device anywhere on the ship at no cost – content which airs nationally on weekends on ABC and NBC. OceanView is also available on stateroom TVs as well as on Roku, Amazon Prime and Apple TV.
Now is the perfect time to book a Princess MedallionClass vacation to the Caribbean or Alaska during the All Aboard Sale that is available through February 28. For more information visit Princess.com, call 1-800-PRINCESS (774-6237) or contact your professional travel advisor.     
Princess MedallionClass activates a travel industry first by utilizing an Experience Internet of ThingsTM (xIoT™) platform with a guest-centric approach to help maximize a cruise vacation in real-time based on guests' choices and preferences. The result delivers enhanced personalization on a large scale across every aspect of a cruise vacation.
The OceanMedallion was first unveiled by Carnival Corporation CEO Arnold Donald at CES 2017 and was a key factor in Fast Company recognizing the corporation with two Innovation and Design Awards that same year.
Las Vegas Downtown's Thunderbird Hotel Gets A Retro Makeover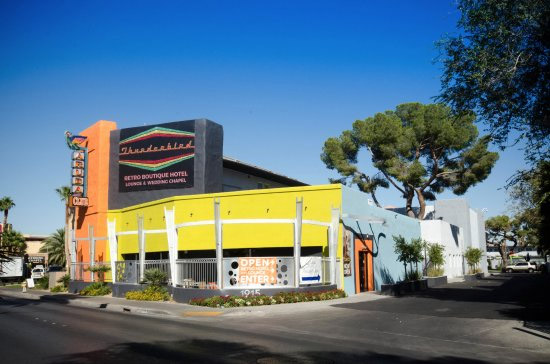 Located north of the Strip and south of downtown, a place of diners, neon wedding chapels, scooter rentals, strip clubs, pawn shops and the famous Luv-It Frozen Custard, is the new remodeled Thunderbird Boutique Hotel & Lounge located in the middle of the action and somehow remote.
California-based developer Ilan Gorodezki and his partners purchased the property in 2016. In 2017, the developer considered turning the property, once known as the Aruba, into a 15-story, 370-unit mixed-use apartment and retail space called the Thunderbird Lofts, according to reports.
The plans upset some residents in nearby neighborhoods, who thought the tower might dilute the area's historic atmosphere. Despite receiving approval from Las Vegas, the developers ultimately opted to keep the original two-story motel structure intact and simply remodeled it.
What's New:
More than $5 million of renovations later, the revamped Thunderbird is gleaming with new life and a classic Las Vegas allure. The Garden of Love wedding chapel perfectly encapsulates the renewed property. A majestic 60- to 100-year-old pine tree stands for an altar. Only the trunk and a few bottom branches are visible because it grows through a glass roof and soars into the sky. Dappled sunlight shines down upon the place where a couple would stand. The tree gives a sense of almost magical spirituality to the room, a reprieve in the midst of white marble floors and Las Vegas glitz.
The tree is one of those strokes of genius that only come about via a thoughtful remodel. Originally, the tree was growing in an outdoor courtyard and was slated to be chopped down to make way for a new vision. Instead of being removed, it was made into a centerpiece, creating something better than brand new. Prices range from $300-$700 (not including minister fee) for the 60-person chapel. The high-end "Majestic" package includes champagne toast, online ceremony live stream, unity candle or sand ceremony, flowers, custom music, digital photos and DVD, a personal wedding coordinator and use of the "royal bridal room with refreshments." The second and smaller chapel is more traditionally Vegas. Called the Crystal Wedding Chapel, it boasts crystal chandeliers and a bedazzled podium. It holds up to 40 guests, and prices range from $100 to $500 (minister fee not included). Petra Doerr, who runs the wedding chapel, says they were going for something "modern, unique and clean." Previously, the smaller chapel had a very masculine feel. Doerr took it in a more feminine direction and added "a little Las Vegas glitter."
The Rooms:
"It's easier to build than repair," said, Shay Mordo, the director of operations. "But the vision was, 'Let's go make it happen, no matter what.'" The 100 hotel rooms have a comfortably modern look. Rustic wood headboards give an earthy vibe, which balances some of the shinier mid-century modern highlights, such as trendy rugs and lamps. A turquoise, orange and yellow color scheme keep it interesting. The exterior doors of the rooms are painted in alternating orange and yellow-green. The small lobby continues the visual theme, with sleek concrete floors, walls that have been clad in the reclaimed wood, and a single graphic lime-green painting for decoration.
Located in a separate building, the carefully decorated "Presidential" suite overlooks the outdoor pool. There are also eight junior suites. Areas that would once have been dead space have been upgraded to outdoor lounges. These small islands of leisure space boast trendy outdoor furniture and lighting — like little islands of cool. An empty rooftop outside some second-story rooms is primed to be a future garden seating area. "There are always more projects," Mordo jokingly said. "Always something to do." Weekend prices range from about $190 per night for a 200-square-foot single queen room to $360 per night for a 600-square-foot premium suite. Weeknight prices range from $45 to $195 per night, respectively.
Entertainment options:
Throughout its history, the Thunderbird has often hosted live performances. It also has been a hotspot for the swing dance crowd in addition to hosting the Neon Reverb music festival about a decade ago. A revamped 3,500-square-foot showroom can hold up to 300 or 350 guests, depending on the configuration. The numbers are big, but also small in comparison to the titans on the Strip. Sitting in the new disc jockey booth, Mordo clicks through the new lighting configurations to show that the room is ready to party. In addition to the showroom, the lounge has a small stage and projector, allowing for a second, more intimate event venue.
Even Mordo admits the Thunderbird is not located in the best part of town. The area is huge on vintage charm, which also includes a local homeless population. But the rough edges belie a possible bright future. It's one of the closest hotels to the Arts District, which is finally gaining steam. And it's near offbeat attractions such as Zak Bagans' Haunted Museum and the Gold and Silver Pawn Shop. The Thunderbird has managed to make itself new without sacrificing its history, and it's uniquely situated for the next iteration of Las Vegas. "The current owners have done an admirable job with cleaning up that property over the past few years, said Realtor Steven Franklin, who goes by the nickname Downtown Steve. "It's certainly an improvement from what it had been."
Eatery:
Historic photos of Old Vegas line the hallway to the lounge and restaurant. Some of the photos depict the former Strip hotel also called the Thunderbird — no relation, except perhaps spiritual. Kelley Jones Hospitality in partnership with Todd Parmelee have built a new food and beverage program for the modern Thunderbird which features hearty crowd-pleasers, such as a "Hangover" breakfast burrito, pork belly sliders, a steak and potato wrap, fish and chips, flatbreads and a veggie burger. The lounge offers bartop gaming, pool, beer pong and a full bar. Cocktails include Bloody Marys, the Blue Suede Shoes (orange and grapefruit vodka, citrus juices, blue curaçao and lemon-lime soda) and the 1948 Cocktail (whiskey, Aperol, vermouth and chocolate bitters).
Located at: Thunderbird Boutique Hotel, 1215 Las Vegas Blvd. South, NV 89104-1307
FLY LINQ takes Las Vegas zip lines to new heights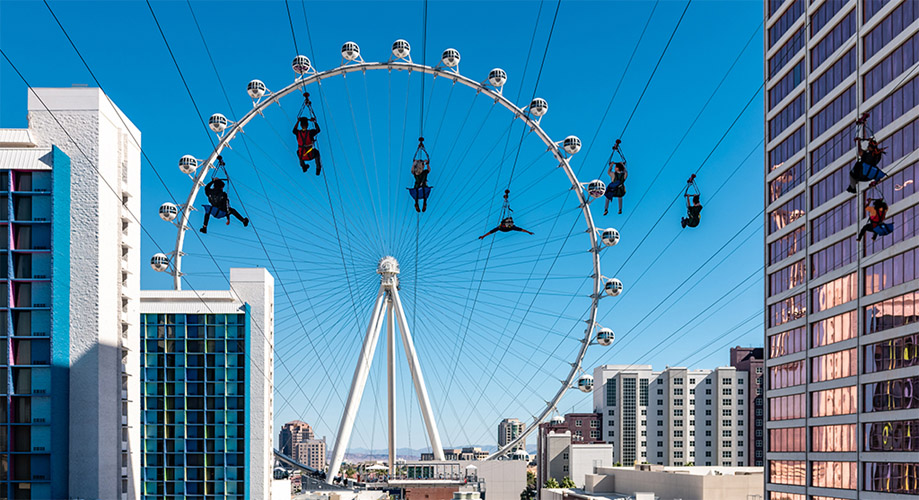 FLY LINQ, the first zipline attraction on the Las Vegas Strip debuted in early November. Fly Linq lets you soar above the popular promenade on your way to the other side in the sky, the High Roller Observation Wheel.
The newly opened FLY LINQ zipline sends thrill seekers soaring more than 1,000 feet across the LINQ Promenade towards the High Roller Observation Wheel.
After getting your ticket at the center strip box office on The Promenade, the expectancy grows as you take the elevator up to the launch level, and go through the safety steps and get strapped into a harness for the launch. The wait is short and before you know it you fly. From here on out, it's all heart pumping adrenaline and that's the best way to describe it. Zooming down the wire at speeds exceeding 30 mph is so much fun that you're going to want to ride it again.
The FLY LINQ is located at the The LINQ Promenade
Open daily from 11:30 a.m. to 2 a.m.
Tickets: $25 for daytime flights (before 5 p.m.), $30 for nighttime flights (after 5 p.m.)
Restrictions: You must be between 80 – 300 pounds or 36 – 136 kilograms.