MOVE OVER, MEGALODON... THERE'S A BIGGER FISH IN THE SEA!
SHARKFEST sighted: watch at your own risk! To mark the first day of summer, Nat Geo and Nat Geo WILD announce the return of SHARKFEST – truly the only fish in the programming sea – as the yearly event prepares to take the biggest bite out of summer television yet with not one, not two, BUT THREE teeming weeks of shark programming on both Nat Geo and Nat Geo WILD. (We know some other network has one week of sharks, but really – don't they deserve more?)
The seventh annual SHARKFEST launches its first week on Nat Geo beginning Sunday, July 14, while Nat Geo WILD takes the tail end two weeks from July 21 to August 2. The frenzy of SHARKFEST programming is sure to captivate viewers with truth that is stranger than fiction, from the latest developments in shark research and preservation to new ways to predict shark attacks.
And in the biggest hour of shark programming to hit the airwaves this summer, World's Biggest Great White? documents the re-emergence of what is thought to be the largest great white shark ever filmed – and she has not been captured on camera in nearly five years! This special puts so much motion in the ocean that it has to be simulcast across two networks!
Nicknamed "Deep Blue" for her arrival and rapid departure, this great white shark, estimated to be 20 feet long and almost two and half tons, is thought to be the largest great white ever caught on camera. Her mysterious nature and massive size have captivated the planet, but she has gone unseen for over five years… until now. Deep Blue has resurfaced, along with two other giant great white sharks, shocking the world with her potential age (which impressively surpasses the average lifespan) and girth, leading some to speculate that she might even be pregnant!
Other SHARKFEST highlights include a fascinating experiment to determine if the weather can help predict shark attacks in Forecast: Shark Attack and the ultimate Red Wedding-style battle for dominance in Cannibal Sharks. Enjoy a front-row seat to some of the most memorable shark feasts in Great Shark Chow Down, and in Man vs. Shark, join marine biologist Jeremiah Sullivan, who has been developing an armored suit to go nose to nose and fin to fin to help preserve these awe-inspiring animals.
"Nat Geo and Nat Geo WILD are diving in head first with this year's feeding frenzy of shark content," said Geoff Daniels, executive vice president of global unscripted entertainment at National Geographic. "SHARKFEST continues to blow its competition out of the water, growing every year with jaw-dropping, science-first shows that are so unique and compelling that viewers will be totally enthralled, night after night after… night – and this year we're thrilled to announce our exclusive access to the greatest, most buzzworthy shark superstar in history, Deep Blue."
SHARKFEST also aims to raise awareness about these incredible animals that depend on a healthy planet in order to survive. As part of its overall effort to protect Earth, National Geographic recently launched Planet or Plastic?, a multiyear initiative to reduce the amount of single-use plastic reaching our world's oceans. Doing so not only will benefit the thousands to potentially millions of marine animals that become entangled in, are suffocated by or ingest plastic each year, but will also contribute to the overall health of the planet's marine ecosystems and all who rely on them. As part of SHARKFEST, PSAs will run across both networks throughout the three weeks, encouraging viewers to not only learn more about the plastic pollution crisis, but take their own plastic-free pledge. Additionally, a snackable new digital series called "Story of Plastic" will tell the stories behind common plastic objects and emerging solutions, featuring videos and bi-weekly articles on toothbrushes, shoes, tampon applicators and more. To learn more about the Planet or Plastic? initiative, visit NatGeo.com/planetorplastic.
Covering sharks and ocean health has long been a core part of National Geographic's DNA. On screen – with this year's unprecedented SHARKFEST event – and off – through recent books like SHARK, by marine wildlife photographer Brian Skerry, and Nat Geo Kids' Ultimate Book of Sharks – National Geographic is constantly seeking new ways to grab audiences' attention and immerse them in the fascinating world of sharks.
SEVENTH ANNUAL SHARKFEST PROGRAMMING PREMIERES INCLUDE:
Sunday, July 14 at 9/8c (plus additional episodes July 15 – July 19 in two hour premiere blocks beginning at 8/7c)
From America's coastline to exotic beaches around the world, shark attacks turn dream vacations into nightmares. Many of these attacks occur suddenly, affect more than one person, and they can happen in unexpected locations – puzzling locals and scientists alike. When Sharks Attack investigates each incident to shed light on why and where shark encounters occur.
The world's leading shark scientists lead an investigation in to the fascinating world of Cannibal Sharks. From the two-foot Cookie Cutter that rips chunks out of White Sharks ten times their size, to the Sand Tiger pups that attack and eat each other in the womb, prepare to see sharks as you've never seen them before.
The world's leading scientists and cinematographers relive 5 extraordinary shark feeding events. From being surrounded at night by 700 grey reef sharks, a 300-strong gathering of blacktip, dusky and bronze sharks feeding on thousands of bait fish, to the spectacular sight of more than 200 blue sharks feeding on the carcass of a seven ton whale; the Great Shark Chow Down is an epic celebration of sharks from around the world. It ends with a cautionary reminder that these spectacular feasts may soon be a thing of the past as shark numbers crash worldwide.
Whale that Ate Jaws: Eye Witness Report
Tuesday, July 16 at 10/9c
In October 1997, tourists in San Francisco caught a killer whale attack on a great white shark on tape. Twenty years later, they strike again in South Africa, but this time scientists have bodies to dissect as experts weigh-in to reveal astounding new discoveries behind the killer whale's taste for shark meat. Shark biologist and scientist Scot Anderson, who was present at the event in 1997, is among the leading authorities interviewed about this extraordinary behavior.
Wednesday, July 17 at 10/9c
40 years after inventing armored suits that protect divers from attacks by smaller shark species of sharks, marine biologist, Jeremiah Sullivan, faces off against hungry hammerheads and deadly tiger sharks to measure their bite force, body strength and ability to chew through his advanced materials before creating new armor he'll test by putting himself inside the devastating jaws of a 14-foot tiger shark.
Thursday, July 18 at 10/9c
Dr. Greg Skomal and meteorologist Joe Merchant have travelled to the Bahamas to test a theory: that shark attacks can be as predictable as the weather. They believe that wind may drive sharks closer to the shore to hunt, which brings the sharks closer to the swimmers.
Shark Movers: Deadly Cargo
In the busy harbor of Noumea, a tropical paradise is under threat from an influx of huge, hand-fed Bull Sharks. New Caledonian scientist, Dr. Laurent Vigliola, recruits Australian shark scientist, Dr Will Robbins, to test a world-first plan. Together they catch, crane-lift, and relocate several Bull Sharks to a pristine coral reef in hopes they will adapt to their new home away from people, and learn to feed in the wild.
World's Biggest Great White? simulcast on Nat Geo and Nat Geo WILD
In January of 2019, three experienced divers and photographers set out on a small boat to try to record any marine life around the carcass of a sperm whale floating off the coast of Oahu. What they experienced is one of the most incredible great white shark encounters ever caught on camera, featuring the two largest great whites ever filmed in Hawaii, including the most famous living shark in the world, the giant great white known as Deep Blue. In this special, viewers will experience this trio's incredible connection with the great whites first hand, as it happened, and learn the history and science behind the rare sightings of great white sharks in the waters surrounding our 50th state.
PLUS the fin-tastic adventures continue July 22-August 2, with more premieres and special encores on Nat Geo WILD.
"BATWOMAN" PREMIERES SUNDAY, OCTOBER 6 (8:00-9:00 PM ET/PT) ON THE CW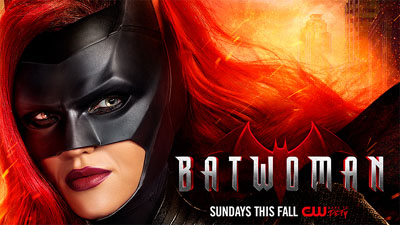 Kate Kane (Ruby Rose) never planned to be Gotham's new vigilante. Three years after Batman mysteriously disappeared, Gotham is a city in despair. Without the Caped Crusader, the Gotham City Police Department was overrun and outgunned by criminal gangs. Enter Jacob Kane (Dougray Scott) and his military-grade Crows Private Security, which now protects the city with omnipresent firepower and militia. Years before, Jacob's first wife and daughter were killed in the crossfire of Gotham crime. He sent his only surviving daughter, Kate Kane, away from Gotham for her safety. After a dishonorable discharge from military school and years of brutal survival training, Kate returns home when the Alice in Wonderland gang targets her father and his security firm, by kidnapping his best Crow officer Sophie Moore (Meagan Tandy). Although remarried to wealthy socialite Catherine Hamilton-Kane (Elizabeth Anweis), who bankrolls the Crows, Jacob is still struggling with the family he lost, while keeping Kate –– the daughter he still has –– at a distance. But Kate is a woman who's done asking for permission. In order to help her family and her city, she'll have to become the one thing her father loathes –– a dark knight vigilante. With the help of her compassionate stepsister, Mary (Nicole Kang), and the crafty Luke Fox (Camrus Johnson), the son of Wayne Enterprises' tech guru Lucius Fox, Kate Kane continues the legacy of her missing cousin, Bruce Wayne, as Batwoman. Still holding a flame for her ex-girlfriend, Sophie, Kate uses everything in her power to combat the dark machinations of the psychotic Alice (Rachel Skarsten), who's always somewhere slipping between sane and insane. Armed with a passion for social justice and a flair for speaking her mind, Kate soars through the shadowed streets of Gotham as Batwoman. But don't call her a hero yet. In a city desperate for a savior, she must first overcome her own demons before embracing the call to be Gotham's symbol of hope.
Based on the characters from DC, BATWOMAN is from Berlanti Productions in association with Warner Bros. Television with executive producers Greg Berlanti ("Arrow," "The Flash," "Supergirl"), Caroline Dries ("The Vampire Diaries," "Smallville"), Geoff Johns ("Arrow," "The Flash," "Titans") and Sarah Schechter ("Arrow," "The Flash," "Supergirl"). David Nutter ("Game of Thrones," "The Flash," "Arrow") and Marcos Siega ("The Vampire Diaries," "You") executive produced the pilot.
"BH90210" PREMIERES WEDNESDAY, AUG. 7 @ 9/8c on FOX!
THE SUN HAS A DARK SIDE… THE FLARE FIND OUT WHAT JUST HAPPENED…. THIS SUMMER ON FOX...
ANIMATION DOMINATION RETURNS! THE LEGENDARY SUNDAY LINEUP USHERS IN A NEW ERA, WITH "BLESS THE HARTS" THIS FALL ON FOX