Diego Luna Returns as Félix Gallardo in Season 2 of Narcos: Mexico, premiering February 13, 2020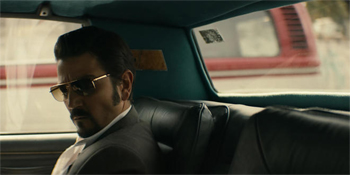 Narcos: Mexico is produced by Gaumont Television for Netflix. Eric Newman is Executive Producer and showrunner. José Padilha, Doug Miro, Carlo Bernard and Andi Baiz are Executive Producers.
Diego Luna plays Miguel Ángel Félix Gallardo ("Félix"), the leader of the Guadalajara cartel, one of the biggest narcos in the history of Mexico and the founder of the modern Mexican drug trade. Quiet but bold, inscrutable but sharp-minded, to all appearances he is a benevolent leader, loyal to his friends, associates, and employees…but his ambition comes before all else.
Scoot McNairy plays Walt Breslin, a hardened DEA agent whose methods aren't always by the book. He is leading the team tasked with taking down those responsible for Kiki Camarena's death.
Season 2 of Narcos: Mexico continues chronicling the missteps, ill-conceived agendas, and corruption on both sides of the border that have lead to a dangerous present in the failed war on drugs. It's the mid-1980s, as Félix Gallardo's super cartel splinters under its own dark weight and social and political shifts within Mexico prompt its desperate government's most brazen corruption. Meanwhile, the American effort to exact revenge for Kiki Camerana's execution leads them further away from any hope for justice. The cycle of violence rages on.
Executive Producer and Showrunner Eric Newman says of the story this season, "To understand the current level of drug violence in Mexico you have to understand how it all started, and truly grasp America's integral role in it. The second season of Narcos: Mexico is a Pandora's box, the contents of which we still struggle in vain, 30 years later, to try and contain."
Several cast members join Narcos: Mexico in season 2 including:
Mayra Hermosillo (Falco) as Enedina Arellano Felix
Sosie Bacon (Here and Now) as Mimi Webb Miller
Andrés Londoño (Fear the Walking Dead) as Enrique Clavel
Alex Knight (Legion) as Kenny Moss
Miguel Rodarte (Time Share) as Danilo Garza
Jesse Garcia (From Dusk Till Dawn: The Series) as Sal Orozco
Matt Biedel (Altered Carbon) as Daryl Petski
Jesus Ochoa (Overboard) as Juan Nepomuceno Guerra
Flavio Medina (The House Of Flowers) as Juan Garcia Abrego
Alberto Zeni (The Noble Family) as Amat Palacios
Jero Medina (Belle de Jour) as Ossie Mejia
Jose Julian (The Society) as Javier Arellano Felix
Noé Hernandez (We Are the Flesh) as Rafael Aguilar
Nat Faxon (Family Guy) as Ted Kaye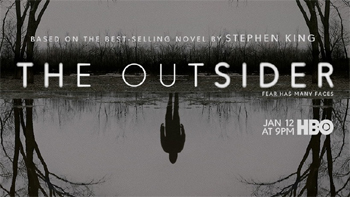 Premieres January 12 at 9 PM
Based on Stephen King's bestselling novel of the same name, The Outsider begins with a seemingly straightforward investigation into the gruesome murder of a young boy. But when an insidious supernatural force edges its way into the case, it leads a seasoned cop and an unorthodox investigator to question everything they believe in.
Who's in it? Ben Mendelsohn (Bloodline, Ready Player One) plays Ralph Anderson, the "seasoned cop" who takes on the case. He's joined by Cynthia Erivo as private investigator Holly Gibney, Bill Camp (The Night Of) as Howie Gold, Mare Winningham as Jeannie Anderson, Paddy Considine as Claude Bolton, Julianne Nicholson as Glory Maitland, Yul Vázquez (Treme) as Yunis Sablo, Jeremy Bobb as Alec Pelley, Marc Menchaca as Jack Hoskins, Hettienne Park as Tomika Collins, Michael Esper as Bill Samuels, Derek Cecil as Andy Katcavage, and Max Beesley (Strike Back) as Seale Bolton.
How about behind the camera? Jason Bateman (Ozark) and Andrew Bernstein will serve as both executive producers and a directors, with Bateman tackling the first two episodes. Richard Price (The Night Of, The Deuce) and Dennis Lehane (Mystic River) are slated to write as well as executive produce.
Additional producers are Bateman's Aggregate Films (Ozark), Temple Hill Entertainment, Mendelsohn, executive producers Marty Bowen for Temple Hill Entertainment, Jack Bender (Lost), and Michael Costigan for Aggregate Films, with studio support from MRC (House of Cards, Counterpart).
Marilyn Manson and Sharon Stone to Appear in The New Pope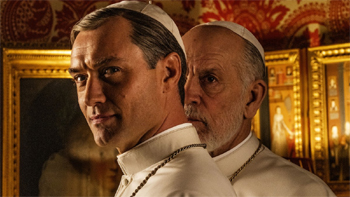 The musician and actor will be seen alongside John Malkovich and Jude Law in the limited series.
John Malkovich has come aboard The New Pope, starring alongside Jude Law. Law, who played Lenny Belardo, aka Pope Pius XIII, received a Golden Globe nod for his work in 2017's The Young Pope, also from Paolo Sorrentino.
Malkovich's Oscar-nominated performances include supporting roles in In the Line of Fire and Places in the Heart. He won a supporting actor Emmy for his performance as Biff Loman in Death of a Salesman, and received Emmy nominations for Napoleon and HBO's RKO 281. He was also the subject of Spike Jonze's meta-drama Being John Malkovich.
Also joining the production is Mark Ivanir (Homeland). And Marilyn Manson and Sharon Stone will appear as guest stars.
The series, which is co-produced by HBO and Sky Italia, is written by Sorrentino with Umberto Contarello and Stefano Bises and is produced by Lorenzo Mieli and Mario Gianani.
Ink Master: Turf War premieres Tuesday, January 7th at 10/9c on Paramount Network
Paramount Network's hit tattoo competition reality series Ink Master returns for a 13th Season on Tuesday, January 7 at 10pm ET/PT. This season, titled Ink Master: Turf War, contestants from four different regions of the country – East, West, South and Midwest will represent their "turf" in the competition to be the next Ink Master. Host Dave Navarro and world renowned tattoo artists Chris Núñez and Oliver Peck return to the judges table for what is sure to be an electrifying season.  The series is produced by Truly Original with Glenda Hersh, Steven Weinstock and Andrea Richter serving as executive producers. 
Ink Master season 12 averaged 1.2 million total viewers and a .88 rating in the key P19-49 demo (all stats are L+3). Paramount Network ranked as the #1 ad-supported cable network among P18-49, M18-49 and W18-49 during the show's season 12 timeslot.
Currently airing on Paramount Network, Ink Master: Grudge Match, a spin-off of hit tattoo-competition series Ink Master, provides former Ink Master contestants the opportunity to settle vendettas with their biggest rivals against whom they previously competed. Former Ink Master champions and fan favorites Ryan Ashley (Season 8), DJ Tambe (Season 9 and Season 10) and Cleen Rock One (Season 11) will serve as judges. New episodes air Tuesdays at 10pm ET/PT.
Season Three of "Very Cavallari" premieres Thursday, January 9 at 9:00pm ET/PT
The Marvelous Mrs. Maisel season three premieres Friday, December 6th on Amazon Prime Video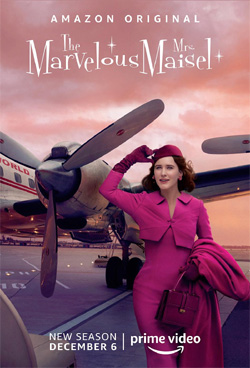 Midge and Susie discover that life on tour with Shy is glamorous but humbling, and they learn a lesson about show business they'll never forget. Joel struggles to support Midge while pursuing his own dreams. Abe embraces a new mission and Rose learns she has talents of her own.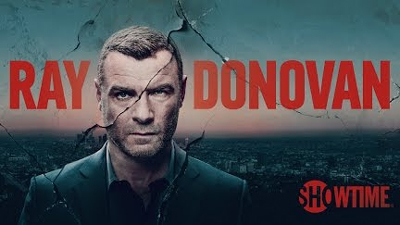 Drama about a Los Angeles troubleshooter who's called in to solve problems for powerful clients.

This new noir drama series stars Abigail Spencer as a femme fatale who gets revenge against a gang of gearheads after they leave her for dead. Rodrigo Santoro, Mena Massoud, Madison Davenport, Rhys Wakefield, David Dastmalchian, W. Earl Brown, and Gilbert Owuor also star.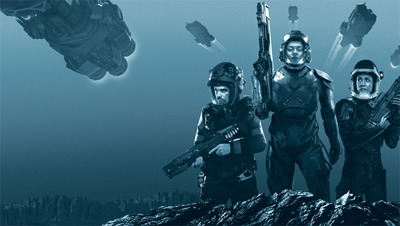 It seems fitting that the first season of The Expanse on Amazon will find the crew of the Roci arriving at their own new home. After deciding to see what lies on the other side of the Rings in the Season 3 finale, Season 4 will see Holden (Steven Strait) and his crew arriving at the planet Ilus, a dangerous new world that has become the center of a vicious battle between the Belter refugees who colonized it and the United Nations, who seek to control it. And with Protomolecule Miller (Thomas Jane) still haunting Holden, you can bet that there's a whole other layer to the danger waiting for the Roci beyond the Rings too.