Premiering on Quibi July 20th
New Chapters Every Weekday until July 29th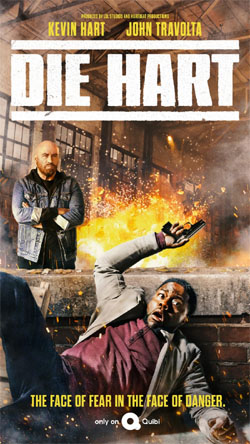 In DIE HART, Kevin Hart plays a fictionalized version of himself who's tired of being the comedic sidekick. He gets his wish when a famous director offers him his dream – to be a leading man action star – but there's a catch: Kevin must first train at the world's greatest action star school, run by a lunatic. Pushed to his limits by this action school coach and a tough-minded rival student (Nathalie Emmanuel) Kevin must survive a series of hilarious, over-the-top action sequences and face his fears if he wants to achieve his dream and land the role of a lifetime.
Kevin Hart, John Travolta, Nathalie Emmanuel ("Game of Thrones")
Tripper Clancy ("Stuber") and Derek Kolstad
Eric Appel ("Brooklyn Nine-Nine")
Tripper Clancy and Derek Kolstad
Jeff Clanagan, Candice Wilson and Bryan Smiley
July 20, 2020, with new chapters every weekday until July 29
"Submission Possible" - World Premiere June 20th
New Original Docuseries Takes You on the Kinky Vacay You've Been Craving This Queerantine.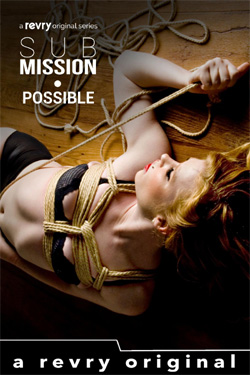 LGBTQ+ virtual cable TV network, Revry, is taking you on a queer vacation away from quarantine with its newest original series, Submission Possible–no passport required, just sit back and tune in as the "Queen of Kink", Madison Young, takes you on a titillating adventure into queer fetishes, kink, and sexual exploration.
Written, directed, and created by Young, a feminist porn icon, author, and sexual revolutionary, Submission Possible is an hour long docuseries World Premiering June 20th (6pm & 9pm PST) that explores the queer sexual underground worlds of kink, fetish, and BDSM around the world. The sex and fetish-positive series stars Young, as the entrancing guide to an unconventional travel adventure, exploring the kink culture in communities around the world–all through the lens of the queer experience.
In the premiere episode, Young visits the hauntingly sensual city of New Orleans and delves deep into sex magic rituals, cemeteries and sexy seances, and even spectrophilia. Madison's explorations lead her to ecosexual sex magician, Sura Hertzberg; herbal alchemist, Gypsi Sandiego; kinky witch and tarot reader, Ashton Young; and queer leather title holder, Elyse the Beast. Each unique guest shares a different aspect of their queer, sacred, kinky journey as Young unfolds another layer of her own sexual self; connecting in bold and intimate ways with refreshingly new cultures, communities, and perspectives.
"Submission Possible is a dare. A challenge for us to shift the narrative. For us to celebrate our differences and our sameness, our connections," proclaims Madison Young. "It is a culmination of my deep desire to gather women, POC, queers, trans folk, non-binary community, femmes, butches, sex workers, kinksters around the kitchen table, around the fire, to share our stories, of who we are as sexual beings. Because our desires matter. Our stories matter. We are claiming our space. This is the time. It is time for us to talk loudly and boldly about our orgasms, our pleasure, our kinks, our fetishes, our desires, our relationships."
"Madison's work is so ground-breaking because she's having conversations that, even within the queer community, can be taboo: fetish pride, embracing sexual quirks, challenging traditional standards of beauty," says Christopher J. Rodriguez, Revry Co-founder and CBO. "This is exactly what Revry is about and we're thrilled to offer a space for these conversations on our network–especially now when people are craving human connection. Love & Sex in the Time of COVID."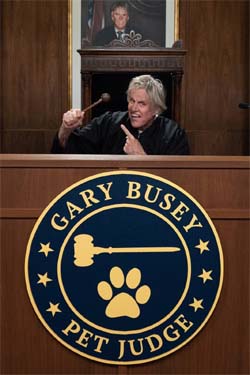 Each year across the country there are thousands of pet disputes. Those who want their cases tried by the best know there is only one man they can turn to, and he is thirsty for PET JUSTICE! That man- Gary Busey: Pet Judge.
The six-episode season is now available and entirely binge-able on Prime Video streaming, and for purchase on iTunes, Google Play, Xbox, and VUDU.
The series stars Judge Gary Busey as he presides over the fates of litigant pet owners. Each half-hour show presents two cases with a veritable menagerie of animals including monkeys, goats, birds, dogs, meerkats, turtles, robot raccoons, and more. Is Gary Busey a real judge?  Absolutely not. Does he know anything about pet law? Probably not. Can he look into your soul and suss out your spirit animal while delivering a verdict with a trademark Buseyism? You bet your sweet ass (the donkey kind).
The shows will feature plaintiffs and defendants locked in heated battle and mild confusion as they fight for the future of their pets. Judge Busey is aided in his job by Mike E. Winfield who shines as the helpful and encouraging voice-of-reason bailiff, Ian Abramson who caps each case with thought-provoking exit interviews, and Shadoe Stevens who lends dulcet gravitas to the entire venture.
You may think you are ready for this but we guarantee you are not. He puts the kangaroo in kangaroo court- it's Gary Busey: Pet Judge!
Gary Busey has been preparing for this job his entire life. Sure, he starred in Point Break and Lethal Weapon, but did any of his blockbuster films require him to determine whether a cat should have a Viking funeral? Not until now and he is about to dish out some serious PET JUSTICE.
About Vaughn Land & Cattle:
Vaughn Land & Cattle is a production company run by the husband and wife team of Jack and Hanne Vaughn. Jack is a multi-Grammy Award-winning record and TV producer who started Comedy Central Records, and Hanne is a multi-Emmy Award-winning video editor and sound designer. The idea for the show came to Jack in a fever dream and this is the company's first production.
Apple's "Little Voice" from Emmy Award-winner J.J. Abrams, Grammy-winner and Emmy and Tony Award-nominee Sara Bareilles and Jessie Nelson to Debut Globally Friday, July 10, on Apple TV+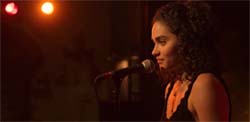 Apple unveiled a first look at "Little Voice," a fresh, intensely romantic tale from the award-winning team of J.J. Abrams, Sara Bareilles and Jessie Nelson, that will premiere globally on Apple TV+, alongside a slate of acclaimed original series and films, on Friday, July 10.  
A love letter to the diverse musicality of New York starring Brittany O'Grady, Sean Teale, Colton Ryan, Shalini Bathina, Kevin Valdez, Phillip Johnson Richardson and Chuck Cooper, "Little Voice" follows Bess King, (O'Grady) a uniquely talented performer struggling to fulfill her dreams while navigating rejection, love, and complicated family issues. Featuring original music by Grammy and Tony Award nominee, Sara Bareilles, this is a story about finding your authentic voice—and the courage to use it.
"Little Voice" is produced by J.J. Abrams' Bad Robot Productions in association with Warner Bros. Television. J.J. Abrams ("Star Wars: The Force Awakens," "Star Trek," "Lost"), Sara Bareilles, Jessie Nelson ("I Am Sam," "Stepmom," "Waitress") and Ben Stephenson ("Westworld") are executive producers. Nelson also wrote and directed the first episode.
The new series will join a lineup of award-winning and hit original series on Apple TV+ including "Defending Jacob," "Mythic Quest: Raven's Banquet," and the Golden Globe nominated and Critics Choice and SAG award-winning series "The Morning Show"; as well as the soon-to-premiere animated musical comedy series "Central Park" from Emmy Award-winner Loren Bouchard alongside "Frozen" Grammy winner Josh Gad and Emmy winner Nora Smith; "Dear…," a new docuseries from Emmy and Peabody Award-winner R.J. Cutler; documentary film "Dads" from Director Bryce Dallas Howard; and "Greatness Code," a new docuseries that spotlights untold stories from the greatest athletes in the world.
Apple TV+ is available on the Apple TV app on iPhone, iPad, Apple TV, iPod touch, Mac, select Samsung and LG smart TVs, Amazon Fire TV and Roku devices, as well as at tv.apple.com, for $4.99 per month with a seven-day free trial. The Apple TV app will be available on Sony and VIZIO smart TVs later this year. For a limited time, customers who purchase a new iPhone, iPad, Apple TV, Mac or iPod touch can enjoy one year of Apple TV+ for free. This special offer is good for three months after the first activation of the eligible device.* For more information, please visit apple.com/tvpr.