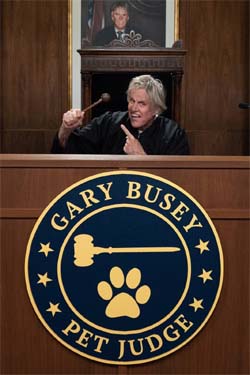 Each year across the country there are thousands of pet disputes. Those who want their cases tried by the best know there is only one man they can turn to, and he is thirsty for PET JUSTICE! That man- Gary Busey: Pet Judge.
The six-episode season is now available and entirely binge-able on Prime Video streaming, and for purchase on iTunes, Google Play, Xbox, and VUDU.
The series stars Judge Gary Busey as he presides over the fates of litigant pet owners. Each half-hour show presents two cases with a veritable menagerie of animals including monkeys, goats, birds, dogs, meerkats, turtles, robot raccoons, and more. Is Gary Busey a real judge?  Absolutely not. Does he know anything about pet law? Probably not. Can he look into your soul and suss out your spirit animal while delivering a verdict with a trademark Buseyism? You bet your sweet ass (the donkey kind).
The shows will feature plaintiffs and defendants locked in heated battle and mild confusion as they fight for the future of their pets. Judge Busey is aided in his job by Mike E. Winfield who shines as the helpful and encouraging voice-of-reason bailiff, Ian Abramson who caps each case with thought-provoking exit interviews, and Shadoe Stevens who lends dulcet gravitas to the entire venture.
You may think you are ready for this but we guarantee you are not. He puts the kangaroo in kangaroo court- it's Gary Busey: Pet Judge!
Gary Busey has been preparing for this job his entire life. Sure, he starred in Point Break and Lethal Weapon, but did any of his blockbuster films require him to determine whether a cat should have a Viking funeral? Not until now and he is about to dish out some serious PET JUSTICE.
About Vaughn Land & Cattle:
Vaughn Land & Cattle is a production company run by the husband and wife team of Jack and Hanne Vaughn. Jack is a multi-Grammy Award-winning record and TV producer who started Comedy Central Records, and Hanne is a multi-Emmy Award-winning video editor and sound designer. The idea for the show came to Jack in a fever dream and this is the company's first production.
DreamWorks Animation Debuts Fantastical Season Two Trailer For Kipo and the Age of Wonderbeasts
The Netflix original series returns June 12 with 10 all-new episodes!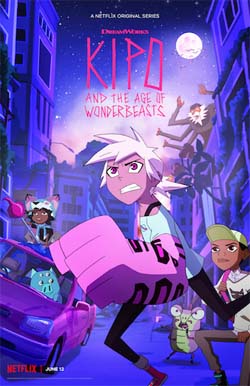 DreamWorks Animation released an exciting trailer today for the second season of the whimsical, post-apocalyptic series Kipo and the Age of Wonderbeasts coming to Netflix June 12. The trailer provides a glimpse into the high-stakes adventure and thrills that await in season 2 as Kipo (Karen Fukuhara) embarks on a mission to find Scarlemagne and free her people from his mind control. 
After spending her entire life living in an underground burrow, a young girl named Kipo is thrust into an adventure on the surface of a fantastical post-apocalyptic Earth. She joins a ragtag group of survivors as they embark on a journey through a vibrant wonderland where everything trying to kill them is downright adorable.
 
Following the season one finale, all is not well on the surface. With the burrow people under Scarlemagne's mind control and her father his prisoner, Kipo must quickly learn to master her newly-discovered mute abilities in order to save them. As she and her friends split up on a dangerous rescue mission, Kipo's journey of self discovery unearths mysteries of the past that change everything she thought she knew.
 
Created and executive produced by Radford Sechrist (How to Train Your Dragon 2) and executive produced and developed for television by Bill Wolkoff (The Man Who Fell To Earth), return to the city of Las Vistas and join Kipo and her gang on an even greater adventure in 10 all-new half-hour episodes when DreamWorks Kipo and the Age of Wonderbeasts season 2 premieres on Netflix worldwide on June 12, 2020.
 
The cast features Karen Fukuhara (She-Ra and the Princesses of Power) as the enthusiastic and curious "Kipo;" Sydney Mikayla (General Hospital) as "Wolf," a weapon-wielding survivor who knows the ins and outs of the surface; Coy Stewart (The Blacklist) as the happy-go-lucky "Benson;" Deon Cole (black-ish) as "Dave," a talking insect who has the jarring ability to suddenly age a full life cycle without warning; and Dee Bradley Baker (Star Wars: The Clone Wars) as the adorable mutant pig "Mandu". Sterling K. Brown (Frozen 2) returns as Kipo's father "Lio Oak;" Dan Stevens (Legion) as the power-hungry "Scarlemagne;" Jake Green (The Boss Baby: Back in Business) as mod frog "Jamack;" and Lea DeLaria (Orange is the New Black) as Timbercat "Molly Yarnchopper." Amy Landecker (Transparent) joins as the mysterious "Dr. Emilia."
Apple's "Little Voice" from Emmy Award-winner J.J. Abrams, Grammy-winner and Emmy and Tony Award-nominee Sara Bareilles and Jessie Nelson to Debut Globally Friday, July 10, on Apple TV+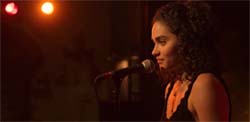 Apple unveiled a first look at "Little Voice," a fresh, intensely romantic tale from the award-winning team of J.J. Abrams, Sara Bareilles and Jessie Nelson, that will premiere globally on Apple TV+, alongside a slate of acclaimed original series and films, on Friday, July 10.  
A love letter to the diverse musicality of New York starring Brittany O'Grady, Sean Teale, Colton Ryan, Shalini Bathina, Kevin Valdez, Phillip Johnson Richardson and Chuck Cooper, "Little Voice" follows Bess King, (O'Grady) a uniquely talented performer struggling to fulfill her dreams while navigating rejection, love, and complicated family issues. Featuring original music by Grammy and Tony Award nominee, Sara Bareilles, this is a story about finding your authentic voice—and the courage to use it.
"Little Voice" is produced by J.J. Abrams' Bad Robot Productions in association with Warner Bros. Television. J.J. Abrams ("Star Wars: The Force Awakens," "Star Trek," "Lost"), Sara Bareilles, Jessie Nelson ("I Am Sam," "Stepmom," "Waitress") and Ben Stephenson ("Westworld") are executive producers. Nelson also wrote and directed the first episode.
The new series will join a lineup of award-winning and hit original series on Apple TV+ including "Defending Jacob," "Mythic Quest: Raven's Banquet," and the Golden Globe nominated and Critics Choice and SAG award-winning series "The Morning Show"; as well as the soon-to-premiere animated musical comedy series "Central Park" from Emmy Award-winner Loren Bouchard alongside "Frozen" Grammy winner Josh Gad and Emmy winner Nora Smith; "Dear…," a new docuseries from Emmy and Peabody Award-winner R.J. Cutler; documentary film "Dads" from Director Bryce Dallas Howard; and "Greatness Code," a new docuseries that spotlights untold stories from the greatest athletes in the world.
Apple TV+ is available on the Apple TV app on iPhone, iPad, Apple TV, iPod touch, Mac, select Samsung and LG smart TVs, Amazon Fire TV and Roku devices, as well as at tv.apple.com, for $4.99 per month with a seven-day free trial. The Apple TV app will be available on Sony and VIZIO smart TVs later this year. For a limited time, customers who purchase a new iPhone, iPad, Apple TV, Mac or iPod touch can enjoy one year of Apple TV+ for free. This special offer is good for three months after the first activation of the eligible device.* For more information, please visit apple.com/tvpr.
Diego Luna Returns as Félix Gallardo in Season 2 of Narcos: Mexico, premiering February 13, 2020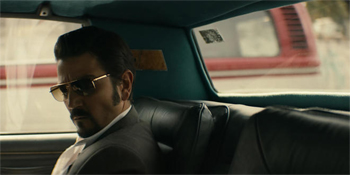 Narcos: Mexico is produced by Gaumont Television for Netflix. Eric Newman is Executive Producer and showrunner. José Padilha, Doug Miro, Carlo Bernard and Andi Baiz are Executive Producers.
Diego Luna plays Miguel Ángel Félix Gallardo ("Félix"), the leader of the Guadalajara cartel, one of the biggest narcos in the history of Mexico and the founder of the modern Mexican drug trade. Quiet but bold, inscrutable but sharp-minded, to all appearances he is a benevolent leader, loyal to his friends, associates, and employees…but his ambition comes before all else.
Scoot McNairy plays Walt Breslin, a hardened DEA agent whose methods aren't always by the book. He is leading the team tasked with taking down those responsible for Kiki Camarena's death.
Season 2 of Narcos: Mexico continues chronicling the missteps, ill-conceived agendas, and corruption on both sides of the border that have lead to a dangerous present in the failed war on drugs. It's the mid-1980s, as Félix Gallardo's super cartel splinters under its own dark weight and social and political shifts within Mexico prompt its desperate government's most brazen corruption. Meanwhile, the American effort to exact revenge for Kiki Camerana's execution leads them further away from any hope for justice. The cycle of violence rages on.
Executive Producer and Showrunner Eric Newman says of the story this season, "To understand the current level of drug violence in Mexico you have to understand how it all started, and truly grasp America's integral role in it. The second season of Narcos: Mexico is a Pandora's box, the contents of which we still struggle in vain, 30 years later, to try and contain."
Several cast members join Narcos: Mexico in season 2 including:
Mayra Hermosillo (Falco) as Enedina Arellano Felix
Sosie Bacon (Here and Now) as Mimi Webb Miller
Andrés Londoño (Fear the Walking Dead) as Enrique Clavel
Alex Knight (Legion) as Kenny Moss
Miguel Rodarte (Time Share) as Danilo Garza
Jesse Garcia (From Dusk Till Dawn: The Series) as Sal Orozco
Matt Biedel (Altered Carbon) as Daryl Petski
Jesus Ochoa (Overboard) as Juan Nepomuceno Guerra
Flavio Medina (The House Of Flowers) as Juan Garcia Abrego
Alberto Zeni (The Noble Family) as Amat Palacios
Jero Medina (Belle de Jour) as Ossie Mejia
Jose Julian (The Society) as Javier Arellano Felix
Noé Hernandez (We Are the Flesh) as Rafael Aguilar
Nat Faxon (Family Guy) as Ted Kaye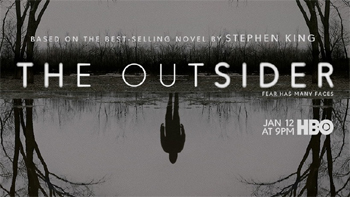 Premieres January 12 at 9 PM
Based on Stephen King's bestselling novel of the same name, The Outsider begins with a seemingly straightforward investigation into the gruesome murder of a young boy. But when an insidious supernatural force edges its way into the case, it leads a seasoned cop and an unorthodox investigator to question everything they believe in.
Who's in it? Ben Mendelsohn (Bloodline, Ready Player One) plays Ralph Anderson, the "seasoned cop" who takes on the case. He's joined by Cynthia Erivo as private investigator Holly Gibney, Bill Camp (The Night Of) as Howie Gold, Mare Winningham as Jeannie Anderson, Paddy Considine as Claude Bolton, Julianne Nicholson as Glory Maitland, Yul Vázquez (Treme) as Yunis Sablo, Jeremy Bobb as Alec Pelley, Marc Menchaca as Jack Hoskins, Hettienne Park as Tomika Collins, Michael Esper as Bill Samuels, Derek Cecil as Andy Katcavage, and Max Beesley (Strike Back) as Seale Bolton.
How about behind the camera? Jason Bateman (Ozark) and Andrew Bernstein will serve as both executive producers and a directors, with Bateman tackling the first two episodes. Richard Price (The Night Of, The Deuce) and Dennis Lehane (Mystic River) are slated to write as well as executive produce.
Additional producers are Bateman's Aggregate Films (Ozark), Temple Hill Entertainment, Mendelsohn, executive producers Marty Bowen for Temple Hill Entertainment, Jack Bender (Lost), and Michael Costigan for Aggregate Films, with studio support from MRC (House of Cards, Counterpart).
Marilyn Manson and Sharon Stone to Appear in The New Pope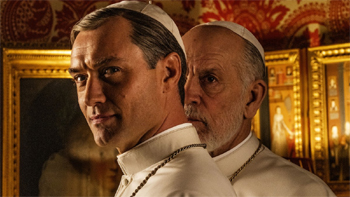 The musician and actor will be seen alongside John Malkovich and Jude Law in the limited series.
John Malkovich has come aboard The New Pope, starring alongside Jude Law. Law, who played Lenny Belardo, aka Pope Pius XIII, received a Golden Globe nod for his work in 2017's The Young Pope, also from Paolo Sorrentino.
Malkovich's Oscar-nominated performances include supporting roles in In the Line of Fire and Places in the Heart. He won a supporting actor Emmy for his performance as Biff Loman in Death of a Salesman, and received Emmy nominations for Napoleon and HBO's RKO 281. He was also the subject of Spike Jonze's meta-drama Being John Malkovich.
Also joining the production is Mark Ivanir (Homeland). And Marilyn Manson and Sharon Stone will appear as guest stars.
The series, which is co-produced by HBO and Sky Italia, is written by Sorrentino with Umberto Contarello and Stefano Bises and is produced by Lorenzo Mieli and Mario Gianani.
Ink Master: Turf War premieres Tuesday, January 7th at 10/9c on Paramount Network
Paramount Network's hit tattoo competition reality series Ink Master returns for a 13th Season on Tuesday, January 7 at 10pm ET/PT. This season, titled Ink Master: Turf War, contestants from four different regions of the country – East, West, South and Midwest will represent their "turf" in the competition to be the next Ink Master. Host Dave Navarro and world renowned tattoo artists Chris Núñez and Oliver Peck return to the judges table for what is sure to be an electrifying season.  The series is produced by Truly Original with Glenda Hersh, Steven Weinstock and Andrea Richter serving as executive producers. 
Ink Master season 12 averaged 1.2 million total viewers and a .88 rating in the key P19-49 demo (all stats are L+3). Paramount Network ranked as the #1 ad-supported cable network among P18-49, M18-49 and W18-49 during the show's season 12 timeslot.
Currently airing on Paramount Network, Ink Master: Grudge Match, a spin-off of hit tattoo-competition series Ink Master, provides former Ink Master contestants the opportunity to settle vendettas with their biggest rivals against whom they previously competed. Former Ink Master champions and fan favorites Ryan Ashley (Season 8), DJ Tambe (Season 9 and Season 10) and Cleen Rock One (Season 11) will serve as judges. New episodes air Tuesdays at 10pm ET/PT.
Season Three of "Very Cavallari" premieres Thursday, January 9 at 9:00pm ET/PT